"The Stack" 2-27-20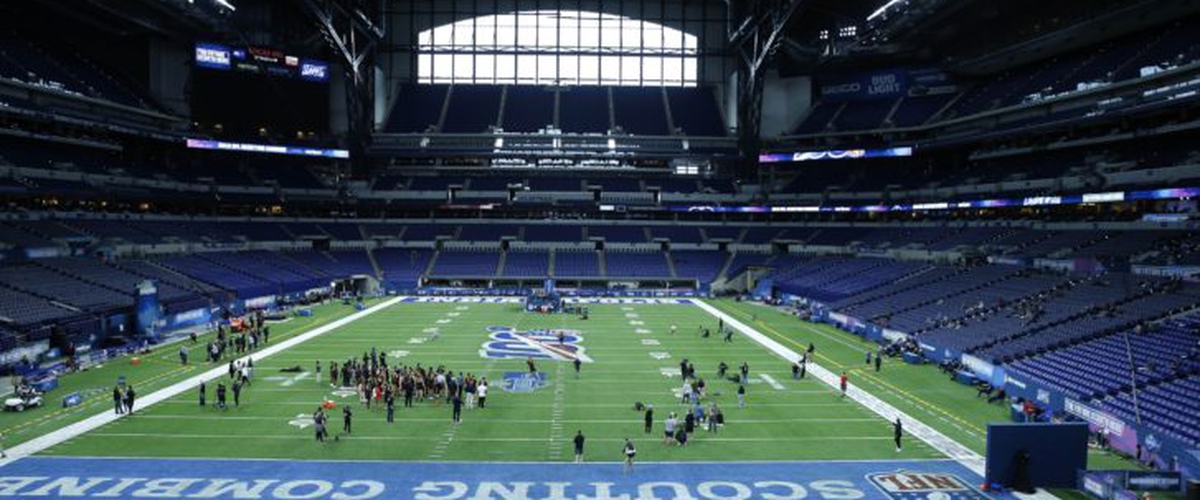 The NFL world has descended upon Indianapolis for the NFL Combine. With the event in primetime, will this affect any prospects? We'll find out.
The Stack is back on this Thursday and this is likely our last blog post until conference tournaments start next in college basketball. That will begin our what will be close to 40 blogs in 40 days previewing conference tournaments, picking championship games, & picking and recapping the NCAA Tournament games. Today though, we're talking football so let's get right to "the stack" for today, Thursday, February 27th:
Players to vote on the proposed new CBA deal
After meeting with the NFL for multiple hours Tuesday in Indianapolis and then meeting amongst themselves, The NFL player reps voted 17-14 with one rep abstaining to proceed with pushing the proposed new CBA deal to a player wide vote of the over 1900 players in the NFL. A simple majority is needed to pass so 50 percent plus one.
The players are clearly split on this new proposed CBA deal. It was initially voted 6-5 by the executive committee not to have the player reps vote on the deal last week. Normally the player reps would need to pass things by a 2/3 (two thirds) majority or so I thought. Instead they are allowing to go to a full vote of the NFL players.
Some big stars have come out fully against this newly proposed CBA deal. Houston Texans defensive end J.J. Watt tweeted out last week that he was a hard no. San Francisco 49ers cornerback Richard Sherman echoed Watt's thoughts. Yesterday, one of Pouncey twins released a profanity laced tirade that would make a sailor blush with his thoughts on the deal. Then Green Bay Packers quarterback Aaron Rodgers spoke. He posted to Twitter why he is opposed to the deal. Here's why his opinion carries a little more merit. He is on the labor committee for the Packers. He said that based on the talks he has had with the players in the Packers locker room, that this is not the deal to take.
Whoa! First time I can say I have ever agreed with something Rodgers has said and I wholeheartedly support him in saying this. I don't want a 17th game. I don't need two extra playoff teams though if I had to choose one or the other I would choose the extra playoff teams over the 17th game. That would create schedule imbalance. The NFL's scheduling system is perfect the way it is. The NFL needs to stop being so greedy. And here's the thing; the NFL reportedly didn't have to give up much when speaking with the player reps on Tuesday. The $250,000 salary for the extra regular season game was removed and that it was an easy thing to give up. That was a dumb thing to have in the first place. I am so steadfastly against an extra regular season game. I don't need more football. I don't need it to stretch longer into February. It's perfect just the way it is.
Back to Rodgers though. It's one thing for Watt and Sherman and Pouncey to say something. It's a whole other thing when Rodgers speaks. If he says that based on the conversations in his locker room that this deal isn't worth taking, then how many other locker rooms are divided on this proposed new CBA deal? It helps the lower level players who are only in the NFL for a few years, no question about it. That is what the NFL is largely comprised of. The stars have the loudest voices, but they are not as numerous as the other players struggling to make a roster. Those players' salaries would have an increase in minimum salaries and that's the biggest thing that the owners have used to get the players in favor of the new CBA. They don't give a bleep about player safety. But if what Rodgers said resonates with more players, and I sincerely hope it does, then I think (hope) you will see fewer than 50 percent of players voting for the new CBA deal. We'll find out more here soon when the players vote in the next day or two.
NFL Combine going on in Indy
The NFL world has descended on Indianapolis for the annual NFL Combine. One thing is different though this year. It's in Primetime. It's all about the eyeballs, but this could negatively affect some prospects. Normally they do things right away in the morning, not at night. A whole day of waiting and changing a routine may be difficult.
Who is going to separate themselves? That's what the Combine is all about. Some players won't participant in drills including LSU quarterback Joe Burrow and Ohio State defensive end Chase Young. They have nothing to gain, but everything to lose. There are some new drills and we will be introduced to some new names like offensive lineman Ben Bartch from division III St. John's (MN).
I'm sure we will hear about some terrible questions being asked to the prospects. Every year it happens. And those poor front office execs and coaches. Less time socializing at the bar and time at St. Elmo's. I genuinely feel bad for them. They are creatures of habit. The NFL is changing things up. We'll see how it all goes down. It's going to be an interesting four days in Indy.
Coming up next week: College basketball tournament previews
---