"The Stack" 2-6-20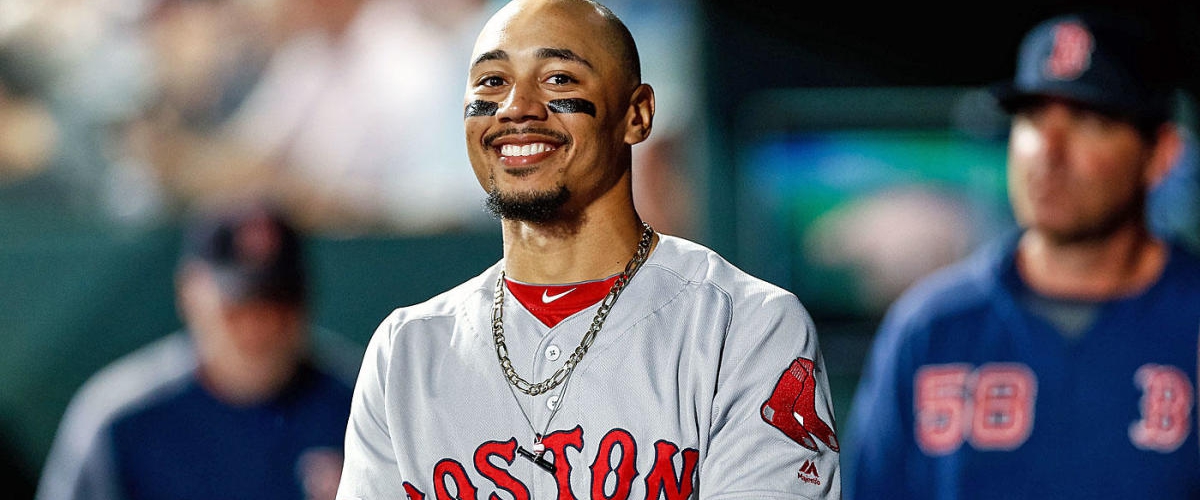 Mookie Betts is headed to L.A. The Dodgers have traded for the best player on the Red Sox. This makes the Dodgers the prohibitive favorites in the NL to make the World Series.
The Stack is back on this Thursday (was trying to get it posted on Wednesday, but ran out of time) because we had a couple of blockbuster trades happen in baseball and basketball late Tuesday night. Reaction to it all plus a surprise resignation so let's get right to "the stack" for today, Thursday, February 6th:
Mookie Betts traded to the Dodgers
A bombshell of a deal has happened in Major League Baseball, one that was not unexpected but still surprising nonetheless. The Boston Red Sox, yes the Red Sox, have traded Mookie Betts to the Los Angeles Dodgers. Starting pitcher David Price is also going to the Dodgers. Betts is only the best player on the Red Sox and a guy who will command a contract between $300 and $400 million. The Dodgers are a team that will be able to make that happen. It's just weird to see that the Red Sox aren't. The relationship between Betts and the Red Sox was fractured, but with stars, normally they come to Boston, not leave. The Dodgers are sending multiple prospects including outfielder Alex Verdugo.
The Minnesota Twins also had to get involved with the Dodgers sending starting pitcher Kenta Maeda to the Twins and the Twins sending pitching prospect Brusdar Graterol to the Red Sox. Not sure how I feel about that since Graterol was one of the Twins' best prospects. But Maeda is a solid starter and the Twins needed to bolster their starting rotation.
But back to the Red Sox trading Betts to the Dodgers. The Dodgers are a team that is already the best team in the NL West. They may have even been the best team in the NL (no offense to defending World Series champion Washington). This move leaves no question in doubt. The Dodgers are the best team in the NL. Now it's just a matter of if they make it to the World Series or not. I think they will and I think this season sets up a collision course for the Dodgers and New York Yankees to play each other in the World Series. For the Red Sox, they weren't going to win the AL East. And they were going to struggle to make the playoffs as a wild card. Now they are doing a semi-rebuiild on the fly to make this team more successful for the long haul. It may be a long year in Boston, but their future looks better. Provided that Betts sings a long-term deal with the Dodgers, they are the big winners in this trade.
4 team NBA trade made late in the night
Robert Covington is a Minnesota Timberwolf no more. The Timberwolves were part of a four-team, blockbuster trade that sent Covington to the Houston Rockets. The Rockets in return, looking for the last couple of weeks or so to find a trading partner to take Clint Capela, have sent Capela to Atlanta. Yes, the Hawks are in this as well. So too are the Denver Nuggets. Here's what each team got in this 12 player historic trade:
· Houston: Robert Covington (from Minnesota), Jordan Bell (from Minnesota) and a 2024 second round pick (from Atlanta)
· Minnesota: Malik Beasley (from Denver), Juan Hernangomez (from Denver), Evan Turner (from Atlanta), Jarred Vanderbilt (from Denver) and a 2020 first round draft pick (from Atlanta)
· Denver: Shabazz Napier (from Minnesota), Keita Bates-Diop (from Minnesota), Noah Vonleh (from Minnesota), Gerald Green (from Minnesota) and a 2020 first round draft pick (from Houston which was originally sent to Minnesota as part of the Covington trade).
· Atlanta: Clint Capela (from Houston) and Nene Hilario (from Houston)…they are also waiving Chandler Parsons and his expiring $25.1 million contract to clear space for the deal.
The immediate winner in this trade is Houston. Covington is a versatile player how upgrades the lineup. Minnesota gets some young players and a good first round draft pick. Atlanta did well as well with getting Capela. Denver gets a lot of guys. It will be curious to see how this plays out for each team going forward, Minnesota especially. They tried to get DeAnagelo Russell from Golden State and failed. Perhaps they will try again or try to find another team to trade someone like Andrew Wiggins. We'll see.
Mike Dantonio resigns from Michigan State
Surprise news out of college football where Michigan State head coach Mike Dantonio resigned Tuesday afternoon, a day before national signing day. Dantonio leaves as the winningest coach in program history (114) and had six 10-win seasons. He led Sparty to twelve bowl appearances during his tenure along with three Big Ten titles and one College Football Playoff appearance.
The timing of the resignation is suspicious. Michigan State has had a lot of negative headlines swarming around themselves since the Larry Nasser story first broke. Remember he is the one the sexually assaulted many gymnasts on the U.S. team making him a serial child molester.
Dantonio's team has also found themselves in some hot water with players getting in trouble for a myriad of reasons. And with a lawsuit from a former staff member still going on, the timing seems awfully suspicious that Dantonio would decide that now was enough. I would agree with that sentiment. I think something was going on or was about to happen and Dantonio realized he wasn't going to survive and chose to resign. This will affect the Michigan State football program for a while. We'll see who they get to replace Dantonio.
Chiefs celebrate Super Bowl victory parade
The Kansas City Chiefs celebrated their first Super Bowl championship in 50 years with a victory parade on Wednesday. Despite some wintry conditions, hundreds of thousands of fans packed the streets to see the team and celebrate with them. Police had to stop a drunk driver before the parade began. The driver went on the parade route and police eventually got him and tapped his car causing the car to spin out. Crazy stuff. Head coach Andy Reid spoke. Hall-of-famer Patrick Mahomes spoke. Travis Kelce, who sounds an awful lot like his brother, Jason, spoke. It was a wonderful time and day for the Chiefs. My guess is that they will be back in this spot if not next year, within the next couple of years.
Coming up later: Reaction to top stories and headlines in the sports world.
---