"The Stack" 3-13-18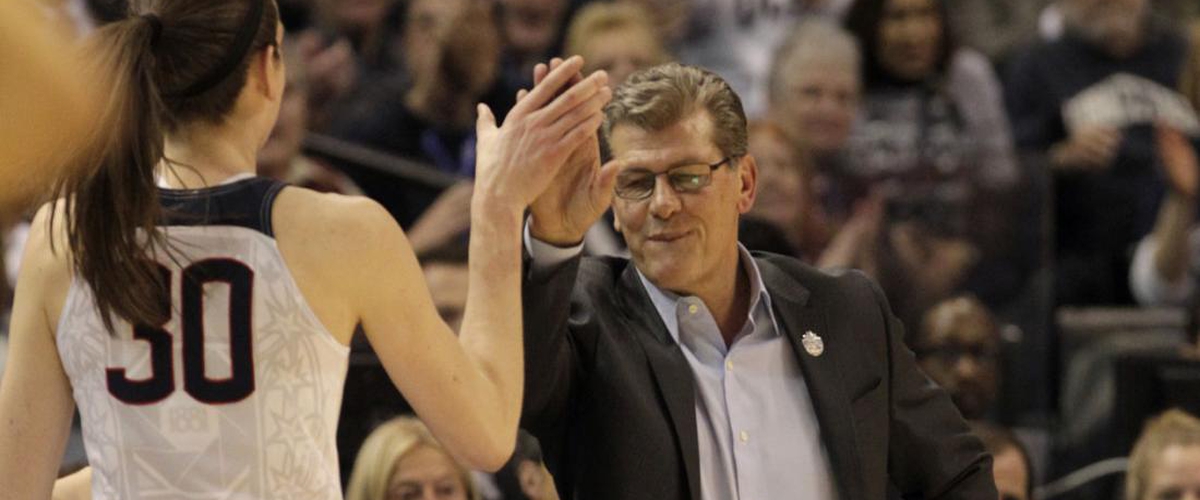 Geno Auriemma and the UConn are to no surprise the number one overall seed and looking to win the national championship this year after losing to Mississippi State in the Final Four last year.
The Stack is back on this Tuesday and the NCAA Tournament is starting…kind of. Two play-in games tonight that are sure to delight. Okay, probably not, but we'll be making a pick for each of those games. Legal tampering has begun in the NFL. Sounds like the Minnesota Vikings have reached out to Drew Brees to gauge his interest. I've only been asking that they do that since the season ended. Get 'er done. Kirk Cousins wrote a goodbye post to Washington and promptly proceeded to tag the #Vikings and #Jets in it. Whoops! It was removed I believe. There will be a lot of free agency talk Wednesday I'm sure, but for now let's get to it and see what's in "the stack" for today, Tuesday, March 13th:
NCAA Women's Tournament bracket unveiled
The NCAA women's basketball selection show was yesterday and to absolutely no surprise, UConn is the top seed overall. They will be in Storrs, Connecticut for the first two games before moving to Albany, New York, and finally Columbus, Ohio, because you know they are going to be there for the Final Four. I would love to see a rematch with Mississippi State in the championship game. Mississippi State is on the other side of the bracket. South Carolina though is not. Winners of the SEC, Dawn Staley's team is the two seed in the Albany region with UConn. South Carolina can be none too pleased with the selection committee and what they did to them, but you know what, this is a great chance for South Carolina to go out and do the unthinkable.
Despite losing four players to ACL injuries this season, Notre Dame is a one seed. A matchup with South Dakota State awaits potentially in the second round though. I have my eye on that for obvious reasons. Minnesota, Buffalo, Oklahoma and Creighton were all among the last teams to get in the field. My final four will be as follows:
· #1 seed UConn (Albany region)
· #2 seed Oregon (Spokane region)
· #1 seed Mississippi State (Kansas City region)
· #1 seed Louisville (Lexington region)
I thought about the #3 seed Tennessee coming out of Lexington, but I think Louisville is just too good. While I hope we see UConn versus Mississippi State in the women's championship game, it very well may not happen. If it does I'm going for the Bulldogs along with just about everyone outside the state of Connecticut. I can't pick them though. They beat them last year, but this is a new year. And UConn will once again reign supreme.
Bengals trade for Cordy Glenn
The Cincinnati Bengals bolstered their offensive line on Monday by trading for left tackle Cordy Glenn from the Buffalo Bills. In exchange, the Bengals and Bills will swap first round draft picks. The Bills will now pick 12th and the Bengals 21st. The Bills are obviously trying to gather enough picks to move up and snag a quarterback. The only question is what quarterback are they looking at. They are letting some key pieces go in the likes of Glenn and quarterback Tyrod Taylor who was traded to the Cleveland Browns last Friday. With two picks now in each of the first three rounds in this year's draft though, the Bills are positioning themselves to make a pretty big splash. We'll see how it all unfolds when the draft comes at the end of April. In the meantime though, free agency starts shortly after midnight tonight. Be ready for the frenzy to begin and the money fly!
Play-in games
#16 LIU-Brooklyn vs. #16 Radford 6:40 PM ET TruTV
The first game of the NCAA Tournament begins and it's really tough to say who I like in this one. Radford of course won the Big South tournament on that last second three pointer. Man was that cold-blooded. LIU-Brooklyn beat Wagner on Wagner's homecourt so that was pretty good on their part. I think I'll take them to win this one before promptly losing to #1 seed Villanova on Thursday.
Pick: LIU-Brooklyn
#11 St. Bonaventure vs. #11 UCLA 9:10 PM ET TruTV
The other play-in game should be pretty interesting. It's weird to think of UCLA being in the play-in game, but here they are. St. Bonaventure has been playing really well over the last couple of months despite losing early in the A-10 conference tournament. They beat Rhode Island on their home floor. I think they will find a way to take down UCLA.
Pick: St. Bonaventure
Coming up Wednesday: Tuesday play-in game reaction, early NFL free agency deals and picks for Wednesday's play-in games
---