"The Stack" 3-13-19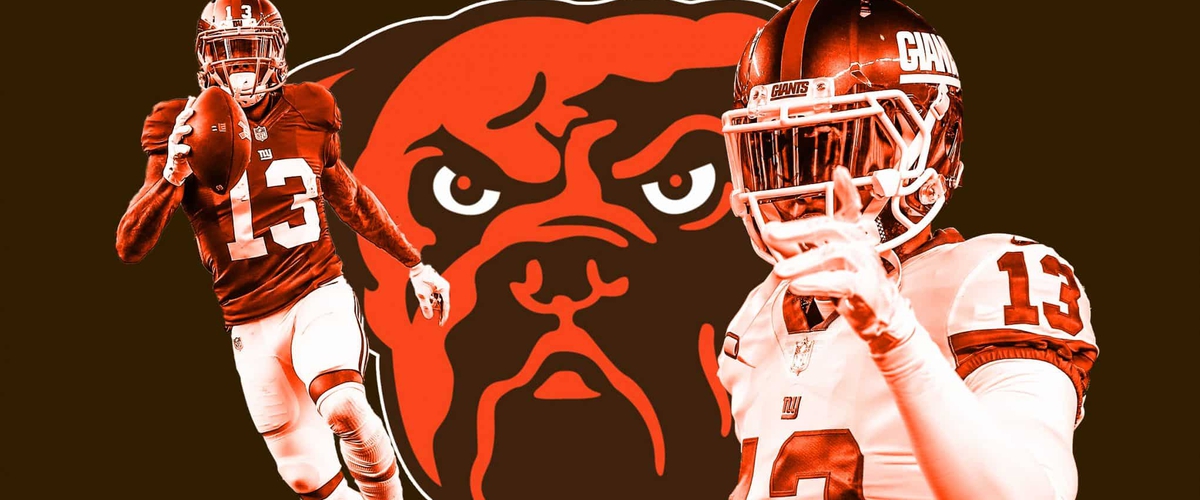 So the Cleveland Browns are a force to be reckoned with after trading for Odell Beckham Jr. Tuesday night.
The Stack is back on this Wednesday and there are plenty of college basketball tournaments starting today, but the big news is that Odell Beckham Jr. is a Cleveland Brown. Reaction to that and other free agent signings so let's get right to "the stack" for today, Wednesday, March 13th:
Giants trade OBJ to the Browns
The New York Giants routinely said that they didn't sign wide receiver Odell Beckham Jr. to trade him. In a shocking and completely unforeseen move (please note the sarcasm), they lied. The Giants traded OBJ to the Cleveland Browns for this year's first and second round picks and safety Jabril Peppers.
What an aggressive move by the Browns and a good and bold move at that. They had an extremely promising year last year and they are building on that momentum. They have supplied Baker Mayfield with key weapons in Jarvis Landry, Nick Chubb, Kareem Hunt and not Beckham Jr. For the record, I liked the Browns to make the playoffs this upcoming season last year and I said so as much. Plenty of more people will surely be jumping on that train now. This is great move for the Browns and their fans.
Giants fans should be irate. The Giants let Landon Collins go. Olivier Vernon was traded to the Browns earlier. Besides Saquon Barkley, what are the Giants providing Eli Manning to succeed on offense? Surely they will be drafting a quarterback with one of these two first round picks, but what else are they looking to do? They appear to be a lost franchise at this time and this move will only further that notion. Clearly OBJ just wasn't worth the headache that the Giants think they had with him.
Other NFL free agency news
While hard to top the news of the OBJ trade to Cleveland, here are some of the other big deals that went down Tuesday:
· Late Tuesday night/early Wednesday morning, the New York Jets announced they have reached a deal with running back Le'Veon Bell. It is a four-year, $52 million deal.
· The San Francisco 49ers traded for Kansas City Chiefs defensive end Dee Ford and came to a five-year, $87 million deal with him.
· Former Miami defensive end Cameron Wake signed a three-year deal with the Tennessee Titans who also landed offensive lineman Rodger Saffold from the L.A. Rams.
· Wide receiver Cordarrelle Patterson signed a two-year deal with the Chicago Bears.
· Former Seattle Seahawks guard J.R. Sweezy signed a two-year deal with Arizona.
· Tampa Bay signed former Arizona linebacker Deone Bucannon and also signed a new punter.
· Carolina signed former Denver Broncos center Matt Paradis to a three-year deal.
· Houston signed former Broncos cornerback Bradley Roby to a one-year deal worth $10 million.
· Anthony Barr changed his mind and instead of signing with the New York Jets, he is signing with the Minnesota Vikings. He'll get a five-year $67.5 million with $33 million guaranteed.
Again, I know I've missed a lot of other ones. Stay up-to-date with PFT, espn.com and nfl.com and also go on Twitter!
Big 12 Tournament preview
The Big 12 Tournament tips off today in Kansas City and believe it or not, but Kansas is not the one seed. For the first time in 14 years, they did not win the Big 12 regular season title. Now that may give them a little extra motivation headed into the conference tournament, but it is going to be difficult against the likes of Texas Tech and Kansas State. When push comes to shove though, can I really take Texas Tech over the likes of Kansas? I don't think so either.
Predicted conference tournament winner: Kansas
MWC Tournament preview
The Mountain West Conference Tournament tips off today in Las Vegas and Nevada is the clear favorite to win it all. They are not as invincible as we once thought. They haven't played great the last month or so of the season and remember that blowout loss to New Mexico earlier in the season? Not good. But they want revenge on Utah State and they are likely to get it. And they will exact revenge.
Predicted conference tournament winner: Nevada
Big East Tournament preview
The Big East Tournament tips off today at the world's most famous arena, Madison Square Garden, and this tournament is a total crapshoot. You can make an fairly convincing argument as to why every team can win this tournament. Marquette? Prolific scorer in Marcus Howard. Villanova? They've been here time and time again. Seton Hall? Riding a lot of confidence. Xavier? Playing perhaps the most consistent of any team in the league. That's tempting, but I will go with, oh who should I go with? I don't bleeping know!
Predicted conference tournament winner: Villanova
Big Sky Tournament preview
The Big Sky Tournament tips off today in Boise, Idaho, and not Reno, Nevada, as that is where the tournament has been played for the last few years. Montana has dominated this conference for most of the season, but look for a team like Northern Colorado who has played well or even say Weber State to maybe surprise. My picks have not been good so far so why not get another one wrong. Sorry UNC.
Predicted conference tournament winner: Northern Colorado
Conference USA Tournament preview
Conference USA tips off their tournament today in Frisco, Texas, and Old Dominion has been the dominant team all year long apart from a big upset against UTSA. They may face UTSA, who is the four seed, and I would not put it past the Roadrunners to pull off another upset. Western Kentucky is poised to present a challenge as well. I hope I am wrong, but at the end of the day, I think Old Dominion is going to win this tournament.
Predicted conference tournament winner: Old Dominion
Southland Conference Tournament preview
The Southland Conference Tournament tips off today in Katy, Texas, and all year long, Sam Houston State has been the best team. Abilene Christian may give them a run for their money, but I'll take SHSU to win, because I really don't know much else about how good (bad) the rest of the conference is.
Predicted conference tournament winner: Sam Houston State
Pac-12 Tournament preview
The Pac-12 Tournament tips off in Las Vegas today and for a power five conference, they may only get one team in. Washington doesn't necessarily need to get to the championship game to get in, but if they don't make it they will be sweating a little bit. Arizona State almost needs to make it to the championship game or risk not making the NCAA Tournament. All other teams need to win the tournament to get in which may mean that they would be the only team to get in. Ouch!
Predicted conference tournament winner: Arizona State
A-10 Tournament preview
The A-10 (Atlantic 10) tips off their tournament today in Brooklyn and this too looks like a one big league. Perhaps VCU makes it as an at-large if they lose to say Davidson or Dayton, but why risk it? Just win the tournament. There is a chance we see a few upsets here, but at the end I'll take VCU to beat Davidson and punch their ticket.
Predicted conference tournament winner: VCU
SEC Tournament preview
The SEC Tournament tips off today in Nashville and don't worry about Vanderbilt having an advantage. They didn't win a single conference game all year so it isn't going to happen. With all of the turmoil and controversy surrounding LSU, I can't see them winning so it really all comes down to Tennessee and Kentucky. Who will win the rubber match? While it's dumb to question and doubt Kentucky, I may just do that. Also, keep an eye on Alabama and Florida, two teams on the bubble. They are desperate for wins, but both may miss the NCAA Tournament if they don't pick one up.
Predicted conference tournament winner: Tennessee
Big Ten Tournament preview
The Big Ten Tournament tips off today in Chicago and this is going to be a fun tournament. Purdue is good. Michigan has been great in the tournaments recently, but they were swept by Sparty. Michigan State is great, but they somehow were swept by Indiana so how do you figure what is going to happen in this tournament? One thing is certain. Minnesota, Indiana and Ohio State are all squarely on the bubble and need at least one win, Indiana and Ohio State especially. Will they get it? I have my doubts. While I think Michigan is ultimately the better team and will go further in the NCAA Tournament, I think I like Sparty to take this.
Predicted conference tournament winner: Michigan State
Patriot League Championship (Hamilton, NY)
#2 Bucknell @ #1 Colgate 7:30 PM ET CBSSN
The Patriot League championship is up for grabs and this feels kind of like the MAAC tournament. Iona has dominated that conference tournament in recent years. I kind of feel like Bucknell has dominated the Patriot League to a degree. I don't see that changing on the road.
Who's dancing?: Bucknell
Coming up Thursday: Conference tournament previews plus other headlines from the world of sports
---