"The Stack" 3-18-19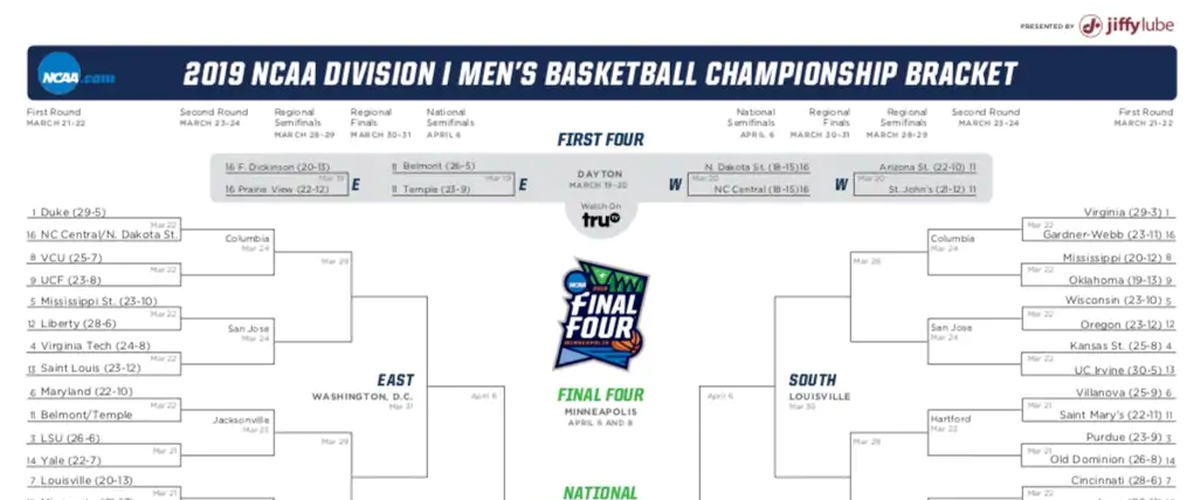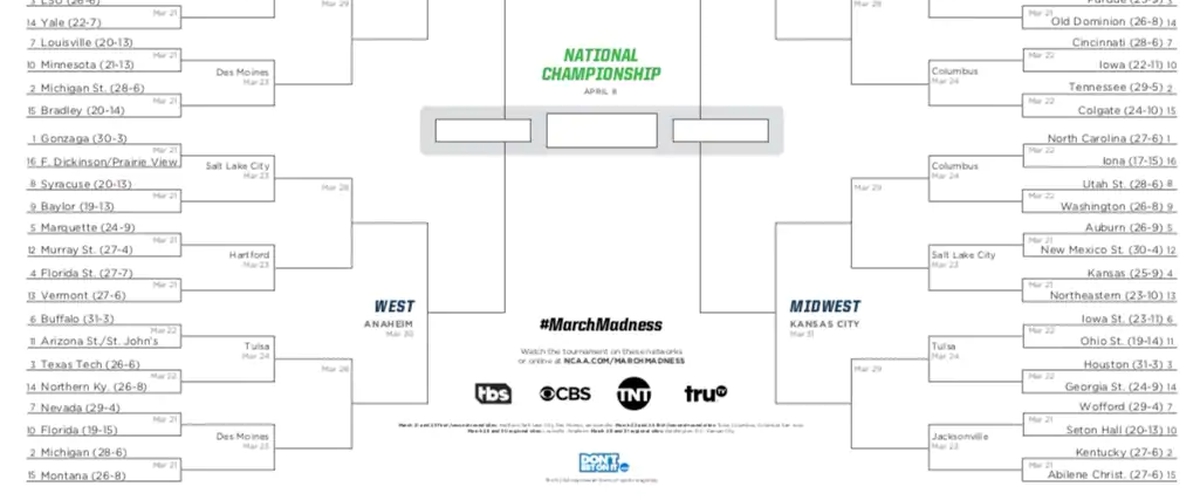 The NCAA Tournament is set and March Madness is officially here!
The Stack is back on this Monday and the bracket is set! The NCAA Tournament has its field and we will react to it all plus thoughts on a former Chief and a current Chief in "the stack" for today, Monday, March 18th:
NCAA Tournament is set
We know the field of 68 for the NCAA Tournament. The First Four tips off in Dayton with games Tuesday and Wednesday. The tournament gets going in earnest on Thursday. Thanks to Tennessee losing by 20 to Auburn on Sunday in the SEC Championship, three of the four one seeds are from the ACC (Duke (number one overall seed), Virginia and UNC). Gonzaga is the other number one seed.
It was great to see Belmont make it as one of the final four teams in. It's a big win for the mid-majors. It sucks that UNC-Greensboro was the first team out thanks to Oregon winning the Pac-12 Saturday night. The first team out. That stings. Had they been in, that would have given to mid-major conferences, the Ohio Valley and the SoCon, two teams each. I don't think Ohio State should have gotten in. To me, their resume wasn't good enough, but I'm very happy that NC State didn't make it in, because their resume ultimately was worse. I'm okay with teams like Texas and TCU not making it in. Do I wish Furman and UNC Greensboro would have gotten in? Absolutely. I would not have been up in arms if Arizona State or St. John's didn't make it in, but they did and that is fine. This was such a difficult year for the bubble.
While most everyone is relatively okay with the bracket, the one thing that the overwhelming majority have an issue with is Michigan State, who just beat Michigan for the third time this season and won the Big Ten Tournament, being a two seed in Duke's region. That should have been Michigan or Kentucky. How can you say that they are the worst of the two seeds? That isn't right. Sparty got a raw deal being in Duke's region. That's not to say that they can't make it to the Final Four or maybe they will lose before having the chance to play Duke and the argument will be moot, but it just sucks that a team that arguably could have been the fourth one seed is in the region with the overall number one seed.
Now to some of the matchups. #5 Marquette against #12 Murray State is the best matchup of the first round. Marcus Howard versus Ja Morant. Can't get much better than that. Some double digits seeds to take a look at include #13 seed UC-Irvine (playing #4 seed Kansas State), #12 seed Oregon (playing #5 seed Wisconsin) and #11 seed St. Mary's (playing #6 seed Villanova). Heck, don't sleep on #14 seed Yale given all of the distractions going on at LSU. I think we are going to see at least two 12s over 5s, one 13 over 4 and maybe a 14 over a 3. If you are really looking to go out on a limb and pick a #15 seed over a #2 seed, may I present to you Colgate over Tennessee. Colgate is a very good team and Tennessee just got shellacked by Auburn. Where is there confidence level at? No 16s over 1s this year. Sorry, the #1 seeds are just too strong. Utah State, Nevada and Buffalo are all teams that could make a deep run and pull off upsets in the second round and beyond.
I have not filled out a bracket yet, but I'm thinking of going all four one seeds. I like Michigan as a #2 seed a lot, but I'm not sure they can take down Gonzaga provided that Gonzaga gets by Florida State. Utah State will make things interesting for UNC as will Kentucky and why would you be so certain that Virginia, after last year's debacle, can make it to the Final Four. I don't, but this team is different this year. DeAndre Hunter is playing. That will make a difference. I more than likely will change my mind on at least one of the teams, but right now that is who I am going with. Can't wait for the tournament to begin. March Madness is here!
Tyreek Hill under investigation
Kansas City Chiefs wide receiver Tyreek Hill is under investigation after his son suffered a broken arm. According to the reports, this is the second tie recently that police have been called to Hill's house though he has not been named in any complaints. His fiancée is listed as are "others".
Obviously this is a very serious situation and more information hopefully will be forthcoming regarding Hill's role in these allegations or lack thereof. If he had any role in these allegations, he of course needs to be charged and the Chiefs need to release him immediately. His talent is unquestioned, but considering he pleaded guilty to choking his pregnant girlfriend (now his fiancée), a few years ago and got off with probation, a second incident cannot go unpunished. Hopefully no other team would take a chance on him, but inevitably one NFL team will because abusing women and children is okay, but God forbid you take a knee for the national anthem in respectful protest. More to come on this story. Stay tuned.
Kareem Hunt suspended eight games
Speaking of Chiefs troublemakers, former Chiefs running back and current Cleveland Browns running back Kareem Hunt has been suspended eight games by the NFL for the incident that occurred last year with a woman at a hotel or apartment that he was living at. You may recall video emerged of Hunt kicking a woman. He lied to the Chiefs about it and once the video surfaced the Chiefs released him immediately.
As Mike Florio of PFT mentioned on Friday, this might be the NFL trying a different approach to these type of domestic violence/assault situations. Come to an agreed upon number of games and the players will not appeal the suspension. This means that the story doesn't get dragged out longer and most everyone can be satisfied that it was dealt with. Sure, not everyone will be happy and you might not deem the punishment appropriate, but in this situation, considering that no charges were filed and there seems to be more people saying that Hunt deserves a second chance, perhaps the punishment fit the crime. It's not a good look for either Hunt or the league that this happened and continues to happen, but for Hunt to receive the punishment and not appeal it, the story won't linger over Hunts, the Chiefs, the Browns or the NFL's heads.
Coming up Tuesday: Reaction to women's NCAA Tournament plus First Four picks and more