"The Stack" 3-20-19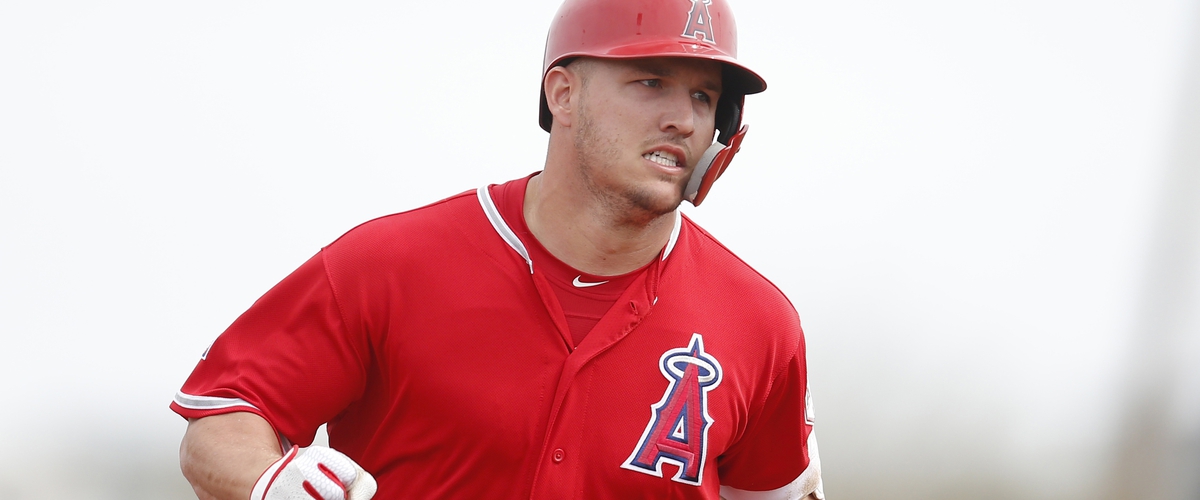 Mike Trout is a very rich dude. He and the Angels agreed to a 12-year, $430 million deal on Tuesday, the biggest contract every given out in any of the four professional sports. He's well worth the money. Now, if only the Angels can put a complete team around him.
The Stack is back on this Wednesday and if the rest of the tournament is like the first First Four games on Tuesday, it should be a good NCAA Tournament. Reaction to those games, picks for tonight and more in "the stack" for today, Wednesday, March 20th:
Mike Trout, Angels agree to record deal
For all of the talk that Mike Trout might eventually leave and join forces with Bryce Harper (nice job with the tampering Harper) and his hometown Philadelphia Phillies, all of that speculation can end now that Trout has signed a record deal with his current team, the Los Angeles Angels. Trout and the Angels have agreed to a 12-year, $430 million deal. It is the biggest contract every handed out in any of the four big sports. To put this contract in perspective, Trout will make $100 million more than Harper on his deal and he is doing it with one less year on his contract.
This is a huge move by both sides. Trout has been phenomenal so far in his young career, earning two MVPs and finishing second four other times and four place once. That is insane! He is head and shoulders the best player in baseball and it shows day after day, night after night, at the ballpark. Angels fans are spoiled with Trout and how well he plays. Now they just need to put a team around him that can compete for the playoffs and a World Series. It may take a few years, but I fully expect to see Trout in the playoffs here before too long. Will he win a World Series ever? He's got twelve years to accomplish it now. This is a deal well worth the money and Trout has earned every penny. No more swimming upstream now. It's time to go with the flow and do what he does best.
Tuesday's First Four results
Two games, two teams picking up their first NCAA Tournament wins in school history. In the first game, #16 Fairleigh Dickinson was losing to #16 Prairie View A&M much of the game, but put together multiple runs in the second half to come back and beat Prairie View 82-76. The guard play for the Knights was exceptional all game long as Darnell Edge dropped in 33 points (a career high) and Jahlil Jenkins added 22 points. This was a good game. Prairie View didn't play terrible. They just couldn't hang on late as Edge and Jenkins did their thing. Can they keep up the sharp shooting against #1 Gonzaga on Thursday? It will be interesting to find out.
In the second game, Belmont earned their first NCAA Tournament win in school history with an 81-70 win over Temple. Belmont had a double-digit lead in the second half only to see Temple storm back and take the lead. Belmont settled down though and started knocking in their threes. They are a dangerous team when they make their threes. Kevin McClain dropped in 29 points to lead the Bruins. For Temple head coach Fran Dunphy, this is the final game of his head coaching career. He is retiring after 30 years as a head coach, the last 13 of which came at Temple. He's had a good run and it sucks to see him exit on this loss, but at least he was able to coach in the NCAA Tournament one last time. I'm liking Belmont to make a run and beat Maryland.
Wednesday's First Four games
#16 NC Central VS #16 North Dakota State 6:40 PM ET TruTV
I may be biased here, but I saw the Bison at the Summit League Tournament and they are playing extremely well right now. They make a lot of threes. Tyson Ward is a good player and Cameron Hunter comes off the bench and makes a lot of threes. NC Central just finished with 50 points in the MEAC Championship and that was good enough to win. Between their defense and three point shooting, I see the Bison running away with this one.
Predicted winner: North Dakota State
#11 St. John's VS #11 Arizona State 9:10 PM ET TruTV
The Red Storm were the last team in the bracket. Both they and Arizona State arguably shouldn't be in the NCAA Tournament field, but one of them will be moving on. While St. John's has been good, I think Arizona State and head coach Bobby Hurley are just a little better and will come away with the victory.
Predicted winner: Arizona State
Coming up Thursday: NCAA Tournament picks for Thursday's games
Listen to this week's "The Sports Block", where we break down the NCAA Tournament, here.
---