"The Stack" 3-23-19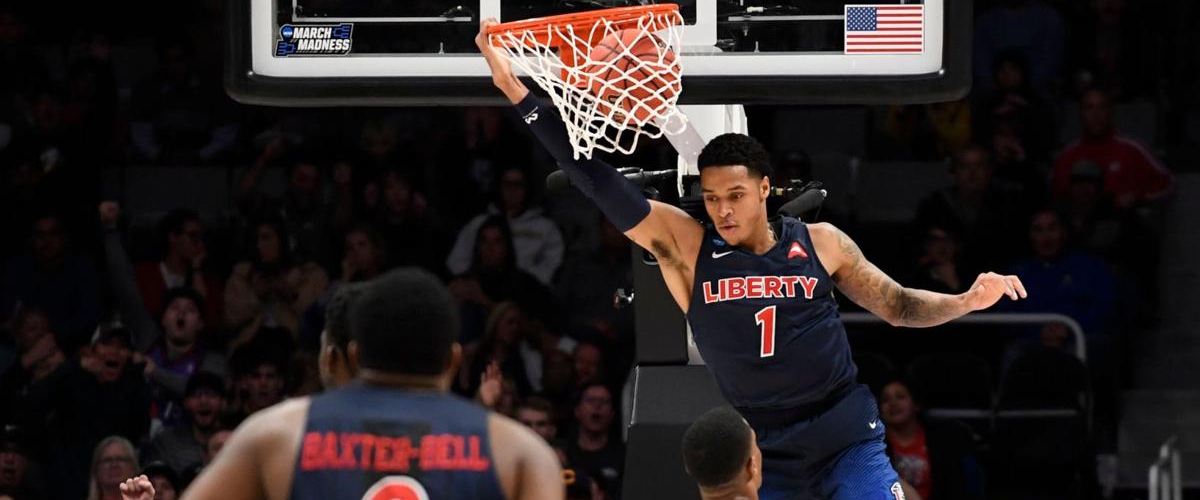 Liberty, Liberty, Liberty. Liberty. The Flames of Liberty are burning bright after upsetting #5 seed Mississippi State 80-76 and winning their first NCAA Tournament game in program history.
The Stack is back on this Saturday and if you were not entertained by Friday in the NCAA Tournament, what is wrong with you? The games in San Jose were absolutely nuts with two #12s and a #13 seed winning. That's right. Liberty, Liberty, Liberty, Liberty won their first NCAA Tournament game along with UC-Irvine. Oregon blew the doors off of Wisconsin. What a day to be in San Jose. Ohio State beat Iowa State by three points. Iowa came back to take down Cincinnati. Five double digit seeds won on Friday. We nearly saw de ja vu all over again with Virginia as they were trailing #16 seed Gardner Webb by 14 at one point in the first half, but they turned things around quickly to start the second half before winning the game. What a great day. Hopefully the second round will be just as good. That starts today so let's make some picks in "the stack" for today, Saturday, March 23rd:
#6 Maryland VS #3 LSU 12:10 PM ET CBS (East Region, Jacksonville, FL)
Maryland and LSU both survived scares in the first round. Maryland is very good, young team, but that's just it. They are young. LSU may be without their head coach, but between Tremont Waters and Javonte Smart and Naz Reid, they are just too talented.
Predicted winner: LSU
#7 Wofford VS #2 Kentucky 2:40 PM ET CBS (Midwest Region, Jacksonville, FL)
How cool would it be to see Wofford beat the mighty Wildcats? Not me for one of my brackets, but it would still be cool to see a team from the SoCon make it to the Sweet 16. Fletcher McGee has already set the record for three point makes. Can he lead the Terriers to an upset? Without P.J. Washington, Kentucky is primed for an upset. If he plays they should be just fine. We just don't know.
Predicted winner: Kentucky
#10 Florida VS #2 Michigan 5:15 PM ET CBS (West Region, Des Moines, IA)
These will be an offensive struggle. Both teams play good defense. Florida has some young and talented players, but Michigan has the better overall team. Zavier Simpson will make enough plays and lead the Wolverines to victory.
Predicted winner: Michigan
#12 Murray State VS #4 Florida State 6:10 PM ET TNT (West Region, Hartford, CT)
After that dominating triple-double performance against Marquette, what does Ja Morant have for an encore? He and his team really got up and down the floor against Marquette, but Florida State has so much length and is so good defensively that it may be difficult. But they looked so good on Thursday and Florida State looked shaky against Vermont. Let's ride with the Racers to the Sweet 16.
Predicted winner: Murray State
#9 Baylor VS #1 Gonzaga 7:10 PM ET TBS (West Region, Salt Lake City, UT)
Baylor was tremendous against Syracuse, but the Orange are not nearly as good offensively as Gonzaga is. I don't think they can stay with Gonzaga for long. Gonzaga will run away from them in the second half.
Predicted winner: Gonzaga
#10 Minnesota VS #2 Michigan State 7:45 PM ET CBS (East Region, Des Moines, IA)
I don't think Spartans head coach Tom Izzo is going to have to yell at too many players, if any, in this game. Minnesota will not be able to stay with Cassius Winston, Nick Ward and company. It was nice they got a win in the first round. Enjoy it. It's going to get ugly Gophers fans.
Predicted winner: Michigan State
#6 Villanova VS #3 Purdue 8:40 PM ET TNT (South Region, Hartford, CT)
It is dumb to pick against Jay Wright and Villanova this time of the year. They have shown over the last few years that they are one of the best and yet I am going to go with the more talented team that has Carson Edwards along with other good players. Get out of Haarms way. They won't have the crowd, but the Boilermakers should come away with the victory.
Predicted winner: Purdue
#5 Auburn VS #4 Kansas 9:40 PM ET TBS (Midwest Region, Salt Lake City, UT)
Auburn was the only #5 seed to advance and they probably shouldn't have after nearly crapping the bed against New Mexico State with a horrible last couple of minutes. Will they learn from that? Despite blowing out Northeastern, I'm still not convinced that this Kansas team is for real and can do damage in this year's tournament, but maybe they are. Bill Self has been in this position a number of times. Bruce Pearl has not. Experience may matter when it is all said and done. Don't let me down.
Predicted winner: Auburn
Coming up Sunday: Saturday reaction plus picks for Sunday's games