"The Stack" 3-22-19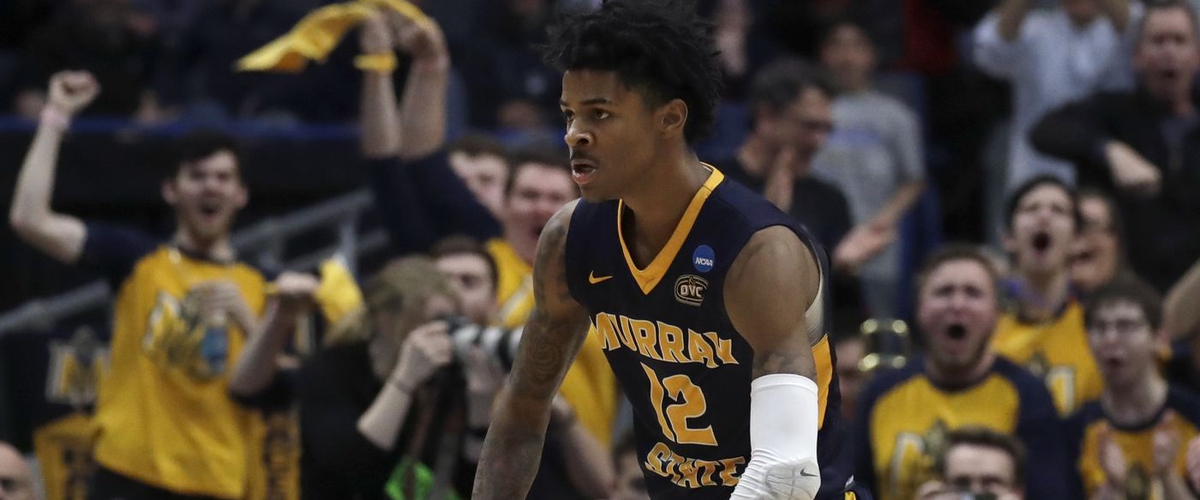 Ja Morant put on a show yesterday as Murray State raced Marquette out of the building with an 83-64 victory.
The Stack is back on this Friday and that was a pretty good first day of the NCAA Tournament. A number of close games. A few upsets like #12 seed Murray State crushing #5 seed Marquette and two #10 seeds, Minnesota and Florida, beating #7 seeds Louisville and Nevada respectively. Ja Morant was incredible recording the first triple-double since Draymond Green back in 2012. #7 seed Wofford won and Fletcher McGee set an NCAA record by making his 505th career three pointer, the most in history. He's good. Wofford is good. What's going to happen today? Hopefully more terrific action so let's make some picks in "the stack" for today, Friday, March 22nd:
#10 Iowa VS #7 Cincinnati 12:15 PM ET CBS (South Region, Columbus, OH)
Cincinnati winning the AAC and getting a seven seed was a pretty big surprise. They should have been a higher seed. But I'm guessing they aren't unhappy about having to play a couple hours away in Columbus. They'll show everyone just how good they are.
Predicted winner: Iowa
#9 Oklahoma VS #8 Ole Miss 12:40 PM ET TruTV (South Region, Columbia, SC)
This is a toss-up. Both teams can play well at times, but also fail to show up. Ole Miss was picked to finish last in the SEC this year so their run has been pretty incredible. I think Oklahoma is just a little bit better though and will win…by a hair.
Predicted winner: Oklahoma
#14 Northern Kentucky VS #3 Texas Tech 1:30 PM ET TNT (West Region, Tulsa, OK)
The fact that Texas Tech got bounced right away in the Big 12 Tournament is a cause for concern, but Texas Tech is one of the best defensive teams in the country and they can really get going on offense. There are a lot of options. They will win this game pretty easily.
Predicted winner: Texas Tech
#13 UC-Irvine VS #4 Kansas State 2 PM ET TBS (South Region, San Jose, CA)
The Anteaters are a good team. Good perimeter shoot. Pretty good defense. Last I checked, Dean Wade is not playing for Kansas State. They survived for a while last year. I'm not sure they can this year even though the team is largely the same. I'm taking the bait. I'm taking UC-Irvine.
Predicted winner: UC-Irvine
#15 Colgate VS #2 Tennessee 2:45 PM ET CBS (South Region, Columbus, OH)
If there is a #15 seed that will win an NCAA Tournament, I've said earlier this week, it will be Colgate. Size. Three-point shooting. Defense. If Tennessee does not take them seriously, they will lose. I think Grant Williams and Admiral Schofield are too good though and will ultimately lead the Volunteers to victory.
Predicted winner: Tennessee
#16 Gardner Webb VS #1 Virginia 3:10 PM ET TruTV (South Region, Columbia, SC)
It can't happen two years in a row can it? Virginia won't lose to another #16 seed, right? Right?! DeAndre Hunter is playing so that helps. Kyle Guy and company will not lose this game even though Gardner Webb isn't a bad team.
Predicted winner: Virginia
#11 Arizona State VS #6 Buffalo 4 PM ET TNT (West Region, Tulsa, OK)
Arizona State head coach Bobby Hurley is facing his former team and former assistant head coach Nate Oats. This matchup has many storylines. Buffalo has C.J. Massinburg. He is very good. Buffalo is a potential Sweet 16 team. They are better than the Sun Devils and they will show it.
Predicted winner: Buffalo
#12 Oregon VS #5 Wisconsin 4:30 PM ET TBS (West Region, San Jose, CA)
The Ducks are one of the hottest teams in the country. They are playing great defense. Wisconsin is good, but I like this 12 over 5 upset today.
Predicted winner: Oregon
#9 Washington VS #8 Utah State 6:50 PM ET TNT (Midwest Region, Columbus, OH)
Washington has zero offense right now. Their confidence level has to be extremely low. Meanwhile, Utah State has Sam Merrill. Don't know him? You will after this game. Utah State has a very good offense and they will need only 80% of their normal offensive output to take down the Huskies.
Predicted winner: Utah State
#16 North Dakota State VS #1 Duke 7:10 PM ET CBS (East Region, Columbia, SC)
NDSU is a team to look out for…next year. Duke is too good. They have this game, you might know his name, Zion Williamson. While the Blue Devils don't shoot the three pointer real well, they won't need to against the Bison. Never before have I ever cheered for Duke so hard.
Predicted winner: Duke
#14 Georgia State VS #3 Houston 7:20 PM ET TBS (Midwest Region, Tulsa, OK)
There is no coach I like more in this NCAA Tournament perhaps more than Georgia State head coach Ron Hunter. Georgia State is a good team. Houston is better though and they have a player by the name of Corey Davis Jr. who is really good. It will be a battle early, but Houston ultimately prevails.
Predicted winner: Houston
#12 Liberty VS #5 Mississippi State 7:27 PM ET TruTV (East Region, San Jose, CA)
Liberty, Liberty, Liberty. Liberty. No we are not selling insurance here, but I am trying to sell you on the idea that Liberty can win this game. They slow the game down. They shoot well. Mississippi State has Quinndary Weatherspoon who is probably the best player on the court. If the Bulldogs win, it will be because of him. I don't have a good feeling on this game one way or the other.
Predicted winner: Mississippi State??
#16 Iona VS #1 North Carolina 9:20 PM ET TNT (Midwest Region, Columbus, OH)
Iona always seems to find themselves in the NCAA Tournament…at least lately. They are going to get run out of the gym by Cam Johnson, Luke Maye and company. This will be at least a 20 point victory.
Predicted winner: UNC
#9 UCF VS #8 VCU 9:40 PM ET CBS (East Region, Columbia, SC)
It only makes sense that two schools with three letter abbreviations play on a three letter network. The country will come to know who big of a dude Taco Fall is. They'll also become familiar once again with VCU. I think VCU is a slightly better all-around team and will win a close game against UCF. Plus I really want to see VCU against Duke, a rematch from the game in 2007 where VCU upset Duke as an #11 seed.
Predicted winner: VCU
#11 Ohio State VS #6 Iowa State 9:50 PM ET TBS (Midwest Region, Tulsa, OK)
I didn't think that Ohio State should have even made the NCAA Tournament. So while I try not to let that influence my decision, it still creeps in. Iowa State won the Big 12. They are playing really well right now. Their shooting will be too much for Ohio State to overcome.
Predicted winner: Iowa State
#13 Saint Louis VS #4 Virginia Tech 9:57 PM ET TruTV (East Region, San Jose, CA)
St. Louis is a very good defensive team, but Virginia Tech is getting Justin Robinson back and he is a good player. I think Va Tech would win without him, but with him, I definitely think they are going to win. I am not going against Buzz Williams.
Predicted winner: Virginia Tech
Coming up Saturday: Friday NCAA Tournament reaction plus picks for Saturday's games.