"The Stack" 3-25-19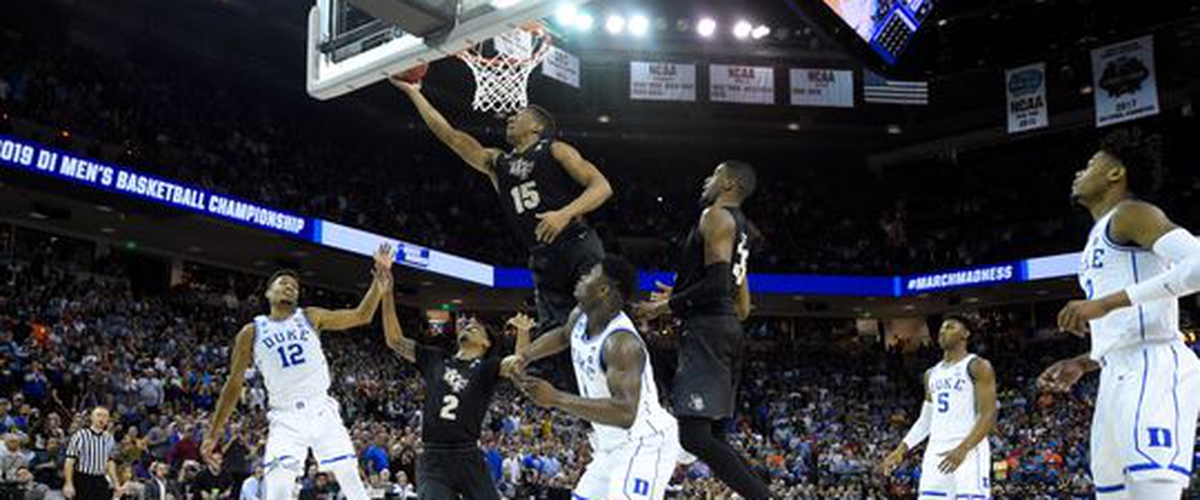 UCF had a chance to beat Duke, but Aubrey Dawkins tip-in just didn't fall and Duke escaped with a 77-76 victory. I feel so bad for UCF today. I hope others feel the same.
The Stack is back on this Monday and I think we are all still in shock or at the very least struggling to fully comprehend that UCF-Duke game yesterday. I feel awful for UCF. I don't know about you. Reaction to Sunday's games plus a surprise retirement in the NFL in "the stack" for today, Monday, March 25th:
Sunday NCAA Tournament reaction
The first week of March Madness is in the books and it is sad. This is the best sporting event of the year in my opinion, and I love just watching four straight days of basketball. So it is both awesome and bittersweet.
Before we get to UCF-Duke, we must talk about Tennessee nearly sh***** the bed against Iowa. The two seed led the ten seed by 25 points at one point in the game. Coincidentally, that is when I first turned on the game at 44-19 so Volunteer fans could certainly have blamed me if Tennessee lost. Iowa just kept grinding and Tennessee got incredibly sloppy in the second half with awful turnovers and bad shot selection. Their defense wasn't good either. Officiating certainly contributed to getting the game into overtime when the called Tennessee for a foul on a three pointer that tied the game. There was no foul and Tennessee would have had an uncontested layup. Grant Williams though took over in overtime and Tennessee escaped with an 83-77 victory. It was the first overtime game of March Madness.
Everyone today though will be taking about the end to the UCF-Duke game. First off, it was a phenomenal all-around game. Zion Williamson put on a show yet again and it was fun to see him battle Tacko Fall who wasn't bad, but ended up fouling out. Aubrey Dawkins, son of UCF head coach Johnny Dawkins had the game of his life. He couldn't miss…okay he rarely missed. He was 12-for-16 at one point. Duke kept building a lead only to see UCF battle back and take a lead themselves. It went back and forth and eventually UCF had a 74-70 lead. Duke turned the ball over and UCF had a two-on-one fast break. They tried an alley-oop and missed. Duke got the ball, came down and drilled a three. Huge five point swing. Duke missed some free throws down the stretch between DeLaurier and Williamson who missed the and-one after he made a sick layup to get Duke within one at 76-75. Fortunately R.J. Barrett grabbed the offensive rebound and put it in to give Duke a 77-76 lead. UCF had eight seconds left after a timeout to draw up the game-winning shot. B.J. Taylor drove in and got the shot up close to the baseline on the right side of the court. It missed and Dawkins got a hand on it and tipped it. The ball rolled around the hoop and how it didn't fall, I do not know. It didn't though and Duke escaped with a 77-76.
I, along with just about everyone else in America, have Duke winning the NCAA Tournament in at least one bracket. Had they lost, that would have sucked of course, but it would have hurt everyone. But how do you feel good about your bracket staying alive and Duke advancing when UCF played so well and suffered this cruel fate? I hate it. I love March Madness, but endings like what happened Sunday make me hate it to a degree as well. Had Duke lost, I probably would have hated it even more because of my bracket, but how can you not feel for Fall and Dawkins and the all of the other players, coaches and UCF fans? I still am struggling with exactly how to feel and articulate what I am feeling and thinking about. At this point I am just rambling. The country feels for you UCF. You'll be back. I feel good in saying that. Dawkins is a good head coach and he will continue to lead this program to big things.
In other games, UNC, Virginia, Texas Tech and Houston all easily advanced. Buffalo could not buy a shot for a long stretch against Texas Tech during a 29-3 Texas Tech run at one point. That sucked to see. Liberty and Virginia Tech had a good game going in the battle of the Burgs (Lynchburg and Blacksburg respectively) with Virginia Tech ultimately prevailing. And what can you say about Oregon? They are playing fantastic basketball right now. They had a 35-23 lead at halftime only to see UC-Irvine score the first 14 points of the second half and take a 37-35 lead. Oregon kept missing shots and turning the ball over. They would regain the lead though on back-to-back three pointers and they really wouldn't look back. Their defense has been incredible. Kenny Wooten was fantastic blocking shots left and right. Ehab Amin provided major energy minutes. Oregon is going to be a difficult out for Virginia next week in the Sweet 16. They are the only double-digit seed to make it to the Sweet 16. All top three seeds have made it which hasn't happened in a while. It all sets us up for some very good matchups next week. Can't wait! Hope you can't either. Love me some March Madness! It's the best!
Gronk retires
The New England Patriots need a new tight end. Surprisingly and unsurprisingly at the same time, Patriots tight end Rob Gronkowski announced on Instagram Sunday that he is retiring from football. It's not surprising from the standpoint that he has contemplated retirement the past couple of seasons due to all of the injuries he has suffered. When the Patriots won the Super Bowl this year, it seemed far more certain that he would retire, but he was at the Patriots facility working out so the sense was that maybe he would be coming back. In the end though, Gronk has retired and the Patriots have a major void on offense. They need to find a replacement. Jared Cook has not signed his deal with the New Orleans Saints, but I don't think the Patriots will be able to land him. Look for them to trade for someone or draft a tight end very early in the NFL Draft next month. Maybe one of the tight ends from Iowa will be making their way to New England. Gronk's personality sure will be missed as will his play on the field. I wish him the best in retirement. We surely have not seen the last of Gronk in the public eye.
Coming up later this week: Sweet 16 previews and predictions plus other headlines from the sports world