"The Stack" 3-24-19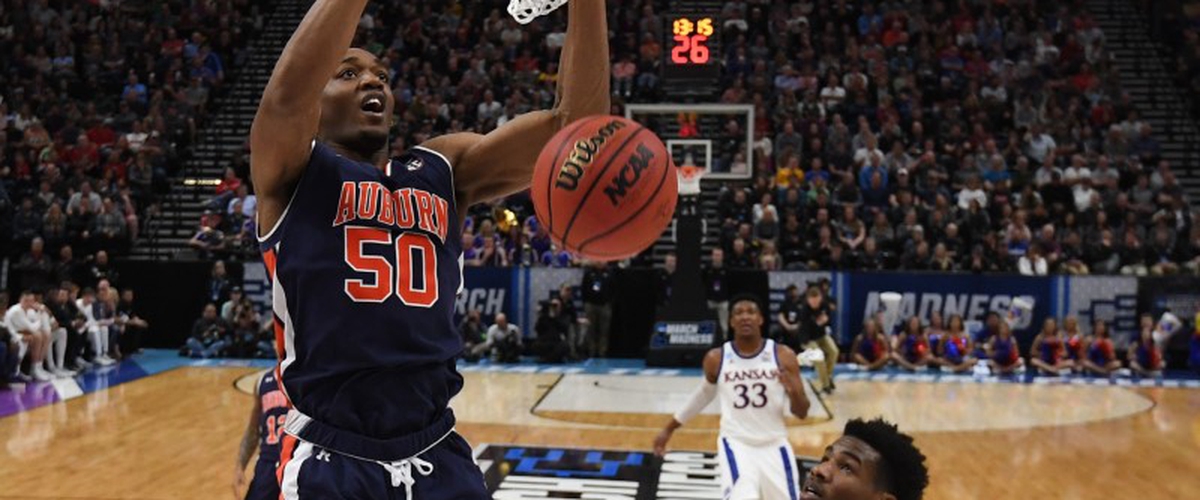 Auburn ran past Kansas Saturday in a game that was not nearly as close as the final score indicated to reach the Sweet 16 for the first time since 2003.
The Stack is back on this Sunday and if you were hoping that the second round of the NCAA Tournament was going to be as good as the first round, Saturday was a major disappointment to you. It started off great with LSU winning at the buzzer over Maryland and Kentucky escaped Wofford, but after that it was blowout city. No game was closer than 12 points and some of the blowouts were eyebrow raising. Purdue absolutely embarrassed the defending national champions, Villanova, trouncing them 87-61. Florida State ran Ja Morant and the Racers out of Hartford with a 90-61 rout. Auburn thumped Kansas 89-75, but don't let the final score fool you. Auburn was in control of this game the entire way. Will today be any better? Let's make some picks in "the stack" for today, Sunday, March 24th:
#10 Iowa VS #2 Tennessee 12:10 PM ET CBS (South Region, Columbus, OH)
Iowa did a great job storming back against Cincinnati in what was supposed to be a "home" game for Cincinnati given how close Columbus is. Can they win against Grant Williams, Admiral Schofield and company? I don't see it. Tennessee is just too good.
Predicted winner: Tennessee
#9 Washington VS #1 UNC 2:40 PM ET CBS (Midwest Region, Columbus, OH)
I will admit, I did not see Washington's offensive explosiveness coming at all against Utah State. Given how Washington looked in the Pac-12 championship game against Oregon, that was a rather surprising result. I do not think they have enough offensive firepower to stay with UNC. Their defense will slow UNC down a bit, but it won't be enough.
Predicted winner: UNC
#9 UCF VS #1 Duke 5:15 PM ET CBS (East Region, Columbia, SC)
That was a pretty cool picture that CBS showed Friday night of Tacko Fall standing next to reporter Tracy Wolfson. Just a two foot and change difference in height between the two. Fall will have his hands full with Zion Williamson and vice versa, but maybe it will be Javin DeLaurier or Marques Bolden that has to handle Fall more. Either way, Fall can get his, but the Blue Devils have way too much firepower and will emerge victorious.
Predicted winner: Duke
#6 Buffalo VS #3 Texas Tech 6:10 PM ET TNT (West Region, Tulsa, OK)
This game should be a fun one. Buffalo's offense is great while Texas Tech plays some of the best defense in the country. Something has to give. Texas Tech can score on the offensive end as well with Matt Mooney, Jarrett Culver and Tariq Owens. I've split this game in my brackets so while I am pulling for Buffalo, I think Tech ultimately wins a close one.
Predicted winner: Texas Tech
#12 Liberty VS #4 Virginia Tech 7:10 PM ET TBS (East Region, San Jose, CA)
A battle of Virginia teams. Can Liberty, Liberty, Liberty, Liberty, pull off another upset? Or will Virginia Tech's defense be too much? Justin Robinson should play in this one again and he takes Tech to a whole new level. While I can see Liberty emerging with a victory, Virginia Tech is ultimately too good and they will be moving on to the Sweet 16.
Predicted winner: Virginia Tech
#9 Oklahoma VS #1 Virginia 7:45 PM ET TruTV (South Region, Columbia, SC)
It took Virginia a while, perhaps too long, but they were finally able to play within the identity we've seen from them throughout the season in defeating Gardner Webb. Oklahoma presents plenty of challenges, just ask Ole Miss. Their offense is good, but Virginia is going to be ready to handle it. They move on to the Sweet 16.
Predicted winner: Virginia
#11 Ohio State VS #3 Houston 8:40 PM ET TNT (Midwest Region, Tulsa, OK)
Ohio State is going to try and play great defense and grind out a victory like they did against Iowa State, but Houston won't play nice. Corey Davis Jr. is a tremendous player and Houston will look to score plenty of points in this one. I don't think Ohio State can keep up.
Predicted winner: Houston
#13 UC-Irvine VS #12 Oregon 9:40 PM ET TBS (South Region, San Jose, CA)
What a win that was for UC-Irvine Friday afternoon against Kansas State. They played great down the stretch. They'll need every bit of that offense against an Oregon team that is playing stifling defense right now and playing with a great deal of confidence. I think the Anteaters run ends here. The Ducks will be flying (or flocking) to the Sweet 16.
Predicted winner: Oregon
Coming up Monday: Sunday NCAA Tournament reaction plus other headlines from the sports world