"The Stack" 4-4-19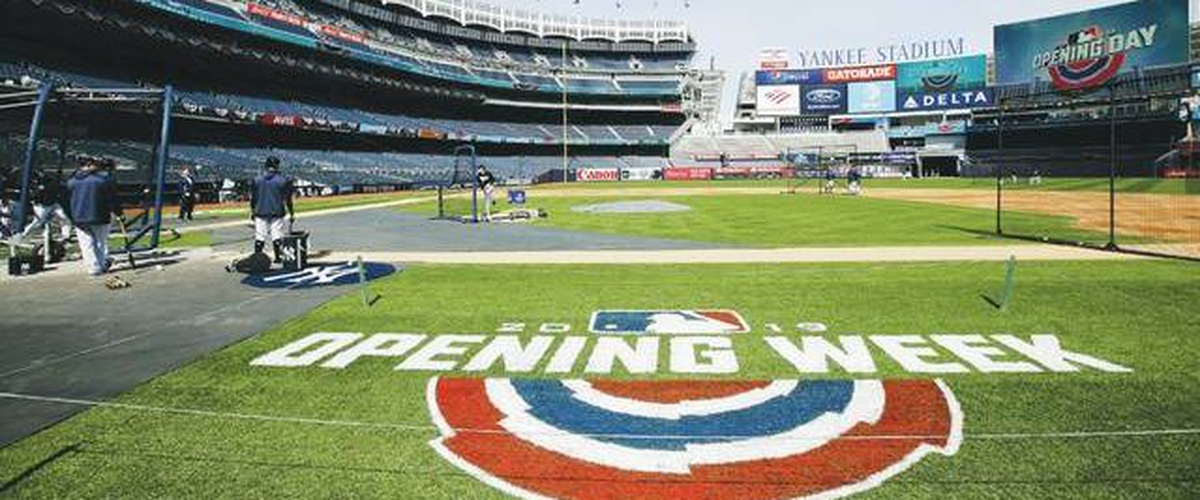 The 2019 MLB season is here. It is going to be a very good and unpredictable year.
The Stack is back on this Thursday and my apologies for not getting any more March Madness reaction in from last weekend. Computer issues, sick kid, overall stress in life and lack of sleep has contributed to it all. I don't mean to short change the 2019 MLB season preview blog we normally do, but it is shorter this time around due to the issues going on and the fact that the season is one week old. March Madness talk coming on Friday or Saturday. Now then, let's get right to "the stack" for today, Thursday, April 4th:
2019 MLB season preview
First, before we get to the divisions, obviously the two biggest free agent signings of the offseason were Bryce Harper signing that 13-year $330 million deal with the Philadelphia Phillies and Manny Machado signing his 10-year, $300 million deal with the San Diego Padres. We expected Harper to sign with the Phillies. Machado signing with the Padres was a major surprise. It's a move though, along with Eric Hosmer the year before, that shows Padres fans that the team is trying to win. They have great young pitching and other big time players coming up. I think they are a playoff team within a year or two and they will flirt with a spot this season.
The Los Angeles Angels didn't want to see Mike Trout leave so they gave him a record deal, surpassing the record deals signed by Machado and Harper. 12-years, $430 million for Trout. It's a wise investment by the Angels. Trout is the best player in Major League Baseball right now. He will be for a number of years. He'll win MVPs. If the Angels can get some good talent around him, they will be in good shape down the road.
Of course there were many other free agent signings, but these were by far the biggest.
Predicted AL East Standings
1. New York Yankees
2. Boston Red Sox
3. Tampa Bay Rays
4. Toronto Blue Jays
5. Baltimore Orioles
My Reasoning: I know the Yankees have some injuries right now, but their lineup is stacked. They have a great bullpen. If the starting pitching can hold up, they may win the World Series. Boston has all sorts of talent and the team is largely the same it was last year when they won the World Series. The Rays will flirt with a wild card spot, because of their unorthodox style when it comes to pitching. Closers, other bullpen guys starting. It worked last year. It will work again this year. Plus, Blake Snell is the real deal. Toronto and Baltimore will be in the basement.
Predicted AL Central Standings
1. Minnesota Twins
2. Cleveland Indians
3. Chicago White Sox
4. Detroit Tigers
5. Kansas City Royals
My Reasoning: This division is a two team race. The Twins have a new manager (Rocco Baldelli), they got Nelson Cruz and some guy named Cron to help bolster the offense. If Byron Buxton can play up to potential and if Miguel Sano can ever stay healthy, I think their starting pitching and bullpen have improved enough for them to take the division. They can feast off of several bad teams in the White Sox, Tigers and Royals. The Indians have great pitching in Trevor Bauer and Corey Kluber, but management and the front office are giving mixed signals on just how bad they want this team to win. For that reason, I can't quite pick them. You already know how I feel about the rest of the division.
Predicted AL West Standings
1. Houston Astros
2. Oakland Athletics
3. Seattle Mariners
4. Los Angeles Angels
5. Texas Rangers
My Reasoning: The Astros are arguably the best team in baseball despite not having starting pitcher Dallas Kuechel and losing Marwan Gonzalez to the Twins. They'll be fine. They are solid everywhere else. The Athletics won't be as good as last year, but they'll be fine. The Mariners are the true wild card with their non-rebuild rebuild in the offseason. They could be a big surprise. Trout will need to do just about everything for the Angels to make the playoffs and the Rangers are in rebuild.
AL Playoff Teams
1. Houston Astros (AL West)
2. New York Yankees (AL East)
3. Minnesota Twins (AL Central)
4. Boston Red Sox (Wild Card #1)
5. Cleveland Indians (Wild Card #2)
I really want to put the Rays in, but I think the Indians are just a little more talented and will squeak in.
ALCS
Houston Astros VS New York Yankees
AL MVP: Mike Trout (Angels)
AL Cy Young: Justin Verlander (Astros)
Predicted NL East Standings
1. Atlanta Braves
2. Philadelphia Phillies
3. Washington Nationals
4. New York Mets
5. Miami Marlins
My Reasoning: This is the best division in baseball without a doubt and it is a bit of a crapshoot. Atlanta has a good young team led by Ronald Acuna Jr. The Phillies of course of Harper and Jake Arrieta pitching. That's a good combo to have. The Nationals have the best pitching in the division arguably led by Max Scherzer, but don't forget about Jacob deGrom and the Mets. deGrom is a special player and he is off to another great start this year. It's just, the Mets are going to have some injuries come up with their starting pitching. Seems like it happens most years. The Marlins are, well, just the Marlins.
Predicted NL Central Standings
1. Milwaukee Brewers
2. St. Louis Cardinals
3. Chicago Cubs
4. Cincinnati Reds
5. Pittsburgh Pirates
My Reasoning: From top to bottom, no team is as good as the Brewers. Their power in addition to the starting pitching makes this so dangerous. Lorenzo Cain making plays out their in the outfield. Yeah, this team is going places. The Cardinals got Paul Goldschmidt from the Arizona Diamondbacks and they always find ways to hang around and make the playoffs…most years anyway. The Cubs are having a difficult time generating runs. That won't help them. I like what the Reds are building and having Yasiel Puig can't hurt, but they are a year or two away. The Pirates, it could be a rough year.
Predicted NL West Standings
1. Colorado Rockies
2. Los Angeles Dodgers
3. San Diego Padres
4. San Francisco Giants
5. Arizona Diamondbacks
My Reasoning: Nolan Arenado is a stud. The Rockies can score a bunch of runs and they have some pitching to back them up too when they are not playing in the thin air at Coors Field. Injuries to Clayton Kershaw and others are scaring me away from the Dodgers. Walker Buehler is good and they have other good young guys, but I think that Kershaw injury cloud could hang over them this entire season. The Padres have good youth, but are a year away from being serious contenders. The Giants and the Diamondbacks are not very good, but at least the Diamondbacks have a slightly better outlook in the foreseeable future.
NL Playoff Teams
1. Milwaukee Brewers (NL Central)
2. Atlanta Braves (NL East)
3. Colorado Rockies (NL West)
4. Philadelphia Phillies (Wild Card #1)
5. Washington Nationals (Wild Card #2)
I really want the Phillies and Brewers to meet in the NLCS, but under these projected standings that would not be the case. They will meet in the first round under this scenario. These would be good.
NLCS
Milwaukee Brewers VS Colorado Rockies
NL MVP: Nolan Arenado
NL Cy Young: Jacob deGrom
World Series
Houston Astros VS Milwaukee Brewers
World Series Champions: Houston Astros
Tough for me not to pick arguably the best team in baseball despite their slow start.
Enjoy the 2019 MLB season everyone. It should be an exciting season and remember, it's a marathon, not a sprint.
Coming up Friday or Saturday: Final Four predictions
Listen to this week's "The Sports Block" podcast here.
---