"The Stack" 3-25-18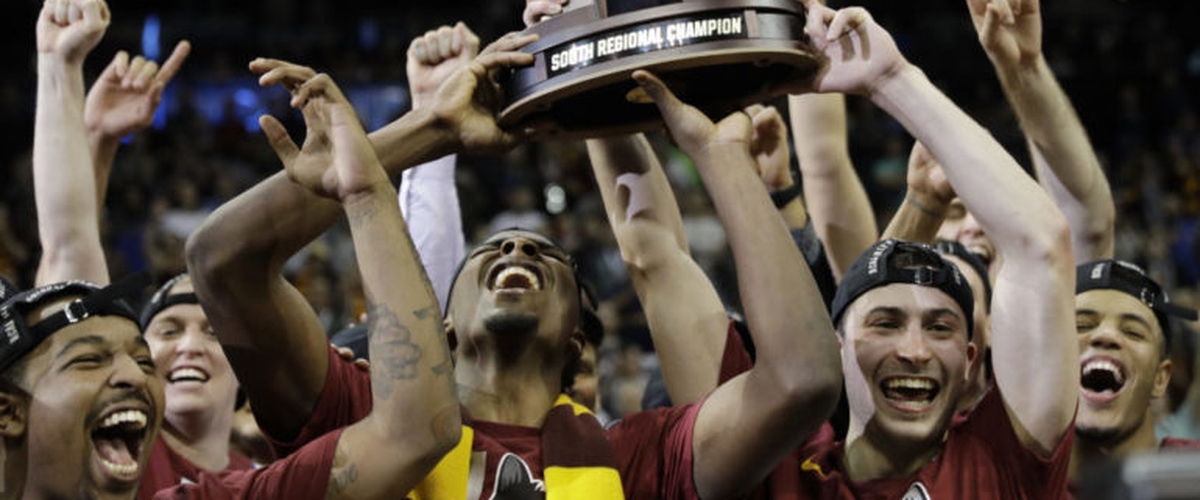 The joyousness of the Loyola-Chicago Ramblers and Sister Jean can be felt all over as the Ramblers are going to the Final Four following their 78-62 win over Kansas State in the Elite Eight.
The Stack on this Sunday and two tickets have been punched to the Final Four. Two more tickets will be punched for today as we look forward to the Final Four in San Antonio, Texas, next week. Reaction to the games from yesterday plus previews and predictions for today's games so let's get right to "the stack" for today, Sunday, March 25th:
Saturday's Elite Eight reaction
The Ramblers of Loyola-Chicago won the first three games in the NCAA Tournament by a combined four points. On Saturday their margin of victory was quadruple that amount. The Ramblers offense was crisp and Kansas State could not dictate the tempo of the game as Loyola-Chicago ran past the Wildcats to win 78-62 and secure their first trip to the Final Four since the 1963 team that won the national championship. Ben Richardson scored a career high 23 points on 6-of-7 shooting from beyond the arc. They made layups when they needed to and they played good defense. That is the calling card of this team. They are good at just about everything. Yes they are a Cinderella, but make no mistake about it, this team is very good. Kansas State had to have a terrific shooting night to beat Kentucky on Thursday night and they did thanks to Xavier Sneed. On Saturday, they weren't so fortunate. And their terrific defense couldn't stop the methodic offense of Loyola-Chicago. Kansas State returns their top seven scorers to next year's team (dare I say they may make it back to this same spot), but on Saturday night in Atlanta, they didn't have enough to stop Sister Jean and company from celebrating a trip to the Final Four. Loyola-Chicago is your South Region champions.
The Ramblers will play Michigan who had to claw their way to a 58-54 win over the #9 seed Florida State Seminoles in the West Regional final. Michigan hit just about everything against Texas A&M Thursday night. Not so much against Florida State who, thanks to a deep bench, remained fresh and was able to keep attacking Michigan and make them take difficult shots. Unfortunately for the Noles, their offense just couldn't keep up. They had several droughts where they didn't make a field goal or only made one field goal for seven minutes. They had 15 turnovers in the first half. They should have been up easily at halftime. Instead they were trailing by one. That can't happen if you want to beat a team like Michigan. Why I didn't take Michigan further I don't know. Their defense is great and they have tremendous three point shooting. We'll see if they can take down Loyola-Chicago next week.
#3 Texas Tech vs. #1 Villanova 2:20 PM ET CBS (Boston, MA) East Region
Texas Tech plays some pretty good defense and they will need every bit of it against the prolific shooting Villanova Wildcats. Tech has the ability to pull off the upset in this game, but only if Villanova comes off sluggish and can't knock down shots early which is possibly after that grueling game with West Virginia Friday night. In the end though, Villanova is the best team in the nation and they will show why once again in this one by taking down the Red Raiders.
Predicted winner: Villanova
#2 Duke vs. #1 Kansas 5:05 PM ET CBS (Omaha, NE) Midwest Region
What a dandy of a game this should be. Two college basketball bluebloods (and both with blue in their team colors) squaring off to see who will go to the Final Four. Kansas still has not put together a complete game in this tournament and Duke has tremendous shooting, but their size against guys like Udoka Azubuike concerns me a little bit. Having said that, I think Evan Bagley III will more than hold his own. Kansas routinely disappoints in the NCAA Tournament, but they have made it this far which is big. Then again, didn't they lose in the Elite Eight last year to Oregon? I think Duke is the better team, but that doesn't always necessarily mean they will win.
Predicted winner: Duke
Coming up Monday: Sunday Elite Eight reaction plus other top headlines and stories from the world of sports
---