"The Stack" 3-26-18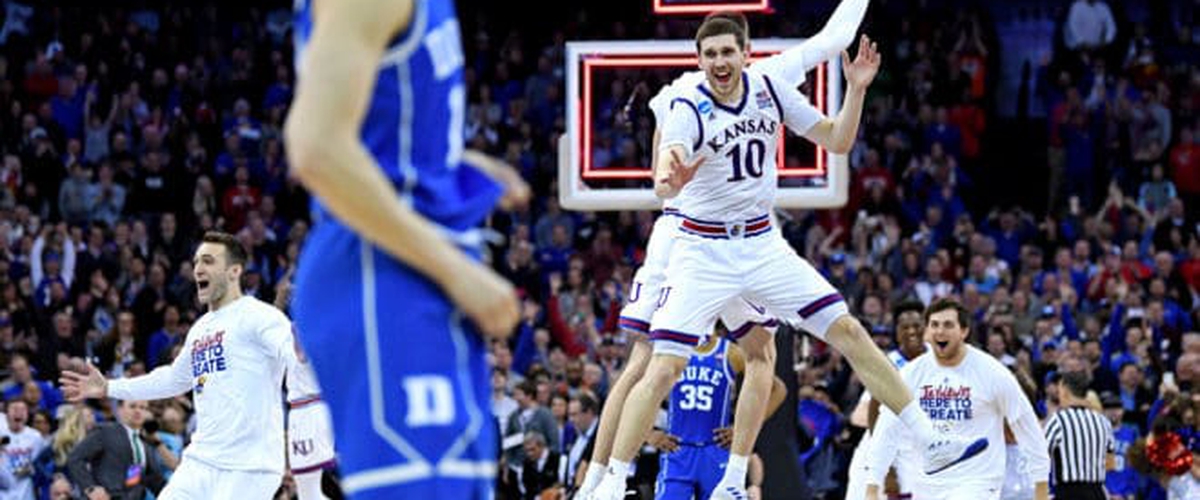 Kansas is flying high after taking down Duke in a classic Elite Eight game yesterday, 85-81. They advance to the Final Four to take on Villanova.
The Stack is back on this Monday and the Final Four is set. We may have seen the best game of the tournament yesterday and I'm not so sure I'm happy that the particular team won mainly because of how it is affecting my bracket. Such is life. Let's get to some reaction plus a couple of other headlines in "the stack" for today, Monday, March 26th:
Sunday Elite Eight reaction
Villanova can be had. You just need to get them on an off shooting night. Texas Tech did just that and still lost to Villanova 71-59. Villanova shot just 4-of-24 from three point range, but they crashed the offensive glass securing 20 offensive rebounds and in the end that made the difference. Texas Tech's defense wasn't great in the first half, but they turned it up in the second half and they got back into the game cutting the deficit to five a couple of times in the second half, but getting no closer. Donte DiVencenzo had a tremendous put back slam dunk to help get the momentum back on Villanova's side with four-and-a-half left to play. This should scare whoever plays Villanova in San Antonio and next year if Jalen Brunson comes back. This team is loaded and even on an off shooting night they still found a way to win by twelve. They'll shoot much better in San Antonio.
Their Final Four opponent will be Kansas who won an epic duel with Duke in overtime 85-81. The game would not have gone to overtime had Grayson Allen's jumper fallen as time expired in the second half. The shot hit just about every part of the rim and was a third of the way down at minimum before coming back out. Kansas shot the ball pretty well, especially Malik Newman who scored a game high 32 points. Their problem was too many turnovers. Duke had the lead late before Sviatoslav Mykhailiuk hit a three pointer to tie the game up 71-71. Had he not hit that, Kansas would have lost. These two teams went back and forth though. It was really fun to see. This is what college basketball is all about and while I am not sold on Kansas, they did what they had to do and beat a really good Duke team. This Kansas team may just have a little magic in them. This was quite the game. Hopefully plenty of people watched.
The Final Four tips off Saturday in San Antonio. Loyola-Chicago versus Michigan and Villanova against Kansas. It should be a great weekend in San Antonio and we will have a preview on Friday.
Steph Curry injures MCL, out for first round of the playoffs
Golden State Warriors point guard Steph Curry has a grade 2 MCL sprain which he suffered in Friday night's game against the Atlanta Hawks. Warriors head coach Steve Kerr says he expects Curry to miss the first round of the playoffs. It may not matter, but the western conference is loaded with good teams. Going against a Warriors team that is banged up and is without their best player outside of Kevin Durant would make that challenge a little less daunting. Curry for his part hopes to prove Kerr wrong and come back sooner, but as of now it is looking like Curry will not play in the first round of the NBA Playoffs and that would be a big deal for the Warriors….perhaps.
College basketball head coaching news
With news that Danny Hurley left Rhode Island for UConn, there are other head coaching vacancies still open and a couple of them have filled up while creating another one. Recently fired head coach Tubby Smith is going to go back to his alma mater High Point by the sounds of it and South Dakota head coach Craig Smith is leaving for Utah State. Smith going to High Point makes sense. Memphis didn't treat him right and he still feels like he has a few more good years in him. The Craig Smith to Utah State doesn't make as much sense. Smith has done a good job at USD, but they haven't won a Summit League conference tournament and made it to the NCAA Tournament. What makes this move puzzling is that Colorado State passed up on Smith and another Mountain West team snatched him up, but wouldn't there have been someone better who is more accomplished? I guess not. Good for Craig Smith though and Tubby. We'll see what all happens once the coaching carousel stops.
Coming up Thursday: 2018 MLB season preview