"The Stack"3-31-18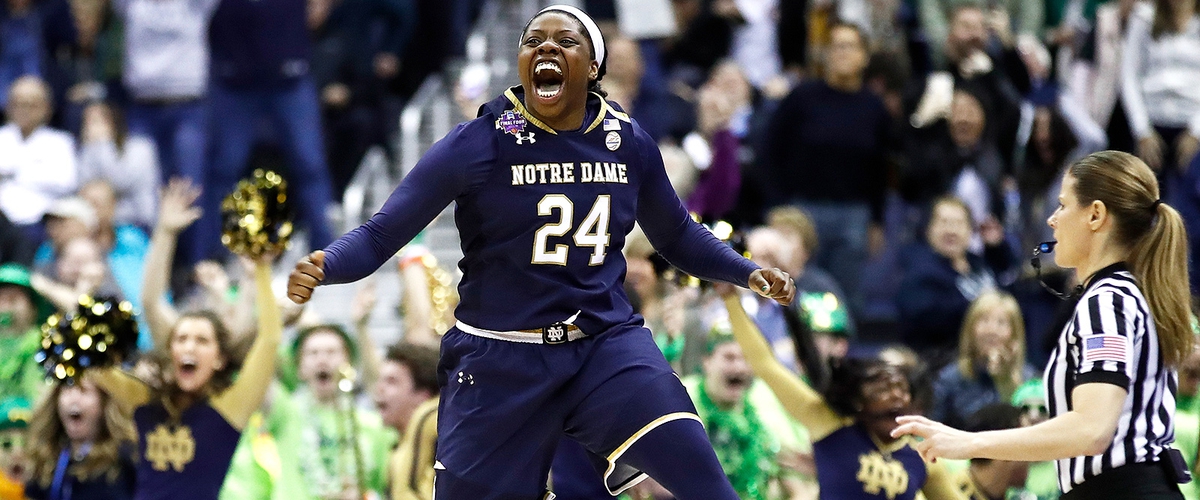 Arike Ogunbowale may as well have been floating in mid air after she hit the game-winning shot to knock out UConn 91-89 and advance to the national championship in the women's Final Four in Columbus.
The Stack is back on this Saturday and the Final Four is here. Hope you all enjoyed the baseball preview post on Thursday. We are here with a preview of today's Final Four games from San Antonio plus some reaction to last night's amazing games in Columbus in the Women's Final Four so let's get right to "the stack" for today, Saturday, March 31st:
Women's Final Four reaction
What a wild couple of games last night in the women's Final Four. Both games went to overtime and for the second straight year, UConn loses on a buzzer beater in overtime in the semifinals. This time it was at the hands of Notre Dame who played outstanding for nearly all 40 minutes, but they gave up a five point lead with 21 seconds left and UConn forced overtime. Arike Ogunbowale hit the game-winner for Notre Dame in overtime with a second left. UConn had a great chance to tie the game after a tremendous heave to Katie Lou Samuelson, but her shot didn't go and Notre Dame ousted UConn 91-89 to go to the national championship where they will face Mississippi State, the team that beat UConn in the semifinals last year. Mississippi State needed every ounce of effort they could muster to rally and force overtime with Louisville. A three pointer late in the game tied it up and then Mississippi State would take over in overtime winning 73-63. You can look at the fact that all four one seeds making it to the women's Final Four as that the parody in the sport isn't quite there and the teams that were expected to make it made it. But with four one seeds, we got some truly fantastic games last night. We'll see if the national championship is every bit as good Sunday night between Mississippi State and Notre Dame (6 PM ET ESPN).
#11 Loyola-Chicago vs. #3 Michigan 6:09 PM ET TBS
The Final Four tips off in San Antonio tonight and the Cinderella fighting Sister Jeans of Loyola-Chicago are ready to do battle with Michigan. You've already heard me mention umpteen times that Loyola-Chicago does just about everything really well. They don't turn the ball over that much. They shoot well from the floor especially from beyond the arc and they play good defense. They don't play as good on defense as Michigan though who is fourth in the country in defensive efficiency. When Michigan is on with their three point shooting they are really on, but that has been on display on once in this tournament against Texas A&M in the Sweet 16. If Loyola-Chicago can keep the pace of the game where they want it and play the defense we've seen them play so far in this tournament, I think they have a great chance to win the game. But if Michigan starts hitting threes and guys like Moritz Wagner are hot from the floor early, that may force Loyola-Chicago to play a little faster than they want. They must control the three pointers from Michigan early. It is key for them if they want to win. I hope we see Sister Jean in the national championship, but I fear that Michigan will just be too much.
Predicted winner: Michigan
#1 Villanova vs. #1 Kansas 8:49 PM ET TBS
What a fantastic semifinal matchup this should be. Seemed like a lot of people (myself included) thought that this Kansas team just wasn't going to do it this year after struggling at home (struggle by Kansas' standards), but they came out and won the Big 12 championship and they haven't stopped in this NCAA Tournament. Now granted, I do not believe they have put together a complete game so far in this tournament, but they did beat Duke in the Elite Eight in arguably the game of the tournament 85-81 last week to get here. Malik Newman was sensational in that game against Duke. Yes Kansas has Devonte' Graham and Udoka Azubuike (whose mother will be seeing him play basketball in the states for the first time tonight as she has made the way from Nigeria…cool story!), but Kansas needs someone else to step up and Newman did just that in the last game. He will need to do that again in this one against the sharp shooting of Villanova. They shot their worst game in the tournament in the Elite Eight against Texas Tech and still won. Texas Tech is a better defensive team than Kansas is. I don't have any reason to doubt that Jalen Brunson and company won't be able to knock their shots down. Every starter on the floor can knock down a three and they have players that can come off the bench and knock one or two down as well. They play decent defense, but if you want to beat Villanova you are going to have to outscore them (duh Nathan!). You know what I mean though. This is going to be a high scoring game, but I think Villanova pulls away late to win comfortably.
Predicted winner: Villanova
Coming up Monday: Women's National Championship game reaction plus Saturday's Final Four thoughts and a preview and prediction for Monday's men's national championship game