"The Stack" 3-29-18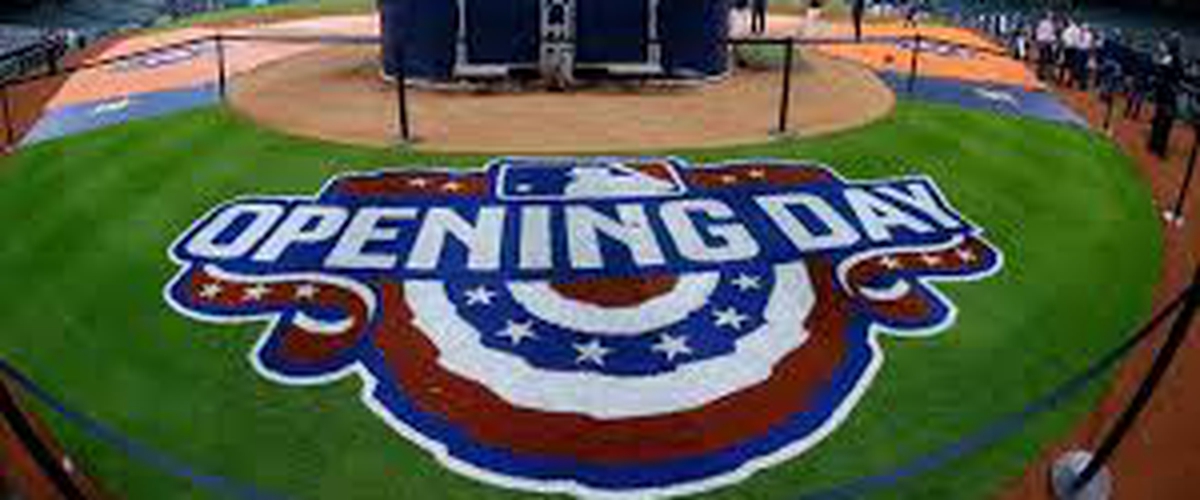 It's Opening Day meaning baseball is back. The Stack has the baseball preview that you demand...maybe. Take a look below.
The Stack is back on this Thursday and Opening Day is here. Our nation's (old) pastime is back and this season promises to be a good one. The New York Yankees could be out of this world good. Pace of play will be a common phrase heard throughout this season as MLB tries to speed up the game. Who will be on the hunt for October (well everyone initially, but we're talking about the true contenders)? Let's get to all of it now in "the stack" for today, Thursday, March 29th:
2018 MLB season preview
Let's start right with the changes that MLB is implementing this season to help speed up the game to keep the attention of the millennials. Each team gets six mound visits per game. There are certain exemptions for going out to the mound. They are:
· Pitcher-catcher conference between batters
· Infielder goes to the mound to clean spikes during rainy conditions.
· Visit regarding a potential injury.
· Any visit after a pinch-hitter is announced.
Commercial breaks are going to be shorter for every game including regular season, nationally televised games and postseason games. There will be an enforcement of these time limits. There seems to be some opposition from the players and the MLBA to what Major League Baseball has been trying to do in speeding up the game, but this will be for the better hopefully and there was definitely some give and take with what Major League Baseball was able to get implemented into the season.
There are some new managers this year for three of the best teams in the game. The New York Yankees have replaced Joe Girardi with Aaron Boone who was an analyst for ESPN. The Boston Red Sox have replaced John Farrell with Alex Cora. Both Cora and Boone have no managing experience. The Washington Nationals disposed of Dusty Baker for Dave Martinez. Martinez is a disciple of Joe Maddon so the Nationals will both be successful and interesting.
The hot stove was anything but hot for much of the offseason and the players and the union (MLBPA) are not happy about it. It took a while, but Yu Darvish finally signed with the Chicago Cubs. That is a huge addition to their starting rotation as Jake Arrieta signed with the Philadelphia Phillies. Eric Hosmer signed a monster deal with the San Diego Padres. The San Francisco Giants acquired Evan Longoria from the Tampa Bay Rays and Andrew McCutcheon from the Pittsburgh Pirates. Those are two bats that will hopefully help the Giants lineup. The Milwaukee Brewers got Lorenzo Cain who was with the Kansas City Royals last year. I really like that move. The Minnesota Twins got some bullpen helped and also bolstered their starting rotation with the additions of Lance Lynn and Jake Odorizzi whom they traded for from the Rays. Plus they added slugger Logan Morrison. That will certainly help the team.
Then there are the Miami Marlins who are now under new ownership with Derek Jeter being the figure face of it all. In an effort to make money and make the franchise great again in the long run, they have slashed payroll to this team and gotten rid of many of their best players. Giancarlo Stanton got traded to the Yankees. Think about that lethal combo of Stanton and Aaron Judge. Yikes! That is really scary. The Marlins traded Christian Yelich to the Brewers. Outfielder Marcel Ozuna? Gone to the St. Louis Cardinals. The Marlins are going to have a terrible roster or so it seems this year. If they get ten thousand fans per game I'd be surprised. Jeter is under intense scrutiny and rightfully so.
Oh by the way, Shohei Ohtani, Japan's so-called version of Babe Ruth, signed with the Los Angeles Angels of Anaheim. He can hit and he can pitch though spring training has been a bit of a struggle. He will be fun to watch though. Now let's get on to the divisions.
American League (AL)
East
The AL East begins and ends with the New York Yankees. The exceeded expectations last year arguably. They got to this level faster than most thought they should. Now you add Giancarlo Stanton to an already loaded lineup with Aaron Judge and Gary Sanchez and it's like dang, look out. How are you going to pitch to them? Add to that that they have one of the best bullpens if not the best bullpen in all of baseball and it is going to be tough to beat them this year. Now their starting rotation isn't that great and Stanton and Judge do strike out a lot, but that isn't going to stop me from declaring the Yankees the team to beat in the division.
Boston has the highest payroll in baseball. Did you know that? Great one-two punch in their starting rotation with Chris Sale and David Price. They have the bats too to produce a lot of runs. Getting J.D. Martinez in the offseason is huge. He's a great addition. I just don't think they have enough to take down the Yankees.
The Baltimore Orioles are intriguing because of how much power they have in their lineup. But if they struggle early on, when the trade deadline approaches will they trade Manny Machado since he is as good as gone at the end of the season anyway in hopes of getting something for him? That's a storyline I am watching for early on this year. Toronto will be fine. Tampa Bay is Tampa Bay. They may be better than we think, but they won't be great.
Predicted AL East Standings
1. New York Yankees
2. Boston Red Sox
3. Toronto Blue Jays
4. Baltimore Orioles
5. Tampa Bay Rays
Central
If you are looking for a division that will have at least one of the worst teams in baseball if not two, look at the AL Central. The Detroit Tigers may be the worst team in baseball. Can you name five Tigers? I know I couldn't. Outside of Miguel Cabrera who is there? I'll wait. Can't think of any either can you? The Royals will be somewhat competitive, but they lost Lorenzo Cain and Eric Hosmer. They have a lot of work to do to get near the top of the division where they were at a couple of years ago. And the Chicago White Sox have a lot of budding young players, but they are still a year or two away from really competing. They do though, at least to me, have a feel of the Houston Astros from five years ago and look what that did for the Astros this last year.
This division comes down to the Cleveland Indians and the Minnesota Twins. The Twins have some great bats in their lineup already and adding Logan Morrison will only make them better. They have improved their starting pitching and their bullpen. Hopefully they can make it through the next month or two without starting pitcher Ervin Santana. But they don't compare to the starting rotation that the Indians throw out there led by Corey Kluber and some of the bats they have in their lineup. Can the Twins win the division? Absolutely, but I don't think they will be able to take down the Indians.
Predicted AL Central Standings
1. Cleveland Indians
2. Minnesota Twins
3. Chicago White Sox
4. Kansas City Royals
5. Detroit Tigers
West
What the Houston Astros did last year was incredible. They were just an all-around great team and there is no reason to think that they won't be that way again this year. With Jose Altuve and Carlos Correa and Justin Verlander and Dallas Kuechel in the starting rotation, it's hard not to look at this team as not only the clear front runners in the division, but also as a favorite to make it back to the World Series.
The Los Angeles Angels of Anaheim of California of (OKAY we get it!!) may be the most interesting team in the division. Assuming Mike Trout is healthy for a full year, he's as good as there is in the game and can keep the Angels in the hunt for a playoff spot. Add to it that they have Ohtani who can both hit and pitch (though he struggled in Spring Training) and this is a team to definitely keep an eye on even though I dislike manager Mike Scioscia, I think they will be very good and interesting team throughout this season.
Know who has the longest playoff drought in professional sports? The Seattle Mariners. I fear that that drought will continue. Robinson Cano is good. King Felix is a great pitcher. Can he carry the team and stay healthy? The Texas Rangers have a chance, but I don't think it's great. Just not liking what they have overall as a team. And the Oakland Athletics? Going to be a long year for them.
Predicted AL West Standings
1. Houston Astros
2. Los Angeles Angels
3. Seattle Mariners
4. Texas Rangers
5. Oakland Athletics
National League (NL)
West
Let's stay on the west coast and take a look at the NL West. I really thought the San Francisco Giants were going to give the Los Angeles Dodgers a run for their money after acquiring Evan Longoria and Andrew McCutcheon from the Rays and Pirates respectively. But then Madison Bumgarner broke his hand last week and I'm jumping ship with the Giants. I think they have a chance albeit a small chance. I would put the Colorado Rockies ahead of them what with Nolan Arenado and Charlie Blackmon and the rest of that Rockies crew that are going to score a lot of runs this year at Coors Field and everywhere else, and it's tough to see the Giants getting past the Bumgarner injury without getting into too much of a hole. Maybe the Giants will prove me wrong. I kind of hope they do. I like that the San Diego Padres signed Eric Hosmer and they have some good young talent, but they are a year or two away. And who doesn't love Paul Goldschmidt? Quiz time, who does Paul Goldschmidt play for? The Arizona Diamondbacks better have been on the tip of your tongue. They are going to be good too, but I just don't see it this year. And who is going to take down Clayton Kershaw and the Dodgers? No one! That's who. This team is solid top on down. Cody Bellinger, Joc Pederson, Justin Turner, the list goes on and on. This team is going to dominate.
Predicted NL West Standings
1. Los Angeles Dodgers
2. Colorado Rockies
3. San Francisco Giants
4. Arizona Diamondbacks
5. San Diego Padres
Central
The Chicago Cubs are the class of the division and though they lost Jake Arrieta, they replaced him with a better version in Yu Darvish. Kris Bryant is tremendous. Anthony Rizzo is great. This team is great. They should win the division.
The team I am most interested in is the Milwaukee Brewers. I love the additions of Lorenzo Cain and Christian Yelich. The biggest issue for them is going to be their starting pitching. If that can hold up I think the Brewers can do some big things this year. Same with Cardinals. Last year was a down year for them, but they acquired Marcell Ozuna from the Marlins (who didn't the Marlins ship away this winter?) and I think their starting pitching is going to be better this year. Look for the Cardinals to take a positive step forward. The Pirates seem to be rebuilding though they won't phrase it like that, but trading away pitcher Garrett Cole and Andrew McCutcheon says otherwise. The Cincinnati Reds are still a work in progress, but at least they have Joey Votto so that's something, right?
Predicted NL Central Standings
1. Chicago Cubs
2. Milwaukee Brewers
3. St. Louis Cardinals
4. Pittsburgh Pirates
5. Cincinnati Reds
East
Finally, the NL East. Is this going to be Bryce Harper's last year in a Washington Nationals uniform? I don't quite know how to read this, but my guess would be yes. I hope I'm wrong. This is a loaded lineup and a tremendous starting rotation led by Stephen Strasburg and Max Scherzer. Throw in Gio Gonzalez and this team is going to just crush people. The New York Mets won't. Their starting pitching will be good for a while, but inevitably an injury will occur and that will be the end of them. The Philadelphia Phillies are interesting from the standpoint that they did sign Jake Arrieta, but how much is that really going to help them? The Atlanta Braves are young, but they have some talent in that youth that is really going to shine here soon and the Marlins are a dumpster fire thanks to Derek Jeter and company. Can only go up from here Miami. The fans deserve better. Hopefully the team out-performs the expectations of everyone including the front office. Unlikely, but hopefully.
Predicted NL East Standings
1. Washington Nationals
2. New York Mets
3. Atlanta Braves
4. Philadelphia Phillies
5. Miami Marlins
AL Playoff teams
· New York Yankees (AL East Division winners)
· Cleveland Indians (AL Central Division winners)
· Houston Astros (AL West Division winners)
· Boston Red Sox (Al Wild Card #1)
· Minnesota Twins (AL Wild Card #2…Trout and the Angels just miss by a couple of games of making the playoffs).
ALCS
New York Yankees vs. Houston Astros
NL Playoff teams
· Washington Nationals (NL East Division winners)
· Chicago Cubs (NL Central Division winners)
· Los Angeles Dodgers (NL West Division winners)
· Milwaukee Brewers (NL Wild Card #1)
· St. Louis Cardinals (NL Wild Card #2…Colorado Rockies narrowly miss out though I had them in maybe a day before I wrote/published this so maybe I will go back and change it. No that would be wrong, but maybe I should).
NLCS
Los Angeles Dodgers vs. Washington Nationals
AL MVP
· Mike Trout, Los Angeles Angels
AL Cy Young
· Chris Sale, Boston Red Sox
NL MVP
· Bryce Harper, Washington Nationals
NL Cy Young
· Yu Darvish, Chicago Cubs (Going outside the box a little bit with this one. I should probably pick a Nationals pitcher and did you see Darvish in the World Series last year? All the more reason why this is a redemption year for him).
World Series
New York Yankees vs. Washington Nationals
I would love to see the Astros have a chance to go back-to-back, but Judge and Stanton will be too much I think. Prove me wrong Astros. Prove me wrong. And the Nationals will find some way to screw it up in the playoffs. Give me your most creative way the Nationals exit early in the playoffs. Prove me wrong Nationals. Prove me wrong.
World Series champions
· New York Yankees
This is a team built to win now and for many years to come. The Evil Empire is back.
Enjoy Opening Day and enjoy the baseball season everyone.
Coming up either Friday or Saturday: Final Four preview and predictions plus other headlines and stories from the sports world