"The Stack" 4-2-18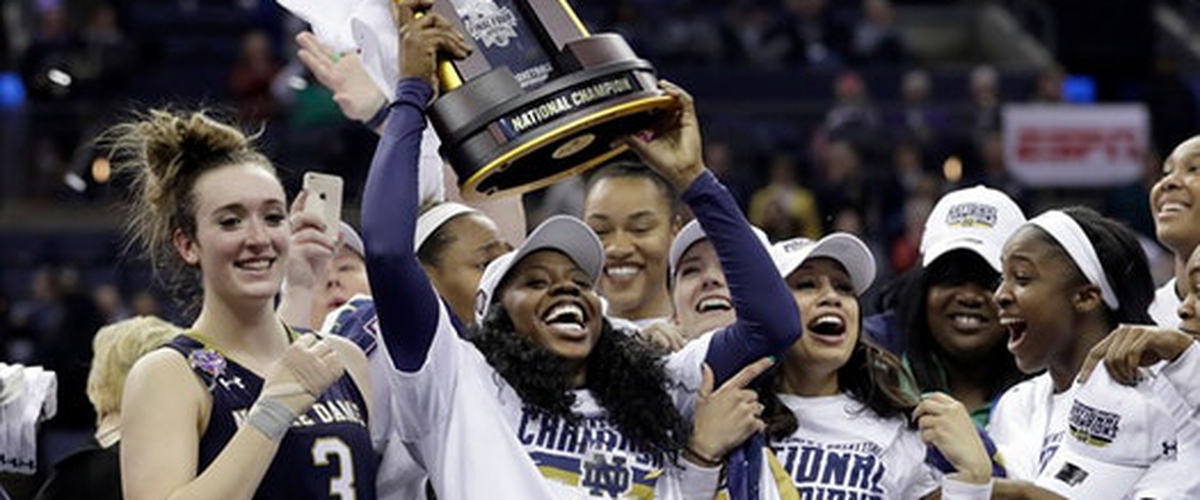 Arike Ogunbowale was at it again Sunday night in the women's national championship game hitting the game-winning three pointer with a tenth of a second left to help Notre Dame complete an improbable season with a national championship 61-58 over Mississippi State.
The Stack is back on this championship Monday and we don't have a whole lot to discuss. Hopefully everyone had a nice Easter weekend. Just one championship game recap and another one tonight that we have to predict. The first weekend of the baseball season has been pretty crazy hasn't it? We've seen a complete game shutout by Jose Berrios of the Minnesota Twins. Shohei Ohtani pitched pretty well against the Oakland Athletics Sunday plus a whole host of other intriguing storylines. We'll get back to baseball soon. Now though, let's get right to "the stack" for today, Monday, April 2nd:
Notre Dame women take down Mississippi State at the buzzer
A miraculous moment to cap off a stunning and dare I say arguably the most stressful season that Muffet McGraw has ever had coaching the Notre Dame Fighting Irish. Notre Dame's Arike Ogunbowale hit the game-winning three pointer with one tenth of a second to go to lift Notre Dame to a 61-58 victory in the national championship Sunday night. It didn't seem possible as the two teams entered the locker rooms for halftime. Mississippi State's defense was rock solid and the entire Notre Dame team was frustrated. Notre Dame came out ready to put up a fight in the third quarter and they seemed like a different team erasing that 13 point deficit to tie the game after three quarters. In an action pack fourth quarter (and action packed and intriguing game for that matter), it would Ogunbowale who would hit the game-winning shot that lifted Notre Dame to be national champions. She did, after all, beat UConn with a game-winning shot in overtime on Friday. The win caps off an unbelievable season for the Fighting Irish who saw four players go down with ACL injuries. How they were able to keep it all together is something that only McGraw and that team will know. It's heartbreaking for Mississippi State. It's now been back-to-back years that they've made it to the national championship game only to come up short. We'll see what they are made of next year. Congrats to Notre Dame.
Final Four semi-final brief recap
In case you didn't know, Michigan and Villanova are meeting tonight in the men's national championship game. Michigan's offense was in a major funk for just about the first 30 minutes of their game against Loyola-Chicago and Sister Jean. Loyola-Chicago's defense was good and Michigan kept rushing shots. The Ramblers had a ten point lead with 14 minutes left in the second half at 41-31 and that is when Michigan turned it on. They made bucket after bucket and couldn't be stopped. Everything was falling. In the end, Loyola-Chicago just couldn't keep up and couldn't play the solid defense they had played earlier and throughout this tournament and they lost to Michigan 69-57. The games have not always been pretty offensively, but Michigan is in the national championship because of their defense and in this case, Mo Wagner who had a double-double with 25 points and 15 rebounds. He was sensational and single-handedly kept Michigan in the game in the first half.
Their opponent will be Villanova who blitzed Kansas early to the tune of 22-4 and then kept nailing three after three after three. They hit eighteen in all as the beat Kansas 95-79. It was getting to the point where Villanova fans had to be thinking "Save some threes for Monday night". When six guys make multiple threes, that is saying something. This team is the highest scoring team in the tournament and the best shooting. Kansas was out of so early they were all stunned. Head coach Bill Self was stunned. This was one impressive showing by Villanova.
National championship
#3 Michigan vs. #1 Villanova 9:20 PM ET TBS (San Antonio, TX)
So, it all comes down to Michigan and Villanova. Two really good three point shooting teams. Villanova has made the most three pointers in an NCAA Tournament with 68. Michigan has struggled from the field in four of their five games. What has kept them in it is their defense and their defense will need to be on track tonight against the sharp shooting Villanova Wildcats. Yes, Moritz Wagner does present some challenges and mismatches for Villanova's defense, but if Villanova can shoot even half like they did against Kansas Saturday night from beyond the arc, they are going to win this game. This team is so skilled. I know I keep doubting Michigan and perhaps am putting too much faith in Michigan. Really, we should have seen this coming. Villanova was the best team in college basketball all season. Michigan had a ton of momentum and was playing their best basketball of the year when the won the Big Ten Tournament. I just don't see Jalen Brunson, Mikhal Bridges and company having that bad of a shooting night against Michigan regardless of the defense. Michigan's defense and Wagner will keep them in this for much of the game, but in the end it will be the Wildcats cutting down the nets.
Predicted winner: Villanova
Coming up Tuesday: National championship game reaction