"The Stack" 3-8-18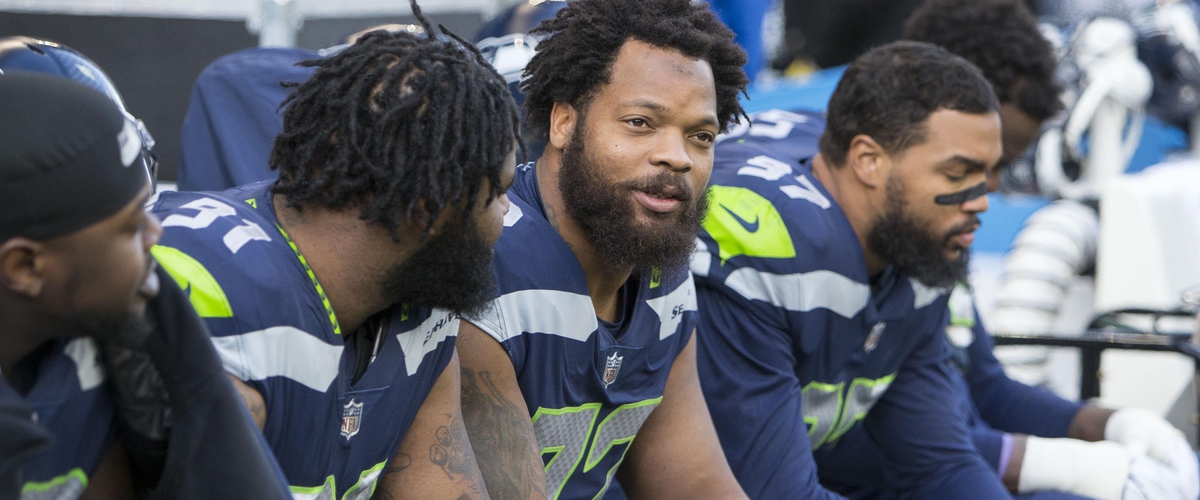 The Seahawks have traded defensive end Michael Bennett to the Philadelphia Eagles for a backup wide receiver and a fifth round draft pick. The demise of the Seahawks is happening before our very eyes...or at least in my eyes.
The Stack is back on this Thursday and there are no bids up for grabs today for the NCAA Tournament. What gives? Just a few more tournaments remain that need to start including two today. Plenty of championship games on Saturday and Sunday. Congrats to Bucknell on winning the Patriot League championship last night over Colgate. Today's blog will be fairly short and sweet so let's get right to it and see what's in "the stack" for today, Thursday, March 8th:
Seahawks trade Bennett to the Eagles
The demise of the Seattle Seahawks is approaching rapidly. The team traded defensive end Michael Bennett on Wednesday to the Philadelphia Eagles for a backup wide receiver and a fifth round pick. Bennett played pretty well last year and the move bolsters an already stout unit for the Eagles along the defensive line. Bennett's salary certainly played a role in this as well as perhaps some of the things that Bennett was involved in last year. Right or wrong (I will say it would be wrong for the Seahawks to trade him because of it) I certainly believe that this wasn't truly a salary cap move. The move helps the Seahawks provide some flexibility for sure, but they also are on the verge of releasing cornerback Richard Sherman. The Legion of Boom is imploding. And the rich get richer in Philadelphia. That Eagles defense is going to be really, really tough to go against. Philly got a great player for a backup wide receiver and a next to nothing fifth round pick. The Eagles are the definite winners in this deal.
Martellus Bennett, Michael's brother, was released by the New England Patriots on Wednesday too. Not a good day for the Bennett brothers. Martellus doesn't have what he once had. He may get on with another team or he may just retire. We'll just have to wait and see.
That wasn't the only trade that went down though on Wednesday. The Los Angeles Rams traded linebacker Alec Ogletree to the New York Giants for a couple of picks in this year's draft. It sounds like they were a fourth and a sixth. That is not a lot to give up for a guy who can still play very well at his position and will help the Giants defense. We'll see if the Rams are targeting someone specifically in free agency or the draft with these moves.
Rockets win 17th straight
The Houston Rockets are unbeatable right now or so it seems anyway. The team won their 17th straight game 110-99 over the Milwaukee Bucks. The Bucks have been known to snap a long winning streak in the past (think back to the Warriors a few years ago), but on this night, the Rockets were just too much. James Harden had 26 points, Chris Paul chipped in with 16 points and Eric Gordon came off the bench to score 18 points. This team has so many weapons. Good luck stopping them. They are on a collision course with the Golden State Warriors. We'll see if they can actually take keep that up and beat the Warriors in a seven game series, but for now, let's appreciate the streak the Rockets are on. It is impressive.
AAC tournament preview
The AAC tournament tips off today in Orlando and everyone has to be hoping for a Cincinnati-Wichita State championship after last Sunday's great duel. Houston is going to make the tournament in addition to Cincinnati and Wichita State. That's it unless someone else can pull off a magical run. I don't see that happening.
Predicted winner: Cincinnati
Big West tournament preview
The Big West tournament tips off in Anaheim today. Just think one tournament is being played in the home of Disneyworld and the other one is being played in the same city as Disneyland. That's about all of the analysis I can put together for this conference. They just don't have a team that will scare me in the NCAA Tournament. I'd like it if Hawaii would win, but I know they won't.
Predicted winner: UCSB
Coming up Friday: Reaction to top stories in the sports world
---