"The Stack" 3-10-18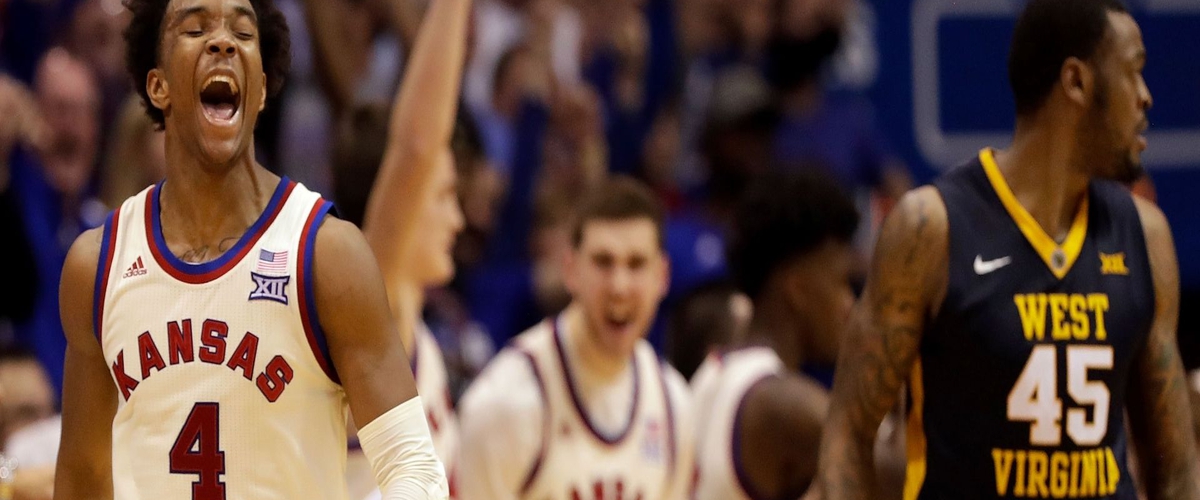 Kansas has had the last laugh with WVU this season. Will today be any different or will Kansas take down West Virginia and win another Big 12 championship?
The Stack is back on this Saturday and we not one, not two, not three (get to the point LeBron), but automatic bids up for grabs today. Twelve teams will be dancing. Plus we have the last conference tournament starting too with Selection Sunday just one day away so let's get right to "the stack" for today, Saturday, March 10th:
Ivy League conference tournament preview
For the second consecutive year, the Ivy League is doing a tournament to decide the winner in Philadelphia with only the top four teams making it. The tournament tips off today. That makes perfect sense. All year it has been a battle between Harvard and Penn. They are the top two seeds in this tournament. Yale will give Penn a battle, but I see a showdown coming between Harvard and Penn coming and I think I may like Harvard just a little bit more.
Predicted winner: Harvard
American East championship
#2 UMBC vs. #1 Vermont 11 AM ET ESPN2
The top two seeds in the American East are dueling it out in Burlington, Vermont, this morning. I very much like this Vermont team led by Trae Bell-Haynes and Anthony Lamb. They are a team that certainly has a chance of winning a game in the NCAA Tournament. I don't see them having a problem with the Retrievers from UMBC.
Ticket punched for: Vermont
MEAC championship
#6 North Carolina Central vs. #1 Hampton 1 PM ET ESPN2
I mentioned in the conference tournament preview that there could be upsets in this tournament and that has certainly held true as the six seed NC Central is taking on the top seeded Hampton Pirates. Hampton was the odds on favorite to win this tournament at the start. They are the odds on winners now. Take them.
Ticket punched for: Hampton
SWAC championship
#3 Texas Southern vs. #1 Arkansas Pine-Bluff 5 PM ET ESPN2
It comes as no surprise to me that a Mike Davis led Texas Southern team is in the SWAC championship game. Will they be able to pull off another upset over the top seed, Arkansas Pine-Bluff? I'll venture a guess and say yes.
Ticket punched for: Texas Southern
Big 12 championship
#3 West Virginia vs. #1 Kansas 6 PM ET ESPN
Okay, I can't be the only one expecting West Virginia to blow a second half lead should they have it against Kansas right? This is a chance to silence the critics and prove the doubters wrong West Virginia. I don't think it's going to happen. Kansas has played too good the first two games of the tournament. I like them to win the championship.
Ticket punched for: Kansas
Mountain West Conference championship
#5 San Diego State vs. # 3 New Mexico 6 PM ET CBS
The MWC is a bid stealing league. SDSU just dismantled Nevada last night to reach the conference championship. New Mexico didn't have to worry about Boise State after they had lost to Utah State the night before. So a one big league now will have two. And that makes the Syracuses, Louisvilles and Middle Tennessee States of the world very nervous.
Ticket punched for: New Mexico
Big East championship
#5 Providence vs. #2 Villanova 6:30 PM ET FOX
That was quite the impressive comeback by Providence against the top seed Xavier Friday night. They were down by fourteen at half and forced overtime. Some great defense there at the end. They have secured their spot in the Big Dance I'm pretty sure with this performance. Yes they want to win the tournament, but against Jalen Brunson and Villanova, I don't think it will happen.
Ticket punched for: Villanova
MAC championship
#2 Toledo vs. #1 Buffalo 7 PM ET ESPN2
Buffalo has been the best team in this conference all year long. I think they are definitely capable of pulling off a win in the NCAA Tournament should they get there. They will going against a Toledo squad though is poised to make it back to the NCAA Tournament for the first time since 1980 if I heard that correct on the telecast last night?! Holy cow. Buffalo is still the better team and they will find a way to win.
Ticket punched for: Buffalo
Big Sky championship
#3 Eastern Washington vs. #1 Montana 8 PM ET ESPNU
There was some thought that maybe Idaho would be the team that would come out with a championship in this conference tournament, but they taken out by the #10 seed Southern Utah whom Eastern Washington beat to make it to the championship game. Montana has been the best team in this conference all year. They will once again find a way to win and get back to the Big Dance.
Ticket punched for: Montana
Conference USA championship
#4 Marshall vs. #3 Western Kentucky 8:30 PM ET CBSSN
Could Conference-USA be a two bid stealing league? Some don't believe Middle Tennessee State is going to make it as an at-large (I am one who believes they should be in), but if MTSU does make it, they will be joined by either Marshall or Western Kentucky. This is a big moment for Marshall. Western Kentucky has made the dance a time or two before. Will Marshall be up for the challenge? We are Marshall!
Ticket punched for: Marshall
ACC championship
#6 UNC vs. #1 Virginia 8:30 PM ET ESPN
This is a tough UNC team to figure out. Theo Pinson and Joel Berry III play terrific at times, but UNC also has a tendency to not make shots and play some poor defense. Yet here they are in the ACC championship game. I'd love to see them beat Virginia. I want them to make Virginia uncomfortable. We'll see just what Virginia is made of even though Virginia beat UNC in the regular season. Today's a different day though. This should be a great game.
Ticket punched for: Virginia
Southland championship
#3 Stephen F. Austin vs. #1 SE Louisiana 9 PM ET ESPN2
It is not wise to pick against a SFA squad. They've won games in the NCAA Tournament before. Granted this is not the same team, but I just don't think it would be wise to pick against them. I'd love to see SE Louisiana win, but I can't pick them. Not against SFA.
Ticket punched for: SFA
Pac-12 championship
#2 USC vs. #1 Arizona 10 PM ET FS1
It's kind of weird to think that USC is the two seed in this conference yet there was very real talk that they might not even make the NCAA Tournament. They have talent. They just don't always play to their fullest capabilities. Against Arizona they will try, but Arizona is determined to win for their coach after the tumultuous last month. They are the far more talented team and they will win.
Ticket punched for: Arizona
WAC championship
#3 Grand Canyon vs. #1 New Mexico State 10 PM ET ESPNU
I am very tempted to pick Grand Canyon in this one. This is the first year of tournament eligibility I believe and their team has been waiting for this moment. They have a team that can compete with New Mexico State. But how can you pick against the Aggies? They are so good. Prove me wrong GCU. Prove me wrong.
Ticket punched for: NMSU
Big West championship
#4 Cal-State Fullerton vs. #3 UC-Irvine 11:59 PM ET ESPN2
The final game of the day takes place in Anaheim in the all-California league (plus Hawaii). These two upset minded programs split the season series with one another each winning on the opponent's home court so we should be in for a dandy of a game. I'd like to see Fullerton win, but UC-Irvine has been the tournament more recently and knows what to expect in this kind of game.
Ticket punched for: UC-Irvine
Coming up Sunday: Conference tournament championship game picks plus any last second thoughts leading up to Selection Sunday
---