"The Stack" 4-30-18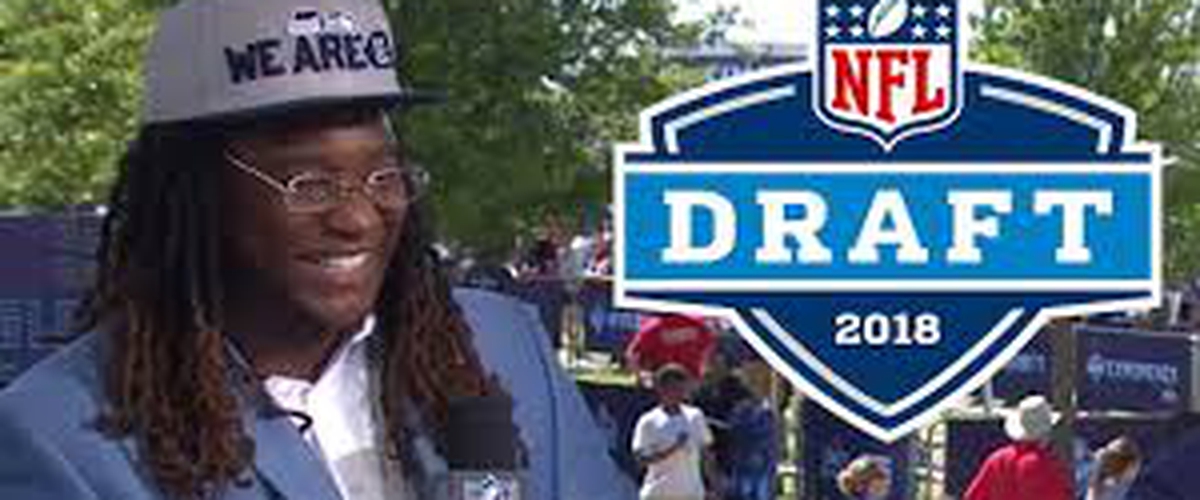 Shaquill Griffin, the linebacker from UCF, was drafted by the Seattle Seahawks on Saturday and provided one of the more memorable and heartwarming moments of the weekend.
The Stack is back on this Monday and the NFL Draft has come and gone. Sure there are minicamps going on, but now we can mostly forget about football until training camps start at the end of July. Let our minds rest a bit. We still have playoff basketball and hockey though (and baseball) so let's get right to it and see what is in "the stack" for today, Monday, April 30th:
NFL Draft reaction
The NFL Draft is over. Three days in Arlington, Texas, have come and gone. In this world of instant analysis, we assign grades to each team's draft, but in all actuality, we really won't know how good each team's draft is for several years. We already talked about what happened on Thursday. Friday and Saturday don't carry as much intrigue, but there were still some memorable moments like former Philadelphia Eagles kicker David Akers going through puberty on national television with his pitched squeaking announcing the Eagles 49th pick of tight end Dallas Goedert. His attack on the Dallas Cowboys was decent, but the delivery was terrible. And as a South Dakota State fan, while I am very happy that a Jackrabbit was drafted that high, I wish he hadn't gone to a team with the worst fans in football, but I will continue to cheer for him and not necessarily associate or behave with a large slice of Eagles fans.
Saturday's best moment came when Shaquem Griffin from UCF got drafted by the Seattle Seahawks. It reunites him with his twin brother Shaquill and it is a great moment for a guy who continues to defy the odds playing with one full arm. Fantastic moment there when the Seahawks called him. This is what the NFL Draft is all about. I hope Shaquill succeeds in the NFL.
Other things that caught my attention throughout the draft was Michigan defensive tackle Maurice Hurst falling as far as he did. The Oakland Raiders snagged him in what the fifth round? This guy has first round talent, but his heart issues are a concern. Assuming he is healthy, it's a great pick.
I can't believe South Dakota State wide receiver Jake Wieneke did not get drafted. Sure I might be a little biased, but you cannot tell me that a guy with as many touchdown catches and as many big games as he had can't get drafted when you have guys from Penn or third or fourth wide receivers from SMU get drafted. Nothing against those guys that did get drafted, because they did enough in college to deserve to get drafted, but Wieneke's production is off the charts. If he can increase his speed a little bit, I think the Minnesota Vikings got a steal getting him as an undrafted free agent.
It was interesting that the New England Patriots didn't take a quarterback until really late, Danny Etling, from LSU. Etling wasn't very good at LSU. Do the Patriots really expect him to be the heir apparent to Tom Brady? Absolutely not. He's another body though. The Patriots at some point have to address who will take over for Brady, but this was not the draft for that I guess. Overall the draft was very good to many teams or so it seems. The draft always intrigues me and I look forward to next year. Now we just have to wait for training camp and preseason games to start (yes minicamps go on, but nothing too significant should happen there). Camps won't open for another three months. See you in July.
NBA Playoff weekend reaction
We are finally to the second round of the NBA Playoffs. Yay! It seemed like the first round took forever…because it did. The eastern conference semifinals haven't even started yet. Boston takes on Philadelphia tonight after Boston beat Milwaukee in Boston Saturday night in a winner-take-all game seven 112-96. A 20-2 run at the end of the first quarter pretty much doomed the Bucks. The home team won every game in the series. The other eastern conference semifinal is Cleveland against Toronto. LeBron James was truly The King in game seven against Indiana. He scored 45 points as the Cavaliers would hold off a late Indiana charge and beat the Pacers 105-101. That was pretty difficult. Fortunately the Cavs take on the fragile playoff minded Toronto Raptors next so anything is possible.
Both of the top teams in the western conference had no problem disposing of their opponents in game one. The Golden State Warriors laid a whooping on the New Orleans Pelicans 123-101 in game one. It is the first loss of the postseason for the Pelicans. Anthony Davis had a playoff low 21 points. The Warriors are just too good. And they won without Steph Curry so that's something. The Utah Jazz were without Ricky Rubio and that was a problem against the Houston Rockets. The Jazz couldn't keep up with them as the Rockets picked up the 110-96 win. My guess is that both of these series will be done fairly quickly. We all just want to see Warriors versus Rockets anyway.
Monday's NBA Playoff game
Boston Celtics @ Philadelphia 76ers 8 PM ET TNT (Game 1)
NHL weekend reaction
We saw two double overtime games over the weekend. The San Jose Sharks bounced back nicely after their 7-0 butt whooping to beat the Vegas Golden Knights 4-3. The Sharks had two power plays in the second overtime and cashed in on the second chance. It seemed like Vegas was a little out of sorts there in the second overtime. It is their loss this postseason which also means it is the first playoff loss in franchise history. The other double overtime game came in Nashville Sunday night where the Predators, desperate for a win before heading up to Winnipeg for two beat the Jets 5-4. The Predators got things started less than 30 seconds into the game when Ryan Johansen scored. The Jets would add two goals though in the first including a power play goal by Mark Scheifele. This was a very hard hitting game. No love lost between these two teams. P.K. Subban ended up taking a nasty hit at the end of the second period. The Predators had a 4-3 lead late in the third, but that Scheifele fella scored his second of the game with just over a minute remaining. No score in the first extra session so we went to a second overtime and five-and-a-half minutes into overtime number two, Kevin Fiala scored to give the Predators a 5-4 win and even the series up 1-1. Huge win for the Predators.
The Boston Bruins delivered a statement victory in their series opener with the Tampa Bay Lightning. They won 6-2. These two teams are very evenly matched. I think the Lightning have more depth, but Boston has a lot of good, young players. This should be a tremendous series.
And there was plenty of controversy in our nation's capital yesterday and it had nothing to do with politics. Some pretty nasty hits in the Pittsburgh Penguins and Washington Capitals game two really lets you know that there is no love lost. The Capitals started out quickly though up 2-0 in the first period and they would add a third one right away in the second. The Penguins nearly cut the deficit to 3-2, when Patrick Hornqvist pushed the puck into the net past Capitals goaltender Braden Holtby after a nice set up by Sidney Crosby, but the officials took a look and deemed that the entire puck did not cross the crease which it must in order for it to count as a goal. Some replay views showed what appeared to be white between the puck and the red line, but the overhead camera view which they use to confirm was inconclusive. No goal. No momentum. The Capitals would win 4-1 to even the series up 1-1. Huge win for them, but now they need to go into Pittsburgh and win which is no small feat.
Monday's NHL Playoff games
Boston Bruins @ Tampa Bay Lightning 7 PM ET NBC (Bruins lead series 1-0)
Vegas Golden Knights @ San Jose Sharks 10 PM ET NBCSN (Series tied 1-1)
Coming up Tuesday: NBA and NHL Playoff reaction from Monday night plus other top headlines in the world of sports
---