"The Stack" 4-8-19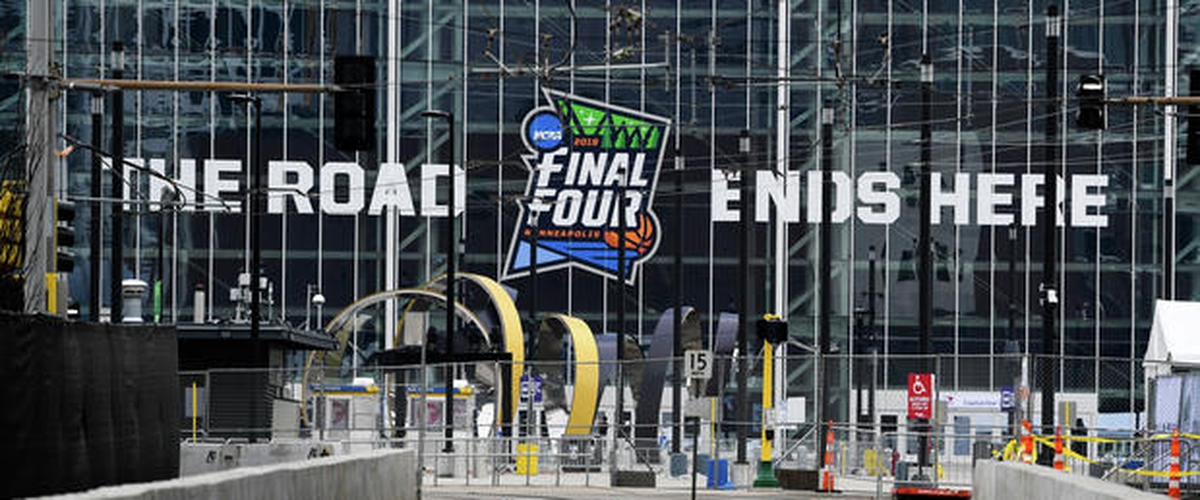 Texas Tech and Virginia meet in the National Championship game tonight in Minneapolis. It will be a defensive struggle. Who is going to come out on top?
The Stack is back on this Championship Monday and we will crown a champion in Minneapolis tonight in men's college basketball. Women's basketball crowned their champion yesterday. We'll react to it all and make a pick for tonight in "the stack" for today, Monday, April 8th:
Final Four Saturday reaction
For the first time ever, I attended the Final Four on Saturday night with my friend Travis Kriens. I will be there again tonight for the national championship game (that pick coming up shortly) and needless to say, I will be back the next time the Final Four returns to Minneapolis and there will be a next time.
Yes, I along with plenty of others were incredibly disappointed by the fact that Zion Williamson and Duke were not in Minneapolis. Heck, even UNC or Kentucky would have been nice to see. As it was, or as it is, the basketball gods smiled upon those that came into U.S. Bank Stadium with a couple of fantastic games Saturday night. Much of the attention has focused on #5 Auburn VS #1 Virginia and rightfully so. Virginia had a ten point lead only to see Auburn storm back on a 14-0 run to take a 61-57 lead. Virginia's Kyle Guy, who has been their best offensive player hit a three pointer that from our vantage point way up in the third level looked like it had no business going in. A foul ensued and Auburn's Jared Harper, who couldn't miss a free throw last week against Kentucky in the Elite Eight, made only one of two free throws. Fortunately, Auburn had fouls to give. A couple of fouls later, with 1.5 seconds left, Virginia inbounded the ball to Kyle Guy who stepped back and attempted a three pointer. It fell short. Auburn fans all around the stadium erupted in cheers. I saw though that Auburn players had their hands over their heads. Something wasn't right. That was correct. A foul was called on Samir Doughty of Auburn and it appeared to be the correct call as he made contact with Guy on the shot. Now did Guy help draw contact? Absolutely. Doughty made contact and Guy had three free throws with a chance to win the game and the officials got the call correct. Virginia was 3-for-9 from the foul line prior to Guy stepping up. He made each of his first two free throws. Auburn called a timeout. Guy, with ice in his veins, sank the third one following the timeout. Auburn's Hail Mary attempt fell short and Virginia escaped. Boos rained down from all around the stadium. They continued to rain down as Virginia left the court. Don't boo the kids.
Wait, what's that? There was a missed call with only seconds left in the game that would have more than likely put Auburn in the championship game. Ty Jerome lost control of the ball and went back to get it, picked it up with both hands and started dribbling. It should have been called a double-dribble. The referees may have thought that Auburn knocked the ball out or they may have just plain missed it. Either way, it was a missed call that had an impact on the outcome. Very few, if anyone in the stadium though saw that happen. I know we didn't and no one else around us saw it. So there was no uproar that that happened. The only uproar was the foul on Doughty. Now afterwards, there were some upset people who were sent tweets, messages and phone calls about the call. But during the game? No, no one saw it. However, this sequence along with the call at the end overshadows what was overall a very good, close and entertaining game.
Who would Virginia play? The stifling defense of Texas Tech made life miserable for Michigan State all night long. Sparty shot 15-for-47 for the game, way off of what they normally shoot. Kenny Goins, who hit the game-winning three pointer against Duke, couldn't make a shot. Cassius Winston struggled, committing four fouls. No one could do much of anything against Texas Tech. Tariq Owens, who left the game for a bit with an injury, but came back, had three blocks. The difference in this game was Matt Mooney, who I am familiar with from his time at the University of South Dakota. Mooney tied a season high with 22 points and made several clutch threes in the second half to build a big lead for Texas Tech. On the biggest stage, Mooney had his best game as a Red Raider. Sparty made a run, cut the lead to one, and had a three pointer to tie the game when Matt McQuaid was left wide open in the corner, but he couldn't get it to fall and Sparty never scored another point. Texas Tech won 61-51.
The atmosphere for the second game was absolutely incredible. It seemed like half of the town of Lubbock was there (I get it, Lubbock is a town of over a quarter of a million people so that would be impossible for half of them to show up), but either way, they were loud and excited to be there. Michigan State fans were loud as well, but not as loud as Texas Tech. It made for a very entertaining atmosphere to watch a game. My final thoughts on the Final Four will come tomorrow or Wednesday, but it was an incredible experience on Saturday night and I look forward to tonight.
Baylor tops Notre Dame to win women's national championship
The Baylor Lady Bears are on top once again. For the third time in head coach Kim Mulkey's career, she has won the national championship, this time with an 82-81 win over Notre Dame. Baylor was in control of this game for the first three quarters, building as high as a 17 point lead. Then a nasty injury happened to Lauren Cox (hopefully she is okay long term and can recover from the injury quickly) and the momentum of the game started to change. Notre Dame made a run thanks to multiple three pointers by Marina Mabrey. Eventually, Notre Dame took the lead and the two teams would go back and forth exchanging buckets and leads with Baylor making the go-ahead basket with six seconds left thanks to Chloe Jackson. Notre Dame called timeout and had the ball past half court. Arike Ogunbowale drove in and got fouled. Mulkey and all of Baylor was incredulous. Ogunbowale stepped up to the foul line and her first free throw rolled around the rim and didn't fall. She tried to miss the second one on purpose, but that one fell and that would be all she wrote. What a great final quarter and finish to the game. We can only hope the men's national championship has as exciting of a finish as what happened last night in Tampa, Florida.
Final Four Championship Game (Minneapolis, MN)
#3 Texas Tech VS #1 Virginia 9:20 PM ET CBS
Defense will rule the roost in this one. In fact, I don't think it is fair to say that the first one to 50 points. Heck, it might be even 40. Both of these teams are incredible on the defense end, ranking in the top three in multiple defensive categories including points against and shooting percentage. While maybe not visually pleasing to watch on TV, this game has some major storylines highlighted by Virginia seeking to win their first national championship only a year removed from being the first #1 seed to ever lose to a #16 seed…congrats again to you, UMBC. For that turnaround to happen is absolutely incredible. Texas Tech is also looking for their first national championship and I think they have slightly better balanced scoring across the board than Virginia. Who else will step up for Virginia besides Kyle Guy? Jarrett Culver had a terrible shooting night against Michigan State on Saturday. The Big 12 Player of the Year will not have a second consecutive bad game. The health of Tariq Owens is a big question, but he will play and he will be effective. The hoop must look like it is ten feet wide for Matt Mooney. Is he on his way to the NCAA Final Four MOP (Most Outstanding Player) honors? Quite possibly. Here's hoping that the Final Four in Minneapolis is treated to a great championship game after two outstanding semifinal games.
Predicted winner: Virginia
Coming up Tuesday or Wednesday: Reaction to the National Championship plus overall thoughts on my Final Four experience