"The Stack" 4-9-19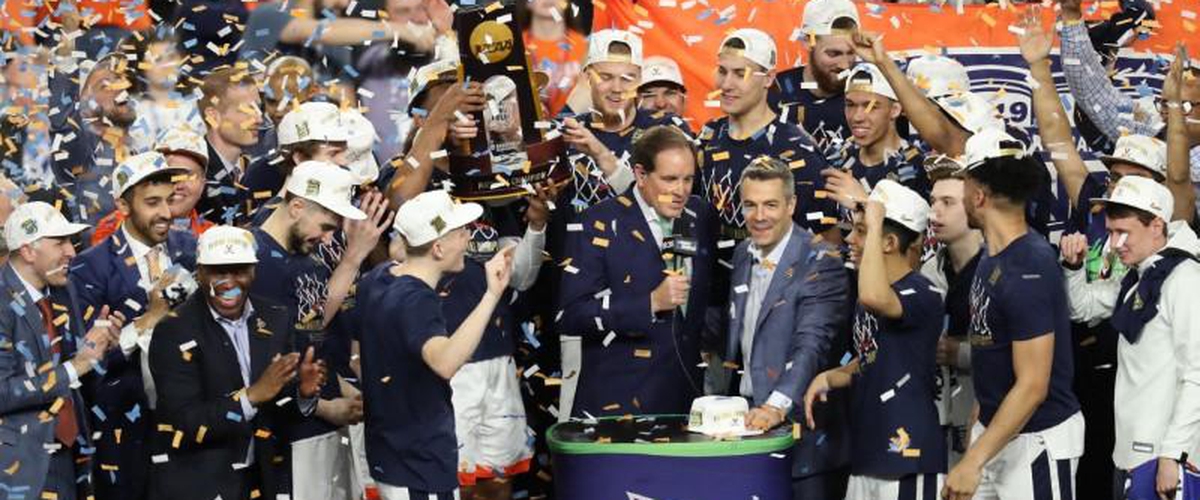 Virginia won their first men's basketball national championship last night with an 85-77 OT thriller over Texas Tech.
The Stack is back on this Tuesday and what a national championship game we saw last night. It certainly defied what nearly everyone was expecting. We'll react to it all in "the stack" for today, Tuesday, April 9th:
Virginia claims first title
At the first media timeout in last night's championship game, the score was 3-2, Virginia. It looked like we were going to be in the midst of a very low scoring game. Texas Tech had one made field goal the first nine plus minutes. Then things started to change. Texas Tech made one three, then another, then another and another. Just like that, Texas Tech had the lead. At one point during their run, they made four threes on consecutive possessions. Virginia's offense was clicking like it had early on. They had blown yet another ten point lead. Things didn't look good, but they got back at it and Ty Jerome's three pointer with a second to go in the first half gave Virginia a 32-29 lead going into the half.
Virginia kept the momentum up heading into the second half. Quickly, they built a nine point lead. Every time Texas Tech made a little run, Virginia would push the lead back. A Kyle Guy three pointer put Virginia up 53-43 with ten minutes and change to go. Again, the dreaded ten point lead for Virginia. They had already surrendered one of those leads earlier in the game. They lost a ten point lead to Auburn in the semifinals. No ten point lead is safe. That proved to be the case in this one. Texas Tech kept creeping back and then used an 8-0 run down 59-51 to tie the game. The stadium was very loud. The Texas Tech faithful carried most of the noise throughout the stadium. Patrick Mahomes was there and got a huge ovation. Michael Crabtree was there. It was an incredible atmosphere. Eventually, they would take a 68-65 with 22 seconds left. Texas Tech head coach Chris Beard apparently told his team not to give up a three pointer to Virginia and to let them have the two. Jerome drove in and the defense collapsed on him. He kicked it out to a wide open DeAndre Hunter in the corner for three. Bang! Game tied. The Red Raiders did not listen. An ill-advised three pointer by Big 12 Player of the Year Jarret Culver with five seconds left was missed and Hunter got the rebound. Inexplicably though he threw the ball out of bounds. I can only think that he thought he had gotten the timeout or he saw Guy call for a timeout and thought it was granted. Only the player with the ball can be granted the timeout and Hunter wasn't granted it yet. Texas Tech had one last chance, but Culver's shot was blocked. Overtime.
Remember when Matt Mooney lifted Texas Tech to the championship game by scoring 22 points in the win over Michigan State? Through the first 40 minutes, he had five points. In the first two minutes of overtime, he added five points. Texas Tech had a 73-70 lead, but Virginia answered and Hunter's made three with 2:10 left to go gave them the lead for good. Virginia went 12-for-12 from the free throw line in overtime and claimed their first men's national championship 85-77. It was heartbreaking for Texas Tech, but the ultimate redemption story for Virginia. Remember, this was the same team that last year lost as a #1 seed to #16 seed UMBC, the first time ever that a #16 seed had beaten a #1 seed. For them to come back the next season and be the last ones cutting the nets down is really, really special. I feel very happy for head coach Tony Bennett and all of those players. Yes, I feel for Texas Tech and their fans and I have a new respect for Texas Tech after seeing all of the people that came to watch them this weekend, but given what Virginia went through last year and how they managed to escape Purdue, Auburn and last night Texas Tech, it was an incredible story…the right story to end the best NCAA Tournament I can recall.
Virginia was involved in some of the best games of the NCAA Tournament. Here are my top eight:
1. #3 Purdue VS #1 Virginia (Elite Eight)
2. #8 UCF VS #1 Duke (Round of 32)
3. #2 Michigan State VS #1 Duke (Elite Eight)
4. #5 Auburn VS #1 Virginia (Final Four semifinal)
5. #3 Texas Tech VS #1 Virginia (National Championship)
6. #5 Auburn VS #2 Kentucky (Elite Eight)
7. #3 Texas Tech VS #1 Gonzaga (Elite Eight)
8. #6 Maryland VS #3 LSU (Round of 32)
What an incredible tournament it was. March Madness, I have said many times, in my opinion is the best sporting event known to mankind and this year proved it. I am sad to see it go, but what an amazing tournament we saw. Until next year college basketball!
Final Four thoughts
For the first time ever, I was at the Final Four in person, along with my very good friend Travis Kriens, and it was an amazing experience. I didn't know what to expect. What was the Tip-Off Tailgate on Nicollet Mall like? What would be Fan Fest be like at the Convention Center? How did the stadium look for a basketball game? How were our seats? How would the overall atmosphere be?
Everything met my expectations and exceeded it. Just seeing all four fan bases there and how many of them there were was great. They were passionate, especially Texas Tech and Michigan State, and they helped provide the atmosphere for the entire weekend. Nicollet Mall was great with all of the things that had including the big ferris wheel which I did not go on. Maybe next time. I would have loved to have more time at Fan Fest because the lines were so long for many attractions, but I got to meet Bill Raftery who called games along with Grant Hill and Jim Nantz for the Final Four which was great. Knowing what I know now, go there the whole day on Monday. That would be the best use of time. I saw a couple games in the Dos Equis 3 on 3 Tournament at the Mall of America. Knowing more, I wish I would have watched them on Friday, but that is the beauty of everything. You don't know. You soak in the experiences that you can and you make a gameplan for the next time the Final Four is back and there will be a next time.
Sure the concourse was packed, but that is what should be expected when you have 70 thousand people trying to get in the stadium. They couldn't open the big doors because of the curtains they need to have down so the light didn't shine in from the big glass doors. The Light Rail could have been better Saturday night, but those are things that can be worked on for next time. I hear the media had some issues with the work space and there was an issue with food Saturday night, but those things can be fixed. The stadium was a great site for the Final Four. We were treated to fantastic games and the atmosphere couldn't be topped. Minneapolis was a great host to the Final Four and I can't wait to come back the next time it's here!
Coming up Wednesday (hopefully): NHL Playoff preview
---