"The Stack" 4-13-19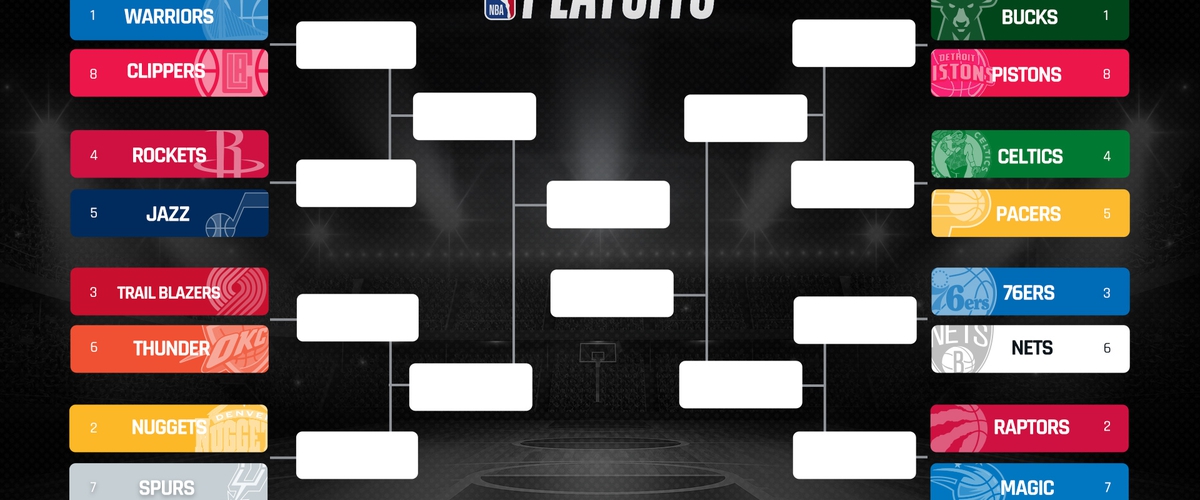 The NBA Playoffs start today. Who will lose to the Golden State Warriors in the NBA Finals this year?
The Stack is back on this Saturday and what a Saturday it is. Tiger is one shot back at the Masters (He was my pick to win it along with Rory McIlory). The NHL Playoffs are in full swing. Did you see that Tampa Bay is down 2-0 in their series to Columbus?! What gives?! We are here though on Saturday with a preview of the NBA Playoffs which start today. Who will lose to the Golden State Warriors this year now that the Cleveland Cavaliers are out of the playoffs? Let's find out with the NBA Playoffs preview you demand in "the stack" for today, Saturday, April 13th:
Eastern Conference
#6 Brooklyn Nets @ #3 Philadelphia 76ers 2:30 PM ET ESPN
The Nets, I think, surprised a lot of people making the playoffs this year. There is reason for optimism, but not this year. Not in this series. Despite Joel Embiid's injury concerns, Jimmy Butler, Ben Simmons and company should make quick work of the Nets.
Prediction: 76ers in 5
#7 Orlando Magic @ #2 Toronto Raptors 5 PM ET ESPN
It's great to see the Magic back in the playoffs. I hope they can consistently make the playoffs in years to come, but POOF! They will disappear quickly thanks to Kawhi Leonard and the Raptors who have a goal of making the NBA Finals. They are more than capable of doing so.
Prediction: Raptors in 5
#5 Indiana Pacers @ #4 Boston Celtics 1 PM ET TNT (Sunday)
The Celtics are really struggling and losing Marcus Smart to injury is not going to help matters. The Pacers have their own injury concerns with Victor Oladipo, but they've played without him for a while now. I am very tempted to take the Pacers, but I think the Celtics overall have more talent and they will get it together for at least this series.
Prediction: Celtics in 7
#8 Detroit Pistons @ #1 Milwaukee Bucks 7 PM ET TNT (Sunday)
For the Bucks to have a chance, say against the Warriors, they will need Malcolm Brogdon. They will not need him in this series. The Greek Freak will destroy Blake Griffen and company.
Prediction: Bucks in 5
Western Conference
#8 Los Angeles Clippers @ #1 Golden State Warriors 8:15 PM ET ABC
Now we get to see if the Warriors were really just toying with us this regular season or if there are serious concerns about them not being able to win the championship this season. Boogie Cousins isn't there for any old reason. He's coming to win a championship. Hopefully Kevin Durant and Draymond Green play nice and the Warriors make quick work with all of their opponents in these playoffs.
Prediction: Warriors in 5
#7 San Antonio Spurs @ #2 Denver Nuggets 10:30 PM ET ESPN
The Spurs as a seven seed is awfully surprising. The Nuggets as a two seed, very few people had I believe, though I know of a few that had this right. Nikola Jokic, the NBA's version of the Joker, is going to get at least one triple-double in this series/playoffs and the Nuggets will get by the Spurs.
Prediction: Nuggets in 6
#6 Oklahoma City Thunder @ #3 Portland Trailblazers 3:30 PM ET ABC (Sunday)
Are we really buying into the Trailblazers and that Russell Westbrook and Paul George won't make it out of the first round? The Trailblazers could very well make a deep run in the playoffs with Damian Lillard and C.J. McCollum. This is going to be a tough series though. They have all of the pieces. I want them to prove it.
Prediction: Thunder in 7
#5 Utah Jazz @ #4 Houston Rockets 9:30 PM ET TNT (Sunday)
I know there are concerns with James Harden having to do it all on his own, but I don't think that will be too much of a concern in this series. Donovan Mitchell is great, but if the Jazz couldn't beat the Rockets last year, I don't see them being able to beat them this year.
Prediction: Rockets in 5
Eastern Conference Finals
#2 Toronto Raptors VS #1 Milwaukee Bucks
Western Conference Finals
#2 Denver Nuggets VS #1 Golden State Warriors
NBA Finals Prediction
#1 Milwaukee Bucks VS #1 Golden State Warriors
NBA Finals champion: Golden State Warriors
Until someone beats them, and I do think the Greek Freak can do it, I have to go with the Warriors. Shouldn't just about everyone else? If they lose, that will be entertaining.
Coming up Monday: Reaction to the Masters, NBA and NHL Playoffs and more.
---