"The Stack" 4-9-19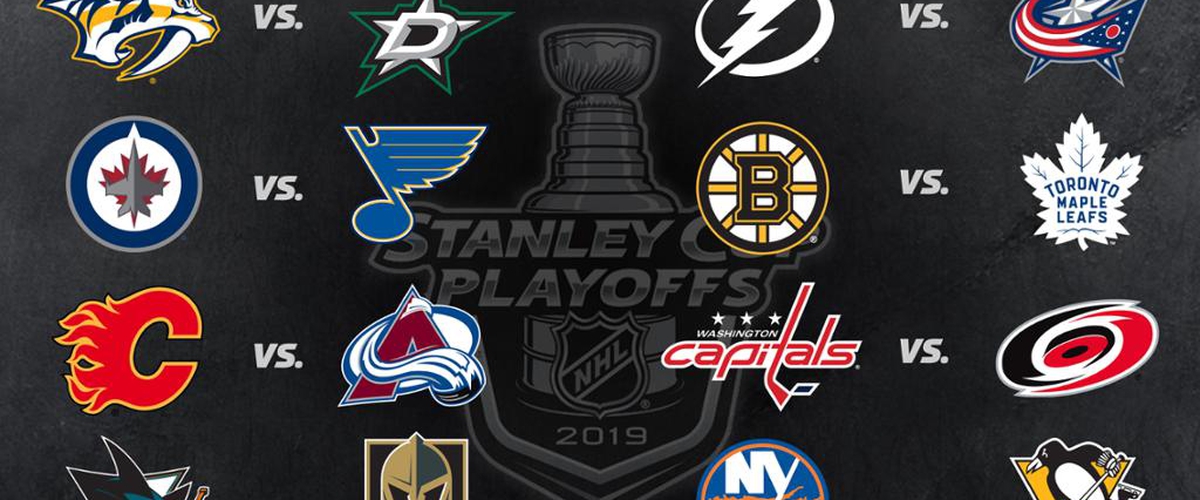 The Stack is back on this Wednesday and the NBA regular season has hit its final day (Magic Johnson has also stepped down from the L.A. Lakers which is stunning), but we are here to talk about the first day of the NHL Playoffs. We are here with a playoff preview that hopefully you demand so let's get right to "the stack" for today, Wednesday, April 10th:
Eastern Conference
Columbus Blue Jackets @ Tampa Bay Lightning 7 PM ET USA
It's nice that the Blue Jackets have made the playoffs, but nobody is going to beat the Lightning in the first round. They had 62 wins during the regular season. They are not going to lose this series.
Prediction: Lightning in 4
Pittsburgh Penguins @ New York Islanders 7:30 PM ET NBCSN
The Pittsburgh Penguins have played some really good hockey down the stretch and last I checked, they still have Sidney Crosby and Evgeni Malkin. The Islanders have arguably been the biggest surprise in hockey this year. This also proves that Barry Trotz is a phenomenal head coach in case you didn't believe that before. As much as I would like to see the Islanders win, I can't doubt the Penguins in the playoffs.
Prediction: Penguins in 6
Toronto Maple Leafs @ Boston Bruins 7 PM ET NBCSN (Thursday)
Both of these teams are really good and it sucks that they have to go against one another in the first round. I am going with the team that has Auston Matthews and a host of other young talent over the likes of a team that traded for Charlie Coyle in the middle of the season and has an old Zdeno Chara.
Prediction: Maple Leafs in 7
Carolina Hurricanes @ Washington Capitals 7:30 PM ET USA (Thursday)
The Hurricanes are in the playoffs for the first time since 2008. It's great to see. Maybe we can see at least one celebration after a home playoff win. One might be all we get. The Capitals with Alex Ovechkin and T.J. Oshie are just too good.
Prediction: Capitals in 5
Western Conference
St. Louis Blues @ Winnipeg Jets 8 PM ET NHL Network
The Jets really struggled down the stretch. Will they be able to turn it around in the playoffs? The Blues struggled early on in the season, but really turned it on as the season progressed. The Blues have Vladimir Tarasenko, but the Jets have more offensive firepower. I think they will get back on track and get by the Blues.
Prediction: Jets in 5
Dallas Stars @ Nashville Predators 9:30 PM ET USA
The Nashville Predators have built themselves into a perennial favorite to make it out of the western conference finals. That is going to be the case once again this year. They are loaded. The Stars have a good team as well with guys like Jamie Benn and Tyler Seguin, but it won't be enough against the Predators.
Prediction: Predators in 6
Vegas Golden Knights @ San Jose Sharks 10:30 PM ET NBCSN
The Golden Knights had a magical season last year making it all the way to the Stanley Cup Final. That won't be the case this year. They aren't sneaking up on anyone this year and the Sharks are good. Really good. This team is loaded all across the board. They will dispose of Vegas, but it may go the distance.
Prediction: Sharks in 7
Colorado Avalanche @ Calgary Flames 10 PM ET NBCSN (Thursday)
I still don't know how this Calgary Flames team is so good. I guess I just haven't paid that much attention to them. They are really good, but they don't have Nathan McKinnon or Gabriel Landeskog. What the heck, I'll go with an upset here.
Prediction: Avalanche in 6
Eastern Conference Final prediction
Washington VS Tampa Bay
Western Conference Final prediction
San Jose VS Nashville
Stanley Cup Final prediction
Nashville Predators VS Tampa Bay Lightning
Stanley Cup Champion: Tampa Bay Lightning
It should be a very entertaining NHL Playoff season. Let's drop the puck! Enjoy them everyone.
Coming up Thursday: Masters preview plus other top headlines in sports
---