"The Stack" 5-3-17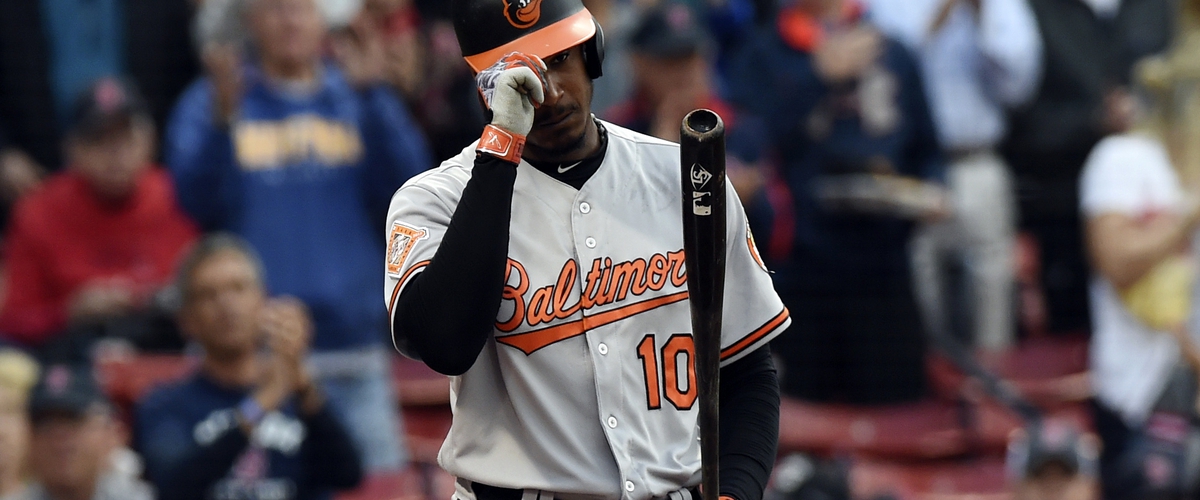 Baltimore Orioles outfielder Adam Jones received a standing ovation from the Boston Red Sox crowd a day after he had racial slurs thrown at him and a bag of peanuts by some Red Sox fans.
The Stack is back on this Wednesday with a slightly shorter blog today (and an earlier posted one too). There's some playoff talk in there plus a couple of other stories so let's get right to it and see what's in "the stack" for today, Wednesday, May 3rd:
Celtics outlast Wizards, Warriors win game one against Jazz
Another game, another good start and another blown lead for the Washington Wizards in their series with the Boston Celtics. The Wizards started were up by 13 after the first quarter, but just like in game one, the Celtics responded in the second quarter. The Celtics still found themselves down by five entering the fourth quarter, but were able to force overtime and by that time they had the momentum and the Wizards just didn't have enough left as the Celtics would win 129-119 in overtime. Seven players were in double figures for the Wizards led by John Wall with 40 points, but it wasn't enough. Meanwhile Isaiah Thomas scored 53 points for the Celtics. He is unbelievable. The Wizards must win games three and four at home if they want to win this series. They have been the better team for part if not most of these first two games in Boston. They just need to find a way to close the deal. Can't let Boston go on long runs after you have them down by double-digits early on.
The Golden State Warriors, like the Cleveland Cavaliers, are still undefeated in the playoffs thus far. They beat the Utah Jazz 106-94 to take a 1-0 series lead. The Warriors were up by 12 points at the half and were really never challenged by the Jazz. The Jazz's defense will keep them in this series to a degree meaning they will hopefully not have to score 120 points to win a game, but they need to score more than 94 points. If you have balanced scoring then your leading scorer, Rudy Gobert, scoring 13 points is fine, but if no one else really helps that isn't going to bode well for the Jazz, especially not when all five Warriors starters were in double figures. We'll see what the Jazz can do in game two.
Rangers get back into series, Predators put Blues on brink
Who says home is a bad place to play for the New York Rangers? That six game postseason is a thing of the past with the team having won three games in a row now. They kept the streak going last night jumping on Ottawa early and taking down the Senators 4-1. The Rangers scored the first two goals of the game in the first and scored two more in the second before the Senators got on the board with a goal by Jean-Gabriel Pageau, but it wasn't nearly enough. Rangers are back in this series.
The Nashville Predators are one win away from the western conference finals after they beat the St. Louis Blues 2-1 to take a 3-1 series lead. Scoreless through two periods, Ryan Ellis broke the scoreless draw in the third period with a power play goal five minutes in. James Neal would tally an unassisted goal eight minutes later and the Predators would hold off a late Blues rally and attack to win the game by that same 2-1 score. The Blues got a lot of shots on goal against Pekka Rinne, but Rinne stood tall once again. He has been great all postseason long. The Predators will win this series.
Adam Jones gets welcomed reception
Tuesday was a different day for Baltimore Orioles outfielder Adam Jones, a day removed from having racial slurs and taunts hurled at him from some Boston Red Sox fans. He also had a bag of peanuts thrown at him. It's flat out unacceptable that fans would do this sort of thing in this day and age, but yes we still have to deal with it unfortunately. In his first at bat of the game, the Red Sox faithful gave Jones a standing ovation. Sure it may have been just a small percentage of fans that were knuckleheads or scum and did what they did, but those few select individuals make Red Sox nation look bad and they were determined to let Jones know on Tuesday that they do not all think alike. Even Red Sox front office management met with Jones before the game to let him know this sort of thing would not happen again and that there would be consequences. Banning these hooligans comes to mind. Kudos to the rest of the Boston Red Sox fans in attendance for doing what they did Tuesday night. Now they just need to single out those fans that uttered the slurs and hurled the insults and get them removed from the park for good. Jones went 0-for-4 for the game and the Orioles lost to the Red Sox 5-2, but that is of little meaning to the overwhelming story going on here. Hopefully this has been put to bed. We shall see though.
Jamaal Charles signs with Broncos
Running back Jamaal Charles has been a longtime fan favorite of the Kansas City Chiefs. That might change now with news that the Charles has signed with the Denver Broncos on Tuesday. It's a one-year, $3.75 million contract. Charles, provided he's healthy, will provide another weapon for the Broncos offense to help lighten the load of their young quarterbacks, whether that be Trevor Semien or Paxton Lynch. The key will be the Broncos revamped offensive line and Charles himself who only lasted three games last year due to knee injuries stemming from his torn ACL he suffered the previous year. This will be a good move if it all pans out for the Broncos, but that is kind of a big if considering Charles' age (30) and the fact that his knees are not the same.
Wednesday's playoff schedule
NBA
Toronto Raptors @ Cleveland Cavaliers 7 PM ET TNT (Cavaliers lead series 1-0)
Houston Rockets @ San Antonio Spurs 9:30 PM ET TNT (Rockets lead series 1-0)
NHL
Washington Capitals @ Pittsburgh Penguins 7:30 PM ET NBCSN (Penguins lead series 2-1)
Anaheim Ducks @ Edmonton Oilers 10 PM ET NBCSN (Oilers lead series 2-1)
Coming up Thursday: NBA and NHL Playoff reaction plus other top headlines in the sports world
---