"The Stack" 6-1-17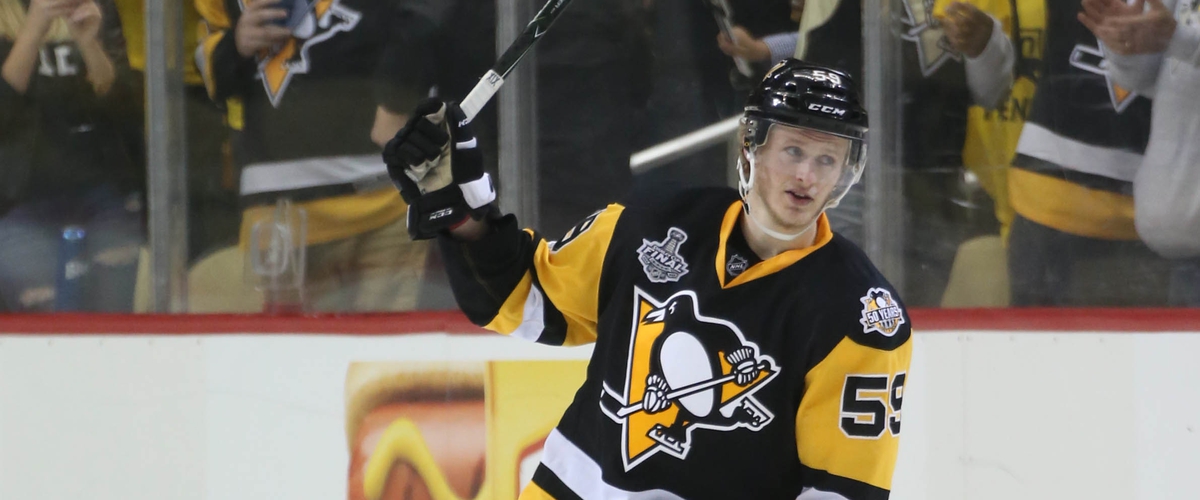 Rookie Jake Guenztel scored his 12th goal of the playoffs as the Penguins took game two of the Stanley Cup Final 2-0. The rookie is playing sensational.
The Stack is back on this Thursday and the NBA Finals start tonight…finally. The Stanley Cup Final is two games in. We have reaction to that and more so let's get right to it and see what's in "the stack" for today, Thursday, June 1st:
Penguins break open game in third, take 2-0 series lead
A lot of people were optimistic that the Nashville Predators would be able to turn things around in game two after they for all intents and purposes should have won game one. By the way, the guy who threw the catfish onto the ice in game one will not face criminal charges and rightfully so. The Pittsburgh Penguins definitely seemed to have more energy to start out the game, but it was the Predators who got on the board first on a superb move by Pontus Aberg keeping control of the puck and getting by a couple of Penguins defenders and waiting just long enough for Penguins goalie Matt Murray to go down and have a wide open net. 1-0 Predators. The lead wouldn't last long when the youngster, rookie Jake Guentzel kept fighting on a second chance and third chance and somehow got the puck by Predators goalie Pekka Rinne who didn't leave but a sliver of daylight for Guentzel to get the puck past him, but a sliver of daylight is all Guentzel needed. The Predators dominated for much of the first two periods, yet we were tied 1-1 through two.
That would change quickly in the third period and I do mean quickly. Guentzel would score ten seconds into the period to give the Penguins a 2-1 lead and that would not be their only goal. Three minutes later Scott Wilson got a stick on the puck that ended up going off of Vernon Fiddler of the Predators as he was trying to make a hustle play and the puck got past Rinne to give the Penguins a 3-1 lead. But wait, there's more. Three minutes later the Penguins had another odd man break Evgeni Malkin put one past Rinne on the left hand side. That would be it for Rinne. He has given up four goals in each of the first two games of the Stanley Cup Final. The Penguins would go on to win 4-1.
The Predators appear to be in a bit of trouble. Penguins goalie Matt Murray was absolutely incredible in this game. He made some clutch saves at the end of the first period and was brilliant throughout stopping 37 of 38 shots. As good as Guentzel was in game two with two goals, Murray may have been better. The Predators need to go back to playing their style and they need Rinne to be the goalie they've had throughout their playoff run. Game two saw too many hits, too many penalties. They're trying to go over Sidney Crosby every chance they get. Perhaps focus less on him and more on your offense and for Rinne, get the Penguin demons out of your head and be the brick wall you've been for much of the playoffs. Game three is Saturday night from Smashville on NBCSN at 8 PM ET.
NBA Finals tip off
Cleveland Cavaliers @ Golden State Warriors 9 PM ET ABC (Game 1)
The NBA Finals finally tip off tonight at Oracle Arena in Oakland and for the third straight year (and first time in NBA history) we see the Golden State Warriors against the Cleveland Cavaliers. It is the first time in NBA history that the same two teams have met in the NBA Finals three years in a row. This will be a competitive series. Perhaps this series should and will go seven games. The Cavs though didn't really impress me though in games three and four in their eastern conference finals series against the Boston Celtics. The Warriors are still undefeated this postseason. Kevin Durant came to the Warriors for a reason. He and Steph Curry are playing really well. Granted Curry hasn't played that well in the NBA Finals, but he is playing well right now as is Durant. That is going to be tough for the Cavs to stop. It's not like the Cavaliers defense is all that great. They have a good trio in LeBron James, Kyrie Iriving and Kevin Love and their bench is better, but if Draymond Green doesn't get suspended, I think the Warriors win this series.
Pick: Warriors in 5
**Side note: I am choosing not to discuss LeBron James' L.A. home being vandalized with a racial slur. Feel like I will get too heated and say something I'll regret so I will refrain from saying anything other than it is disappointing and disturbing.**
Harper's suspension reduced
Washington Nationals outfielder Bryce Harper was suspended four games initially for his part in the brawl with San Francisco Giants bullpen pitcher (and petty little fella) Hunter Strickland on Memorial Day. Former New York Yankees manager Joe Torre, who is now a big wig in the MLB office and is in charge of discipline, decided four games was too hard on Harper and reduced it to three. That's half of what Strickland got, but considering that Strickland held the grudge for three years and purposefully plunked Harper, he should have got two weeks while Harper received two games at most. What is he is supposed to do? Just take being hit for something he didn't do? To hell with that. Torre looks weak in this situation. Reduce Harper's suspension in half and at minimum double Stickland's. At least Harper's suspension was reduced so he's got that going for him…which is nice.
Tiger Woods has no alcohol in system
Just as Tiger Woods said in the statement he released Monday night, he had no alcohol in his system. That is what the police report said when it was shared on Tuesday. Police said that Woods blew a 0.00, but that he had slurred speech and couldn't tell officers where he was going at 3 AM in the morning. This does put a different spin on what we were all thinking initially when we found out that Woods was pulled over for a DUI. It was a bad reaction to prescription drugs, but at the same time, we shouldn't take mixing prescription drugs lightly. Woods has some serious issues going on and needs help. Mixing prescription drugs is a serious problem in this country. Opioids in particular have killed thousands of young people over the last few years. The dashboard video doesn't make Woods look good, but the mere fact that no alcohol was involved is encouraging and I think will make people look at the Woods incident differently. He did just have back surgery after all. Still though, the fact that he was out driving at 3 AM raises more questions perhaps than it does answers…at least at this point.
Coming up Friday: Game 1 NBA Finals reaction plus other top stories in sports
---