"The Stack" 6-2-17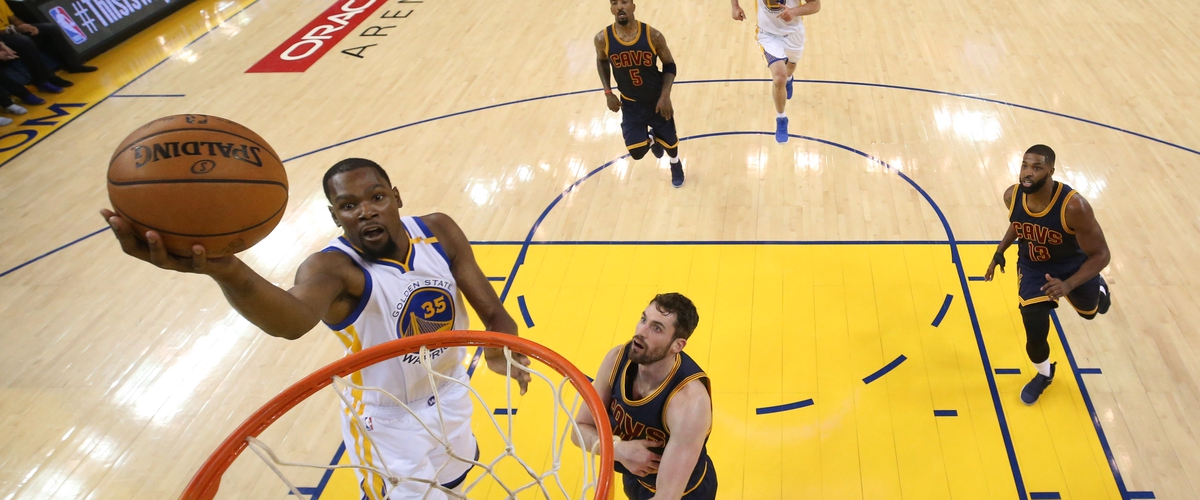 Kevin Durant scored 38 points and was the best player on the court as the Warriors trounced the Cavaliers 113-91 to win game one of the NBA Finals.
The Stack is back on this Friday with a very late posting. Just NBA Finals and we'll touch briefly on the Stanley Cup Final as well so let's get right to it and see what's in "the stack" for today, Friday, May 19th:
Warriors rout Cavs in game one of NBA Finals
Stop me if you've heard this one before. An NBA playoff game this year was a blowout and overall boring. Okay, stop me if you've heard this won before. The Golden State Warriors won by double digits and won easily. Yes, both things happened in game one of the NBA Finals Thursday night. Yes it was only an eight point lead for the Warriors at the half, but it always seemed like they were in control of this game. They didn't even shoot that well. They were missing a lot of easy layups and some jump shots would be halfway down before rolling out. That didn't matter though, because any Cavalier player not named LeBron James or Kyrie couldn't do jack Thursday night. It wasn't even that James had that great of a game either. He did have eight of the team's 20 turnovers.
The Cavs seemed fortunate to be down by eight at the half and any hopes of them making it a game were dashed in the opening minutes of the third quarter when the Warriors went on what a 13-0 run to go up by 21? No hope then for the Cavs. The Warriors would go on to win 113-91. The Cavs had no answer for Kevin Durant who instead of going strictly jumping shoot drove the hoop and had an easy time getting dunks and layups. He finished with 38 points. Oh yeah that Steph Curry guy was pretty good too going for 28 points. Lethal one-two punch.
In addition, the Warriors did a great job of setting screens so at times in the game Irving was defending Durant. Mismatch! Kevin Love did have a double-double with 15 points and 21 rebounds but a few of those rebounds came off of his missed shots. And the Warriors shot 20 more field goals than the Cavs. 20! That cannot happen if you want to beat the Warriors in a game let alone the series. The Cavs need to shore a lot of things up or this series will be over quickly. So how can they do it? That's a great question. Klay Thompson played some superb defense on the Cavs. Set some screens to get him off of Love. On the defensive side they need to make sure that they can avoid the screens that set up such huge mismatches for them. If they can't at least make changes to some degree, the Warriors will destroy them yet again and the Cavs will be forced to win both home games. And I don't like their chances that they can even do that. Game two is Sunday night at 8 PM ET on ABC.
Penguins-Predators get set for game 3
Stanley Cup Final game three is Saturday at 8 PM ET on NBCSN. By now you should know that the Pittsburgh Penguins are up 2-0 in the Final over the Nashville Predators. Nashville has been waiting for this moment though. They already have a raucous home crowd and arena, Bridgestone Arena. It is a pretty amazing place to watch a hockey game I'm told. They are going to be really read to go for their first ever Stanley Cup Final game on home ice. The catfish will be ready, but will goalie Pekka Rinne be? He may not even play? Head coach Peter Laviolette, at least to this point and to my knowledge, has not named Rinne the starter in net for game three. Rinne has had some mighty big struggles against the Penguins in his career and it has shown in this series. He has allowed four goals in each of the first two games though a couple have gone off of Predators players. The Predators have largely been the better team for most of the first two games of the series, but find themselves down 2-0. That's all that matters. I'm guessing the Predators win game three. Let's go #Smashville.
Coming up Monday: NBA Finals and Stanley Cup Final reaction plus other top headlines and stories in sports
Listen to this week's "The Sports Block" podcast here.