"The Stack" 7-11-17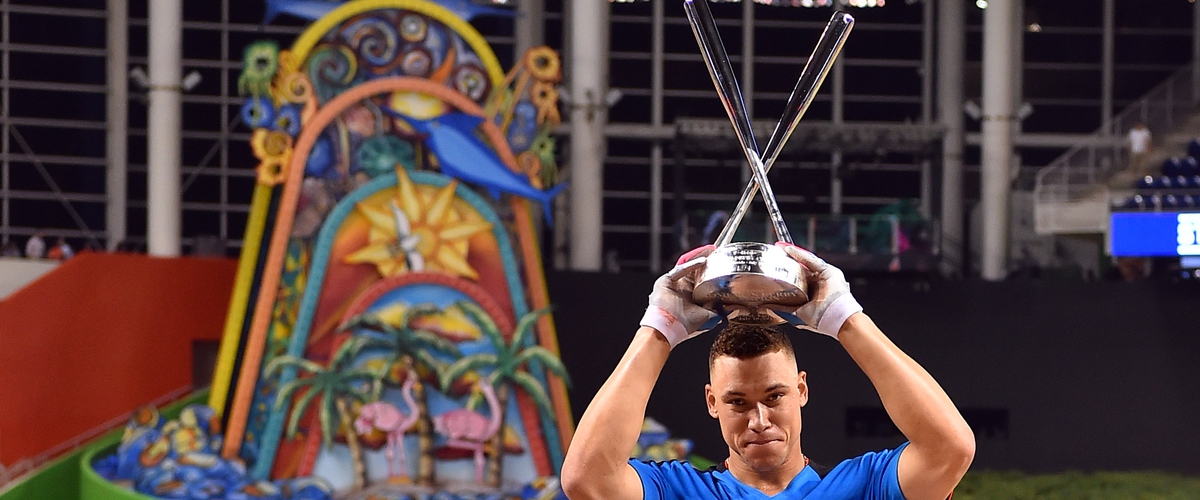 Aaron Judge hit 47 homeruns including 23 in the first round to win the Home Run Derby. He's only a rookie. More titles to come.
The Stack is back on this Tuesday with one of our two, at most three posts this week. What an amazing display of power we saw last night at Marlins Park for the Home Run Derby. We have reaction to that plus thoughts on the all-star game and more so let's get right to it and see what's in "the stack" for today, Tuesday, July 11th:
Judge wins Home Run Derby
I can't remember the last time I was this excited to see the Home Run Derby Monday night at Marlins Park for MLB All-Star week. It did not disappoint, especially the first round. Miguel Sano beat Mike Moustakas 11-10, that was nice. Then Gary Sanchez of the New York Yankees and the eight seed in the derby belts out 17 homeruns. You knew the hometown star, Giancarlo Stanton had his work cut out for him. Stanton started out slow, but soon got into a groove. He absolutely obliterated the baseball. Five of the six longest homeruns to that point were hit by Stanton. He was hitting that lovely artwork in centerfield. He was hitting the glass in the back. Cody Bellinger took down Charlie Blackmon in another double-digit entertaining battle 15-14 and then the real show started. Justin Bour of the Marlins and another fan that the hometown fans were cheering for hit some homeruns before his timeout. During his timeout his teammate Stanton gave him a donut and that did something to Bour who really started crushing them. He finished with 22 homeruns. How would the two seed, Aaron Judge be able to beat him? Judge found a way. The sheer power that he has to send baseballs flying is something to behold. Judge powered them to center, to left and to right. All around the park and he went over 500 feet multiple times. He beat Bour much to everyone's surprise 23-22 to advance to the second round. The first round of the derby was absolutely must see television.
The rest of the derby apart from Judge wasn't all that great. Sanchez came back down to earth and lost to Sano. Judge ousted Bellinger to set up the final between him and Sano, the #5 seed (Sano) versus the #2 seed (Judge). Sano went first and hit ten homeruns. Any slim chance of him winning was quickly extinguished by Judge who in his first three swings hit three homeruns. It took him only 15 swings to hit eleven homeruns and win the Home Run Derby. He hit 47 homeruns in the three rounds. It was an absolutely incredible event to watch. The star power in this was just tremendous. The way that MLB has changed the format of the all-star game has been great. Yes, it stunk that Bour hit 22 homeruns and lost while Sano only hit eleven homeruns in the first round to advance. Stanton hit 16 homeruns and lost, but overall this was truly an amazing night for baseball and the derby. The energy in the stadium, despite all of the empty seats, was extremely high. I hope to see Stanton, Judge and Bellinger back in it next year. What an amazing time last night.
MLB All-Star game tonight
Now that the Home Run Derby is done, we turn our attention to the all-star game tonight (8 PM ET FOX). No Clayton Kershaw tonight, but the star power in this game is big nonetheless. No home-field advantage this year in the World Series though. Winners will receive $20 thousand each. The losers receive nothing. I don't know if that will help or hurt the game. Hopefully the guys play hard and managers try and get everyone in to experience the all-star game. Matchups are great though. Who wouldn't want to see Max Scherzer pitch to Aaron Judge? Will the Astros lineup dominate when they are in the lineup? What about Bryce Harper and Giancarlo Stanton? It should be entertaining and at the end of the day, it doesn't matter if the AL or the NL wins, but I will take the AL to take down the NL 6-5. It should be a fun night on South Beach.
Nadal, Muller finish epic battle at Wimbledon
I don't know what the bigger storyline coming out of Wimbledon was on Monday…the fact that Rafael Nadal was upset by Gilles Muller or the fact that their fifth and deciding set went 28 games before Muller won 15-13. Muller took the first two sets 6-3, 6-4. Perhaps Nadal was a little slow and woozy because he hit his head on a door doing his kangaroo style jumps inside before the match. One way or the other, Nadal rallied back to win sets three and four 6-3, 6-4 to force the decisive fifth set. Who would muster enough energy to win the fifth set? Back and forth the guys went. When it got to be 9-9 you knew that we were witnessing something pretty incredible. Finally when Nadal's shot went long in the 28th game and Muller won 15-13 it took a few moments to realize the magnitude of what we all saw. It wasn't just that Muller won. It was how the fifth set all went. What an amazing match. The match lasted just under five hours ant four hours and 48 minutes. We witnessed something truly astounding yesterday at Wimbledon.
Mayweather petitions IRS for tax reprieve
Floyd "Money" Mayweather apparently doesn't have enough money to pay his 2015 tax liability. That is what he is telling the IRS in a petition he filed in Tax Court on July 5th asking that they give him a reprieve to pay it until after his bout with Conor McGregor August 26th. If I didn't need another reason not watch the Mayweather-McGregor fight, I have found it now. Mayweather has earned approximately $700 million in all of his 49 matches. He has $15 million in seven cars that he doesn't drive. And he can't pay his 2015 tax liability? To heck with him. The IRS should tell him to take his petition and shove it where the sun doesn't shine. With all that money, Mayweather maybe should get some money management skills. This is all a delayed tactic to pay his tax liability, but if he is saying most of his assets are illiquid then he either needs to find a new financial advisor (if he even has one) or sell some one of his cars. This guy absolutely disgusts me and I will not pay one dime to watch his "fight" against McGregor nor am I going to find a place to watch it for free. It doesn't interest me and Mayweather has provided me with more ammunition with why he is racing up the charts as the man in sports I despise the most. Get out of here Floyd Mayweather.
If you have the spare cash, vote on some ESPN experiences now through Wednesday to help benefit the V Foundation with all proceeds going to wards cancer research. And enjoy the ESPYs Wednesday night.
Coming up later this week: ESPYs reaction plus other top stories in sports
---