"The Stack" 7-3-18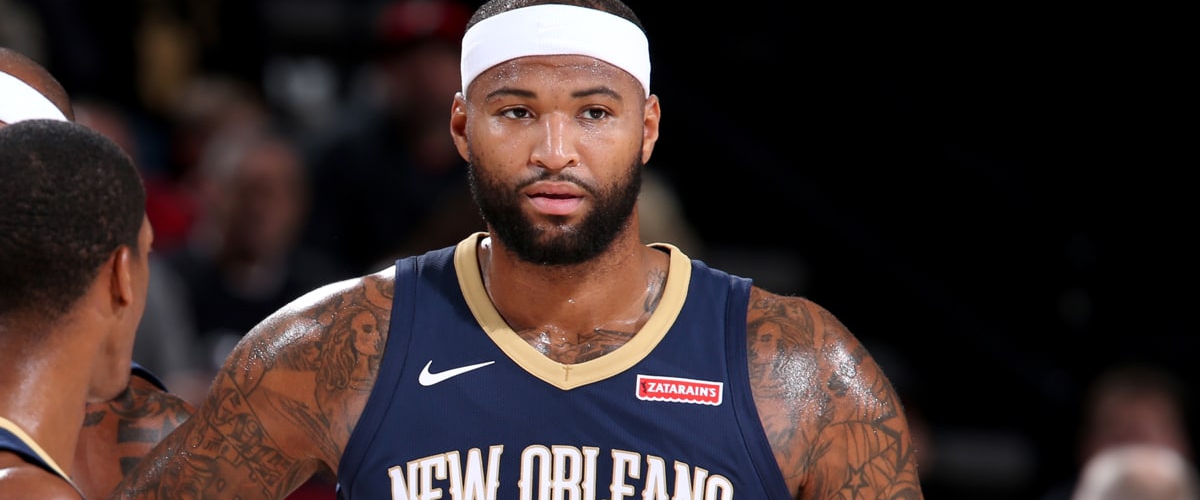 DeMarcus Cousins surprised everyone Tuesday by signing a one-year $5.3 million deal with the Golden State Warriors. This is a super team! The Warriors basically said, "Take that L.A. and LaBron!"
The Stack is back on this Tuesday and while I don't anticipate another blog for the rest of the week I certainly didn't expect to write one today talking about another blockbuster signing in NBA free agency today, but that is what we have. The Golden State Warriors saw what the Lakers did with LeBron James and raised them by not having to do all that much raising. We'll explain momentarily plus a couple of other headlines so let's get right to "the stack" for today, Tuesday, July 3rd:
NBA free agency takes another turn
In a stunning development late afternoon/early evening on Monday, DeMarcus "Boogie" Cousins made his decision. No he's not going to the Los Angeles Lakers. Salary cap was certainly an issue there. No, it isn't NOLA and the New Orleans Pelicans. Instead, Cousins has signed a one-year deal with…the Golden State Warriors. Yes, the rich get richer. It's a one-year deal worth $5.3 million. Cousins is coming off of an Achilles injury sure, but he is an all-star. Put him in the mix with Draymond Green, Steph Curry, Klay Thompson and Kevin Durant (in no particular order obviously) and you have an unstoppable team. Seriously, who is going to beat them? Poor Warriors, they lost JaVale McGee to the Lakers. They upgraded big time at the center position and you better believe that Cousins will be on his best behavior. Any thought that the Lakers might give the Warriors a run for their money is out the door now barring any significant injuries that happen to the Warriors.
Sure the Lakers continued making moves by signing Rajon Rondo away from the Pelicans who quickly countered by taking Joseph Randle off of their hands, reuniting him with fellow Kentucky Wildcat alum Anthony Davis, but adding Rondo does next to nothing to the Warriors getting Cousins. The Pelicans did just find when Cousins went down with that Achilles injury this year, but it is still a loss for them. Add to that losing Rondo, but adding Randle, and one has to wonder just how good the Pelicans will be this year. I think they take a step back. And one step back may mean they miss the playoffs in the ultra-competitive western conference. Another crazy day in NBA free agency.
Wimbledon preview
Wimbledon has started yes, and The Stack doesn't always have the best tennis previews for the Grand Slam tournaments. Okay there is essentially no preview so I'm going to go with my old standby and say Serena Williams wins on the women's side though I will take a flyer on Madison Keys as well. On the men's side, it's a shame that Andy Murray is out. Rafael Nadal isn't great on grass so let's go with either Novak Djokovic or Roger Federer. I'll lean Djokovic on the men's side. Should be a fun tournament though over the next couple of weeks.
World Cup update
Another World Cup, another round of 16 Knockout Round loss for Mexico. After pulling off the big upset of Germany in their first match, Mexico could not find that similar play against Brazil, losing 2-0. Brazil is very good and Neymar scored a goal. Go figure, one of the best in the world comes through when his team needs him.
Speaking of coming through when your team needs you, that was quite the second half between Belgium and Japan. Japan scored two goals in the opening minutes of the second half. Belgium had looked so good through pool play, but they were looking terrible here. That would change when they scored two goals in a five minute span and then added another one in stoppage time to complete the comeback 3-2. Quite a remarkable win for Belgium. You have to feel for Japan and their fans, but Belgium advances and they will now take on Brazil. Can't play like they did against Japan against Brazil and think you have a chance to win. It isn't going to happen.
Today's World Cup games are Sweden vs. Switzerland 10 AM ET FOX and Colombia vs. England 2 PM ET FOX.
Coming up later this week maybe: Reaction to top headlines in the sports world
Happy 4th of July everyone! Celebrate Independence Day responsibly and do not blow your fingers off lighting fireworks. No JPP type incidents now.
Listen to last week's "The Sports Block" podcast here.
---