"The Stack" 8-18-20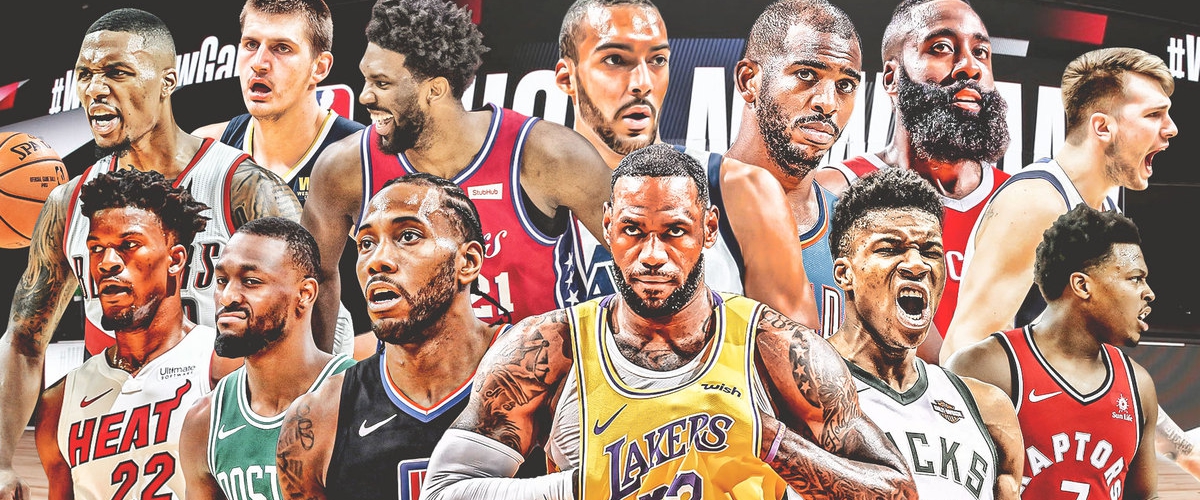 The NBA Playoffs have started. Who will reign supreme at the Walt Disney World Complex?
The Stack is back on this Tuesday and the NBA Playoffs have begun down in the bubble in Orlando. It's certainly going to be different with no fans at the games, much like with the NHL. It's also a crying shame that the Phoenix Suns didn't have an opportunity to get in the playoffs by playing Portland and/or Memphis for the eighth and final playoff spot. Shame on you, NBA! Let's get to the previews for all of the series in "the stack" for today, Tuesday, August 18th:
2020 NBA Playoffs Preview
Eastern Conference
#8 Orlando Magic VS # 1 Milwaukee Bucks
Milwaukee didn't look great during the NBA's restart, going 3-5. Giannis lost his mind a few times. Still, the Greek Freak and company should have no issues with the Magic. I think a sweep should happen, but I'll throw the Magic a game just in case the Bucks are still a little rusty.
Prediction: Bucks in 5
#7 Brooklyn Nets VS #2 Toronto Raptors
Put Raptors head coach Nick Nurse down on the short list of candidates for coach of the year. Even with losing Kawhi Leonard, the Raptors are a formidable force. The Nets can be too next year once KD and Kyrie Irving are back and healthy. That's not going to be the case this year.
Prediction: Raptors in 5
#6 Philadelphia 76ers VS #3 Boston Celtics
I can't do it. I can't trust Joel Embiid, Ben Simmons and the 76ers. They may have length, but the talent of the Celtics including Jason Tatum is just too much. Not saying that the 76ers aren't well coached, but I will take Brad Stevens in this series.
Prediction: Celtics in 6
#5 Indiana Pacers VS #4 Miami Heat
The Heat are arguably the biggest threat to the Bucks in the eastern conference. Can they get by the Pacers? I think so. The Pacers are a good team, but the Heat are just too good. Hopefully they wear those Miami Vice jerseys. Those things are sick.
Prediction: Heat in 6
Eastern Conference Finals
Milwaukee Bucks VS Boston Celtics
Western Conference
#8 Portland Trailblazers VS #1 Los Angeles Lakers
What Damian Lillard and the Trailblazers did during the restart was remarkable. Lillard had multiple fantastic games. Unfortunately, they don't have enough to take down LeBron James, Anthony Davis and the Lakers. They have expelled a lot of energy and will be going back to the protests (and sometimes the violence) in Portland soon enough.
Prediction: Lakers in 5
#7 Dallas Mavericks VS #2 Los Angeles Clippers
Not going to lie, I've been quite disappointed by the Clippers this season. Between resting and injuries, they haven't looked like the team I thought we would see this season. I don't know if that magically turns on during the playoffs. But this is Kawhi's time to shine. As good as Luka Doncic is, he and the Mavericks don't have enough to take down the Clippers.
Prediction: Clippers in 6
#6 Utah Jazz VS #3 Denver Nuggets
I'm still not a believer that the Nuggets can be true contenders in the western conference. They are going to be tested by Donovan Mitchell and the Jazz, but Mike Conley left the bubble for the birth of his child. When he comes back, he'll have to sit out for a little bit. That could be the difference in this series. This is going to be a hotly contested series.
Prediction: Nuggets in 7
#5 Oklahoma City Thunder VS #4 Houston Rockets
Like Nick Nurse, Thunder head coach Billy Donovan needs to be on the short list for coach of the year with what he has done with the Thunder given that Paul George left them and Russell Westbrook got traded to the Rockets. Speaking of Westbrook, he's likely to miss a couple of games if not more with a quad injury. The Rockets still have James Harden though and they still score a bunch of points. I can't see the Thunder taking them down.
Prediction: Rockets in 5
Western Conference Finals
LA Clippers VS LA Lakers
In the battle of LA played almost as far away from L.A. as you can get, this is going to be a huge test between Kawhi and LeBron.
NBA Finals
LA Clippers VS Milwaukee Bucks
NBA Champions: L.A. Clippers
Kawhi gets it done again and the Clippers reign supreme in L.A. for at least one year.
Enjoy the NBA Playoffs. It's going to be different this year for sure. We'll see how it all goes down.
Coming up later this week: Playoff reaction plus any college football news and more
---