"The Stack" 8-21-20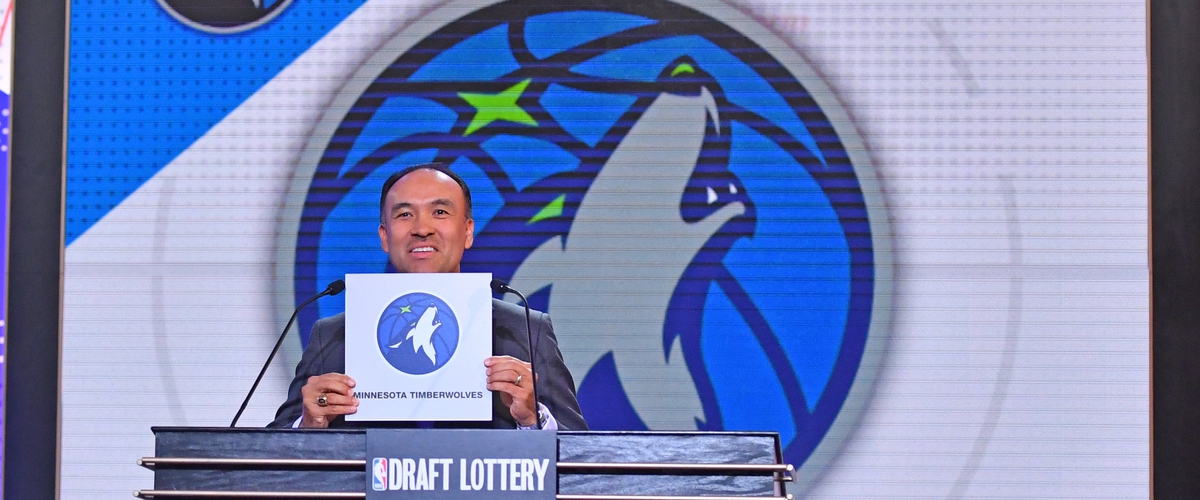 The Minnesota Timberwolves won the number one overall pick in this year's NBA Draft. They had the third worst record and ended up the number one pick. Now will it be LaMelo Ball, James, Anthony Edwards or James Wiseman?
The Stack is back on this Friday and we don't have a whole lot to discuss. There have already been some upsets in the NBA Playoffs with both of the one seeds (Lakers & Bucks) losing game ones of their respective playoff series, but bouncing back to win game two. Should there be a series upset, we will definitely discuss it. Definitely is weird with no fans in the stands. Where is the home court advantage? There is none. Now let's get to it and see what's in "the stack" for today, Friday, August 21st:
Timberwolves win number one pick in 2020 NBA Draft
Seems rather remarkable and unbelievable, but the Minnesota Timberwolves won the number one overall pick in this year's NBA Draft last night at the NBA Lottery. They had the third worst record (therefore the third best chance of getting the number one overall pick??) so for them to win it is a little stunning, especially for Minnesota sports fans. Unfortunately for Timberwolves fans, there isn't a consensus number one overall pick this year. Last year it was Zion Williamson and Ja Morant was right there. This year there is LaMelo Ball (heavens no!), Anthony Edwards (Georgia) or James Wiseman (Memphis) who are all in contention. I dislike the Ball family (mainly LaVar) so much that I really hope the Timberwolves don't go with him. Go with Edwards or Wiseman. We'll find out in roughly a couple of months!
For the record, Golden State got the second overall pick followed by Charlotte at three. The Cleveland Cavaliers had a great shot to be in the top three, but fell to pick number five. And the Knicks, hahaha, the New York Knicks, pick eighth. Sorry Spike Lee. That's what you get when your franchise has been a wasteland for the last two decades and your owner is James Dolan. I suppose you could also say that about the Timberwolves being a franchise lost in the wilderness too for the last decade plus. It will be interesting to see how this all shakes out.
Thom Brennaman uses homophobic slur during Reds telecast
Thom Brennaman, the play-by-play man for the Cincinnati Reds used a homophobic slur Wednesday night during the Reds game against the Kansas City Royals. Brennaman, who didn't realize he was on air referred to some place as a "f-g capital of the world". The language is offense and completely unacceptable. As the Reds were playing a doubleheader against the Royals that night, it was in the second game that Brennaman issued an apology and abruptly left the booth. He seemed to realize the magnitude and seriousness of the situation as he said in part that he didn't know if he would ever be putting on a headset again.
The Reds made swift action and suspended Brennaman. Fox Sports Ohio also suspended Brennaman from futrue telecasts. Who knows how long this will be for. Will it be just for this season or will it be longer/permanent? Only time will tell I guess. Brennaman also calls NFL games for FOX and FOX Sports announced that Brennaman has been pulled from their lineup for this fall. Again is this just a one year thing or is it permanent? Only time will tell.
The irony in this whole thing (is it really irony though? It's something…) is that Brennaman's dad, Marty, called Reds games on the radio for years. The Brennaman family is almost synonymous with the Cincinnati Reds so for Thom to do what he did is rather amazing and for the Reds to come down as swiftly as they did shows that they mean business and that business and doing what is right comes before family.
Now I think that Brennaman should get another chance with the team and the NFL next year, but only if he is truly remorseful and only if he acts upon his apology. If he donates his time, his money and his rhetoric towards anti-homophobic language going forward and only if he is contrite, then I think he should be allowed to resume his play-calling duties and job. People make mistakes and deserve to be given second chances. Brennaman has to earn his second chance and if he does, he should be allowed to have his job back. But the Reds, FOX Sports and FOX Sports Ohio have to lay out what he needs to do to regain employment back as does the LGBTQ community. They have to be the ones to accept Brennaman's apology. Brennaman needs to speak with them and show them that he is sorry. We'll see if that actually happens.
College news
Big Ten parents are fed up and want answers from Big Ten Commission Kevin Warren. They want to know why the Big Ten has cancelled while the ACC, SEC & Pac-12 are proceeding. The simple answer is that the health of the student athletes is first and foremost during this pandemic. But at its core, the parents and the student athletes deserve to know what ultimately changed in the less-than-a-week-time between releasing the schedule and postponing the season in the fall. Plenty of people around college football are looking at Warren and his handling of the situation and think that he has fumbled it. The decision ultimately is/was probably the right one, but everything surrounding the decision has been fumbled by the Big Ten. And now parents are at Big Ten headquarters demanding answers. Warren and the conference need to answer them and the answers need to be detailed and to everyone's satisfaction.
It's not all sunshine and lollipops on the college football front. Notre Dame and North Carolina are two of the schools that have had to pause football related activities due to spikes in the number of positive cases from the student body returning to campus for classes. Are students going to parties and taking proper precautions? Evidently not. Or the virus is just worse within the college student demographic. Either way, the more schools that have to pause college football related activities, the more the college football season hangs in the balance.
On the college basketball front, there is the potential that the season will be pushed back. While college basketball figures out what to do about their season and if a bubble is something that will ultimate help them succeed in having a season, one thing has become abundantly clear: There needs to be an NCAA Tournament this year. No March Madness crippled the NCAA to a degree with the amount of money and revenue that was lost. Another year with no NCAA Tournament and it could spell doom to a lot of college sports and athletics. Coach K at Duke knows that. He's one who has been saying that the NCAA Tournament can't be cancelled again. March is still a long ways off, but college basketball will need to figure out what is going on to happen with their season so that they can have a season safely and successfully.
Coming up next week: Playoff talk plus other top sports headlines and news
---