"The Stack" 8-30-19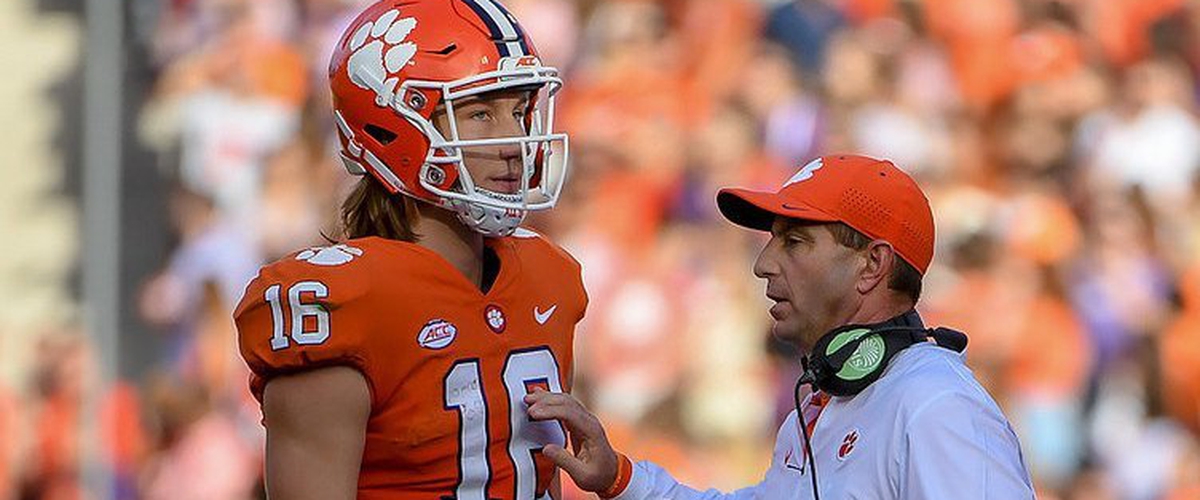 College football is back. Can anyone stop Trevor Lawrence and Dabo Swinney and Clemson from winning another national championship this year?
What's this? A blog post. Yup. The Stack is back and we are going to be coming to you from a new location here very soon; St. Cloud, Minnesota. We'll be blogging on a normal basis during football season and I am excited to be back doing this. It's college football season and while a few games have already happened (#8 Florida beating the U (Miami (FL)) 24-20 and Hawaii upsetting Arizona 45-38 last Saturday and Thursday night's results, the season has really kicked off. Who is going to lose to Clemson and Alabama in the College Football Playoff this year? Sorry, I didn't mean to tip my hand. Let's preview the power 5 and make some playoff picks in our 2019-2020 college football season preview in "the stack" for today, Friday, August 30th:
2019-20 College Football season preview
ACC
I'm sorry, but it's Clemson and everyone else. Miami (FL) has a new head coach. There seem to be a lot of players leaving Virginia Tech. Can head coach Brian Fuentes lead the Hokies through the turmoil? Syracuse was great last year. How good will they be this year? Let's see how the ACC plays out this year:
Atlantic Division
Clemson has sophomore quarterback Trevor Lawrence. Done deal. Enough said. Look what he did last year as a freshman. He's going to be even better as a sophomore. He's got great offensive weapons. Clemson will have to contend with Syracuse though. They have to go to Syracuse September 14th, a week after they take on Texas A&M. That is a tough two week stretch, but Clemson is talented enough to do it. I trust Syracuse head coach Dino Babers to have a competitive team.
Florida State head coach Willie Taggert is better in year two than his first year, but he is going to be tested. The fan base is impatient. Quarterback Deondre Francois is no longer there. Maybe they turn it around, but I am not all that confident.
Remember when Louisville was good? Yeah, it's going to be another long year for them. North Carolina State no longer has Ryan Finley at quarterback. Could be a bit of a long year for the Wolfpack.
Predicted Atlantic Standings:
1. Clemson
2. Syracuse
3. Wake Forest
4. Boston College
5. Florida State
6. North Carolina State
7. Louisville
Coastal Division
The Coastal Division is fairly wide open. Georgia Tech has a new head coach. Paul Johnson and his triple option offense are no longer there. Mack Brown is back coaching. He's at North Carolina for his second stint with the Tar Heels. It's unlikely they will be good.
As mentioned, the Hurricanes have a new head coach, but they are a very talented team. Are they the team to beat though?
I don't think so. I'm looking to the state of Virginia, but not the team you think I would pick. I'm a Virginia Tech fan, but with the players going in and out, I think Bronco Mendenhall's squad in Charlottesville gets the job done. You have no idea how much it pains me to say that. Virginia returns more starters and quality players. It's definitely a three-team race between the Hurricanes and Virginia and Virginia Tech. No disrespect to Pittsburgh, but I don't see them coming through. And Duke has a new quarterback. No Daniel Jones to help the Blue Devils this year.
Predicted Coastal Division Standings
1. Virginia
2. Miami (FL)
3. Virginia Tech
4. Georgia Tech
5. Pittsburgh
6. Duke
7. UNC
ACC Championship
Clemson VS Virginia
ACC Champion: Clemson
Big 12
The Big 12 seems to be a two-horse race between Oklahoma and Texas. Oklahoma has had the reigning Heisman Trophy winning quarterback each of the last two years (Baker Mayfield and Kyler Murray). Can head coach Lincoln Riley and company do it for a third straight year with Jalen Hurts? I'm not so sure they can. But they are going to be one difficult team to beat. Maybe the only other team will be Texas. Head coach Tom Herman has got a very good team and quarterback Sam Ehlinger is a borderline Heisman Trophy candidate. Heck, he isn't borderline, he is a Heisman Trophy candidate. These two teams are going to be playing more than once this year.
I was going to say that Iowa State could be a factor in the conference and Matt Campbell's squad could still do it, but with wide receiver Hakeem Butler and running back David Montgomery in the NFL after declaring early I don't think they have a great chance.
New coaches are in Kansas State, Texas Tech, Kansas and West Virginia. The Sunflower State is by far the most intriguing with Les Miles at Kansas and Chris Kleinman at Kansas State. They have a chance to be good in a couple of years, but not this year, at least not Kansas.
I should mention Mike Gundy and Oklahoma State. There, I did it. And Baylor. And TCU.
Predicted Big 12 Standings
1. Texas
2. Oklahoma
3. Oklahoma State
4. Iowa State
5. TCU
6. Kansas State
7. Texas Tech
8. Baylor
9. West Virginia
10. Kansas
Big 12 Championship
Oklahoma VS Texas
Big 12 Champion: Texas
Big Ten
East
Is this the year that Jim Harbaugh and Michigan finally get by Ohio State and win the Big Ten East? Until they actually do it, I can't say yes. Ohio State has a new head coach in Ryan Day. The Urban Meyer protige has a good team. He'll be fine this year. It's future years that might not work out so well if they can't get the recruits that Meyer was able to. Michigan State will be fine. Penn State has lost a lot of talent including quarterback Trace McSorley and running back Miles Sanders. They have a lot of good recruits, but they are young.
Maryland will be okay, but they don't stand a chance in this division. Indiana and Rutgers, hahahahaha.
Predicted Big Ten East Standings
1. Ohio State
2. Michigan
3. Michigan State
4. Penn State
5. Maryland
6. Indiana
7. Rutgers
West
The Big Ten West has a chance to be the most competitive division in all of college football. Heck, it's certainly among the most interesting. Only the SEC West division provides more intrigue in my opinion. Apart from Illinois, you can make an argument (perhaps not a strong one) for every other team. Purdue has a chance. Northwestern has a chance, but when it all comes down to the end, this a four team race between Iowa, Minnesota, Nebraska and Wisconsin.
Never doubt what Wisconsin can do. Running back Johnathan Taylor returns and he is a Heisman Trophy candidate. He is probably the best back in college football. They'll have a good offensive line and defense. Iowa lost a lot of talent, especially in the tight end position to the draft last year, but Kirk Ferentz has restocked his team and they are going to be a big threat.
I may be biased and a tad off base here, but I really like Minnesota's chances this year. P.J. Fleck continues to row the boat. Tyler Johnson is a great wide receiver. They have young running backs, a 400 pound offensive lineman and overall great youth. Plus they have an easy schedule. No Ohio State. No Michigan. No Michigan State. Penn State, Wisconsin and Nebraska at home. Very favorable. Big question though is with the quarterback position. An injury to the starting quarterback will make this a little difficult for them until they can prove they can win regardless of who is the quarterback.
A lot of people love Nebraska with head coach Scott Frost in his second year. Adrian Martinez is a good dual threat quarterback, one who is a Hesiman Trophy candidate. It will be silly to discount them. They are going to be a good team and will finish at worst, second in the division.
Predicted Big Ten West Standings
1. Minnesota
2. Nebraska
3. Wisconsin
4. Iowa
5. Northwestern
6. Purdue
7. Illinois
Big Ten Championship:
Minnesota VS Ohio State
Big Ten Champion: Ohio State
Pac-12
North
Oregon is probably the most complete team in this division. Heck, they may be the most complete team in the conference. Quarterback Justin Herbert is going to be a top five pick probably in next year's NFL Draft. He has lost some playmakers, but it is Oregon and they have a lot of good ones in waiting. The problem for them is their schedule. A neutral site game week one against Auburn. Road conference games against Stanford, Washington and USC (however good they will be) will be a daunting challenge for this Ducks squad.
On the other end of the spectrum, Washington's schedule is super easy. No more Jake Browning at quarterback, but they do have Jacob Easton. Washington's most difficult game is at Stanford October 5th. Other potential hard games are all at home. I like Washington's chances entirely because of the schedule.
Washington State doesn't have Garnder Menshew this year, but they still have Mike Leach as head coach so they will be interesting…quote wise at least. Stanford can't be discounted, but I'm not high on David Shaw's squad this year. Oregon State and Cal, no thank you.
Predicted Pac-12 North standings
1. Washington
2. Oregon
3. Stanford
4. Washington State
5. California
6. Oregon State
South
The Pac-12 South could have a number of really good teams this year. I am probably higher on USC than I should be, but I will say they factor into the division race. The fighting Herm Edwards of Arizona State will be good, but they won't sneak up on anyone. Utah lost a couple of significant pieces on the special teams side, but their defense is going to be really good.
I don't trust Colorado. Arizona just lost to Hawaii so any thoughts of them being good despite having Khalil Tate are out the window (not that I thought they would be good anyway). Can Chip Kelly do anything in year two at UCLA? He better or he is gone.
Predicted Pac-12 South standings
1. Utah
2. Arizona State
3. USC
4. UCLA
5. Arizona
6. Colorado
Pac-12 Championship:
Washington VS Utah
Pac-12 Champion: Utah
SEC
East
It's really hard to look at the SEC East and see anyone other than Georgia coming out of this division. They are loaded. Jake Fromm is a great quarterback. Did you see Florida last week against Miami (FL)? Yes they got a lot of sacks, but they were largely unimpressive. Tennessee? Nope. South Carolina? Think again. Vanderbilt? Poor Vandy. Kentucky is in a bit of a rebuilding year so they will take a step back. Yes, no team apart from Florida really seems to be much of a threat.
The team I am interested in though is Missouri. With former Clemson quarterback Kelly Bryant as their starter, I believe this Missouri team has a chance to be sneaky good. Compete with Georgia to win the division? Probably not, but challenge Florida for second best in the division? Absolutely.
Predicted SEC East Standings
1. Georgia
2. Missouri
3. Florida
4. Kentucky
5. South Carolina
6. Tennessee
7. Vanderbilt
West
Along with the Big Ten East, the SEC West is the most difficult division in all of football. Alabama is of course the kingpin of this division and they have a massive chip on their shoulders after being embarrassed by Clemson in the National Championship game last year. With Tua Tagovailoa, they will be once again extremely dangerous.
A lot of pressure is on Jimbo Fisher and Texas A&M. They aren't paying him all of that money to simply be 10-3 or 9-4. No, they expect far bigger things. Unfortunately, I don't know that they are going to take down Alabama or even LSU. LSU should be an extremely dangerous team this year, but I still don't think they have the right quarterback for the job and until they beat Bama, I have to pick them to lose that game. An early season contest against Texas will tell us a lot about where the Bayou Bengals are.
To the rest of the west, Auburn, Ole Miss, Mississippi State and Arkansas, good luck. You are going to be in for a long year. Auburn is the best of this bunch, but if they don't come through with some big wins, head coach Gus Malzahn will be gone at the end of the year.
Predicted SEC West Standings
1. Alabama
2. LSU
3. Texas A&M
4. Auburn
5. Mississippi State
6. Ole Miss
7. Arkansas
SEC Championship Game:
Georgia VS Alabama
SEC Champion: Alabama
College Football Playoff Teams
1. Clemson
2. Alabama
3. Georgia
4. Texas
Why these four teams? Well Clemson for obvious reasons. Alabama is pretty obvious. Then it gets interesting. I have Georgia going undefeated heading to the SEC Championship game, but ultimately losing to Alabama. While Georgia may be better than Alabama this year, until they can show that they can hang on and beat them and not shoot themselves in the foot with stupid play calling, I have to go with Alabama winning the game. I do have Alabama losing on the road at Texas A&M as their only loss of the year. If that happens and they only have one loss, Bama will definitely be in the CFP.
It's going to be close for Texas. An early season loss to LSU will give them little margin for error. They will take down Oklahoma in the Red River Rivalry and then face the Sooners again in the Big 12 Championship game where they will ultimately take them down once again. Two wins over a very good Oklahoma team will be enough to give a one loss Texas team the advantage over the other worthy adversaries.
The other teams in the mix are Ohio State, LSU and Washington…if Washington takes down Utah in the Pac-12 Championship game and finishes with only one loss. I'll admit, leaving Ohio State out of the CFP when they will only have one loss is controversial. It could come down to who they play in the Big Ten Championship game, no offense to Northwestern from a season ago. LSU's one loss will be against Alabama, but because they won't be the in the SEC Championship game, they ultimately will not be one of the playoff teams.
National Championship:
Clemson VS Alabama
National Champion: Clemson
I wanted to put Georgia in the national championship game, I really did. I don't know if the committee would put a rematch of the SEC Championship game in the semifinals, but if they do, until Georgia proves they can beat Alabama, I have to go with Bama. But with Trevor Lawrence manning the helm for the Tigers, there is no stopping Clemson once again this year.
Heisman Trophy Winner: Trevor Lawrence, QB, Clemson
New Year's Six Bowl Games:
Rose Bowl: Ohio State VS Utah (the battle of teams formerly coached by Urban Meyer)
Orange Bowl: Virginia VS Washington
Sugar Bowl: LSU VS Oklahoma
Cotton Bowl: Boise State VS Notre Dame
These are crazy predictions by the way. Don't take them too seriously. College football is here folks! Enjoy the season!
Coming up next week: NFL season preview
---