"The Stack" 9-6-19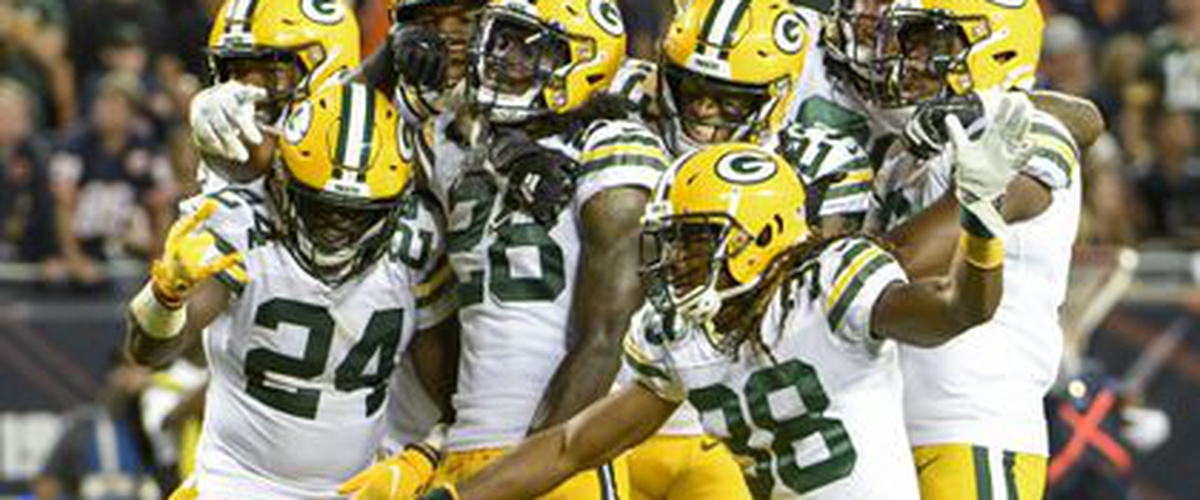 The Green Bay Packers defense was absolutely incredible Thursday night. They stole the show and propelled the Packers to a 10-3 win over the Chicago Bears. Adrian Amos picked off former teammate Mitchell Trubisky to seal the deal.
The Stack is back on this first Football Friday of the year. Ahhh, it feels good to be back. Our picks are not off to a good start this year with the Green Bay Packers looking awfully impressive on defense (or the Bears offense looking very pathetic) in the Packers 10-3 win over Chicago. How will the rest of our week one picks turn out? Let's all find out together in "the stack" for today, Friday, September 6th:
Los Angeles Rams @ Carolina Panthers 1 PM ET FOX
Last we saw the Rams, they scored a measly 3 points in the Super Bowl against the New England Patriots. Think that hasn't haunted head coach Sean McVay and the rest of the team all offseason? Even though they have to fly cross country for an early kickoff, they are the far more talented team than Cam Newton and the Panthers. The one thing that could turn in the Panthers favor is how much more emotion they play with for their fellow Carolinians after Hurricane Dorian leaves the Carolinas.
Prediction: Rams 24 Panthers 17
Tennessee Titans @ Cleveland Browns 1 PM ET CBS
Oh my goodness. CBS is sending Jim Nantz and Tony Romo to do a Cleveland Browns game. You have finally arrived Browns and your fans. Can't wait to watch Baker Mayfield, OBJ, Jarvis Landry and company. The 2019 campaign gets off to a good start.
Prediction: Browns 27 Titans 10
Kansas City Chiefs @ Jacksonville Jaguars 1 PM ET CBS
What a great matchup this should be. Patrick Mahomes and that lethal Chiefs offense against a Jaguars defense that should bounce back and be much better this year. Plus we get to see Nick Foles. It's going to be closer than many expect, but the Chiefs will prevail.
Prediction: Chiefs 23 Jaguars 20
Baltimore Ravens @ Miami Dolphins 1 PM ET CBS
Doesn't it make sense for the Dolphins to be tanking since they are an aquatic animal? I wouldn't want to see a dolphin in a tank though. It should be out there in the open ocean. Wait, where was I? Oh yeah, this game. Ravens win in a blowout.
Prediction: Ravens 27 Dolphins 9
Atlanta Falcons @ Minnesota Vikings 1 PM ET FOX
This should be another fantastic week one matchup. Both teams have great offenses or should have great offenses. Both teams have great defenses. Atlanta's should be healthy this year. The Vikings are at home though and Gary Kubiak is going to make his presence felt right away with his zone running game. Vikings in a close one.
Prediction: Vikings 24 Falcons 23
Buffalo Bills @ New York Jets 1 PM ET CBS
Both of these teams have high expectations this year. Okay, higher expectations. Okay, expectations. The Bills have a very good defense. The Jets are going to be much more interesting with Le'Veon Bell in the backfield. I think they do enough to take down the Bills.
Prediction: Jets 20 Bills 13
Washington @ Philadelphia Eagles 1 PM ET FOX
One of these teams has Super Bowl aspirations. The other team has aspirations to see their star rookie quarterback take the field (Dwayne Haskins) and their star offensive tackle (Trent Williams) to show up (he won't). I'll take the better team and the team with fewer distractions to win.
Prediction: Eagles 31 Washington 10
Indianapolis Colts @ Los Angeles Chargers 4:05 PM ET CBS
Our first look at the Andrew Luck-less Colts. Can Jacoby Brissett lead this team to the playoffs? We're about to find out. It won't be easy. Even without Melvin Gordon and Derwin James, Philip Rivers and the Chargers should emerge victorious.
Prediction: Chargers 27 Colts 20
Cincinnati Bengals @ Seattle Seahawks 4:05 PM ET CBS
Oh boy. This game could be ugly very early. As in not even the end of the first quarter ugly. Good luck Bengals. Jadeveon Clowney is waiting for you.
Prediction: Seahawks 27 Bengals 6
Detroit Lions @ Arizona Cardinals 4:25 PM ET FOX
We finally get to see the Kyler Murray, Kliff Kingsbury and the Cardinals offense. I can't wait. Hopefully they put up a bunch of points. Hopefully they get the win over the Zach Zenner-less Lions. I'm not bitter!
Prediction: Cardinals 27 Lions 16
New York Giants @ Dallas Cowboys 4:25 PM ET FOX
See my preview of the Washington-Philadelphia above and just sub Daniel Jones for Dwayne Haskins and remove the comment about the offensive lineman.
Prediction: Cowboys 34 Giants 17
San Francisco 49ers @ Tampa Bay Buccaneers 4:25 PM ET FOX
Can Bruce Arians fix Jameis Winston? We get our first look on Sunday. Against a 49ers secondary that was awful last year, Winston should have a field day. The Bucs will come away victorious.
Prediction: Bucs 28 49ers 20
Pittsburgh Steelers @ New England Patriots 8:20 PM ET NBC
The defending Super Bowl champions get to unveil their sixth Super Bowl championship banner against the new look Steelers. Less drama in the Steel City and that could lead to big things for the team, but in this game, even against a team with no Rob Gronkowski, I still have to go with the GOAT, the other GOAT and the Patriots.
Prediction: Patriots 27 Steelers 20
Coming up Monday: Week 1 reaction plus MNF doubleheader preview and predictions