"The Stack" 9-9-19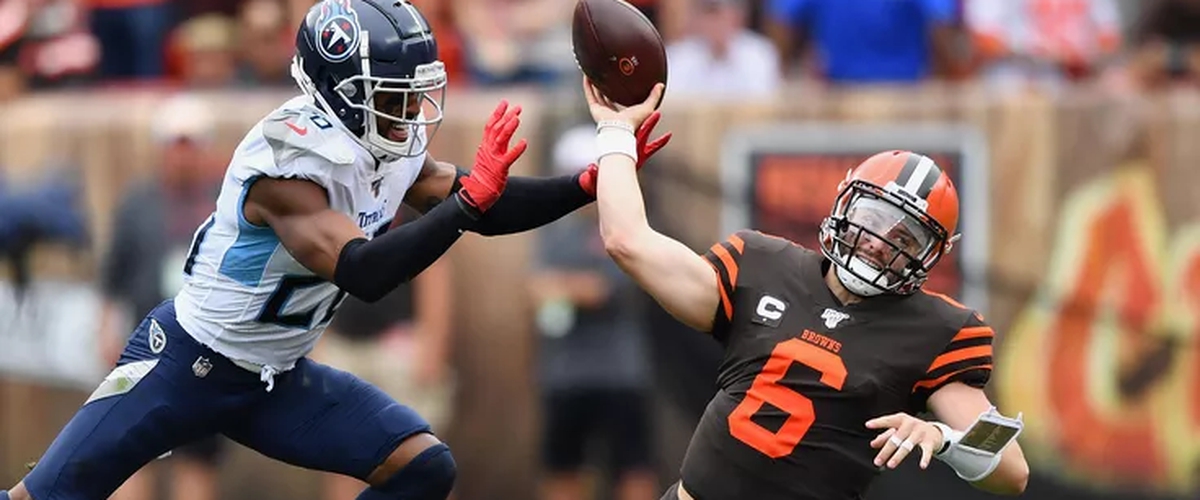 It was a miserable day in many parts of the country like Miami and New York, but perhaps no more disappointing than in Cleveland where the hype train was quickly stopped by the Tennessee Titans in a 43-13 beatdown of the Browns.
The Stack is back on this Monday and week one of the 100th NFL season is just about in the books. There were plenty of stunning moments. We found out the highly-hyped Cleveland Browns are still the Cleveland Browns. We saw that the Detroit Lions and New York Jets are still the same Lions and Jets that we've grown to know and love. And we saw that the Miami Dolphins are simply awful. Woof! They're jumping ship in Miami. Sorry Papi and Dan LeBatard! First the Marlins and the now the Dolphins. Yikes! We have reaction to all Sunday's games plus picks for tonight's MNF doubleheader so let's get right to "the stack" for today, Monday, September 9th:
Rams 30 Panthers 27
This was not a clean game by the Rams. Jared Goff wasn't great at quarterback. Todd Gurley didn't do much until late. It was Malcolm Brown who did plenty of work on the ground scoring two rushing touchdowns. Christian McCaffrey did all he could for the Panthers to give them a chance with over 120 yards rushing and two touchdowns, but in the end, the Rams ultimately hung on.
Titans 43 Browns 13
That crashing thud and that crater that fell from the sky was the Cleveland Browns and all of the hype surrounding them. Boy did they look awful on Sunday. They were booed off the field at halftime and just when they got back into the game at 15-13, Derrick Henry and the Titans said enough was enough. Henry had a long touchdown catch and run moments after that touchdown and the Titans defense took care of things from there as the Titans boat-raced the Browns out of the stadium and on the shores of Lake Erie. Humbling to say the least. Hopefully the Browns learn from this and come back focused and ready to go.
Chiefs 40 Jaguars 26
Reigning MVP, Kansas City Chiefs quarterback Patrick Mahomes picked up right where he left off. He torched the Jaguars defense even after losing Tyreek Hill to a shoulder injury early in the contest. That wasn't even the biggest shoulder injury. Jaguars quarterback Nick Foles went down with a fractured clavicle and will need to undergo surgery. He will miss significant time. There goes the season for the Jaguars….most likely. Maybe that is why tempers were flaring and Jaguars linebacker Myles Jack got ejected.
Ravens 59 Dolphins 10
What an absolute beatdown by the Baltimore Ravens. The Miami Dolphins ought to be embarrassed. Maybe that is why some players are calling their agents and asking them to force a trade. Ravens quarterback Lamar Jackson was sensational. He threw for five touchdowns and had only a couple of incompletions. Hollywood Brown was great in his debut catching four passes for 147 yards and two touchdowns. Need to see this against a team other than the Ravens to really believe, but after one week…wow!
Falcons 12 Vikings 28
Speaking of annihilation, don't let the final score fool you. The Minnesota Vikings dominated this game. Kirk Cousins only had to throw ten passes all afternoon. The zone running scheme that new coaching addition Gary Kubiak installed was fantastic as Dalvin Cook ran for over 100 yards and two touchdowns. The defense was great and frustrated Matt Ryan and the Atlanta Falcons all game long. Two garbage touchdowns make the final score much closer than it really was.
Bills 17 Jets 16
J-E-T-S, yes the same, JETS, JETS, JETS. Oh Jets. You blow a 16-0 lead, have your kicker, Kaare Vedvik, miss an extra point and a field goal, your offense can't do anything with four first half turnovers forced by your defense in the first half and you ultimately lose. This wasn't pretty for the Bills, but a win is a win and they will take it.
Washington 27 Eagles 32
It took a while, but with the Philadelphia Eagles in a 17-0 hole to Washington, wide receiver DeSean Jackson scored on a 50 plus yard touchdown from Carson Wentz and the Eagles were off and running. Jackson would add another 50 plus yard touchdown catch later in the game too. Welcome back to Philly, DeSean. Washington scored late that was significant to the line. Don't blame Case Keenum though. He played well at quarterback for Washington…just not well enough.
Colts 24 Chargers 30
Melvin Gordon who? The Los Angeles Chargers sure didn't look like they needed him on Sunday. Austin Ekeler was fantastic, scoring three touchdowns including the game-winner in overtime. Philip Rivers was great as well. The game maybe shouldn't have even gone to overtime had it not been for Indianapolis Colts kicker Adam Vinatieri missing two field goals and an extra point. The best kicker of all-time just doesn't do that. In large part, that is why the Colts lost.
Bengals 20 Seahawks 21
Definitely one of the more surprising results of the day. I did not see the Cincinnati Bengals and Andy Dalton putting up over 400 yards through the air. I didn't see John Ross III scoring three touchdowns. I didn't see the Seattle Seahawks offense sputtering for much of the day had it not been for running back Chris Carson. The Seahawks are lucky to escape with the W. The Bengals may just be better than most of us thought.
Lions 27 Cardinals 27
For three quarters, the Kyler Murray-Kliff Kingsbury debut was nothing short of a debacle. They looked awful. A switch was flipped in the fourth quarter though. Thanks in part to conservative play-calling by the Detroit Lions, Murray and the Arizona Cardinals rallied back to force overtime. Murray threw two touchdowns in the quarter. He should have won the game in overtime, but the offense stalled inside the five yard line and they settled for a field goal. The Lions responded with a field goal and then there was just a tie. The tie feels like a loss to the Lions and probably feels like a win to the Cardinals.
Giants 17 Cowboys 35
Dallas Cowboys quarterback Dak Prescott certainly helped himself Sunday throwing for over 400 yards and four touchdowns in the rout of the New York Giants. Dak Prescott is going to be paid big bucks now…assuming he keeps this up and assuming that Jerry Jones hasn't already opened up his wallet and offered to pay Prescott right after the game.
49ers 31 Buccaneers 17
New year, new coach, same old Jameis Winston. Winston threw three interceptions (and helped send my fantasy team to an all but certain loss) as Tampa Bay lost to San Francisco. There were four touchdowns called back in the first half of this game. This was quite the sloppy game, but the 49ers were ultimately the better team. Bucs head coach Bruce Arians must be steamed today.
Steelers 3 Patriots 33
Nice of the Pittsburgh Steelers to show up to the New England Patriots sixth Super Bowl championship banner unveiling. That's about all they were good for as Tom Brady and the Patriots routed them. And the scary thing is, Brady said the Patriots offense isn't really all that good yet. Good thing they got Antonio Brown. It's almost unfair. No, it is unfair.
Houston Texans @ New Orleans Saints 7 PM ET ESPN MNF
Two very good quarterbacks in this one. Deshaun Watson versus Drew Brees. It's going to be a good one. It likely will be high scoring and I'm curious to see how the Texans offensive line is in protecting Watson. Should be better with Laremy Tunsil. Also curious to see Alvin Kamara in the lead role at running back for the Saints. I'll go with the home team.
Prediction: Saints 30 Texans 23
Denver Broncos @ Oakland Raiders 10:15 PM ET ESPN MNF
Now that the headache is gone, what do we expect of the Raiders this year? Not sure. I think they are better than the Denver Broncos though. What will Joe Flacco look like? We'll find out. Raiders in an ugly one.
Prediction: Raiders 16 Broncos 13
Coming up Tuesday: MNF reaction plus thoughts on college football week 2.
---