"The Stack" 9-11-20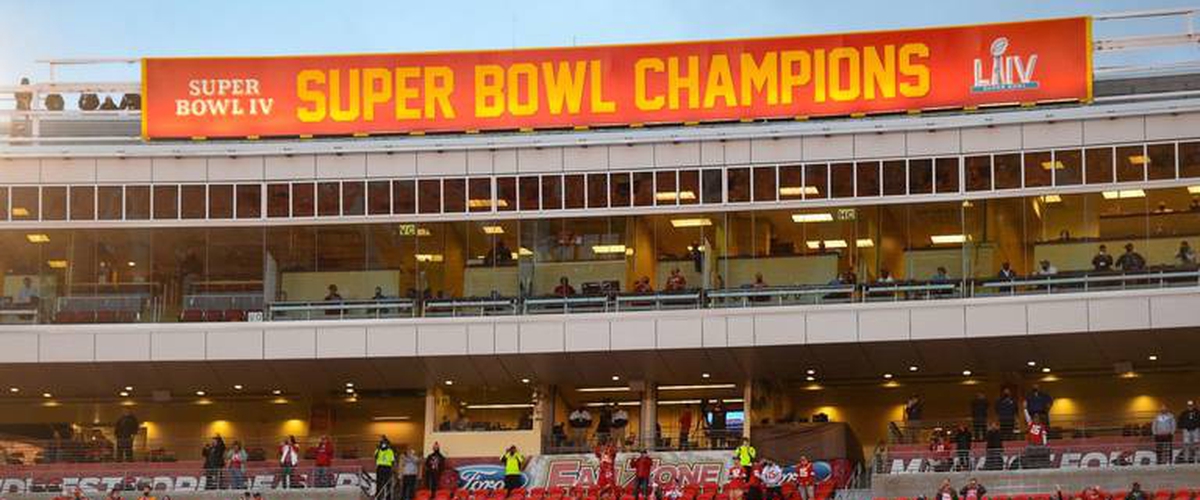 The Kansas City Chiefs unveiled their championship banner prior to the team's game against the Texans, a game they won. It's certainly a different banner, but a welcomed one to a team that hadn't won a Super Bowl in 50 years.
The Stack is back and this is the first Football Friday of the year. Can you believe it?! We made it! The Kansas City Chiefs made it look easy last night, taking care of the Houston Texans 34-20 to begin their quest in defending their Super Bowl title. They look really, really good! Who else is going to make a statement in week one? Let's find out and make some predictions in "the stack" for today, Friday, September 11th:
Philadelphia Eagles @ Washington 1 PM ET FOX
The Ron Rivera era begins in Washington. We'll see just how much better they are. The Eagles are a better team so they should win this game fairly easily. At least Washington doesn't have to feel awkward about playing in an empty season since they did it all last year.
Prediction: Eagles 27 Washington 17
Miami Dolphins @ New England Patriots 1 PM ET CBS
New England South faces New England and Cam Newton's debut. A lot of former Patriots would love to beat New England. They'll be more competitive this year, but I'm not going to doubt Bill Belichick and what he can do.
Prediction: Patriots 27 Dolphins 17
Green Bay Packers @ Minnesota Vikings 1 PM ET FOX
Apparently the Vikings have never opened up at home against the Packers before. Bad news for the Vikings that defensive end Danielle Hunter is out for at least the first three weeks. That means Aaron Rodgers is going to have more time to attack the rookie cornerbacks. I'm very nervous about this one and I think I should go with the Packers. I just can't.
Prediction: Vikings 23 Packers 20
Indianapolis Colts @ Jacksonville Jaguars 1 PM ET CBS
We get to see just how good the Colts will be with Philip Rivers at quarterback this year. We also get to see just how bad the Jaguars will be this year. The #TankForTrevor #LoseForLawrence campaign begins!
Prediction: Colts 34 Jaguars 10
Chicago Bears @ Detroit Lions 1 PM ET FOX
Trubisky won the starting QB job for the Bears after battling with Nick Foles in camp. We'll see if he has really changed. The Lions may be sneaky good this year, but until they actually prove that they are for real, they are still the Lions. I'll still take them to win at home on Sunday though.
Prediction: Lions 23 Bears 17
Las Vegas Raiders @ Carolina Panthers 1 PM ET CBS
The first game for the Raiders as the Las Vegas Raiders. And they get to play against the unknown Matt Rhule led Panthers. That is going to be tough to prepare for. I don't think the Panthers will be very good this year, but I do think they find a way to win because Rhule will have a few things up his sleeve that the Raiders aren't prepared for and it's an early kickoff.
Prediction: Panthers 24 Raiders 20
New York Jets @ Buffalo Bills 1 PM ET CBS
We get to see just how much better Bills quarterback Josh Allen is this year with new wide receiver Stefon Diggs. Will he be more accurate? We know that defense is going to be great. The Jets are bound and determined to prove the doubters wrong this year. I'm a doubter. I don't think they are going to be very good.
Prediction: Bills 31 Jets 17
Cleveland Browns @ Baltimore Ravens 1 PM ET CBS
The Browns came into Baltimore last year and shocked the Ravens. They couldn't live up to the expectations though. Lamar Jackson and the Ravens are going to be incredible this year. The Browns I think will be better than last year, but they aren't going to start out on a good note.
Prediction: Ravens 34 Browns 23
Seattle Seahawks @ Atlanta Falcons 1 PM ET FOX
I unfortunately have the Seahawks going 13-3 and being the number one seed this year. I don't think they are the best team with the most weapons, but somehow they find a way. I would love to see the Falcons offense look really good and show that maybe they have what it takes to be competitive in the division and make a run at the playoffs. This game is a toss up. Prove me right Seahawks.
Prediction: Seahawks 24 Falcons 20
Los Angeles Chargers @ Cincinnati Bengals 4:05 PM ET CBS
The Joe Burrow era begins in Cincinnati. The Chargers are breaking in a new starting QB as well in Tyrod Taylor. Taylor has started before so this won't be new to him, but the Chargers talent doesn't overwhelm you. No Derwin James. I smell an upset and a win to begin the Burrow Bengal era.
Prediction: Bengals 20 Chargers 16
Arizona Cardinals @ San Francisco 49ers 4:25 PM ET FOX
I think the Cardinals are going to be one of the surprise teams in the league this year. Year two under head coach Kliff Kingsbury. Kyler Murray is going to flourish. He has a new toy in DeAndre Hopkins. But the 49ers aren't going to go away quietly. They are still a very solid team and I think they find a way to take down the upstart Cardinals.
Prediction: 49ers 27 Cardinals 20
Tampa Bay Buccaneers @ New Orleans Saints 4:25 PM ET FOX
The Tom Brady/Rob Gronkowski Tampa era begins. They may not have wide receiver Mike Evans who has a hamstring injury apparently. That sucks both for them and my fantasy team. They won't have to contend with the crowd noise of Saints fans at the Superdome, but this Saints team is equally as loaded. Look for the Saints to show that they are still top dog in this division.
Prediction: Saints 31 Bucs 24
Dallas Cowboys @ Los Angeles Rams 8:20 PM ET NBC
The Rams open up SoFi Stadium, their name home, in style. Oh wait, there are no fans able to attend. The energy I don't think will be there quite like what they are hoping for. The Cowboys are also a better team and are loaded on offense. How are the Rams going to stop all of the wide receivers the Cowboys have? I don't think they can.
Prediction: Cowboys 34 Rams 20
Before we go, I would be remiss if I didn't mention, as you no doubt already are, that today is 9/11. It's a time to remember all of the people who tragically died and for all of the heroes. Our nation is still healing from those tragic events 19 years ago. It's an event we will never forget. Make sure to take a moment today and think back to where you were when you first heard the news. Think about everyone's lives who have been affected. A surreal day in our nation's history.
Coming up Monday: Week 1 Sunday NFL reaction plus MNF predictions
---