"The Stack" 9-15-20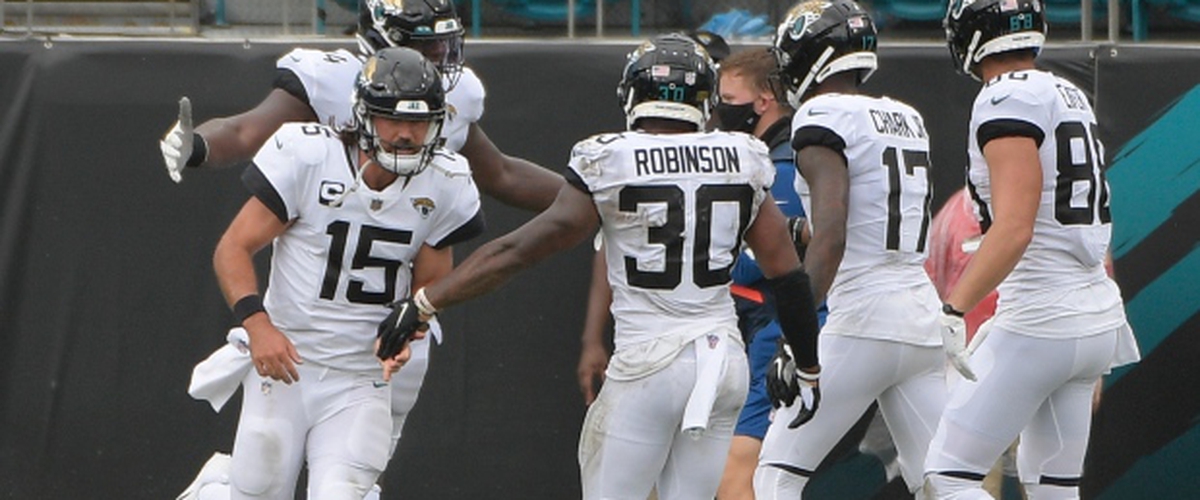 The Jacksonville Jaguars, led by Gardner Minshew, scored easily the biggest upset of the weekend and surprise of week 1 in the NFL by beating the Indianapolis Colts 27-20.
The Stack is back on this Tuesday and we did not get to a recap of week 1's Sunday NFL games yesterday so we're doing it all today. I'll be honest with you. My picks were brutal this week. 6-10 this week. Yikes! Things can only get better. How did it get to be so bad? Let's find out and recap & react to all of the games in "the stack" for today, Tuesday, September 15th:
Washington 27 Eagles 17
Does it count if I got the score correct, but it was just switched around? Because that is what happened. The Eagles stormed out to a 17-0 lead and it seemed like they were going to cruise to an easy victory. Maybe they went on cruise control too early. Thanks in large part to a halftime speech by quarterback Dwayne Haskins who only gave the speech because head coach Ron Rivera was getting an IV, Washington lit up the Eagles in the second half, scoring the final 27 points. Carson Wentz threw two interceptions and lost a fumble while getting sacked eight times! If the Eagles can't figure out their offensive line woes, it is going to be a long year for the Eagles and Wentz will not make it through a full season.
Patriots 21 Dolphins 11
Cam Newton had quite the debut for the New England Patriots. The Patriots new QB had two rushing touchdowns, rushing 15 times for 75 yards and really gave the Patriots a completely new wrinkle as the Patriots knocked off the Dolphins. It's only one game, but that was very impressive. The Dolphins suffered some injuries on offense that hopefully aren't too severe, but turnovers really ended up costing them.
Packers 43 Vikings 34
I said on Friday I was nervous about Danielle Hunter being out and what that would do to the Vikings pass rush. How would Aaron Rodgers carve up the rookie cornerbacks? The answer was like a fine cut of prime rib. The Vikings had no pass rush and Rodgers ate up the Vikings secondary, throwing for 364 yards and four touchdowns. The Vikings only had the ball for 18:41 in this game, the lowest total since 2018. The game turned after the Vikings came up with a goal line stand up 7-3 in the second quarter. On a 2nd and 7 from their own 4-yard line, the Vikings did play-action and someone did not pick up the blitz. Kirk Cousins went down and the game went downhill for the Vikings form there. It was the second worst defensive outing in the Mike Zimmer era. With no preseason games, no fans in the stands and going against a GOAT in Aaron Rodgers with a young secondary, the odds were really stacked against the Vikings, but this is a difficult loss losing at home to your division rival to start the season.
Jaguars 27 Colts 20
Raise your hand if you had this outcome. You're all liars. No one did. Who would have ever thought that the Jaguars would beat the mighty Indianapolis Colts led by newcomer Philip Rivers? No one! Gardner Minshew II became the first Jaguars quarterback ever to go 19 for 20 and throw three touchdowns. The #LoseForLawrence, #TankForTrevor campaign has hit a road bump, but Minshew Mania is alive and well. What a win! That is a bad, bad loss for the Colts.
Bears 27 Lions 23
Holy crap! The Detroit Lions did as only the Lions can do. They royally screwed up and botched what should have been an easy win. Up 23-6, Chicago Bears quarterback Mitchell Trubisky, yes, I am using his full name because he deserves it today, led the Bears back with three touchdown drives to get the lead. The Lions though drove the field and had a chance to win it, but rookie running back Deandre Swift dropped an easy touchdown pass from Matthew Stafford as he backed up into the endzone. Never should have dropped it. Oh Lions. Why?!
Raiders 34 Panthers 30
What a fun game this was. Back and forth the two teams went. Teddy Bridgewater played pretty well in his Carolina Panthers debut, but the Panthers defense is a definite work in progress. Las Vegas Raiders running back Josh Jacobs had a great day, rushing for three touchdowns as the Raiders moved the ball up and down the field. The Panthers had a chance late, but on a 4th and 1, they didn't give the ball to Christian McCaffrey (big mistake) and they ended up not converting. One of my upset picks that didn't pan out.
Bills 27 Jets 17
A couple of observations from this game. One, Buffalo Bills quarterback Josh Allen can be a very good quarterback in this league if he can become a little more accurate and hang onto the football. He has great arm strength and is a tremendous runner. The second thing is that the Jets absolutely stink. And now Le'Veon Bell has hurt his hamstring because head coach Adam Gase put him back in or left him out when he shouldn't have and now he might miss two weeks. Wow, the Jets are a dumpster fire.
Ravens 38 Browns 6
Yes, the Browns won in Baltimore last year, but no one was really expecting that this time around. But to get shellacked the way they did and show no real fight is alarming. Hopefully things get better soon or Baker Mayfield will be out of a job. Baltimore Ravens quarterback Lamar Jackson picked up right where he left off last year with a dazzling performance through the air and on the ground. The Ravens are scary good.
Seahawks 38 Falcons 25
Seattle Seahawks quarterback Russell Wilson has never received an MVP vote. That will change this year with more performances like the one he had on Sunday. 31-for-35 for 322 yards and 4 touchdowns. He torched the Atlanta Falcons secondary. The Falcons were forced to abandon the run and go strictly to the air, but their defense needs a lot of work. Wilson and the Seahawks look really, really good.
Chargers 16 Bengals 13
I had the correct score predicted absolutely correct. Cincinnati Bengals rookie quarterback Joe Burrow had led the Bengals down the field and in line for a win or at the very least a tie. He threw a touchdown pass to wide receiver A.J. Green, but Green was called for offensive pass interference. It was the right call. So they trotted out kicker Randy Bullock and he promptly missed a 30-something yard field goal attempt wide right. It appeared that he hurt either his hamstring or calves on the kick. The Bengals bungled this one away, but the future looks bright with Burrow.
Cardinals 24 49ers 20
Arizona Cardinals wide receiver DeAndre Hopkins really likes his new digs. He only caught 14 passes for 151 yards from Cardinals quarterback Kyler Murray who had himself a game. Before the last two plays (kneel downs that cost 9 yards), Murray had 100 yards rushing. He was great. Maybe it was the fact that his wide receivers aren't as good as last year or that tight end George Kittle got hurt in the second quarter and left or wasn't a factor the rest of the game, but either way, Jimmy Garoppolo did not look good. May be a more difficult year for the 49ers than initially thought.
Saints 34 Buccaneers 23
Tompa Bay Gronkeneers quarterback Tom Brady led the Bucs to a touchdown on their opening possession of the game, but was largely pedestrian otherwise. He threw a pick-six to begin the second half (his third straight game with a pick-six believe it or not). Yes he did make some plays as the second half went on, but it was not the normal great plays that we are accustomed to seeing from the GOAT. Drew Brees did make enough plays, but the ankle injury to wide receiver Michael Thomas is concerning. Hopefully he is okay, because he was largely a non-factor. The Bucs should rebound against the Panthers next Sunday at least.
Rams 20 Cowboys 17
Holy cow! Did not see the Cowboys with all of those offensive weapons only scoring 17 points. Really didn't see the Rams becoming such a run oriented team like they were. The Their defense also was extremely on point, showing a variety of different looks that confused the Cowboys. The Cowboys had a chance to at least tie the game late, but Amari Cooper was called for offensive pass interference on Rams cornerback Jalen Ramsey. Certainly looked like Ramsey sold it a little bit. Probably was the correct call though. The loss of the game wasn't even the worst thing that happened to the Cowboys. Linebacker Leighton Vander Esch broke his clavicle and will be out 6-8 weeks. Tight end Blake Jarwin tore his ACL and is out for the year. And offensive lineman Cam Erving hurt his knee and will miss some time. Rough start for the Cowboys.
Steelers 26 Giants 16
It took Pittsburgh Steelers quarterback Ben Roethlisberger to get in the rhythm of things. After all, he hadn't played in an NFL game for almost a year since the elbow injury last year. I thought maybe that would help the New York Giants and to the Giants credit, they threw a lot of different looks at Big Ben and the Steelers early on. But Roethlisberger settled down in the two minute drill late in the first half, but the turning point in this game was in the third quarter when the Giants were putting together a lengthy drive and on the 19th play of the drive, inside the 10-yard line, Steelers linebacker Bud Dupree applied pressure to Giants quarterback Daniel Jones and threw a duck up for grabs that was intercepted. Then on the ensuing Steelers drive, running back Benny Snell fumbled and there were four of five Giants who had a chance to get it, but Steelers wide receiver JuJu Smith-Schuster was on the ball and recovered. He also caught two touchdowns. Pretty good game for him.
Titans 16 Broncos 14
The Tennessee Titans did everything they could to give the game away, but the Denver Broncos just didn't accept it. Stephen Gostkowski missed three field goals and an extra point, continuing the Titans kicking woes from last year, but he made the one that mattered most after a touchdown went through wide receiver A.J. Brown's hands. Speaking of hands and misfortunes, Denver Broncos wide receiver Jerry Jeudy dropped a couple of passes that could have changed how this game went. Then again, Gostkowski and the Titans left 10 points on the board prior to that so maybe it wouldn't have mattered. Tough loss for the Broncos.
Coming up Thursday: TNF preview & prediction plus thoughts on the upcoming week in college football
---