"The Stack" 9-24-19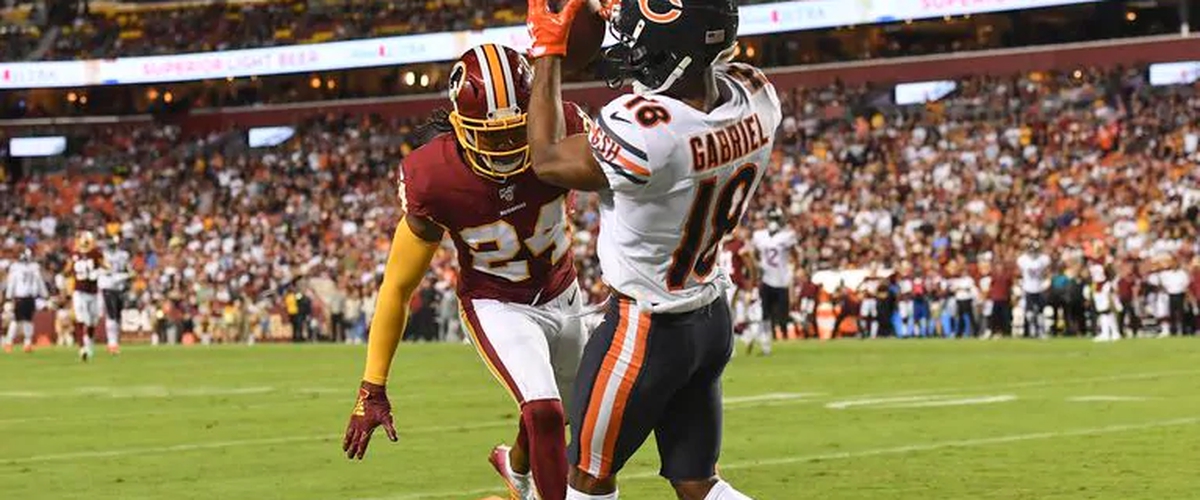 Chicago Bears wide receiver Taylor Gabriel caught three touchdowns in the first half against Washington, including a pretty toe tap one at the end of the half that helped propel the Bears to a 28-15 win over Washington.
The Stack is back on this Tuesday and we have more football to talk about today, both pro and college. Not much else to discuss so let's get right to "the stack" for today, Tuesday, September 24th:
Bears cruise to victory over Washington
Apparently you can get a good confidence boost by playing Washington. Chicago Bears quarterback Trubisky threw for three touchdowns, all to Taylor Gabriel in the first half as the Bears rolled to a 28-15 win over Washington on MNF. The defense was sensational. Case Keenum and the Washington offense never got comfortable and that was in large part thanks to Khalil Mack. He had, what a couple of sacks and at least one forced fumble? The rest of the Bears defense was great too. They picked off Keenum three times. Yes, the final score was 28-15, but make no mistake about it. The Bears were in complete control. Was Trubisky fantastic? No. But throwing three touchdowns is big for a Bears offense that has looked largely lost the first two games of the season. Now we'll see if they can keep it up Sunday against the Minnesota Vikings. I'm going to go out on a limb and say yes.
College football weekend recap
Comeback of the year? Yes. We will not see a game the rest of the year that was as crazy as what happened in Pullman, Washington, in the wee hours of Sunday morning. Washington State was crushing UCLA, not an unexpected surprise. It was 49-17. Gardner Minshew II was in the house to pump up the team. How could they possibly lose? Oh, just you wait. Thanks to turnovers and a UCLA offense that finally, somehow, incredibly managed to flip the switch, that 32 point lead was cut to eleven by the end of the third quarter. Back and forth the two teams went in the fourth quarter. UCLA had a punt return for a touchdown that gave them the lead 60-56. Washington State came right back and scored to take a 63-60 lead. UCLA then responded with a touchdown of their own to regain the lead 67-63. They would force another turnover and that was it. UCLA pulls off the stunning upset 67-63. Washington State quarterback Aaron Gordon threw a school record nine touchdowns, surpassing the seven that Minshew II threw last year. Unbelievable game. A crushing loss for Washington State's hopes for the season.
There was more college football other than just this game. #11 Wisconsin kicked the pants off of #13 Michigan 35-14. They were up 35-0 before a couple of meaningless touchdowns by Michigan. That defense is incredible and Jonathan Taylor is the best running back in the country. Might be time to pack up the khakis Jim Harbaugh. You just can't beat the good teams at Michigan.
#7 Notre Dame and #3 Georgia played a great game in primetime. Georgia prevailed 23-17, but Notre Dame really impressed with their defense. Fighting Irish quarterback Ian Book did his best to lead a comeback, but it came up short. Given the hostile environment, Notre Dame certainly impressed a lot of people in a losing effort.
At this point, do we consider LSU quarterback Joe Burrows a Heisman Trophy candidate? He threw for what, another six touchdowns, as LSU pummeled Vanderbilt 66-38. LSU has their quarterback. It's amazing to see.
Tennessee still sucks. Losing to a #9 ranked Florida team in The Swamp isn't unexpected, but losing 34-3 shows just how bad it is in Knoxville. It's also bad in Arkansas where the Razorbacks lost 31-24 to San Jose freaking State. Thanks Arkansas. Picked you this week thinking you would be the easy win. They are a bad team.
A runner up perhaps for finish of the day came in the state of Michigan where Eastern Michigan, trailing 29-28 to Central Connecticut State of the FCS, blocked a punt and ran it back for a touchdown with time running out to win 34-29. Unbelievable!
I'm sure I've missed a few games and other things that happened. My apologies. This week of college football doesn't look to be as good, but that just means there are bound to be some upsets and it will be a crazy day. We'll talk about that on Thursday.
Coming up Thursday: College football weekend forecast plus a TNF preview
---