"The Stack" 9-27-19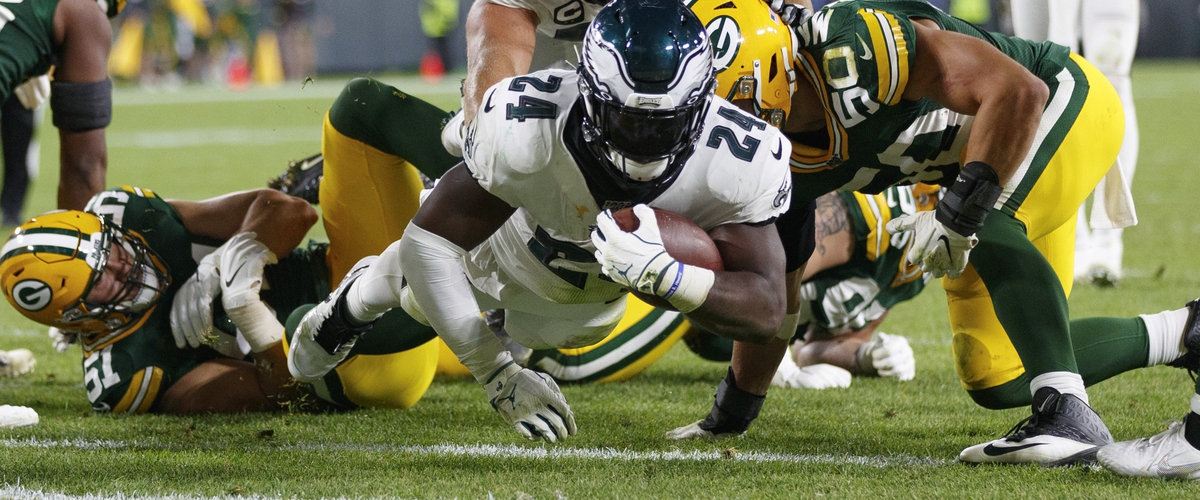 Philadelphia Eagles running back Jordan Howard scored three touchdowns on the night (two rushing, one receiving) including this score in the fourth quarter to help lift the Eagles to an improbable 34-27 win over the Green Bay Packers Thursday night.
The Stack is back on this Football Friday and hopefully the rest of week four in the NFL is as good as the game we saw Thursday night. That was great. We picked the game wrong again. What else is new? The Green Bay Packers started out hot again, but cooled off in the second half and the Philadelphia Eagles were able to run it at will against the Packers. Couple that with a couple of huge goal line stands including an interception with 20 seconds left, and the Eagles emerged victorious 34-27. What else is going to happen? How will our picks fair? Let's find out in "the stack" for today, Friday, September 27th:
1-2 Tennessee Titans @ 1-2 Atlanta Falcons 1 PM ET CBS
Both teams have been largely underwhelming to start the season. The Falcons especially have been disappointing. The Titans defense is good, but I'll ride with Matt Ryan, Julio Jones and the Falcons offense to get the better of them.
Prediction: Falcons 24 Titans 20
1-2 Cleveland Browns @ 2-1 Baltimore Ravens 1 PM ET CBS
More talk about the Browns this week. The Ravens are sick of the hype surrounding the Browns. I hope Baker Mayfield and company play well and they find a way to get a win, but I fear more of the same for the Browns. Lamar Jackson and company will be too much.
Prediction: Ravens 27 Browns 13
3-0 New England Patriots @ 3-0 Buffalo Bills 1 PM ET CBS
Oh my gosh, the Bills are 3-0! Buffalo is going to be nuts on Sunday. Hope the fans behave themselves before, during and after the game. Please no sex toys thrown on the field. Be better than that Buffalo. The Bills are a much better team this year, but they are still no match for the Patriots.
Prediction: Patriots 23 Bills 13
3-0 Kansas City Chiefs @ 2-0-1 Detroit Lions 1 PM ET FOX
Believe it or not, this is the first game that Chiefs quarterback and hall-of-famer Patrick Mahomes has ever played indoors in his NFL career. First regular season game anyway. He should throw for 500 yards minimum with no elements to worry about. The Lions won't be undefeated much longer.
Prediction: Chiefs 41 Lions 20
1-2 Carolina Panthers @ 2-1 Houston Texans 1 PM ET FOX
Kyle Allen is once again getting the start at quarterback for the Panthers. It's not going to go as easy or smooth as last week against the Arizona Cardinals. The Texans are much better and Allen isn't going to best Deshaun Watson. He's just not.
Prediction: Texans 26 Panthers 16
1-2 Oakland Raiders @ 2-1 Indianapolis Colts 1 PM ET CBS
The Raiders looked bad last week against the Minnesota Vikings. They say it will be better next week. Until it actually happens, I have no reason to believe them. Jacoby Brissett and company will take care of business.
Prediction: Colts 30 Raiders 17
1-2 Los Angeles Chargers @ 0-3 Miami Dolphins 1 PM ET CBS
Oh no. Cross-country flight. Early kickoff. A couple of tough losses. Is this a trap game for the Chargers? Normally, yes. Against this Dolphins team? No. Too much talent on the Chargers.
Prediction: Chargers 37 Dolphins 10
0-3 Washington @ 1-2 New York Giants 1 PM ET FOX
The Daniel Jones mania is going strong in New York. Will it wither against Case Keenum and Washington? No. Washington's not good. Their defense is bad. Even with no Saquon Barkley, the Giants offense will be just fine and they will win to amazingly get back to .500.
Prediction: Giants 27 Washington 20
2-1 Seattle Seahawks @ 0-2-1 Arizona Cardinals 4:05 PM ET FOX
I don't think the Seahawks are as good this year as they were last year. However, I don't know when this kickass offense is supposed to be unveiled in the desert. Russell Wilson exploits a bad Cardinals defense and the Seahawks win easily.
Prediction: Seahawks 31 Cardinals 16
1-2 Tampa Bay Buccaneers @ 3-0 Los Angeles Rams 4:05 PM ET FOX
Like the Seahawks, I haven't exactly been impressed by the Rams either. Their offense just seems a little off. Their defense is good though. The Bucs defense isn't all that great. I think Jameis Winston throw a couple of interceptions and the Bucs won't have to worry about Matt Gay missing a field goal, because they won't need one to win or tie the game.
Prediction: Rams 27 Buccaneers 17
2-1 Minnesota Vikings @ 2-1 Chicago Bears 4:25 PM ET CBS
I want to pick the Vikings to win. I think they have a good chance, especially if running back Dalvin Cook continues to play the way he has through the first three weeks of the season. The Bears aren't as good as they were last year, but they are still good on defense. Hope Tony Romo can watch this one and call it.
Prediction: Bears 20 Vikings 17
1-2 Jacksonville Jaguars @ 0-3 Denver Broncos 4:25 PM ET CBS
All of this Jalen Ramsey talk is getting old. Hopefully the Jaguars aren't too distracted by it and can go out and play a solid game. Against my better judgement, I think the Jaguars do enough to get the win, but I will also make this prediction. The Broncos get at least one sack and force their first turnover of the year.
Prediction: Jaguars 20 Broncos 16
2-1 Dallas Cowboys @ 2-1 New Orleans Saints 8:20 PM ET NBC
This game would be a lot more entertaining and intriguing if Drew Brees was under center for the Saints. Teddy Bridgewater was good last week for the Saints, but I'm not sure if he can match Dak Prescott, Ezekiel Elliott and company score for score.
Prediction: Cowboys 31 Saints 23
Coming up Monday: Week 4 Sunday NFL reaction plus MNF preview and prediction
---