ACC Championship: Miami Hurricanes vs. Clemson Tigers Game Preview, How to watch, start time, and prediction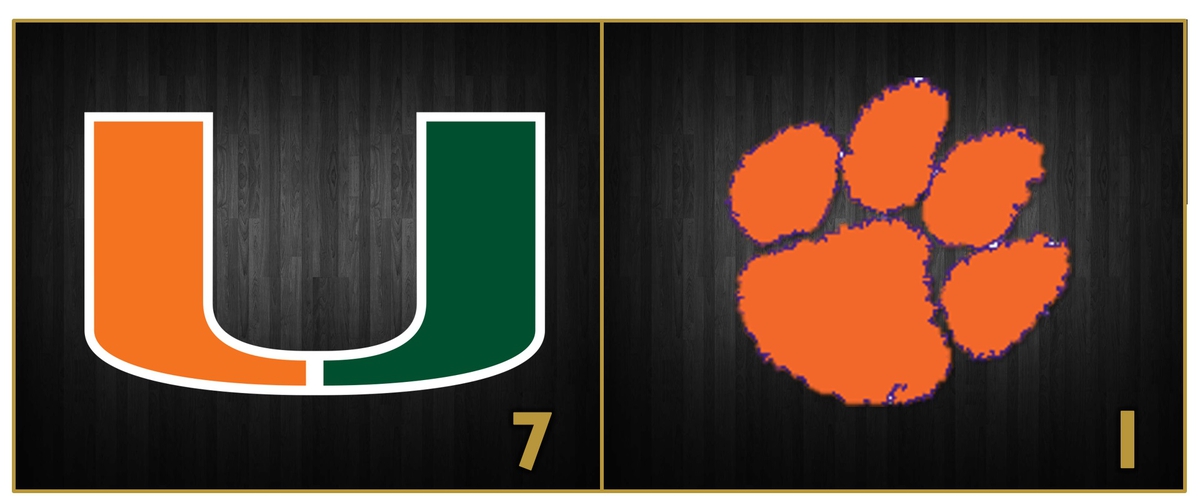 WEEK 14 GAME PREVIEWS HOME PAGE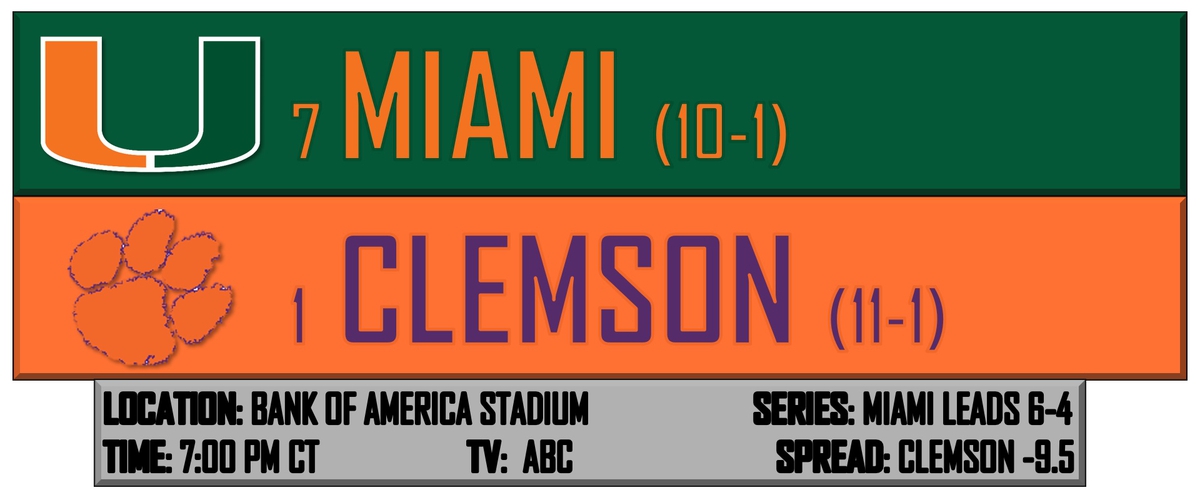 MIAMI OUTLOOK
Things were going great! The U was back! Miami was going to the playoff! And then, Pitt happened. I guess it's not so bad when you realize that Pitt beat the national champion last year in Clemson, so maybe that's a good sign. Everyone has at least one bad game in their season, but sometimes it really hurts your team. Luckily, the Canes can make the playoff with a win over Clemson. Both teams are win-and-in this week.
Even if they don't win, I'm loving where Mark Richt has brought this program. After year's of turmoil under various coaches, some consistency has finally been restored in south Florida. Now, we focus on the game.
This is by far the most difficult game that Miami will play this year. Notre Dame was a joke, so that doesn't count. Facing Clemson will require all hands on deck, and not just from the turnover chain. College football's greatest new trend can't win this game by itself, and the offense needs to score way more than 14 points this week. Will Malik Rosier step up in a big game? The Canes won't have home field advantage, so we will find out how he (and the team) will respond in their biggest moment.
CLEMSON OUTLOOK
Those defending champs that Pitt beat last year are who stand in Miami's way Saturday. And they're back to being on top. Clemson comes in as the number one team in the country, and are looking to repeat as champions. For a while, they looked like the best team in the country by a long shot. Then, the Syracuse game happened. What is it with Clemson losing games to teams that are average? I guess this one was on the road and they lost Kelly Bryant.
Defending a title isn't easy, and Dabo Swinney knows that. The ACC has vastly improved over the last few years, making things more difficult for the Tigers. Throw in the fact that they schedule two SEC schools in Auburn and South Carolina, and you should be impressed that they're 11-1. As I stated earlier, it's win and they're in, and there's no reason why Clemson wouldn't be the top seed in the playoff with a win this week. Bryant's going to need to step up again if a repeat is going to happen.
Kelly Bryant is not Deshaun Watson. Never has been, never will be. That doesn't mean he's not a good quarterback, it's just that his game is different. Bryant is a better runner than he is a passer, but man has he improved his passing game. The junior will play a big role in the offense, and his arm might be called upon this week to win the game. Miami's going to do whatever it can to stop the Tigers rushing attack, but luckily Bryant doesn't have to win the game by himself through the air.
Hunter Renfrow continues to amaze college football with his spectacular clutch plays. If Clemson makes the playoff again, Renfrow is the player that all teams need to watch. Throw in receivers like Deon Cain and Ray-Ray McCloud, and Bryant should be just fine if the Canes stuff the run. McCloud is a dangerous returner as well.
PREDICTION
I told my buddy that if Miami beat Notre Dame, I would pick them in this game. And it would have been easy, but then they lost to Pitt. How do I keep a promise after that? Plus it's neutral site game. So unless all of Miami is heading to Bank of America Stadium, home field advantage (arguable one of Miami's biggest strengths) won't apply. Clemson has been here before, and they won't be nervous. Swinney has built a winner that has experience. All signs point to Clemson. But what fun is that to pick the favorite?
My pick: UPSET SPECIAL: Miami 28 Clemson 27