Big 12 Championship: TCU Horned Frogs vs. Oklahoma Sooners Game Preview, How to watch, start time, and prediction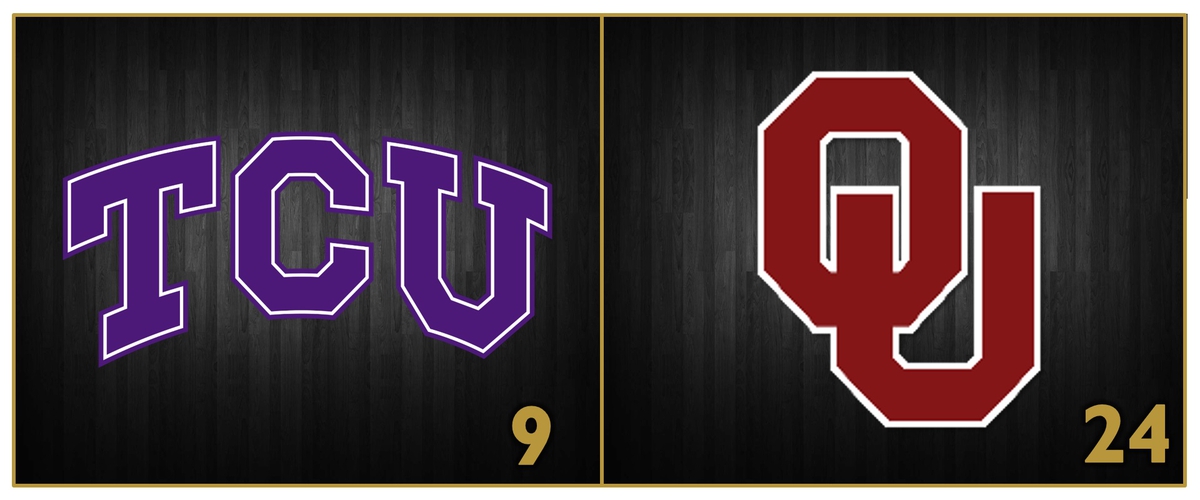 WEEK 14 GAME PREVIEWS HOME PAGE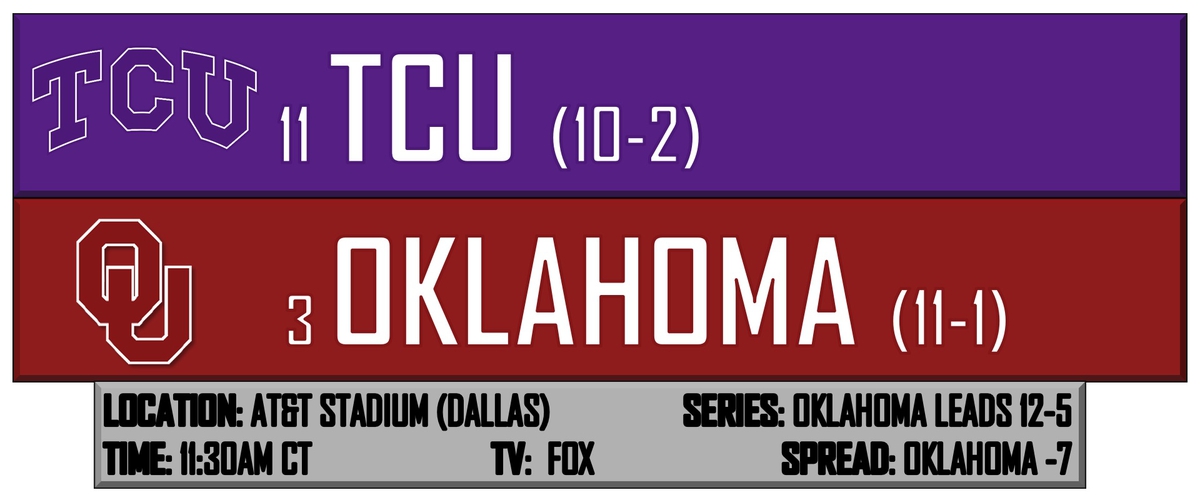 TCU OUTLOOK
Round 1 was pretty much over in the first half. Oklahoma put up 38 points against the Horned Frogs defense, and a second half attempt at a comeback never really got going. So, to put it simply, TCU can't dig that hole again if they want a chance at a conference championship.
It may be a long shot, but TCU could still make the College Football Playoff. It shouldn't be their first time if they do get in, as they got screwed over by the committee in 2014. Some help is needed, but Gary Patterson's team still has a shot. Playing better defense is the first step.
Giving up 38 points is a punch to the gut, and Patterson's most likely been watching that film a lot since then. If he can get his squad to play like they did in the second half, we will have a great game. I understand that Oklahoma has one of the best offenses in the country, but they aren't invincible. I mean, heck, Iowa State figured out how to keep the Sooners at 31 points for the game, and their defense isn't better than TCU's. Reputation is probably why. Oklahoma took TCU more serious than they did the Cyclones. Not all of the pressure goes on the defense, as the offense needs to find a way to score on an average Sooners defense.
Kenny Hill's time to shine is now. The senior quarterback has been good, but not great. Patterson and the defense need him to be great this time. Scoring 14 points in the first half is okay, but not when you're down 24. The loss of Darius Anderson hurts, but at least Kyle Hicks will be available. Hicks led the team in receiving the last time these two teams played. Receiver KaVontae Turpin could play a big role, as he will be the most explosive player on the field. Whether it's running, catching, or returning kicks, Turpin has big ability that needs to be utilized more. Oklahoma's going to try to kick away from him, so utilizing his speed in the offense more so than last time (four catches for 59 yards) will be essential.
OKLAHOMA OUTLOOK
Baker Mayfield appears to be the runaway winner of the Heisman Trophy this year, and it's the depth at his skill positions that have aided his run. Last year, it seemed that Oklahoma had just two backs and one receiver who did the work. Having Joe Mixon, Samaje Perine, and Dede Westbrook were a great luxury, but it seemed like that limited Mayfield since there weren't a ton of other options. That's not the case this year.
While Rodney Anderson has emerged as the featured back, Trey Sermon and Abdul Adams give Mayfield multiple partners in the backfield. His options downfield are more than just one threat this year as well. Though there isn't a 1,000 yard receiver on this team (yet), Mayfield's options seem limitless. Marquise Brown, Mark Andrews and CeeDee Lamb all have over 700 yards receiving, while Jeff Badet and Dimitri Flowers have over 300. Oh and Flowers is a fullback. All of these players have big play ability, which is scary when a fullback has big play ability catching the ball. That's how good this offense is. It's the defense that needs to step up.
The Sooners held TCU to just 20 points last time, and a similar performance will be needed. Youth in the secondary continues to be a concern, but might not be if Kenny Hill and the Horned Frogs offense can't find any rhythm through the air. Linebacker Ogbonnia Okoronkwo, the co-Big 12 Defensive Player of the Year, could have a big game if TCU resorts to the run. It's going to be more difficult for the offense to score 38 first half points again, so the defense might have to keep them in the game this time.
PREDICTION
Beating a team twice isn't easy, but neither is beating a team that already beat you. The first game never really felt close. Even in the second half, when TCU was trying to come back, nothing surfaced. Just six second half points between the two teams were the result, and the 38-20 final isn't what TCU fans were expecting. Obviously slowing down the Sooners offense will be the #1 key in this game, and playoff chances will be achieved or lost for both teams based on the result. I want TCU to win, because chaos in the playoff race is always interesting. Mostly because we get to see the committee try to justify things that they can't. My pick, as Lee Corso puts it: "This is strictly business."
My pick: Oklahoma 42 TCU 38