2018 Chicago Bears Mock Off-season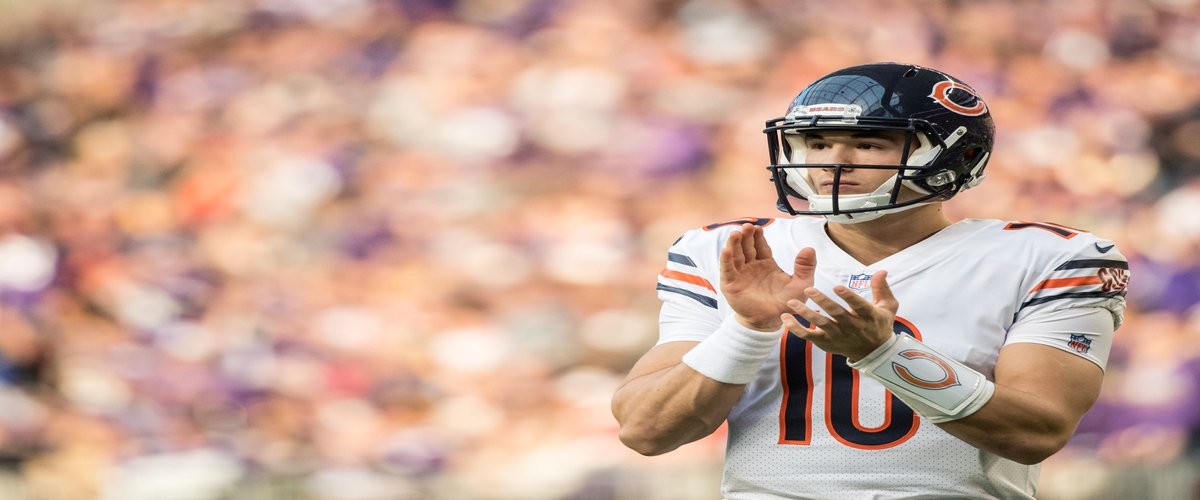 The NFL season for the Chicago Bears is almost over as they will finish their last game at Minnesota against the Vikings. With Mitchell Trubisky showing signs that he can be a potential franchise quarterback, this off-season will be big for the Bears organization and for Ryan Pace.
Offseason Cuts:
QB Mike Glennon-He's getting paid too much as a backup QB
OLB Pernell McPhee-Too many injury issues
WR Markus Wheaton-Too many injury issues, not productive
ILB Jerrell Freeman-Has a bad head injury, two PED suspensions, and is 30 years old.
CB Marcus Cooper-Played horrible this season
SS Quintin Demps-Adrian Amos took his spot at Strong Safety, no reason to keep a 33-year-old safety who is obtaining around $4 or $5 million dollars.
RT Bobby Massie-Played awful this year, we could upgrade in the draft or during free agency
Offseason Re-signings:
CB Kyle Fuller
T Tom Compton
WR Kendall Wright
ILB Christian Jones
DE Mitch Unrein
WR Dontrelle Inman
WR Cameron Meredith
P Pat O'Donnell
CB Bryce Callahan
ILB John Timu
LT Bradley Sowell
LS Andrew DePaola
K Mike Nugent
TE Daniel Brown
Free Agent signings
WR Taylor Gabriel: A Good wide receiver that could help Trubisky. Can bring good depth on the roster.
WR Jarvis Landry: Has the talent to be a #1 receiver which can help the Bears offense.
RT Bryon Bell: Underrated offensive tackle.
QB Tyler Bray: Good backup QB for Trubisky
OLB Devon Kennard: With McPhee gone, he could help fill in at linebacker
T Austin Pasztor: Average backup tackle, adds depth to the roster.
Mock Draft
Bears trade their 1st round pick to the Miami Dolphins for their 1st, 2nd, and 3rd Round pick.
1st Round: OT Mike McGlinchey. McGlinchey could compete with Charles Leno at the Left Tackle position. He is a franchise left-tackle who has all the attributes to be successful. He is going to be very useful for Trubisky.
2nd Round: CB Joshua Jackson. Kyle Fuller showed that he's capable of bringing a good corner-back in NFL. Sometimes Fuller could be inconsistent at times, so Jackson would be a smart part if Fuller doesn't work. Jackson could be #2 corner-back with great length and tremendous ball skills.
2nd Round: OLB Josh Allen. Allen is similar to Leonard Floyd in terms of speed and athleticism. Allen could add tremendous depth at linebacker and could also pair-up with Floyd as edge-rushers.
3rd Round: WR Equanimeous St. Brown. St. Brown could fall in 3 round because of his productive in 2017 with Notre Dame. St. Brown could add depth in the wide receiver position. He is great route-runner and is very explosive. Trubisky will have a lot of weapons in 2018 NFL season.
4th Round: S Dominick Sanders. Safety isn't really a need, but it is important to have more depth in that position. Sanders show good instincts and coverage skills. He is a ball-hawk that help the secondary.
4th Round: CB Darius Phillips. If you don't know about this guy, you better watch his tape. He is the versatile player who could play the nickel, return man, even as a receiver. Once he gets the ball, he is off to the races. He has a total of 14 touchdowns, 12 interceptions, and 35 deflected passes through his whole career. He could be very useful in Chicago.
5th Round: WR J'Mon Moore. Great Speed and Height who can be a deep threat. Again, it is very important to add depth on every position. Moore could be deep threat for Trubisky.
6th Round: RB Justin Jackson. The Bears draft a running back every year. No surprise if Jackson plays for his hometown team.
7th Round: K Daniel Carlson. Carlson would compete with Nugent and other kickers in training camp. Carlson was 81% in field goals, but 100% in extra point attempts.
Coaching Changes
Head Coach: Pete Carmichael. Carmichael has good relationship with GM Ryan Pace. Carmichael was the offensive coordinator for the New Orleans and their offense has been distinctive throughout the years.
Offensive Coordinator: Greg Olson. Olson coordinated many different teams such as the Raiders, Buccaneers, and Jaguars. He had some success with Blake Bortles in 2015 and Derek Carr. He is a quarterback guy, so he could a good factor for Trubisky's development.
Defensive Coordinator: Chuck Pagano. Pagano was recently fired from the Colts because his 3 bad seasons going 8-8 twice, then 4-12 this year. Despite that, Pagano is a good defensive coordinator. He coached the Balitimore Ravens in 2011 and could help the secondary because he known for stopping the opposing teams pass attack. He is also a good fit because he is a 3-4 guy.
---