Farewell, Big Four.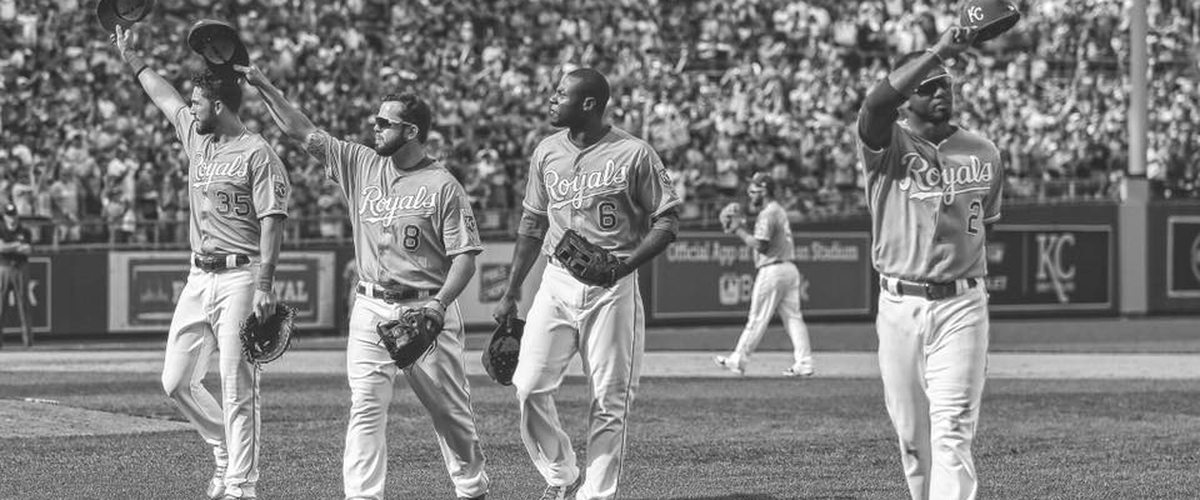 On Sunday, Ned Yost did this:
This would be the last time the "Big Four" exited the field for the Kansas City Royals. Hosmer, Moustakas, Cain and Escobar. Each of these men have been crucial to the success of the Royals over the past 5 years. The run is likely all over, now. Pieces such as this one keep the hope going:
It's possible. The Royals are coming off a season in which the payroll was a franchise-record $145 million on Opening Day. Unfortunately, due to the (failed) efforts of General Manager Dayton Moore to keep this roster afloat this year and possibly next, the team is looking at roughly $120 million already on the payroll for 2018. With some shuffling and magic, it's possible to get that figure down to about $100 million. If the team really wants to, it's possible to bring Eric Hosmer (the team's main target) back on a 4+ year deal. According to Sam Mellinger of the Kansas City Star if the team is able to get Hosmer to re-up, "they will try to shed some payroll and make an aggressive offer to Mike Moustakas or Lorenzo Cain." Relax Royals fans: it's possible. Enough of the "what-ifs," let's thank these guys for an amazing ride in Kansas City.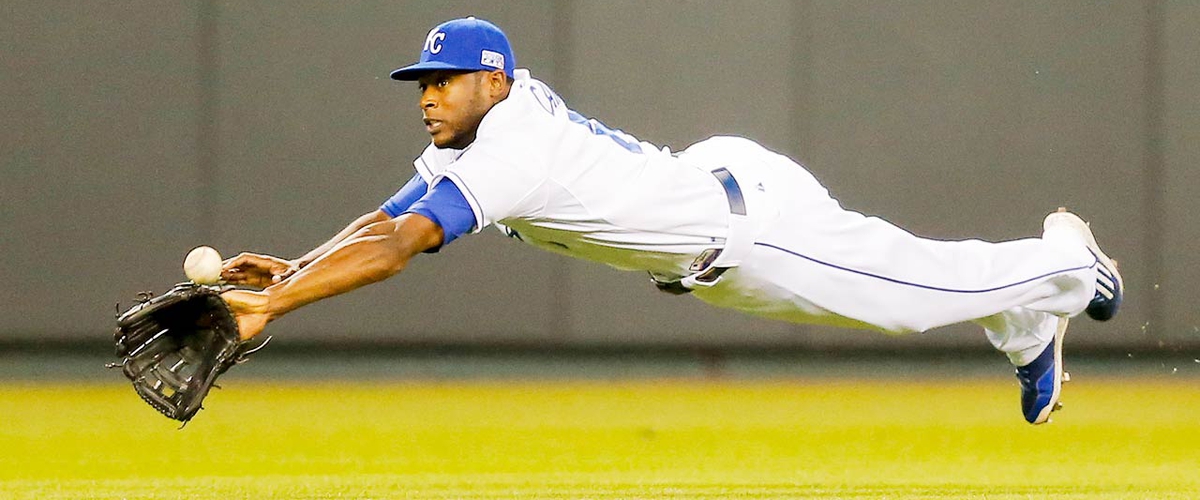 Lorenzo Cain
Lorenzo Cain was acquired in the 2010 Zack Greinke trade, along with Alcides Escobar. Popular baseball journalist Joe Posnanski gave his two cents about the trade, and he wasn't very optimistic:
There are no potential stars in the group. Not one.
To give Posnanski credit, he indicated that Cain could develop into a star, but it would be a big surprise if he did so. Well, that's exactly what happened. After missing 2 months of his rookie season and 50 games of his Sophomore season due to injury, Cain cemented his tenure in Kansas City. He quickly gained a reputation around the league for being one of the best centerfielders around. Cain batted .301 in 2014 and his star took off when he won ALCS MVP that same year, batting .533 and showcasing his highlight-reel talent multiple times in center field:
Lorenzo followed this up with a 2015 season in which he finished 3rd in MVP voting. From 2014-2017, Cain averaged the following (per season):
.300 BA
11 HR
24 SB
133 Games Played
Lorenzo, you were always a pleasure to watch on the field, but your brotherhood with Salvador Perez was one of the best things ever off the field:
Thank you so much, LoCain.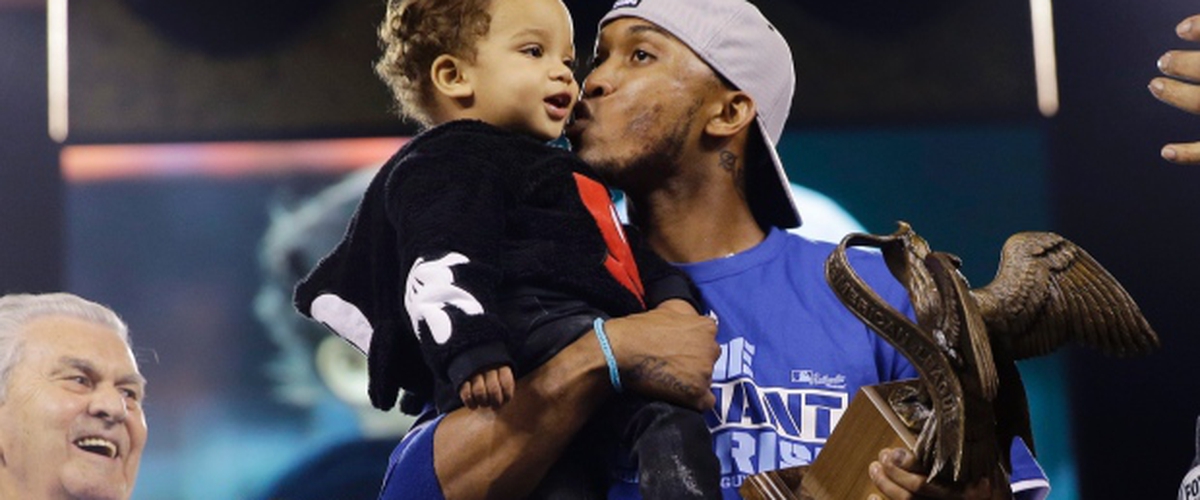 Alcides Escobar
Alcides Escobar may not have developed into a star for the Royals, but he solidified a shortstop position that was a purgatory for many years. A favorite of many fans, Escobar never brought the biggest bat to the field, but he brought the biggest glove and the biggest heart. He was a model of consistency and durability with the Royals, playing 158 out of 162 games on average per season. He managed to play all 162 games three out of his last four seasons with the team. Alcides was known for his clutch hitting and defense:
Escobar won ALCS MVP in 2015 after he batted a scorching .478 against the Blue Jays. I can't say he didn't bring the bat when it mattered. A true Royal; he tried his hardest on every play and was always exciting to watch.
Thank you so much, Esky.
If you aren't getting teary-eyed by now, you should be getting there soon. It's getting harder and harder to not do so.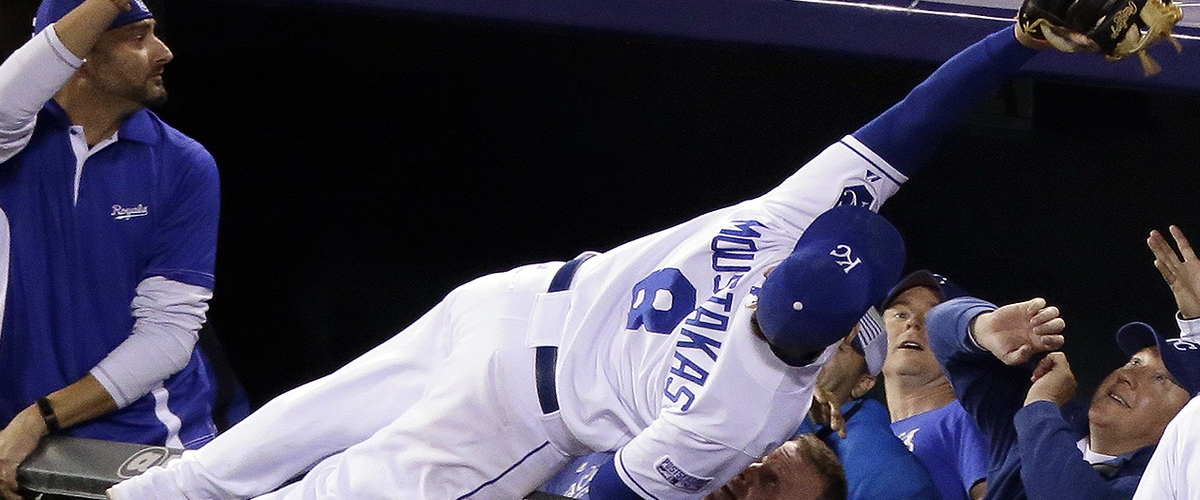 Mike Moustakas
Mike Moustakas was the second overall pick in the 2007 MLB draft, chosen by none other than the Kansas City Royals. He generated nothing but hype while in the minor leagues; hitting 36 home runs in 2010. He joined Alcides Escobar on the Major League club in 2011. Let's compare two players:
Player A (Per Season):
.236 BA
13 HR
1.1 WAR
Player B (Per Season):
.278 BA
30 HR
3.1 WAR
Player A is Mike Moustakas from 2011-2014. Player B is Mike Moustakas in 2015 and 2017 (his last two healthy seasons). Interesting, isn't it? Moustakas was demoted to the minor leagues in May 2014 after hitting .152 to start the year. He finished the year batting a horrid .212, but that's a .60 improvement; it's got to count for something, right? Right! Moustakas bounced back in 2015 by hitting .284, clubbing 22 home runs and collecting 82 RBI. An ACL tear shortened his 2016 season but he picked up right where he left off this past year, batting .272 with a franchise-record 38 home runs and a career-high 85 RBI. Not only famous for turning his career around, Moustakas is no slouch at the hot corner:
And, most famously, this:
The Moose has been loose in Kansas City, but sadly it might be time to let him loose for the entire MLB to see.
Thank you so much, Moose.
Eric Hosmer
Eric Hosmer was selected third overall by the Royals in the 2008 MLB Draft. He joined Mike Moustakas on the big league club in 2011, which is why these two have been grouped together so often. Let's do another player comparison:
Player A (Per Season):
.256 BA
16 HR
74 RBI
Player B (Per Season):
.303 BA
20HR
86 RBI
You probably guessed right; Hosmer is both players. Player A is Hosmer in even-numbered seasons (2012, 2014, 2016) and Player B is Hosmer in odd-numbered seasons (2011, 2013, 2015, 2017). This correlation is frightening because if the trend continues, Hosmer is due for a bad season. I don't think this is the case, as Hosmer has finally put together a season in which he had his notorious "bad month" and then played as a complete player for the rest of the year. He brought the glove, he brought power and he got on base all at the same time. This was key for Hosmer, who's known as a streaky hitter.
Hosmer is probably the player it's most difficult to say goodbye to for Royals fans. He fits the large-market prototype: he can hit home runs, he gets on base, he's a good defender and he looks like the face of a franchise. Moustakas, Cain and Escobar only offer one or two of those traits while Hosmer brings them all to the table. He's a beloved fan favorite and even fans outside of Kansas City recognize his name. He'll command a large contract this offseason, perhaps one the Royals won't be able to offer him. Regardless, let's take a look back at why Royals fans love Eric:
No moment was too big for him, no play was too hard for him to make.
Thank you so much, Hoz.
It's going to take some adjusting to when I turn on my TV and I don't see this:
Oh my goodness, Royals fans... This is the end. It's not very common that a team can develop 4 guys at the same time and allow them to grow together as players, let alone 4 guys who win 2 pennants and a championship together. These boys were truly a treat to watch. Let's hope the team can bring a couple of them back! I'm not ready to see them go.
Who do you want the Royals to bring back the most? Let me know!
--------------------------------------------------------------------------------
This is your reminder to put your Best Foot(e) Forward in everything you do today! Be the best version of yourself possible!
As always, if you'd like to get in touch with me or follow my social media accounts, you can find them here:
Facebook: https://www.facebook.com/TheBestFooteForward
Twitter: https://twitter.com/TheBestFooteFWD
Instagram: https://www.instagram.com/thebestfooteforward
Email: [email protected]
---