Week 11 NFL Power Rankings - Who's Putting Their Best Foote Forward?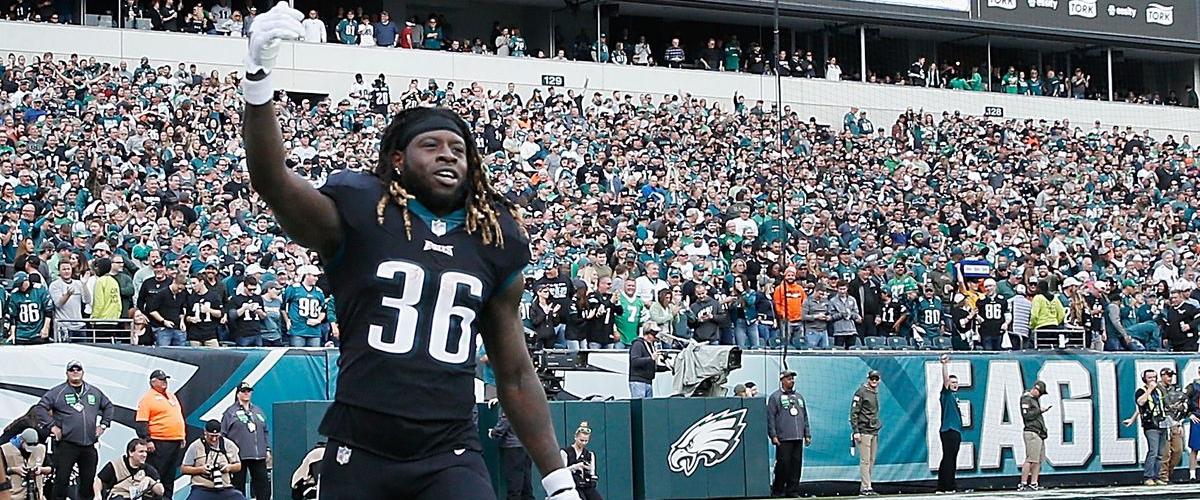 Wow, the NFC is stacked. After 10 weeks of football, the playoff picture is becoming even more clear. The teams at the top are going to be gearing up in the coming weeks for postseason pushes while the teams in the middle of the pack try to scrap for wild-card spots. Although we think we know a lot at this point, there's still a lot to find out! Two things are for certain - the top team in the rankings from last week will keep its spot and, on a lesser note, the bottom team will keep its spot, too (if that's significant). Let's see where your favorite team ranks after 10 weeks of NFL action!
Last week's byes: Baltimore Ravens (4-5), Kansas City Chiefs (6-3), Oakland Raiders (4-5), Philadelphia Eagles (8-1)
This week's byes: Carolina Panthers (7-3), Indianapolis Colts (3-7), New York Jets (4-6), San Francisco 49ers (1-9)
32: Cleveland Browns (LW: 32) 0
Tough week for the Browns. DeShone Kizer showed some promise and the team even had the lead at one point in the game but as usual, things took a negative turn. Kizer was injured and Detroit ended up defeating Cleveland by multiple scores. Sums up the season. Don't expect things to change this week against Jacksonville.
31: New York Giants (LW: 30) -1
Right when you think the Giants have hit rock bottom, think again. Losing to the 49ers and committing to Ben McAdoo for the immediate future is about as low as you can get. With the Chiefs coming off a bye week, Andy Reid has had a lot of time to prepare for what will likely be a beatdown on Sunday.
30: San Francisco 49ers (LW: 31) +1
San Francisco heads into the bye week with its first win of the season! The only negative is that head coach Kyle Shanahan has not committed to playing Jimmy Garoppolo this season. He's got to get in the game at some point, right? It only makes sense if you want to find out how good he can truly be. I have a feeling we'll find out in the coming weeks.
29: Denver Broncos (LW: 27) -2
Denver has lost six of its last seven and doesn't show any signs of slowing down. I'm convinced the Bengals should be favored this weekend in Denver. That's how bad things have gotten in Denver. Brock Osweiler has not been much of an improvement over Trevor Siemian. The biggest development here is the defense. It started off the year as arguably the best unit in the league and is now playing like one of the worst. Is it too late to right the ship? I think so.
28: Tampa Bay Buccaneers (LW: 29) +1
Tampa moves up a spot after beating the Jets over the weekend. I'm still not sold on this team being anywhere near a .500 squad and you shouldn't be, either. Do wins against the Bears, Giants and Jets scare you? Me neither.
27: Indianapolis Colts (LW: 28) +1
Jacoby Brissett looks more and more like a starting NFL quarterback each week. The Colts narrowly lost to Pittsburgh Sunday after having the lead for the majority of the game. It was a very solid performance from a team that shouldn't have given the Steelers any trouble. The only development during the bye week should (hopefully) have something to do with Andrew Luck. A man can dream, can't he?
26: Miami Dolphins (LW: 25) -1
Jay Cutler followed up his 311 yard, 3 TD performance two weeks ago with 213 yards, 2 touchdowns and an interception on Monday. That's the Cutler we know. Miami is possibly the most inconsistent team in the NFL and should bounce back with a game against the Bucs on the schedule this Sunday.
25: Arizona Cardinals (LW: 23) -2
Arizona's season is beginning to take a turn for the worse. Jacksonville, LA (Rams) and Tennessee are the three matchups following the Texans this Sunday. A team that began the season with playoff aspirations will soon have no chance of reaching the postseason.
24: Chicago Bears (LW: 21) -3
Chicago came back down to earth last week against Green Bay. I feel bad for dropping the team three spots because Mitchell Trubisky turned in his best performance of the season. 297 yards and a touchdown is very respectable; it's a shame his team couldn't pick up the W.
23: Baltimore Ravens (LW: 24) +1
Baltimore comes off the bye week with games against the Packers and Texans on the schedule. Both of those are winnable and could get this squad to 6-5 on the season. That would put them firmly in the middle of the playoff picture. Joe Flacco is going to have to step up if this team wants to make it to the postseason.
22: Cincinnati Bengals (LW: 22) 0
The Bengals kept it close against Tennessee, but lost. That's about what I expected. It's hard to rank this team in the low 20's but difficult to allow them to escape the bottom 10 of the league. A win against Denver this Sunday would be a step in the right direction.
21: New York Jets (LW: 20) -1
The Jets head into the bye week with a 4-6 record. That's a lot better than any of us expected. It's amazing that they're not mathematically eliminated from the playoffs or winless at this point. That's how bad we expected New York to be. A loss to the Bucs didn't cause them to fall more than a spot. Business as usual for the bye week.
20: Houston Texans (LW: 19) -1
I'm trying to be nice to the Texans and slowly drop them to the bottom of the NFL. I don't want to just throw them down there right away - I'm leaving a sliver of hope that Tom Savage can scrap together a couple wins for this team. It's not likely, but I'm hoping for it.
19: Green Bay Packers (LW: 26) +7 *BIG RISER*
Brett Hundley won a game! With three of Green Bay's next four opponents being Baltimore, Tampa Bay and Cleveland, there are opportunities for this team to win games. If the Packers can win all three of those contests, perhaps Aaron Rodgers can come back after week 15 to an 8-6 team scrapping for a wild-card spot? It's not that far fetched.
18: Los Angeles Chargers (LW: 18) 0
LA lost to the Jaguars in typical Bolts fashion. That's four games decided by a field goal or less this season. If you split those, you're 5-4. If you win three, you're 6-3. If you win all four of them, how does 7-2 sound? Pretty good. That's why it's so hard to drop LA too far before another losing streak occurs - there have been plenty of flashes of potential.
17: Oakland Raiders (LW: 17) 0
Oakland needed a bye week to evaluate its season. 4-5 isn't bad, considering how the team began the year. The Raiders are just one game behind Buffalo for the 6th and final spot in the playoffs. A Sunday game against the Patriots is HUGE.
16: Buffalo Bills (LW: 14) -2
The Bills went from 5-2 and one of the best teams to 5-4 and possibly a pretender in a matter of two weeks. That's how quickly things change in the NFL. A matchup with the Chargers this Sunday will go a long way in telling how good this team truly is.
15: Washington Redskins (LW: 13) -2
Tough loss for Washington on Sunday to a hot Vikings team. It's going to be tough for Washington to get back in the playoff race in what is a completely stacked NFC. A Sunday game against the Saints could effectively put their playoff hopes on the brink of ending.
14: Tennessee Titans (LW: 15) +1
Tennessee is doing its job in keeping pace with Jacksonville. The Titans have benefitted from a weak schedule and I don't think they're as good as their 6-3 record suggests. The team will be tested this Thursday against Pittsburgh.
13: Dallas Cowboys (LW: 8) -5 *BIG FALLER*
Dallas misses Ezekiel Elliot. The Cowboys' entire offense failed in a blowout loss to the Falcons on Sunday and it was evident why - the heart and soul of this team is gone. Zeke means a lot more to the Cowboys than we all thought. Dallas would greatly benefit from a win this Sunday night against the NFL's hottest team in the division-rival Eagles.
12: Atlanta Falcons (LW: 16) +4
Big win for Atlanta on Sunday. The NFC is quickly getting tougher and tougher by the week and contenders can't afford to lose many more games. 4-5 would have put the team WAY on the outside, looking in. A Monday night football matchup in Seattle is a big one.
11: Detroit Lions (LW: 12) +1
Detroit is a tough team to get a read on. Matthew Stafford is playing some great football and his running game is starting to become effective, but this team will only go as far as the defense allows. Beating down the Bears this Sunday might be just what the doctor ordered.
10: Jacksonville Jaguars (LW: 10) 0
Jacksonville escaped Sunday with a win after Blake Bortles turned back into his normal self for the entire fourth quarter. It was true to begin the season and it'll be true to end it: this team will only go as far as Bortles allows it to.
9: Kansas City Chiefs (LW: 9) 0
Kansas City needed a bye week. Now, the entire offensive line is healthy, Andy Reid had some extra time to fix some problems on the defensive end and everyone's spirits should be high. They'll likely be even higher after this Sunday's matchup with the Giants.
8: Seattle Seahawks (LW: 4) -4
Seattle won in unimpressive fashion last Thursday against the Cardinals but took a big loss in the secondary when All-Pro CB Richard Sherman tore his achilles tendon. It remains to be seen how big of a loss this truly is, but losing a player of Sherman's calibre is never a good thing.
7: Carolina Panthers (LW: 11) +4
MVP Cam might really be back! As his shoulder has gotten better, so has Newton's play. How does 4 passing touchdowns sound? How does a 69-yard run sound? Both remind us of how good Newton can be. Heading into the bye week, expect Newton's shoulder to get even more healthy just in time for a matchup against the struggling Jets on November 26.
6: Pittsburgh Steelers (LW: 3) -3
Pittsburgh scared all of us on Sunday when it almost lost to the (still) Andrew Luck-less Colts. A field goal at the end of the game is too close for comfort. Ben Roethlisberger rebounded from an early interception and finished the game on a high note, but this game showed us how bad an off game from Pittsburgh can be.
5: Minnesota Vikings (LW: 5) +2
Case Keenum does not look like he wants to give up the starting job any time soon. Teddy Bridgewater is going to have to sit on the sidelines until Keenum struggles (if he ever does). This team is dangerous and is without a doubt one of the strongest contenders in the NFL.
4: Los Angeles Rams (LW: 6) +2
Sean McVay is going to win Coach of the Year. I'm totally convinced of it. His team is so good. Jared Goff is playing some great football and the Rams' defense is starting to show up, big time. It's time to give LA the credit it deserves.
3: New Orleans Saints (LW: 5) +2
7 in a row for the Saints! They've been marching in and beating pretty much anyone they want to this season. Games against the Redskins, Rams, Panthers and Falcons in the next four weeks are going to make or break the season for Who Dat nation.
2: New England Patriots (LW: 2) 0
New England was toying with Denver on Sunday night en route to a 41-16 beatdown. Going into Oakland to face the desperate Raiders is no easy task but with how well the Pats have played as of late, I think they can escape with a win.
1: Philadelphia Eagles (LW: 1) 0
There are two sides to Philly's bye. On the positive side, the week off allowed the team to stay fresh and prep for Dallas. The only negative is potentially losing momentum. At this point, the team is so good I wouldn't be worried about slowing down any.
I hope you enjoyed reading this week's power rankings. It's hard at this point in the year to move too far up the rankings but with a winning streak, your favorite team could begin climbing the ranks soon! On the other hand, a fall from grace is just as possible in the event of a losing streak. Let me know what you think about this week's rankings!
--------------------------------------------------------------------------------
This is your reminder to put your Best Foot(e) Forward in everything you do today! Always do the right thing and be the best possible version of yourself every day.
As always, if you'd like to get in touch with me or follow my social media accounts, you can find them here:
Facebook: https://www.facebook.com/TheBestFooteForward
Twitter: https://twitter.com/TheBestFooteFWD
Instagram: https://www.instagram.com/thebestfooteforward
Email: bestfooteforward17@gmail.com
If anyone is looking for fantastic bye-week analysis about who's favored to win coming off a bye or when facing someone coming off a bye: I encourage you to check out http://cheatsheetwarroom.com/fantasy-football/nfl/bye-weeks.aspx. This is my friend Brad's website. He has some amazing bye-week infographics with tons of helpful information on them. With 4 teams on bye this week, this is a great resource for all bye information. Perfect for picks. Feel free to check it out. You can contact Brad at brad@cheatsheetwarroom.com. Let him know what you think!