Week 8 NFL Power Rankings - Who's Putting Their Best Foote Forward?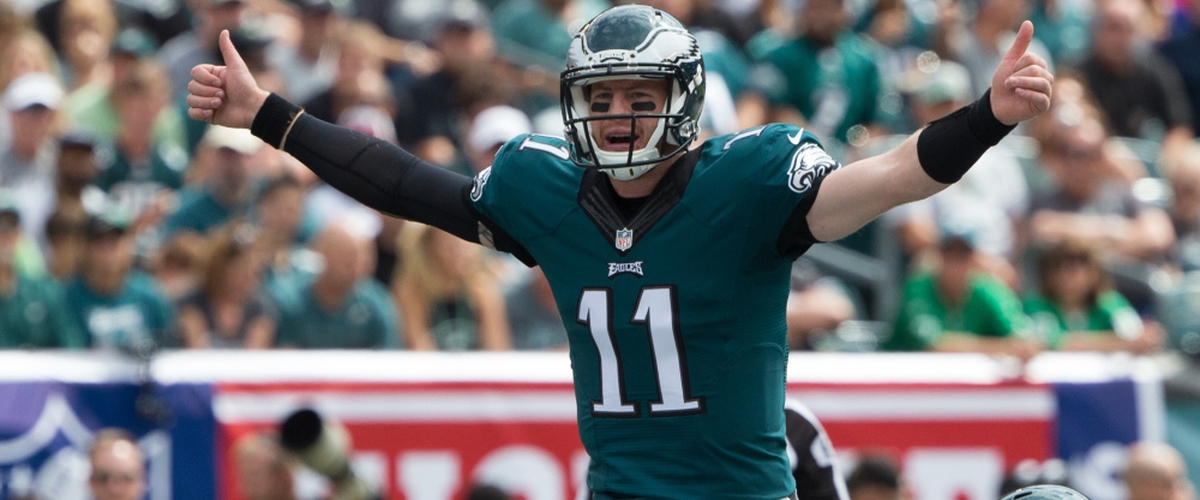 This season is truly getting interesting after 7 weeks. Many believed Sunday was "Separation Sunday" but in reality, there are still 5 division races in which the first and second place teams are separated by a game or less. Our Thursday night came down to a last-second (literally, last-second) touchdown by the Raiders after multiple defensive penalties on the Chiefs in the end zone with no time left. I don't think I've ever seen an ending that bizarre. Sunday night football was overshadowed by "Fog Gate," but New England dominated the suddenly struggling Falcons. The Eagles remained red hot and took care of business against the Redskins on Monday night. Where does everyone rank ahead of week 8? Let's find out in TBFF's Week 8 NFL Power Rankings!
32: Cleveland Browns (LW: 32) 0
Another week, another loss for the Browns. Cody Kessler led the team on a game-tying drive to finish the 4th quarter, but Cleveland lost to Ryan Succop (and the Titans) in overtime. DeShone Kizer was benched after throwing two interceptions; I feel bad for this kid. Hugh Jackson isn't making up his mind on whether or not he wants to keep DeShone as the starter. Kizer's play is not going to improve until he consistently gets reassured that he is the guy. The next winnable game for the Browns doesn't come until November 26 against the Bengals.
31: San Francisco 49ers (LW: 31) 0
Our second 0-7 team! Nothing positive comes from last week's beatdown at the hands of the Cowboys. Any time you manage to score just 10 points in a game, the odds are you lost. The same applies for any game in which you gave up 40 points. The next winnable game for San Francisco comes on November 12. The race for a win is on for the Browns and 49ers!
30: Indianapolis Colts (LW: 30) 0
This season is officially a lost one for the Colts. I'd consider shutting Andrew Luck down and letting Jacoby Brissett build some trade value. Getting shut out by the Jaguars is the low point of the season for this squad - the only way to go from here is up. Jacoby Brissett might be able to double his season touchdown total this Sunday against the Bengals. Let's hope he can establish himself as a potential starter somewhere down the road for another team.
29: New York Giants (LW: 29) 0 *Bye Week*
The Giants head into their bye week looking to hit the reset button on what has been a terrible season thus far. The problem here is; it's a bit too late to do so. The G-Men are ranked 27th in offense and 27th in defense. Things won't get much easier after the bye - New York will prepare for a matchup with the Los Angels Rams on November 5.
28: Baltimore Ravens (LW: 28) 0
Baltimore has come back down to earth at last after losing 4 of its last 5 games. A Thursday night matchup with the Dolphins gives the team an opportunity to get back to .500, but don't let that deceive you: Joe Flacco is still quarterbacking this team and his TD:INT ratio is still a terrible 5:8. The oddsmakers give Baltimore a shot at the wild card but if Flacco plays like this for the rest of the season, it'll be difficult for this squad to win 7 games.
27: New York Jets (LW: 26) -1
The Jets are slowly crawling back into their shell of being a bad team. Their 3-4 record indicates otherwise but with the angry Atlanta Falcons coming to town this week, a beatdown at the hands of Matt Ryan should hush any believers in this team. One bright spot this season is Josh McCown. The veteran signal has completed 69 percent of his passes and boasts a quarterback rating of 91.5, both solid marks. This team might be able to manage 6-7 wins if he continues to play this well.
26: Arizona Cardinals (LW: 21) -5 *Bye Week*
Terrible week for the Cardinals. Adrian Peterson followed up his 100 plus-yard performance last week with a 21-yard effort this week. On top of that, QB Carson Palmer broke his arm and might miss the rest of the season. Is this the last we've seen of Palmer in a NFL uniform? That remains to be seen. One thing is fairly certain, though: this team's goose is cooked.
25: Cincinnati Bengals (LW: 24) -1
Poor Cincinnati. This team is going to be stuck in eternal mediocrity. Well, I guess it's not eternal. As long as Marvin Lewis is the head coach, though. This might be the last year we see him on the Bengals' sideline. Andy Dalton has been completely average this season, throwing 9 touchdowns and 8 interceptions. He might not be a franchise quarterback after all. The team has a chance to temporarily right the ship and potentially get some momentum going with a home game against the Colts on the docket this week.
24: Tampa Bay Buccaneers (LW: 23) -1
Tampa Bay had a lot of hype surrounding it coming into the season but after losing a third straight game, the hype may be over. The Bears and Giants are not good wins and until a quality win is on the books for this team, they're bad. Back-to-back games against the Panthers and Saints will define the season for the Bucs. If they win both, they close the gap in the NFC South and resurrect their season. If they lose both, count them out of the playoffs.
23: Chicago Bears (LW: 25) +2
The Bears held the Panthers to 3 points on Sunday. Yes, three. That's insane. This defense might single-handedly win the Bears 6 games. Mitchell Trubisky completed 4 passes on 7 attempts and his team still won by 14. That's insane. The Bears should come back down to earth this week against the Saints but until them, 23 is fair for them.
22: Green Bay Packers (LW: 17) -5 *Bye Week*
Brett Hundley is the key to getting this team to the playoffs. If he plays anything like he did last week against the Saints, this team won't sniff 8 or 9 wins. If he can improve on 87 yards and an interception, 9-10 wins might be possible. A matchup with the Lions in two Sundays is a big game for Hundley and the Pack.
21: Denver Broncos (LW: 14) -7
Denver finds itself suddenly 3-3 after losing back-to-back games to the Giants and Chargers. The way Denver can improve is simple: Trevor Siemian has to play better. An offense that got shut out last week should have a bit more success this Monday against a struggling Chiefs defense.
20: Miami Dolphins (LW: 20) 0
Bad news: Jay Cutler has cracked ribs.
Good news? Jay Cutler has cracked ribs.
Matt Moore might be the better option for Miami at this point. In limited action last year, he threw for 8 touchdowns to just three interceptions for this team. Facing the Ravens this week, the Dolphins should be able to shut down Joe Flacco and create some favorable field position for Moore and company. 5-2 for this team is overachieving, but you've got to strike while the iron's hot.
19: Los Angeles Chargers (LW: 22) +3
LA is on fire! Three in a row for the team that everyone wrote off after starting off 0-4. Everything seems to be clicking for the Chargers, except this:
Something has to be done about that. LA: GET OUT THERE AND SUPPORT YOUR TEAM! A road upset of the Patriots would catapult the 'Bolts in next week's rankings while a loss won't cause them to fall too many spots.
18: Tennessee Titans (LW: 16) -2 *Bye Week*
It's not too often that a team will win and fall a spot in the rankings, let alone two. The Titans are victims of circumstance and victims of having to take the Browns into overtime and not managing to score a touchdown the entire game. The key to this team becoming good is consistency. No one knows whether this team is as good as people say. An overtime win against the lowly Browns and a 57-14 beatdown at the hands of the Texans keep us wondering: is this team legit? We'll find out in the coming weeks. An opportunity to improve to 5-3 awaits when Tennessee faces Baltimore after the bye.
17: Oakland Raiders (LW: 27) +10
Oakland is back. Derek Carr is back. Things are good. Carr threw for 417 yards and three touchdowns as he torched the Chiefs on the way to a last-second victory in Oakland. The season is saved! Maybe. The unfortunate thing for Oakland is its remaining schedule as the Black and Silver still have to play the Bills, Eagles, Patriots, Chiefs and Cowboys this year. Not very easy. Oh yeah; throw Denver and LA in there, too
16: Washington Redskins (LW: 12) -4
Cowboys. Seahawks. Vikings. Saints.
That's the next four games for the 'Skins. 3-3 can turn into 5-5 very quickly. This team needs to play its best football of the season in these 4 games and take at least half of them. Kirk Cousins is capable of scoring with other teams, but this defense is suspect.
15: Dallas Cowboys (LW: 18) +3
The Cowboys are going to be just fine as long as Ezekiel Elliot is playing. Zeke ran for 146 yards on Sunday and also had a 72-yard touchdown reception. Until the NFL reinstates his suspension (if they do), the Cowboys will be competitive. This is a good team that is capable of being great. Dallas has a chance to make a statement this Sunday against the division rival Redskins.
14: Jacksonville Jaguars (LW: 19) +5 *Bye Week*
This defense is legit. Jacksonville heads into the bye week tied for first in scoring defense, allowing just 16 a game. If Blake Bortles can play at an average level, this defense will carry Jacksonville to 8-9 wins. Anything better than average from Bortles can propel the Jags to 10 and a playoff berth. Things are looking up heading into the bye week.
13: Buffalo Bills (LW: 15) +2
The Bills narrowly escaped Sunday's game with a win, but 4-2 is impressive for a squad not many saw being good this year. A win this Sunday against the Raiders will play spoiler for Oakland's season and potentially separate the Bills a game or so from the rest of the wild card pack in the AFC. The Bills will likely need to go 6-4 down the stretch in order to make the playoffs but 5-5 might get you in this year in the AFC. I think they're capable of doing it.
12: Atlanta Falcons (LW: 6) -7
Atlanta is struggling. Three losses in a row is not ideal for a team many predicted represented the NFC again in the Super Bowl. Matt Ryan has quietly regressed a lot this season. 7 touchdowns to 6 interceptions does not scream elite, or even good. Until this offense gets its mojo back, it'll be hard to watch. The Jets have a tougher-than-advertised defense and a loss to them would send Atlanta fans into panic mode. Expect ATL to try their best to avoid that this week.
11: Detroit Lions (LW: 11) 0
Detroit neither moves up nor down this week. Hopefully the bye week helped Matthew Stafford get healthy; Detroit will need all the production it can get from Stafford this week against Pittsburgh. Huge statement opportunity for the Lions. A loss would make it 4 out of 5 for the Lions. Big week coming up.
10: Carolina Panthers (LW: 5) -5
Cam Newton is hard to get a read on this season. One week he throws for 316 yards and three touchdowns, then the next he throws for less than 200 yards and tosses three interceptions. His team will perform as he does. A game against the struggling Bucs on Sunday is just what the doctor ordered for the Panthers.
9: Minnesota Vikings (LW: 13) +4
Minnesota suddenly finds themselves in prime position to separate themselves from the rest of the NFC North this weekend with a matchup in Cleveland on the schedule. The Lions face a tall order in the Steelers and Green Bay has a bye week. A win this week will put the Vikings as 6-2 on the season. That would look pretty darn good.
8: Houston Texans (LW: 8) 0
Many will say Houston is too high in these rankings given they're 3-3, but I love it. Houston has a chance to make a huge statement this week if it can somehow beat the Seahawks in Seattle. DeShaun Watson is looking more and more comfortable by the week - the sky is the limit for this offense. Missing Whitney Mercilus and JJ Watt is going to hurt, but this defense is so well-coached that it'll weather the storm. Houston is a contender.
7: New Orleans Saints (LW: 9) +2
Is New Orleans legit? After starting 0-2, Drew Brees and a suddenly resurgent defense have led this team to four straight wins. Back-to-back games against the Bears and Buccaneers put the Saints in a prime position to get to 6-2. Once you get there, all you have to do is play .500 ball for the rest of the season in order to get into the playoffs. It's possible, defense will be key for this bunch.
6: Los Angeles Rams (LW: 7) +1 *Bye Week*
Another team that not many people viewed as legit before the season started. After shutting out the Cardinals en route to a 33-0 win Sunday, it's getting hard to bet against LA. Traveling to New York to play the Giants won't be a very difficult task for this Rams team; I could see another dominant defensive performance in line for them after the bye.
5: Kansas City Chiefs (LW: 1) -4
Kansas City was 5-0 two weeks ago and looked like the class of the NFL. Two weeks later, this team finds itself 5-2 and losers of back-to-back heartbreakers. A Monday night matchup at home against the division rival Broncos is a perfect opportunity for the Chiefs to show the world that they're just fine. Expect a dominant performance on primetime this week for the Chiefs and reassurance for their fans.
4: Pittsburgh Steelers (LW: 10) +6
Pittsburgh has back-to-back wins and suddenly looks like the Steelers of old. This team, as many expected, will be fine. They should run away with the AFC North and have a chance to secure a top-two seed in the AFC this year. 4 out of the next five contests shouldn't be very difficult for the Steelers to win. That's scary. 9-3 or even 8-4 looks scary. It's entirely possible for Big Ben and co.
3: Seattle Seahawks (LW: 3) 0
Seattle's defense is starting to round into shape. The LOB hasn't allowed more than 18 points since September. Russell Wilson's line is finally starting to look a bit better, which is a big deal for this offense. If Wilson is upright and the LOB is doing its thing, Seattle will remain among the elite.
2: New England Patriots (LW: 4) +2
New England is just fine. Fog Gate was interesting, but it didn't have much effect on the game as New England won by 16. Here's what I'm talking about:
I seriously doubt this is a legitimate thing. New England dominated that game and no fog wouldn't have changed the outcome. This team is back.
1: Philadelphia Eagles (LW: 1) +1
Carson Wentz is so good. The second-year signal caller now has thrown for 17 touchdowns and just four interceptions in 7 games this season. That's crazy. He's quietly becoming a big part of the MVP discussion. The defense continues to look good. Philly will be here as long as it plays at a high level. The 49ers are in for a rough Sunday when they face these Eagles. Oh yeah, the game's in Philly as well. Consider the Eagles 7-1.
That's it for this week's power rankings. This should be another exciting week of football, I hope you're all ready! Buckle up: it's going to be one heck of a ride.
--------------------------------------------------------------------------------
This is your reminder to put your Best Foot(e) Forward in everything you do today! Do the right thing and be the best possible version of yourself.
As always, if you'd like to get in touch with me or follow my social media accounts, you can find them here:
Facebook: https://www.facebook.com/TheBestFooteForward
Twitter: https://twitter.com/TheBestFooteFWD
Instagram: https://www.instagram.com/thebestfooteforward
Email: bestfooteforward17@gmail.com
If anyone is looking for fantastic bye-week analysis about who's favored to win coming off a bye or when facing someone coming off a bye: I encourage you to click this sentence. It will take you to my friend Brad's website. He has some amazing bye-week infographics with tons of helpful information on them. Perfect for picks. Feel free to check it out. You can contact Brad at brad@cheatsheetwarroom.com. Let him know what you think! An example of a small part of a Rams infographic is below for their bye week this week: