Week 9 NFL Power Rankings - Who's Putting Their Best Foote Forward?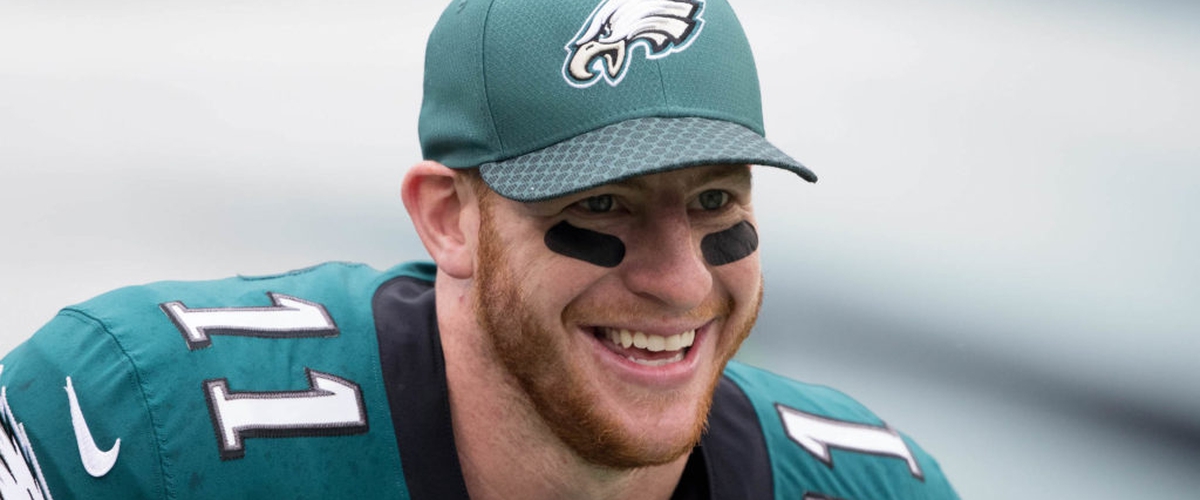 As I predicted in my Week 8 NFL Picks, "Separation Sunday" was a real thing. Many contenders rose to the top of the food chain and sent the pretenders into a frenzy. We're beginning to get a feel for how good some teams truly can be this season or, if you're the Cleveland Browns, just how terrible things are going to be moving forward. Where does everyone rank heading into Week 9? Let's find out in TBFF's Week 9 NFL Power Rankings!
Last week's byes: Arizona Cardinals (3-4), Green Bay Packers (4-3), Jacksonville Jaguars (4-3), Los Angeles Rams (5-2), New York Giants (1-6), Tennessee Titans (4-3)
This week's byes: Chicago Bears (3-5), Cleveland Browns (0-8), Los Angeles Chargers (3-5), Minnesota Vikings (6-2), New England Patriots (6-2), Pittsburgh Steelers (6-2)
32: Cleveland Browns (LW: 32) 0 *Bye Week*
The Browns head into their bye week 0-8. The only good news for this team is that DeShone Kizer played the entire game vs. Minnesota without getting benched, which is a positive. The Cleveland should win a game by the end of the season, possibly two or three. Cincinnati, Baltimore, Green Bay and Chicago are still on the schedule within the next couple months.
31: San Francisco 49ers (LW: 31) 0
San Francisco finds itself 0-8 after last week's loss to the Eagles. This is a bad team. We already knew this. What we didn't see coming was Jimmy Garoppolo being traded to the 'Niners for a second round pick. JG could potentially help this team play spoiler later this season and he also gives them some hope at the quarterback position for the first time in awhile. Back-to-back home matchups against the Cardinals and Giants are both winnable - will the 49ers finally get a win? It's possible.
30: Indianapolis Colts (LW: 30) 0
Jacoby Brissett had his second-best game of the season on Sunday... and his team lost. That sums up the season for Indy. There are two games left on the schedule that are winnable (Denver and Baltimore) but other than that, things are about to get lucky for this team.
29: New York Giants (LW: 29) 0
The G-Men remain at the 29th spot (for the week). A weekend matchup with the Rams might drop them a spot, but it's pretty difficult to get below 29. This team is truly going to miss Odell Beckham Jr.
28: Tampa Bay Buccaneers (LW: 24) -4
Tampa has been perhaps the most disappointing team in the NFL this season. Sitting at 2-5, the season is pretty much over for this team. With New Orleans having won five consecutive games, the Bucs should be looking at 2-6 come Sunday evening after losing on the road.
27: Miami Dolphins (LW: 20) -7
Who knew Jay Cutler was that important to the success of this team? Matt Moore and the 'Fins literally laid an egg on Thursday. 40-0 is unacceptable, regardless of the circumstances. Cutler will return this Sunday against Oakland in an effort to help spark the league's worst offense. Let's hope he can put at least some points on the board.
26: New York Jets (LW: 27) +1
The Jets move up a spot after playing another gritty game against a superior opponent. This bunch is exceeding expectations. 3-5 may not sound like a big deal but if you project that out to a full season, that's 6 wins. Some predicted this Jets team wouldn't win a game at all. So much for that.
25: Arizona Cardinals (LW: 26) +1
Arizona somehow, some way finds itself just 3-4 after seven games. Likely without Carson Palmer for the rest of the season, though, the losses could start piling up for this team. The 'Cards will be favored this weekend against San Francisco but barring an upset, shouldn't be favored again until December 24th against the Giants.
24: Chicago Bears (LW: 23) -1 *Bye Week*
The Bears head into the bye week as another team that has exceeded expectations, sitting at 3-5 on the year. Mitchell Trubisky still hasn't looked good (47% completion rate, 2 touchdowns) but is getting very important reps. Once this offense performs well, the Bears will win games. A chance to get to 4-5 is available directly after the bye when Chicago faces the Aaron Rodgers-less Green Bay Packers.
23: Denver Broncos (LW: 21) -2
Denver looked bad before Monday. Five turnovers against Kansas City didn't help much. Trevor Siemian may find himself without a starting job within a few weeks, but who's going to replace him? Brock Osweiler? Paxton Lynch? Colin Kaepernick!? Who knows. We do know that this offense is struggling. Unfortunately for the Broncos, Philly's defense isn't very forgiving.
22: Baltimore Ravens (LW: 28) +6
Baltimore simply isn't as good as they played on Thursday. 44-0 will not happen again for this team. Nonetheless, I have to move them up a few spots and since the bad teams are beginning to be consistently bad, the Ravens find themselves 6 spots higher than they were last week. A win against the inconsistent Titans this Sunday can bump them up even higher.
21: Cincinnati Bengals (LW: 25) +4
Cincy is another team that we know isn't good, but benefitted from playing a bad opponent last week. Andy Dalton may not fare well against an elite Jacksonville defense this week and if Blake Bortles plays like he has been lately (not great, not terrible), the Bengals could find themselves 3-5 by the end Sunday.
20: Green Bay Packers (LW: 22) +2
Green Bay benefits in the rankings from the teams around it not playing well last week. The Packers play the slumping Lions on Monday night football this week, looking to avoid falling to .500. If Green Bay wants to stay alive in the playoff hunt, it needs to win games like this.
19: Los Angeles Chargers (LW: 19) 0 *Bye Week*
Los Angeles finishes the second quarter of the season with a record of 3-1. If this pace continues in the second half of the season, 9-7 will be the result. This year, that might get you into the playoffs in the AFC. With conference games against other playoff hopefuls such as Oakland, Jacksonville, Buffalo and Kansas City still on the schedule, Philip Rivers has every incentive to play his best football each and every week going forward.
18: Oakland Raiders (LW: 17) -1
Oakland is an interesting team to watch. Derek Carr undoubtedly makes this offense a juggernaut, but the defense remains so bad. With a more difficult schedule this year compared to last, maybe we all set the bar too high for the Raiders? I'm not sure. 3-5 isn't anywhere near playoff football.
17: Washington Redskins (LW: 16) -1
The 'Skins are 1-3 in their last four games. That isn't good, to say the least. Here are their next three opponents:
Seahawks
Vikings
Saints
That's tough. The next three games will make or break Washington's season.
16: Tennessee Titans (LW: 18) +2
Tennessee comes off the bye week looking to forget an up-and-down first half of the season. This offense is talented enough to score bunches of points and the defense is already good enough to prevent them, but consistency is key. We'll see how the next few games go before we move this squad too high or too low.
15: Dallas Cowboys (LW: 15) 0
It was very tempting to move Dallas down a few spots after hearing that Eekiel Elliot's suspension has been reinstated, but I have a feeling the end isn't near. With how weird this process has been, I anticipate another change in verdict. Nonetheless, Dallas is an underperforming team that needs to get it together - and quick.
14: Jacksonville Jaguars (LW: 14) 0
Jacksonville's defense is the real deal. Leonard Fournette appears to be the real deal. The jury is still out on Blake Bortles being even average. The good news for this team is that with average QB play, the playoffs are entirely possible. That's how good Jacksonville's defense is.
13: Detroit Lions (LW: 11) -2
Detroit won one game out of four in October. Matthew Stafford continues to play good football (12 TD, 4 INT) but his lack of help is beginning to get exposed. This team eerily reminds me of Green Bay - built, but not built well, around a star QB the rest of the bunch is overly-dependent on. Imagine how bad the Lions would be without Stafford. With Detroit already three wins behind the division-leading Vikings, it's time to wake up.
12: Atlanta Falcons (LW: 12) 0
Atlanta is somehow 4-3 after all of this talk of the team falling apart. There has been a lot of panic-button hitting the past few weeks, and it's not slowing down much after a near-loss to the Jets. Matt Ryan has severely underperformed this season, thus his team has as well. This is still a playoff-caliber bunch but a loss to the Panthers this Sunday would make it quite a bit harder to get in.
11: Carolina Panthers (LW: 10) -1
Carolina was very unimpressive on the offensive side of the ball against Tampa Bay on Sunday. Attempting to keep pace with the division-leading Saints, a win over the underperforming Falcons this week would be a huge confidence boost to a team that desperately needs it - especially after making a strange decision by trading WR Kelvin Benjamin to the Buffalo Bills on Tuesday afternoon.
10: Buffalo Bills (LW: 13) +3
Speaking of Buffalo; HOW ABOUT THEM BILLS? Not many people saw this coming - and it's not like it's a fluke, either. Wins against the gritty Jets, the (then-great) Broncos, the (again, then-great) Falcons, the Bucs and the offensive juggernaut Raiders are very solid. Adding Kelvin Benjamin is a big plus for this offense. Buffalo has the look of a playoff team this year, especially in a shaky AFC.
9: Houston Texans (LW: 8) -1
Houston fought valiantly in a loss on Sunday against the Seahawks. This team sits at 3-4 despite playing some of the toughest opponents in the NFL thus far (Chiefs, Seahawks, Patriots). Houston is so much better than its record.
8: Minnesota Vikings (LW: 9) +1 *Bye Week*
Minnesota goes into the bye week about as happy as possible. Sitting at 6-2 with the return of Teddy Bridgewater approaching, the Vikings look like a legitimate threat in the NFC. With Green Bay down their star quarterback and the Lions struggling, this division looks like it's Minnesota's. Time to get Bridgewater ready for playoff football.
7: Los Angeles Rams (LW: 6) -1
Los Angeles didn't play last week, but moves down a spot due to the team one spot ahead of it remaining on fire. This is a very good team that has an easy matchup this week in the Giants. Expect Los Angeles to be 6-2 at the end of week 9.
6: New Orleans Saints (LW: 7) +1
Who Dat? New Orleans has won five games in a row! With the terrible Buccaneers coming to town on Sunday, look for the Saints to make it six. If this defense continues to impress, the Saints could find themselves in the playoffs. That's a big if, though.
5: Kansas City Chiefs (LW: 5) 0
Kansas City won on Sunday in what was arguably its worst offensive performance of the season, but its best defensive performance thus far. Some changes in the secondary and improved health both seemed to benefit this team. Some of us forget that Kansas City was the last unbeaten team in the NFL not more than three weeks ago. Oh, how quickly things change in the NFL.
4: Pittsburgh Steelers (LW: 4) 0 *Bye Week*
Pittsburgh heads into the bye week with a 6-2 record and one of the most impressive and complete teams in the NFL. Le'Veon Bell, Ben Roethlisberger and Antonio Brown are rolling on all cylinders on offense and the defense is slowly coming into its own. Pittsburgh is going to be a tough out come playoff time.
3: Seattle Seahawks (LW: 3) 0
Seattle won in a shootout with the Texans on Sunday, then traded for offensive lineman Duane Brown from - guess who? The Texans. Some much-needed line help should pay dividends for this offense. Seattle is back.
2: New England Patriots (LW: 2) 0 *Bye Week*
It wasn't pretty, but the Patriots won again on Sunday. That's 6 on the season. Tom Brady is looking great again and with Jimmy Garoppolo now in San Francisco, everyone can fully shift their attention to Brady at QB for this season, next season, and the immediate future following that. Bill Belichick knows what he's doing.
1: Philadelphia Eagles (LW: 1) 0
Another week, another win for the Eagles, who have the NFL's best record at 7-1. Carson Wentz wasn't exactly a world-beater on Sunday, but the rest of the team did more than enough to get a win. Adding Jay Ajayi into the mix is going to make this squad even more dangerous. Philadelphia is legit.
That's it for the week 9 NFL Power Rankings. We're in for yet another exciting week of football for sure. Let me know what you think about the rankings! I'd love to chat with you about it.
--------------------------------------------------------------------------------
This is your reminder to put your Best Foot(e) Forward in everything you do today! Do the right thing and be the best possible version of yourself.
As always, if you'd like to get in touch with me or follow my social media accounts, you can find them here:
Facebook: https://www.facebook.com/TheBestFooteForward
Twitter: https://twitter.com/TheBestFooteFWD
Instagram: https://www.instagram.com/thebestfooteforward
Email: bestfooteforward17@gmail.com
If anyone is looking for fantastic bye-week analysis about who's favored to win coming off a bye or when facing someone coming off a bye: I encourage you to check out http://cheatsheetwarroom.com/fantasy-football/nfl/bye-weeks.aspx. This is my friend Brad's website. He has some amazing bye-week infographics with tons of helpful information on them. With 6 teams on bye this week, this is a great resource for all bye information. Perfect for picks. Feel free to check it out. You can contact Brad at brad@cheatsheetwarroom.com. Let him know what you think!