Cleveland Browns 2018 7 Round Mock Draft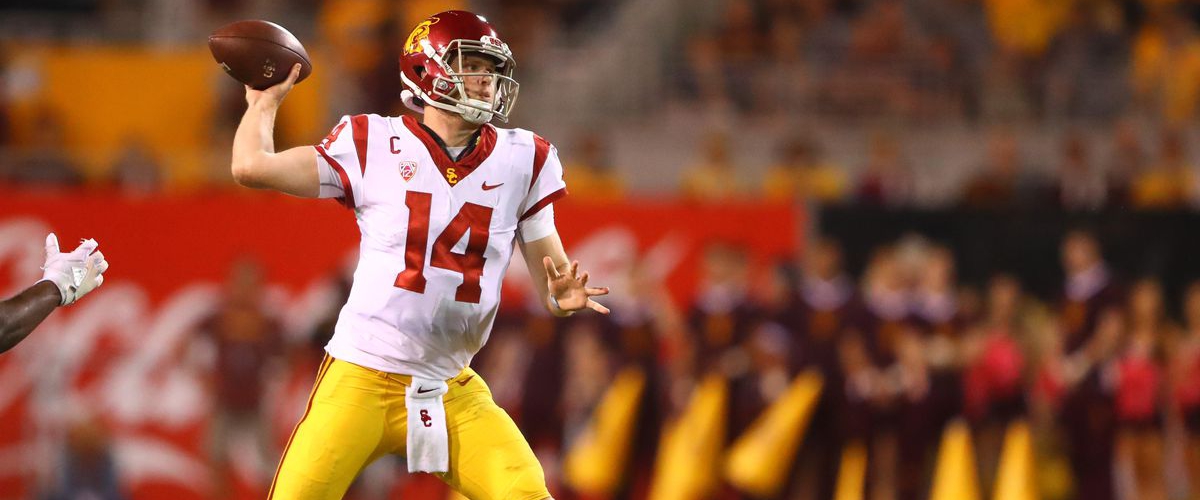 RD 1: QB Sam Darnold, USC
RD 1: CB/S Minkah Fitzpatrick, Alabama
RD 2: HB Derrius Guice, LSU
RD 2: C Frank Ragnow, Arkansas
RD 2: LB Christian Sam, Arizona St
RD 3: WR Auden Tate, Florida St
RD 4: DE Chad Thomas, Miami
RD 4: OT Joseph Noteboom, TCU
RD 5: WR Dante Pettis, Washington
RD 5: CB Kyzir White, W. Virginia
RD 6: HB Bo Scarbrough, Alabama
RD 7: DT Folo runso Fatukasi, UConn
The Browns are not as devoid of talent as everyone tends to think. They have some playmakers on this roster already, to build around. Players like David Njoku, Josh Gordon, and Joe Thomas offer talent at all levels for the team to build with on offense. They also secretly have built on of the best offensive lines in the league. On defense, they have the like of Jamie Collins, Myles Garrett, and Christian Kirksey to build around. This draft will be key in roundijng out the roster to give Hugh Jackson a full roster of talent to develop and win with.
They start by grabbing the new leader for this team in Sam Darnold, and a swiss army knife on defense with Minkah Fitzpatrick. Darnold has the potential to develop into an elite passer if he can limit his turnovers. Todd Haley and Hugh Jackson are the perfect coaches for him to develop with as they know how to develop quarterbacks. Darnold has mobility and the smarts to pick up this offense and lead the team. His arm talent is also undeniable. Fitzpatrick is said to have the brain of Nick Saban in the body of an elite defender. Fitzpatrick can come in and play corner or safety depending on the down. He is a smooth cover man that will give this defense a playmaker on the lines of Devin McCourty in New England.
In the second they grab an elite running back, the best center, and a linebacker to solidify the middle of the defense. Guice is the number two back in this draft class and in the Top-15 talent wise. But needs of other teams push him back to here. He is the perfect compliment to Duke Johnson with his speed and power. He is a decisive cutter that pounds the hole as soon as it opens. He has great vision and pad level to help carry a team. Ragnow is the best center in the draft and is a stout blocker. He is the perfect center to grow with Darnold. He is a leader that also sets the point of attack along the offensive line. He can come in and start at center right away. Sam reminds me of Denzel Perryman. He is an attacker at linebacker that trusts his instincts and flies to the ball. He has great range and should be able to come in and compete for the starting middle linebacker spot.
They then grab a big-bodied receiver and some depth along both lines. Tate brings the Browns the one type of receiver they do not have. He can come in and compliment the styles of both Josh Gordon and Cory Coleman. He is the big-body receiver that they do not have. He can be their redzone threat and chain mover. He is built like Brandon Marshall and Martavis Bryant. His speed makes him more like Bryant, but he has the strength of Marshall. He will give Darnold a bigger target to throw to. He will also allow Coleman to move inside to the slot where his speed will be a great assett. Thomas and Noteboom bring some much needed depth to the lines as they both have strength to add. Thomas can set the edge against the run and was part of one of the best defenses in college at Miami. Noteboom needs to develop and can learn from the best in Joe Thomas.
They Finish by adding more depth and players that could develop into playmakers. Pettis and Scarbrough both could develop into playmakers if the cards fall right. Pettis has good hands and decent speed. If he refines his route running, then he can get some playing time this year. Scarbrough is a massive human, built in the likes of Derek Henry. At 6'2" and 232 pounds, he can bring some power to this backfield as a rotation back. White and Fatukasi also bring some depth on the defensive side. White has elite size and 6'2". If he can get better in coverage, he could end up cracking his way into the rotation. Fatukasi has the size to hold up in the trenches of the AFC North. He will need to get better with his hands and at penetration, but should develop into a solid rotation player.
---