2018 NFL Mock V 2.0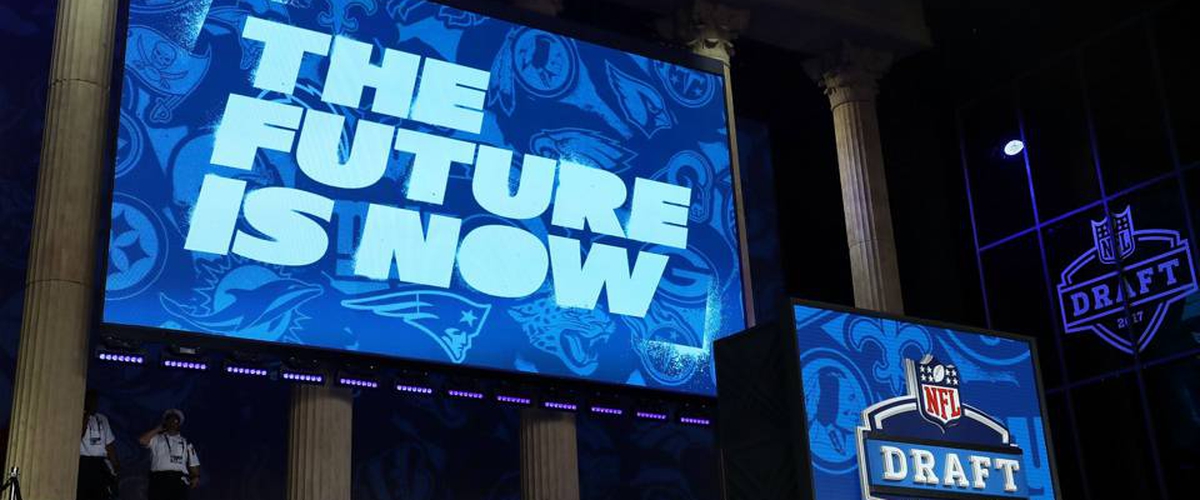 It's about time.
The season is over for a good handful of teams, as their sights are fixed squarely on 2018 and beyond. Several teams are close, but know deep down they can't contend until they find that one big piece. Super Bowl caliber teams know they need to restock for another deep run next year. With most of the college season in the books, it's a good opportunity to assess what the draft would look like at this stage.
Let's do this.
#1: Cleveland Browns: Josh Rosen, QB, UCLA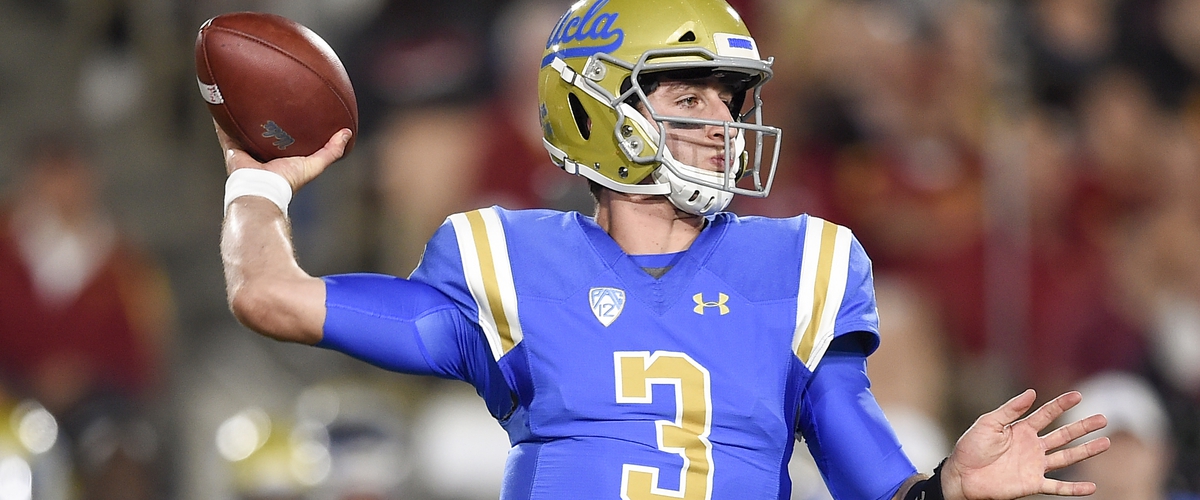 The Browns, once again, need a quarterback. DeShone Kizer (who I liked pre-draft) had been, as to not mince words, awful. With a 0.357 TD/INT ratio and 0 wins, Kizer hasn't inspired a ton of confidence. With Hue Jackson about to get the axe relatively soon, the Browns have tried everything from switching back to Cody Kessler to trying and failing to trade for AJ McCarron at the deadline. The endless search might end with Rosen.
Rosen has a special arm. He can make throws with velocity, touch, and from different angles. He has accuracy to all levels, and can make some throws that no one else in this draft class can make. He has overachieved with a poor supporting cast around him at UCLA. Though he has a tendency to play hero ball and make a daring throw too often, you can't coach the arm he has. Rosen is the best chance Cleveland has had in awhile to finally find a long term solution at quarterback.
#2: San Francisco 49ers: Saquon Barkley, RB, Penn State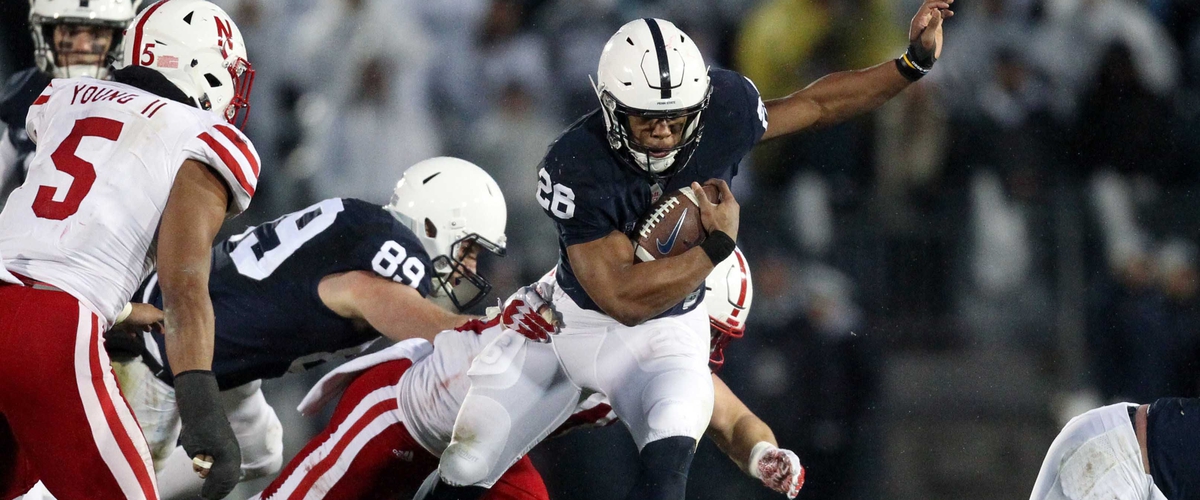 Carlos Hyde is as sure of a bet to sample the open market as possible. Him leaving would leave hopeful franchise quarterback Jimmy Garoppolo as bereft of surrounding talent as anyone. Adding Barkley would be a momentous acquisition. With a power-speed-elusiveness combo bordering on the extra-terrestrial, Barkley is the definition of a plug-and-play talent. Barkley is my #1 player in this draft. Kyle Shanahan would have a field day with Barkley and Garoppolo in San Francisco.
#3: New York Giants: Mike McGlinchy, OT, Notre Dame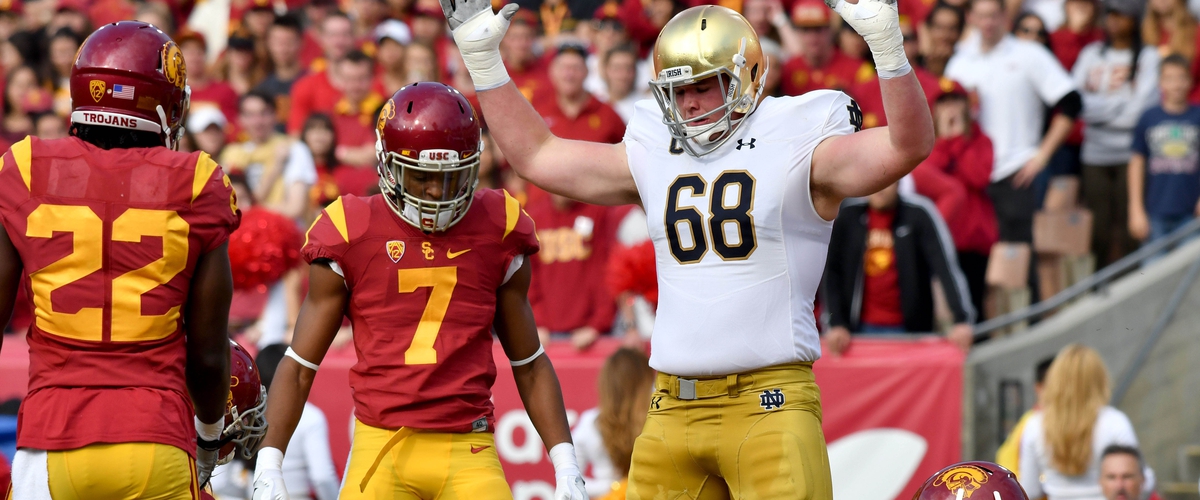 No one thought the Giants would end up with a pick this high, but I guess that's what happens when a team keeps trying to make Ereck Flowers work. This year, Flowers has played with the skill and determination of a tree trunk. While Eli Manning is on his last legs, the Giants should give Davis Webb a go and solidify their o-line. McGlinchy is an absolute mauler on the left side with enough nimble footwork to get a handle on even the most slippery of pass rushers. McGlinchy is a safe bet to be a building block on an extremely weak offensive line.
#4: Denver Broncos: Connor Williams, OT, Texas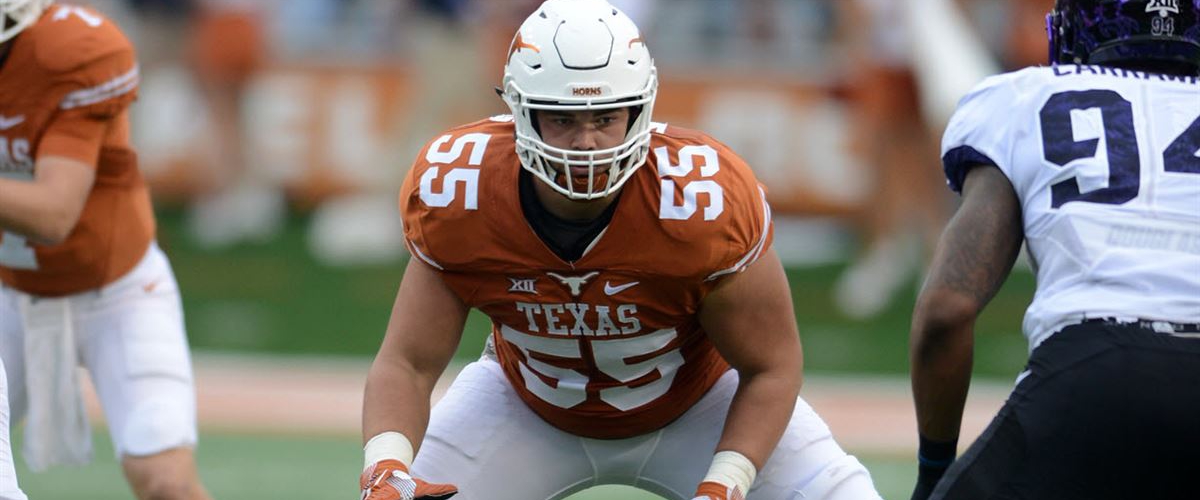 The plight of Denver this season has been an interesting watch. Their defense has shown some cracks, as has the porous right side of the offensive line. If left unchecked, an already underperforming and not very talented quarterback collection is going to have an even harder time staying upright. Williams has finally gotten healthy and has showcased the traits that made him a household name. As refined a pass blocker as one could hope to find, Williams is a rare athlete at the position that could hold down the fort at the tackle position for a decade if he stays healthy.
#5: Indianapolis Colts: Minkah Fitzpatrick, S/CB, Alabama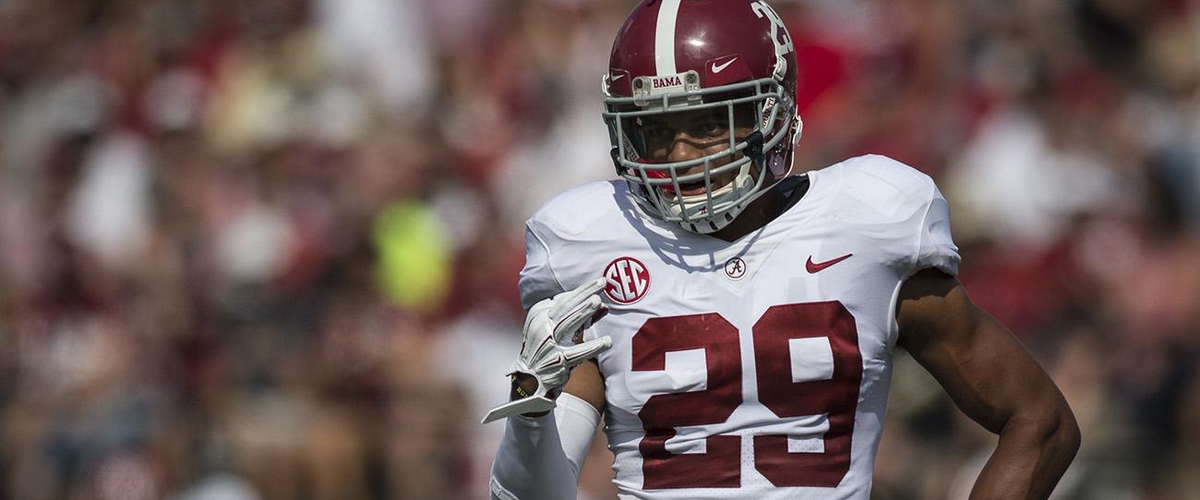 Though Malik Hooker was playing phenomenally before his injury, he will not fix the laughable Indianapolis defense by himself. Guys who needed to perform like Vontae Davis or TJ Green are either on the mend or have been among the worst at their position in the league. Fitzpatrick has played safety, outside corner, slot corner, and money linebacker at Alabama, but projects as an elite free safety at the NFL level. With elite ball skills, great tackling ability, and a high football IQ, Fitzpatrick is as talented a safety prospect as you could hope for.
#6: Chicago Bears: Courtland Sutton, WR, SMU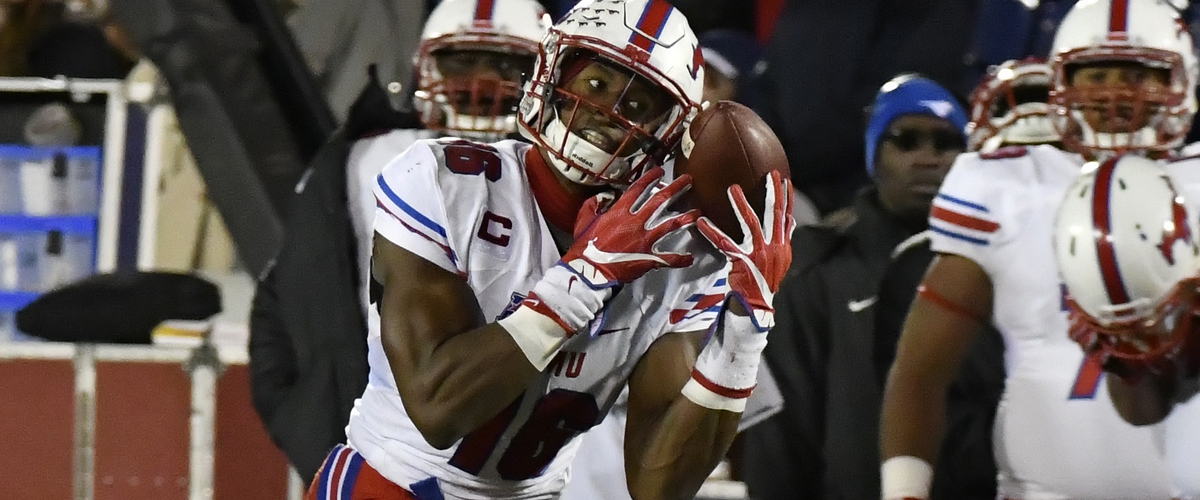 Chicago made the switch to Mitchell Trubisky earlier than most expected, and he has performed well given the talent around him. The biggest offenders have been the receiving corps. With Kevin White out for the year (again), the receivers have been nothing short of the worst group in the league. At 6'4" and 220 pounds, Sutton is a huge target reminiscent of Alshon Jeffery, who departed for greener pastures (no pun intended) in Philadelphia. With sub-4.5 speed to boot, Sutton would instantly be an upgrade over the current corps, led by Kendall Wright. This is the first step towards giving Trubisky a complete offense around him.
#7: Los Angeles Chargers: Christian Wilkins, DT, Clemson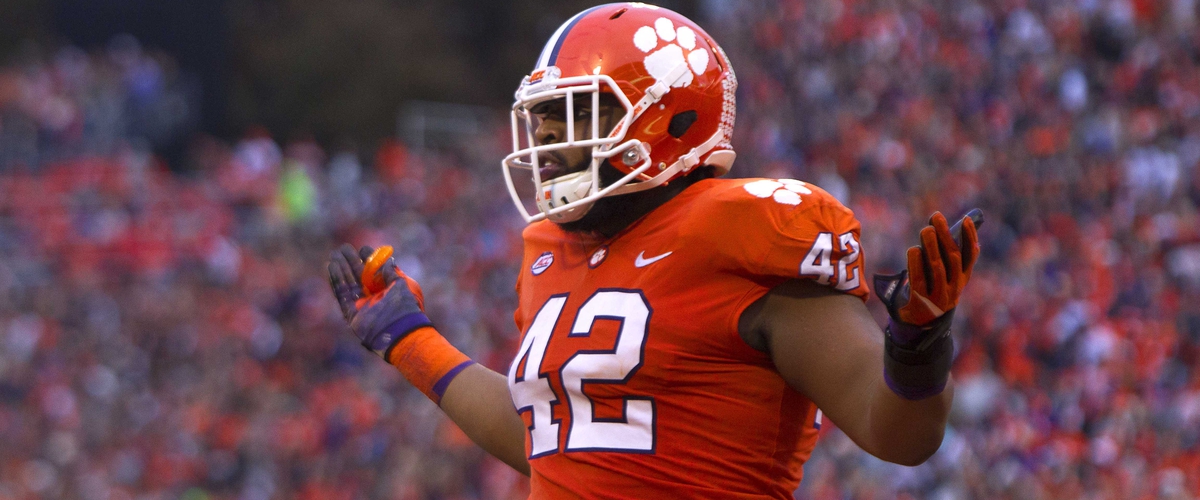 Despite already boasting one of the league's best pass rushes with Melvin Ingram and Joey Bosa coming off the edge, the Chargers need one more big piece to vaunt them into the elite category. On the interior, Brandon Mebane simply won't cut it. Wilkins has moved around the defensive line, but has returned to his native 3-tech position on the inside in recent weeks. With unrivaled leg strength and a surprising quickness that belies his size, Wilkins could and should start immediately. Say a prayer for all the offensive lines that would have to face Ingram, Bosa, and Wilkins all at once.
#8: Cincinnati Bengals: Derwin James, S, Florida State
At least Cincinnati won't have to worry about getting out of the 1st round of the playoffs this year. Thanks to Andy Dalton's de-evolution and a myriad of defensive lapses, the Bengals are going nowhere in a tough division. The organization has spent a lot of picks on defensive backs, but none close to the caliber of James. At 6'3" and 215 pounds, James' size-speed combination would make any defensive coordinator drool. A ferocious tackler and good blitzer, James can line up anywhere on the defense. Adding him over incumbents Shawn Williams or George Iloka would be a major step in pushing the Bengals back to the playoffs.
#9: Arizona Cardinals: Sam Darnold, QB, USC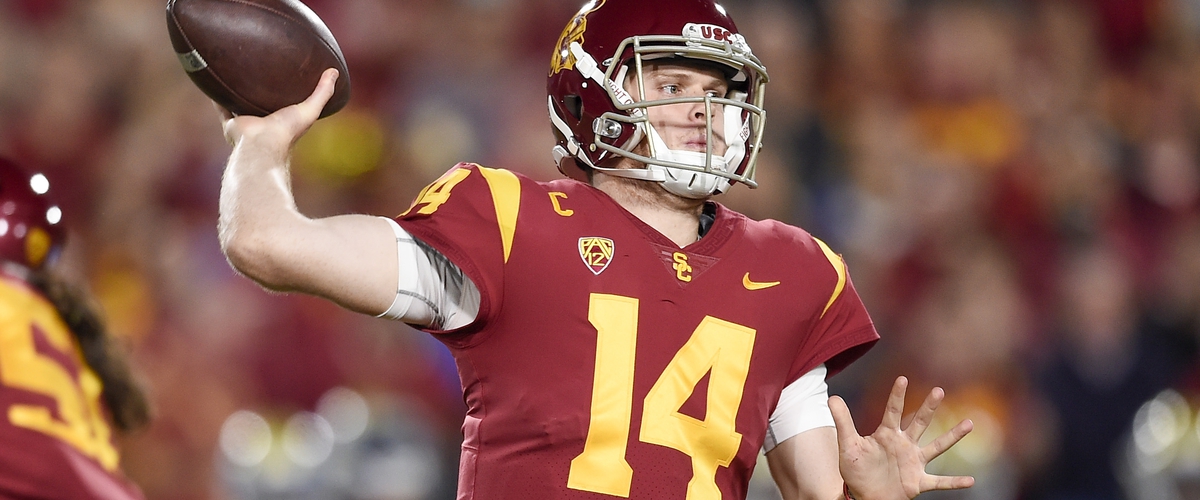 The wheels have finally fallen off on Carson Palmer. While a fine quarterback entering his twilight years is a shame, perhaps a bigger shame would be the wealth of offensive talent in Arizona, led by star running back David Johnson, being left with no long term solution at the helm. Darnold has had a rollercoaster sophomore season, as evidenced by the turnovers, but possesses rare athleticism, high football IQ, respectable arm strength and very good deep accuracy. That checks all of the Bruce Arians' hypothetical boxes when looking for a quarterback. Should Palmer stay another year, Darnold would get the benefit of sitting and watching for a year. While I would advise against starting him right away, he is certainly a very talented risk to take.
#10: Oakland Raiders: Bradley Chubb, DE, NC State
The Raiders are a very talented team, but their defense as a collective unit is among the worst in the league. Now that Ken Norton Jr got his pink slip, maybe things will improve from here. What will need to happen is that pash rush needs a major facelift. Oakland is tied for last in the NFL in sacks, and most of them come from Khalil Mack. Chubb is a brusing, physical defensive end with a potent bullrush and a swim move that ate Mike McGlinchy up against Notre Dame. Pairing him across from Khalil Mack would finally allow Derek Carr and that offense to feel like they don't have to score 30 points every game.
#11: Cleveland Browns: Tarvarus McFadden, CB, Florida State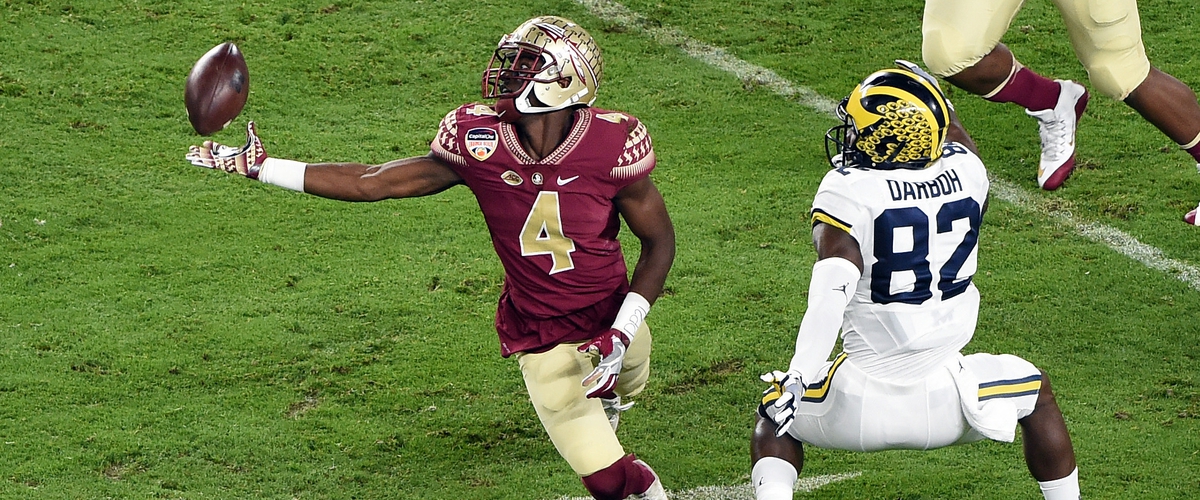 The Browns got this pick from the Texans in the trade that landed Deshaun Watson in Houston. If they had it to do over again, I bet this trade isn't made. Still, they do end up with another opportunity to fortify their weak secondary. McFadden stands hands and shoulders above any other corner in this class. After leading college football in interceptions last season, McFadden has unrivaled ball skills among corners this year. With size and versatility, McFadden is looking more like a #1 NFL corner by the day.
#12: New York Jets: Lamar Jackson, QB, Louisville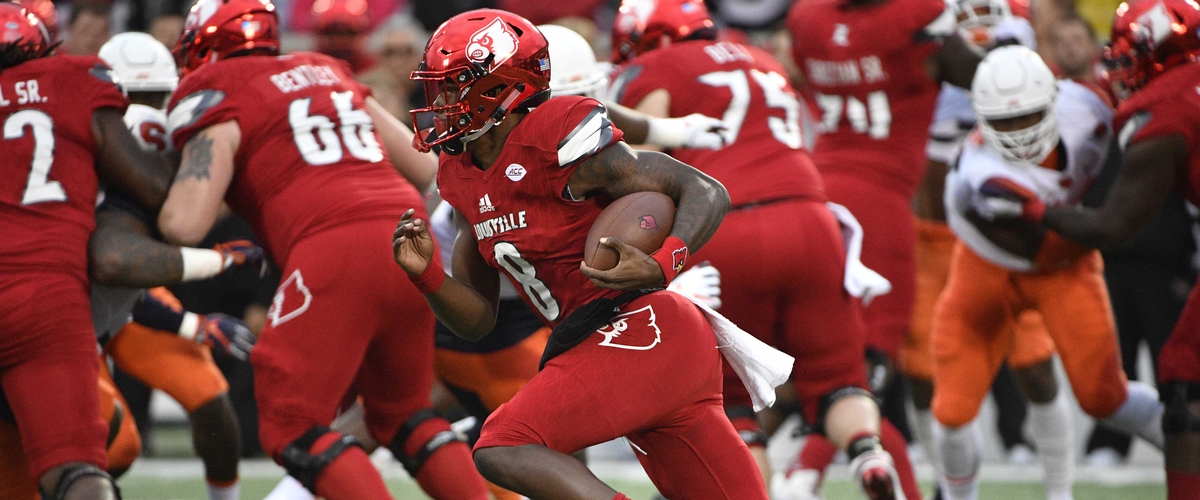 No one thought the Jets would be anywhere near a 4 win team this season, but here they are. However, their offensive future remains anything but clear. Josh McCown has reverted to what Josh McCown always was, and the coaching staff has openly voiced their displeasure in Bryce Petty and *shudder* Christian Hackenberg. Jackson is the most talented QB in this draft class. I speak no hyperbole when i say his running ability is reminiscent of Michael Vick. He can make all the NFL throws, and his accuracy is markedly better than his Heisman campaign. John Morton's quick-strike offense needs a better signal-caller, and Jackson could be that guy.
#13: Washington Redskins: Derrius Guice, RB, LSU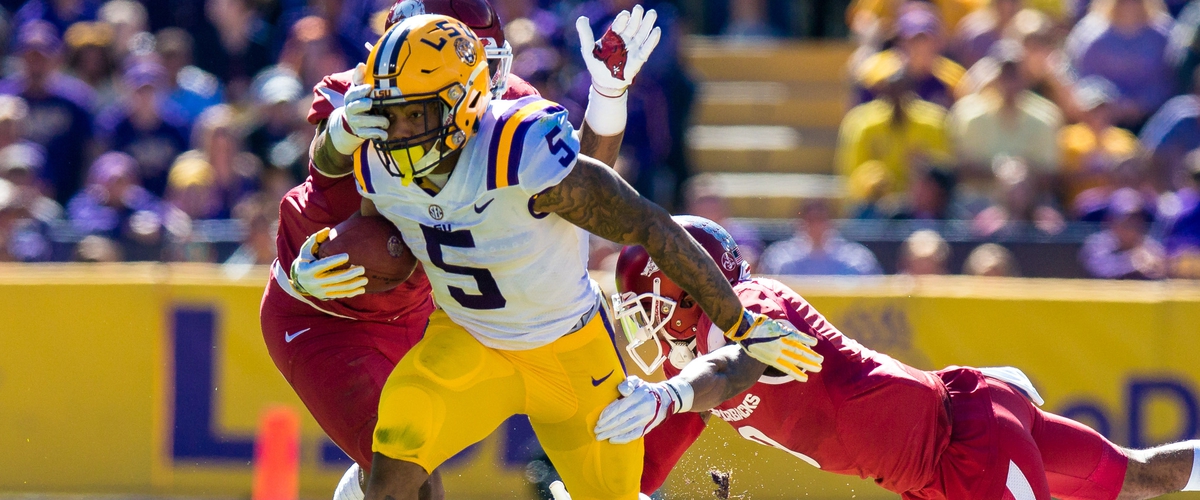 If Kirk Cousins finally signs long-term, Washington needs to give him a better running game if they want him to make that jump from very good to top-shelf. Fat Rob Kelley's honeymoon appears to be over, Chris Thompson can't stay healthy, and Samaje Perine is a one-dimensional power back. Guice is the total package. An angry runner that's near impossible to bring down when he hits top speed, Guice also offers potential as a receiver and a pass blocker. Cousins will finally get a running back that will give the defense fits in Guice.
#14: Miami Dolphins: Damien Harris, RB, Alabama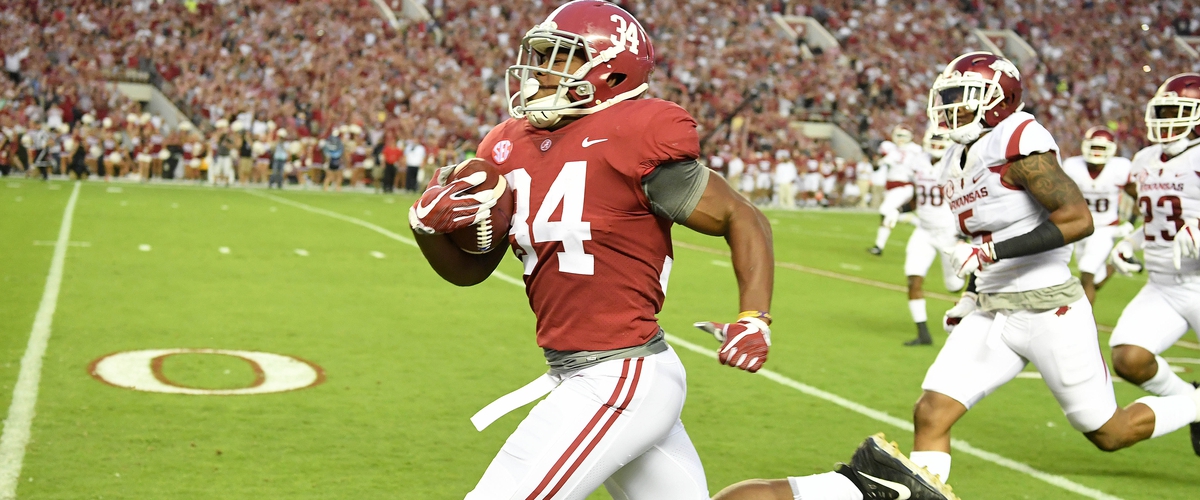 I'm still baffled at the trade of Jay Ajayi to the Eagles. Without him, Miami's running game has sputtered. They need someone who can consistently grind out yards. The quicker part of the Alabama backfield that features Bo Scarbrough and Najee Harris, Damien Harris is a big play threat every time he touches the ball. Averaging 8.2 yards a carry, Harris has shown equal adeptness as running between the tackles or outside the tackles, something the Dolphins offense does with regularity. Harris could make Miami forget about Ajayi really soon if everything clicks.
#15: Tampa Bay Buccaneers: Harold Landry, OLB, Boston College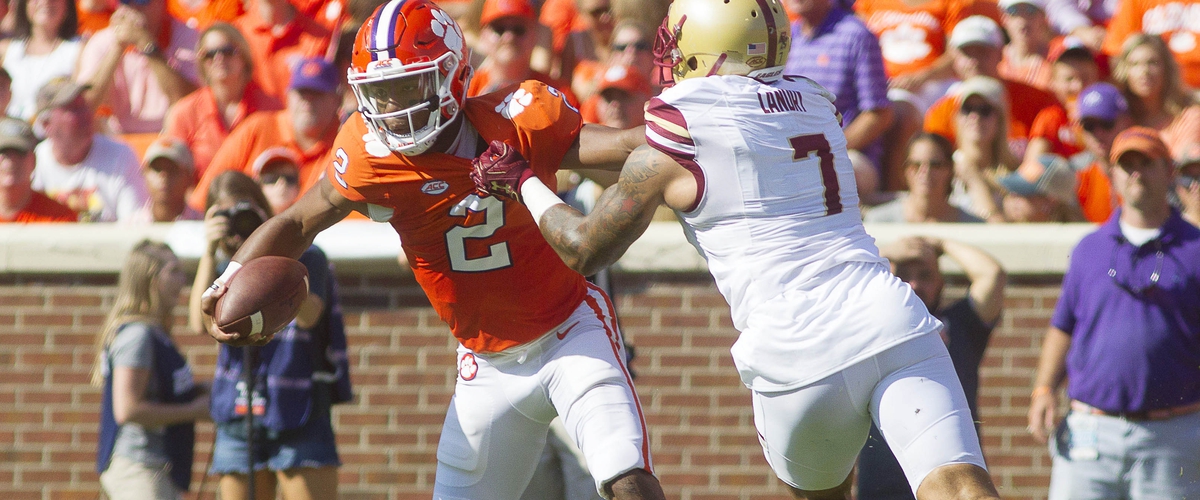 Tampa Bay was considered by many to be a surprise playoff team. Jameis Winston's injury and poor defensive effort have the Buccaneers on the outside looking in. Adding a pass rusher like Landry would help that defense take the first step towards respectability. Steve Addazio has lined up Landry with his hand in the dirt as a down lineman and as a standup rush linebacker. He has the speed and power to play both positions. Landry has the potential to completely reverse the direction of Tampa's defense.
#16: Dallas Cowboys: Mike Gesicki, TE, Penn State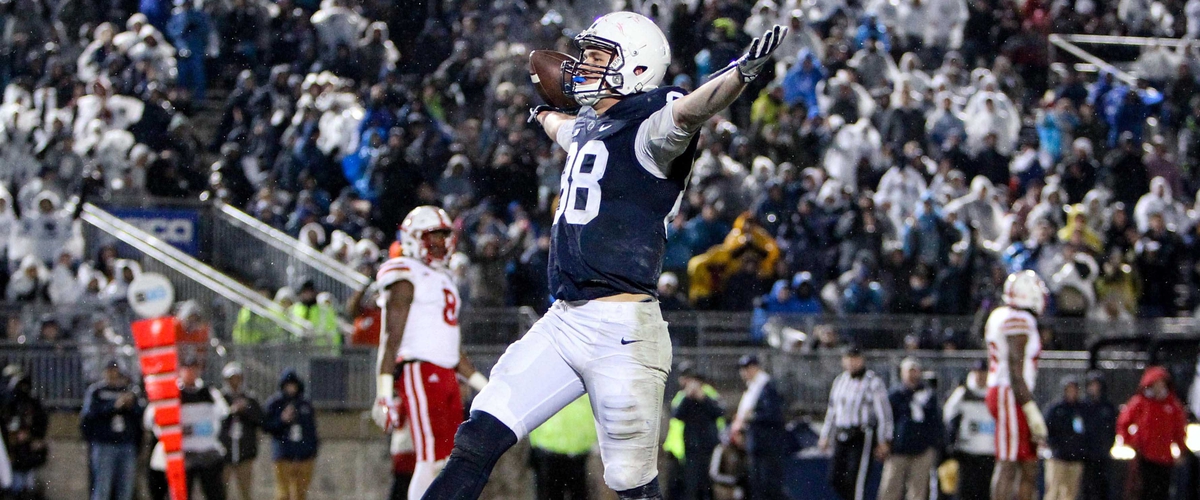 The Cowboys invested heavily in defense last year, selecting Taco Charlton, Chidobe Awuzie, and Jourdan Lewis with premium picks. While the defense still needs fixing, finding Dak Prescott another weapon should be high on the priority list. With the career of Canton-bound Jason Witten nearly over, finding a replacement is paramount. Gesicki has been asked to be more of a receiver this year, and has showcased the catch in traffic skills and soft hands that make him such a tantalizing prospect. A complete tight end, Gesicki might not end up being Witten, but will have a long career in the NFL.
#17: Buffalo Bills: Josh Allen, QB, Wyoming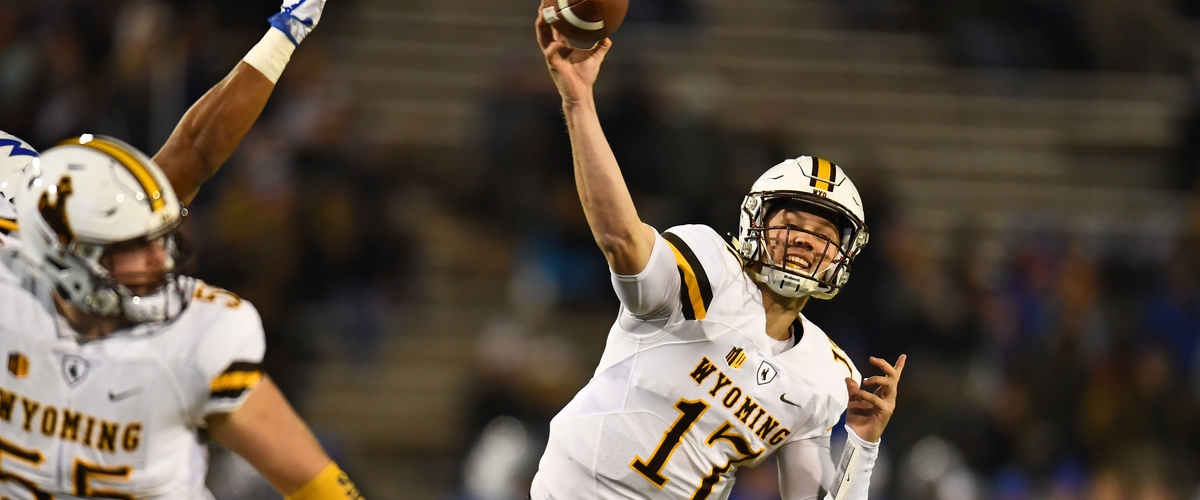 Look, I don't get why the Bills benched Tyrod Taylor either. I'm not even sure Sean McDermott knows. Regardless, it seems like Taylor's trust in this organization has eroded, placing them in prime position to take another quarterback in the draft. Allen has noticeable flaws with his accuracy and decision making, but has a truly rare arm that only comes along every so often. His size (6'5" 233) and cannon arm will be enough to have him selected high, and Buffalo looks like a good place for him to end up.
#18: Green Bay Packers: Quenton Nelson, OG, Notre Dame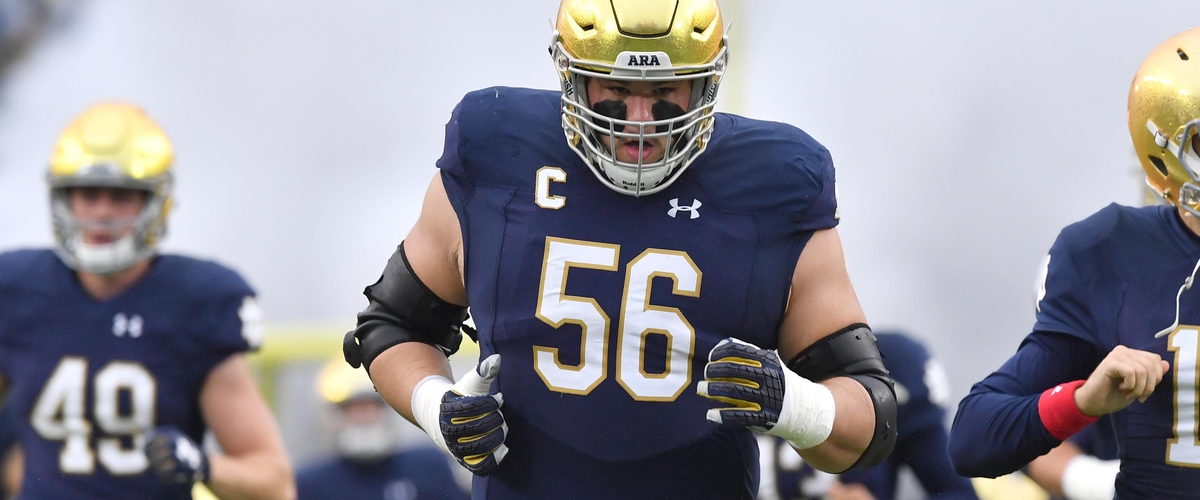 An offensive guard may not be a sexy pick, but the Packers don't need a sexy pick, but an effective one. Looking amateur since Aaron Rodgers was injured, their notable flaws have been exposed in the worst way. Their offensive line has been patchwork, at best, this season. Easily the best guard in this class, Nelson is an old-school road-grater that improved enough in pass protection to vaunt into first round consideration. Rodgers will be back, but Green Bay needs to keep him upright. The first step towards doing that is adding someone like Nelson.
#19: Seattle Seahawks: Orlando Brown, OT, Oklahoma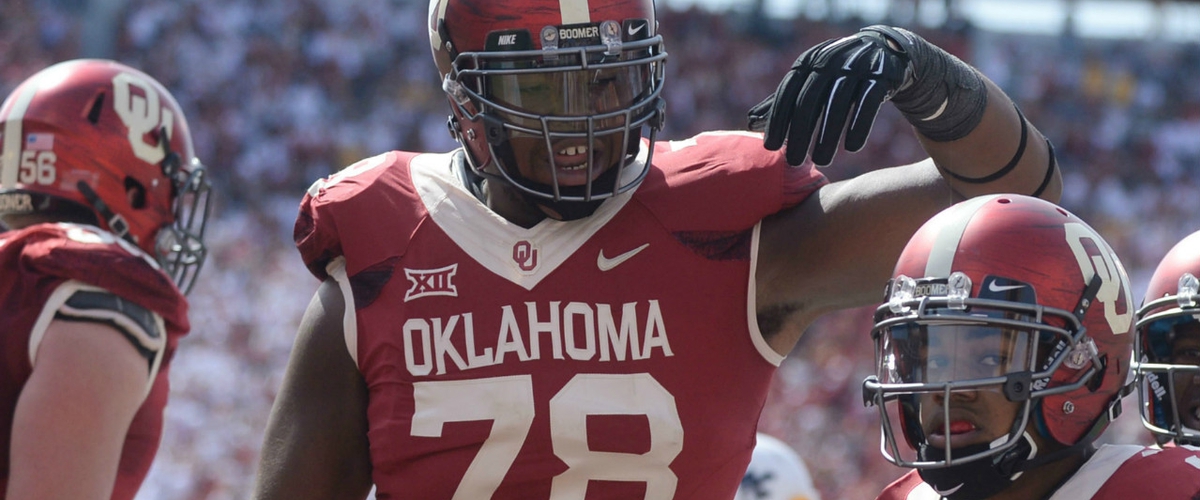 There are 3 things certain in life; Death, taxes, and the Seahawks offensive line being an unorganized, underperforming mess. Promising young players like Germain Ifedi and Ethan Pocic haven't lived up to billing, and Russell Wilson continues to run for his life on every play. The son of a former offensive tackle, Brown inherited his massive size from Dad. He also seems to possess Herculean strength. He'll need some refinement, but Brown is too talented to pass up on at this point in the draft.
#20: Detroit Lions: Arden Key, DE, LSU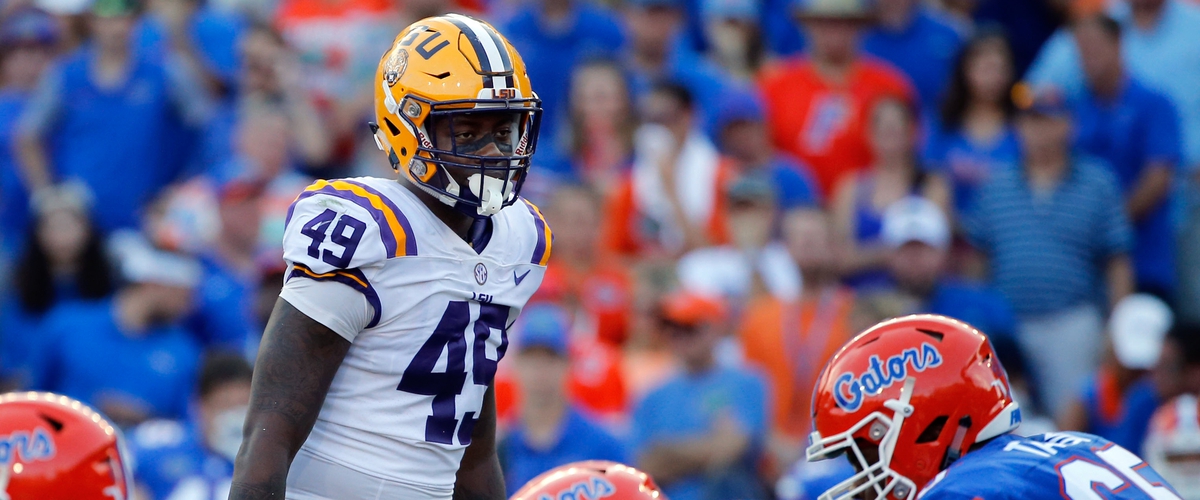 Detroit is knocking on the door of another playoff spot thanks to Matthew Stafford and that electric offense. The defense, most notably the pass rush, needs one more piece for them to truly compete. Ziggy Ansah and A'Shawn Robinson have played well, but adding a speed rusher like Key would really unlock (pun intended) the potential of that defensive line. Key's speed is ludicrous for someone his size. In addition, he bulked up in a major way in the offseason, answering the #1 question scouts had about him. Key has the potential to go much higher, so the Lions better snatch him up here.
#21: Baltimore Ravens: Calvin Ridley, WR, Alabama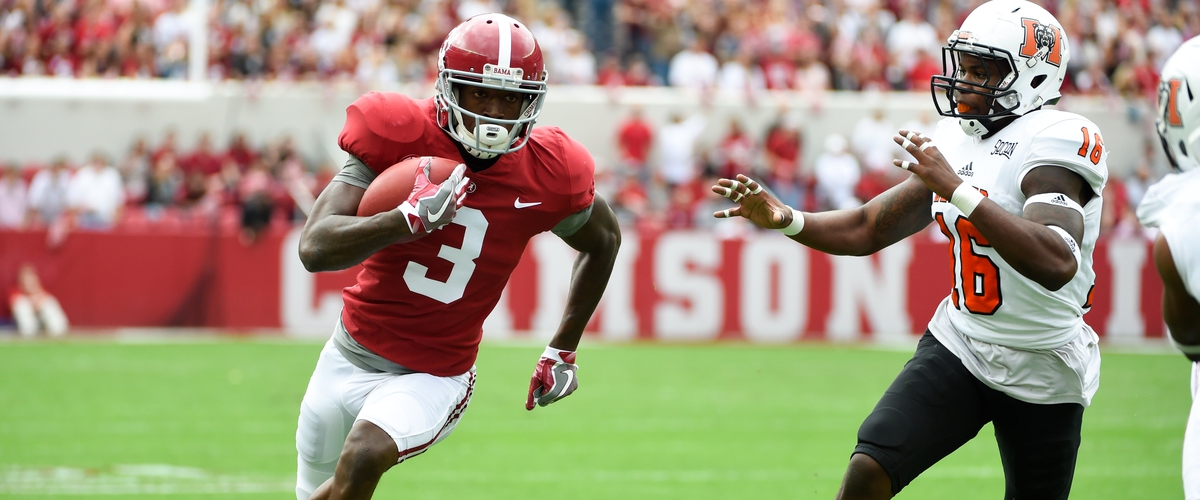 Though the currently occupy a playoff spot, Baltimore's success is entirely dependent on their stellar defense, The offense, and Joe Flacco in particular, is painful to watch at times. Marty Mornhinweg had knee-capped another offense, it seems. Though they have Mike Wallace and Breshad Perriman, explosive plays are hard to come by. While Ridley won't blow anyone away with pure speed, he has sure hands, runs routes very well, and is a threat to score every time he touches the ball. The Ravens need a dynamic presence on offense, and Ridley is that guy.
#22: Tennessee Titans: Maurice Hurst, DT, Michigan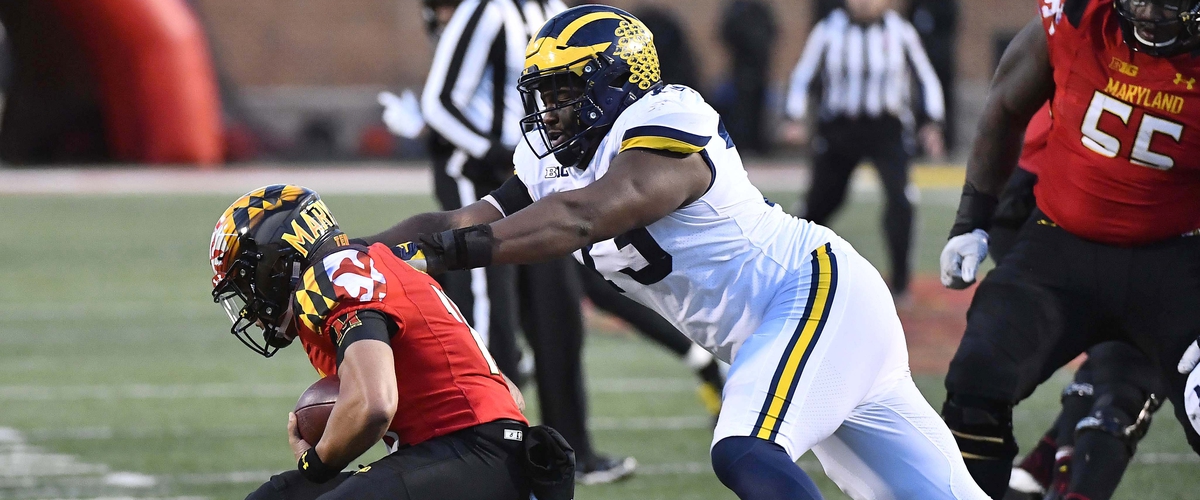 Tennessee has some nice pieces. They've found their quarterback in Marcus Mariota, the running game is excellent, and they've drafted well over the last couple years. Their defense, however, has been gashed multiple times this year, This starts on the defensive line, which can't consistently generate pressure. That's unheard of in a Dick LeBeau defense. Hurst plays inside, but rushes the passer with the frequency and skill of a 5-tech lineman. Hurst would give the Titans an athletic force on the defensive line. If they fix this defense, look out for Tennessee in the immediate future.
#23: Atlanta Falcons: Ronnie Harrison, S, Alabama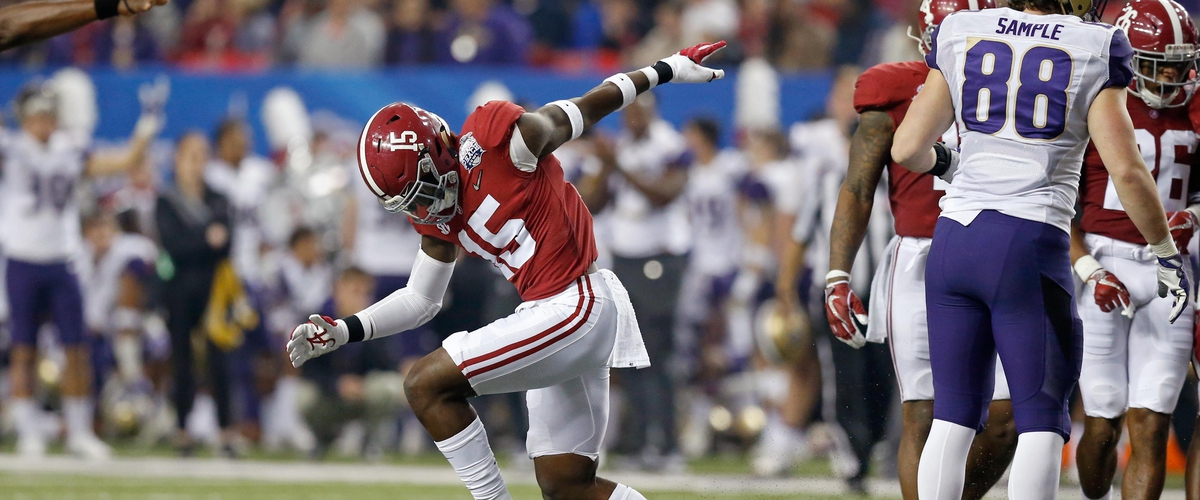 Though the Falcons still remain in their post Super Bowl funk, they also are fighting for a playoff spot. If they want to get back to the promised land (and not wet the bed near the end), the secondary needs a major facelift. Dan Quinn needs an intimidating, physical safety that can cover ground to run his optimal defense. Enter Harrison. A ferocious hitter, improving cover man, and as fast for his size as one could hope, Harrison is perfect schematically for the Atlanta defense. Also, teams that Harrison has played on have blown exactly zero 28-3 leads.
#24: Los Angeles Rams: Denzel Ward, CB, Ohio State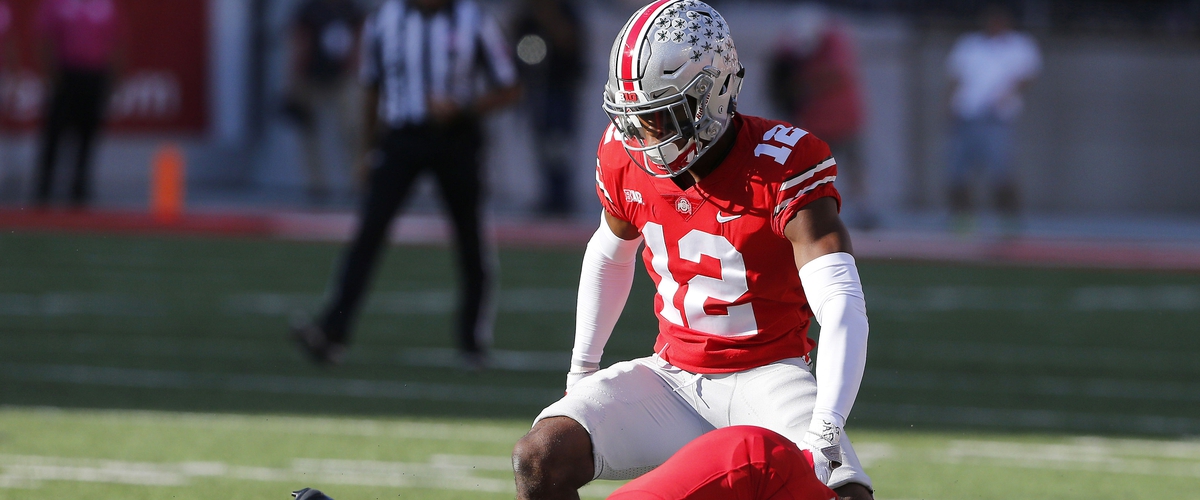 The best course of action for the rams would be to hire Jeff Fisher again just so they can fire him twice. Just a year removed, Sean McVay, Jared Goff, and the Rams offense are at the top of the league statistically. Peculiarly enough, a Wade Phillips-led defense hasn't played up to the level they were at last year. This is in large part to the poor performance by the cornerbacks. Ward is oozing talent, as evidenced by his speed, adeptness in both zone and man schemes, and show-stopping tackling. Ward needs some more seasoning before he'll be fully ready, but his talent is too enticing to let slip past this pick.
#25: Buffalo Bills: Christian Kirk, WR, Texas A&M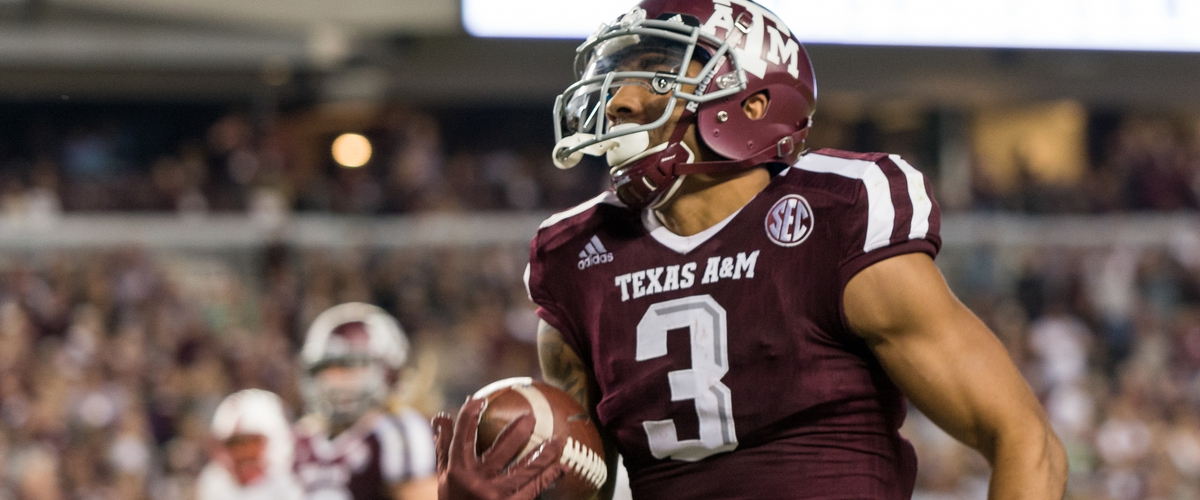 The Bills acquired this pick in the trade with Kansas City that facilitated Patrick Mahomes ending up with the Chiefs. With this pick, the Bills can address their subpar receiving corps. Kelvin Benjamin remains incredibly frustrating to watch, and Jordan Matthews has disappointed. Kirk has game-breaking speed and run-after-catch ability. Though he's best suited for the slot, he has shown he can beat press coverage on the outside. A corps of Matthews, Kirk, and Zay Jones in the slot would be a good cast for hypothetical Bill Josh Allen to throw towards.
#26: Jacksonville Jaguars: Baker Mayfield, QB, Oklahoma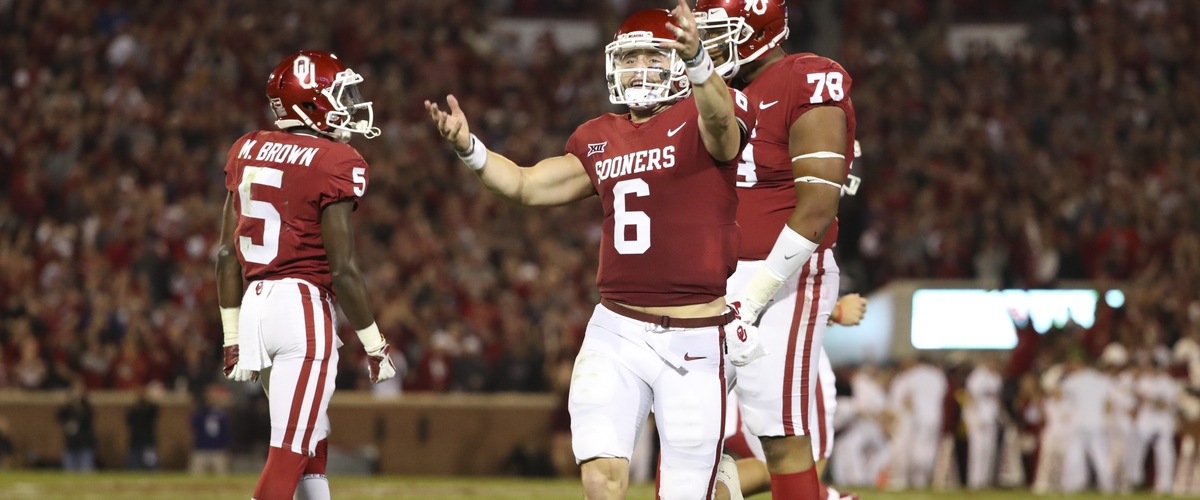 The Jaguars defense might be the most fun to watch in the league. With that defense and Leonard Fournette in the backfield, Jacksonville is building something special. There's only one problem. Blake Bortles is awful. The Jaguars can't keep trotting Bortles out if they want to be taken seriously. Mayfield is putting up video-game numbers at Oklahoma, showcasing his laser accuracy, ability to throw on the run, and unrivaled playmaking instinct. His size (6'1", 215) is a concern, but Mayfield is legitimate 1st round NFL talent regardless. Adding him to the Jaguars would be a sight to see.
#27: Carolina Panthers: James Washington, WR, Oklahoma State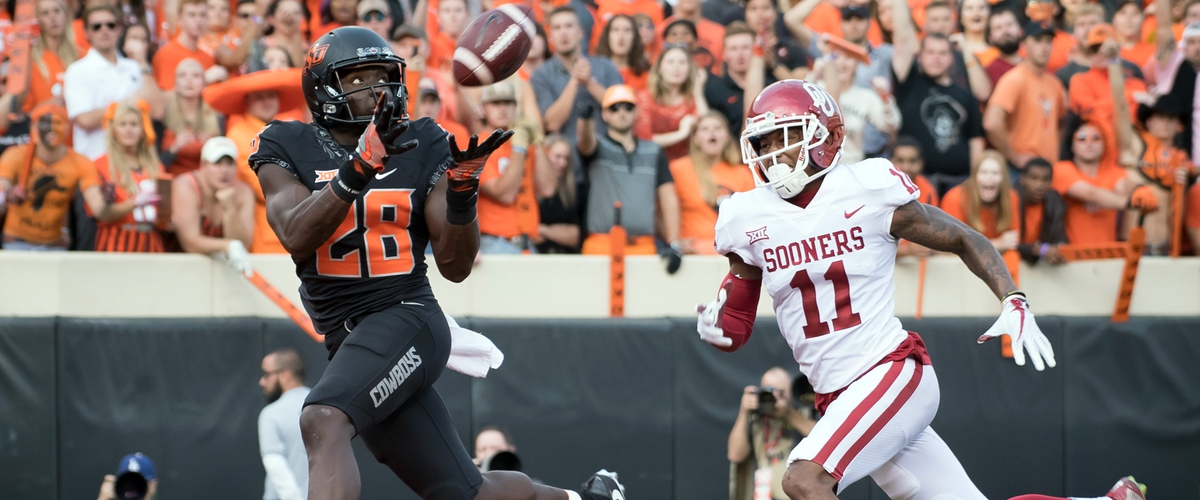 Carolina's receivers aren't anything to write home about. Curtis Samuel is talented, but still working some things out, Devin Funchess can't consistently get separation, and Russell Shepard is terrible. Washington, who averages over 20 yards a catch, would finally give Cam Newton a legitimate deep threat once again. He'll need to work on learning a full route tree, but his speed, hands, and toughness are qualities not see in a high volume in the Panthers current receiving corps. In much the same way Ted Ginn changed the Panthers offense during the Super Bowl season, Washington could change the shape of how Carolina looks offensively.
#28: Minnesota Vikings: Jerome Baker, ILB, Ohio State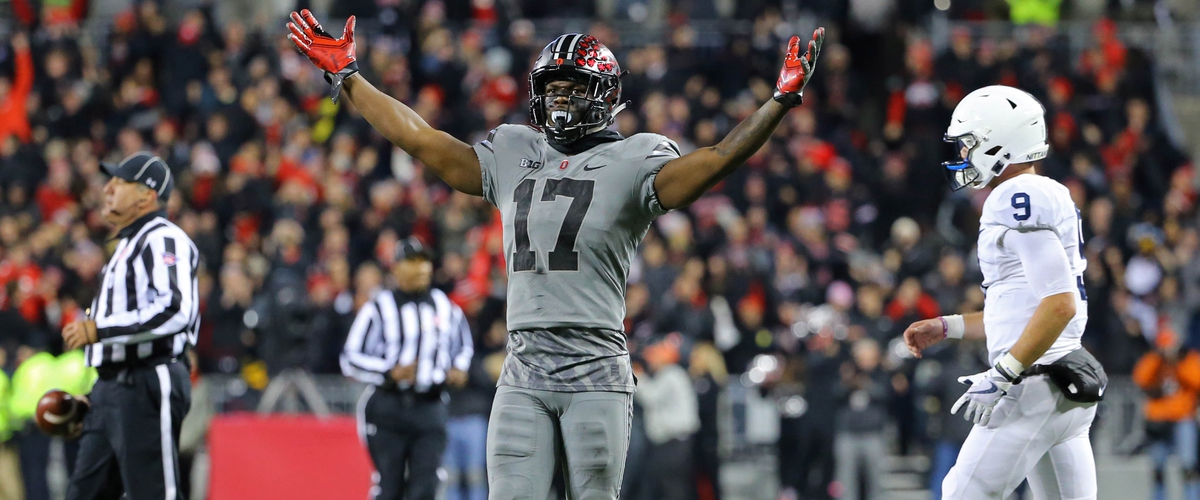 Minnesota might have the best roster top-to-bottom in the league. The only position where they don't really shine is their inside linebacking spot. Eric Kendricks is great, but one man can't save a 4 man corps by himself. Baker is freaky fast, gets of blocks in a hurry, and can single handedly lead an elite defense. He is the best inside linebacker in this draft. The Vikings have a Super Bowl caliber roster, but they might need one more big piece on that defense before they can take the crown. Baker could be all that and much more.
#29: Pittsburgh Steelers: Mark Andrews, TE, Oklahoma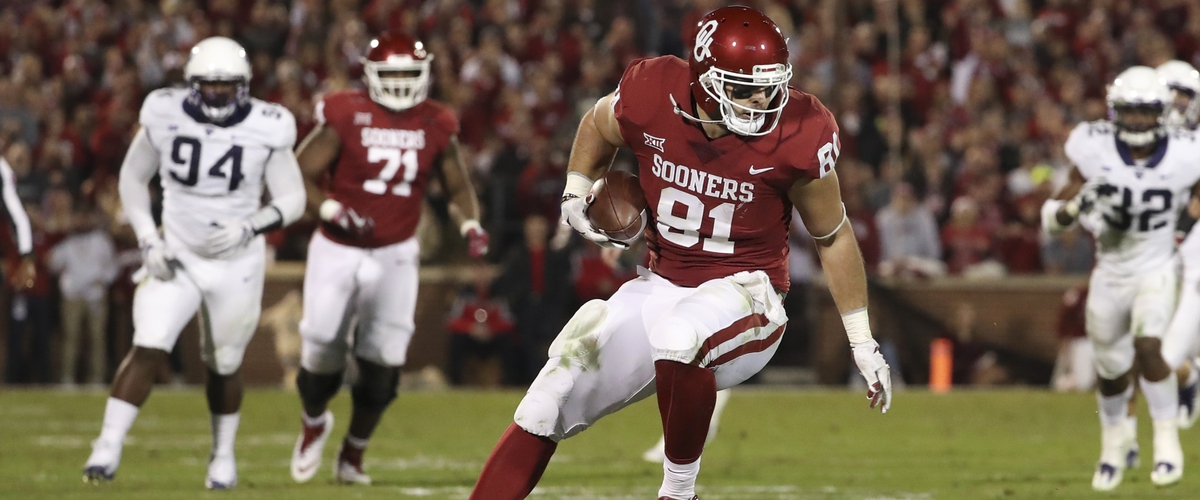 The Steelers have the unique honor of possessing the best running back and wide receiver in the league in Le'Veon Bell and Antonio Brown. Throw in Ben Roethlisberger and a vastly improved defense, and this team could end up in Minneapolis for the Super Bowl. The tight end spot, currently occupied by Jesse James, leaves a lot to be desired. Andrews began his career at Oklahoma as a wide receiver, and still possesses many of those wide receiver-esque route running and catching abilities. He needs work as a blocker, but a vertical offense like Pittsburgh's would love a tight end that can stretch the field.
#30: New Orleans Saints: Malik Jefferson, ILB, Texas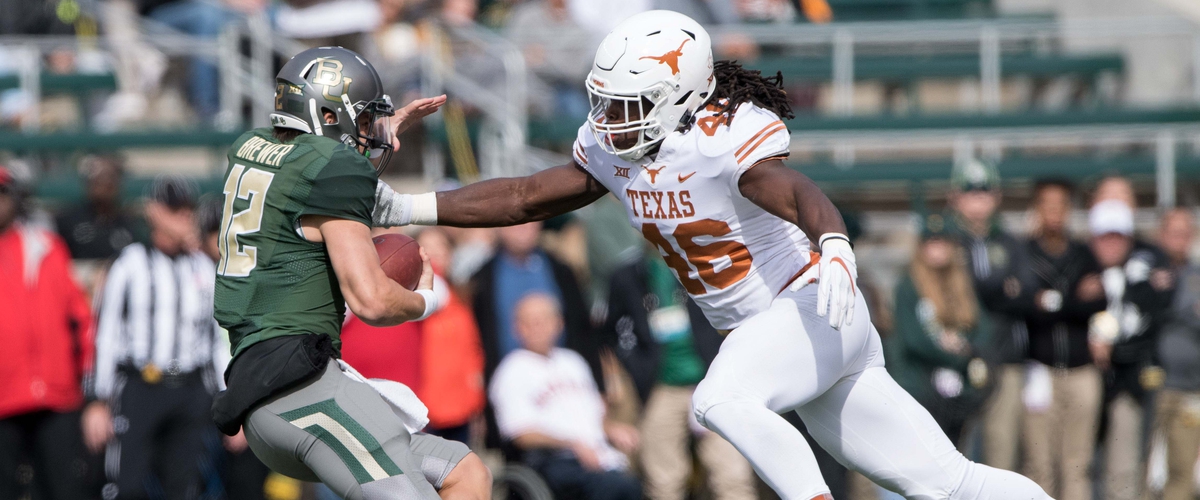 For years, the Saints defense was a punchline; a cruel experiment to see how bad an NFL defense can actually be. Now, not only are they respectable, but New Orleans now boasts a top-shelf defense. The biggest weak spot, however, remains at the linebacker position. Adding someone like Jefferson, a throwback, hard hitting middle linebacker that can rush the passer from an outside position, would only make that defense better. He needs to answer questions about his motor, but Jefferson has the potential to be the steal of the draft at pick #30.
#31: New England Patriots: Jaire Alexander, CB, Louisville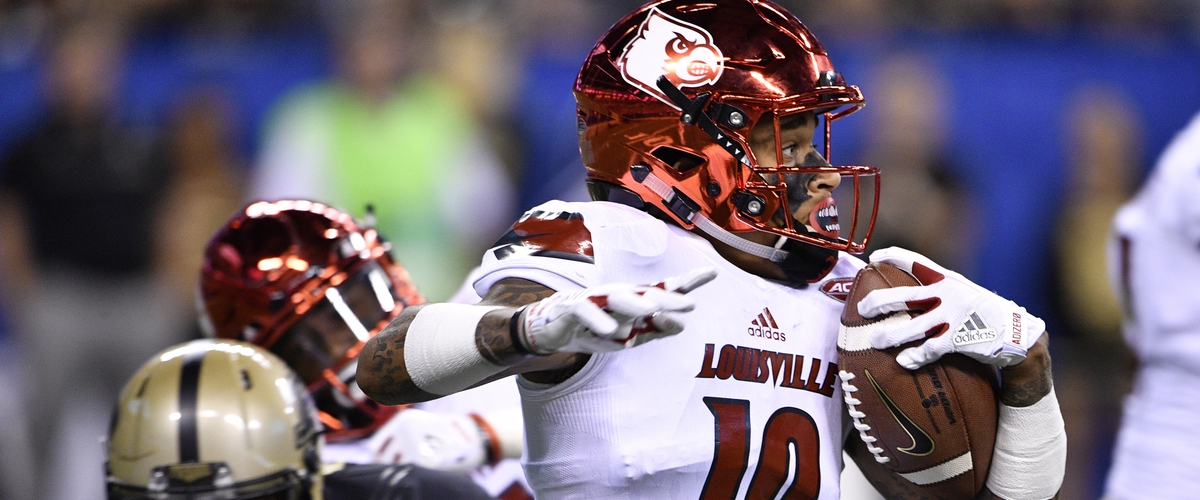 The Patriots are vying for a Super Bowl spot once again. Also, in related news, the sky is blue. Tom Brady has been Tom Brady once again, and they've rebounding from a poor start. Their defense is still a major red flag, in particular their secondary, which Alex Smith, Cam Newton, and somehow Josh McCown have torn up over the course of this season. If healthy, Alexander is a top corner prospect with long arms, ball skills, and versatility. The Jimmy Garoppolo trade means they need to find his heir apparent, but this is a deep QB class and a shallow CB class. They need to get someone like Alexander ASAP.
#32: Philadelphia Eagles: Joshua Jackson, CB, Iowa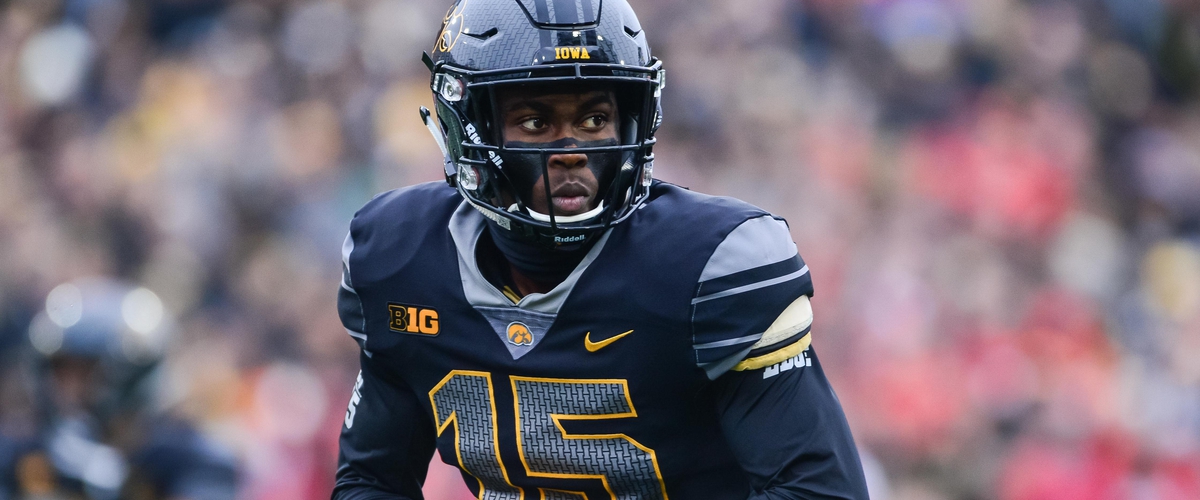 Carson Wentz and the Eagles are on Cloud 9 (and 1) to start the 2017 season. Philadelphia looks like a well-oiled machine that doesn't have any weak spots. However, their secondary isn't all it's cracked up to be. Adding the late-riser Jackson could help change that. Currently leading college football in interceptions, Jackson can play safety or corner, but is especially adept at locking down big, physical receivers. With no shortage of that in the NFC East, look for the Eagles to gamble on potential with a corner like Jackson.
ROUND 2
#33: Cleveland Browns: Deon Cain, WR, Clemson
#34: New England Patriots: Micah Kizer, ILB, Virginia
#35: New York Giants: Ronald Jones, RB, USC
#36: Indianapolis Colts: Will Hernandez, OG, UTEP
#37: Chicago Bears: Sam Hubbard, DE, Ohio State
#38: Denver Broncos; Vita Vea, DT, Washington
#39: Cincinnati Bengals: Trey Adams, OT, Washington
#40: Arizona Cardinals: Ogbonnia Okoronkwo, OLB, Oklahoma
#41: Oakland Raiders: Bryce Love, RB, Stanford
#42: Cleveland Browns: Rashaan Evans, ILB, Alabama
#43: New York Jets: Martanis Rankin, OT, Mississippi State
#44: Washington Redskins: Da'Ron Payne, DT, Alabama
#45: Miami Dolphins: Billy Price, C, Ohio State
#46: Tampa Bay Buccaneers: Nick Chubb, RB, Georgia
#47: Los Angeles Chargers: Mason Rudolph, QB, Oklahoma State
#48: Buffalo Bills: Adonis Alexander, CB, Virginia Tech
#49: Green Bay Packers: Da'Shawn Hand, DE, Alabama
#50: Dallas Cowboys: Dorance Armstrong, OLB, Kansas
#51: Detroit Lions: Roquan Smith, ILB/OLB, Georgia
#52: New York Jets: Josh Adams, RB, Notre Dame
#53: Baltimore Ravens: Akrum Wadley, RB, Iowa
#54: Atlanta Falcons: Deontay Burnett, WR, USC
#55: Tennessee Titans: Kevin Toliver, CB, LSU
#56: Buffalo Bills: Derrick Nnadi, DT, Florida State
#57: Kansas City Chiefs: Levi Wallace, CB, Alabama
#58: Carolina Panthers: Marcus Allen, S, Penn State
#59: Jacksonville Jaguars: Dante Pettis, WR, Washington
#60: Minnesota Vikings: Martez Ivey, OG/OT, Florida
#61: San Francisco 49ers: Equanimeous St. Brown, WR, Notre Dame
#62: Pittsburgh Steelers: Mitch Hyatt, OT, Clemson
#63: New England Patriots: Luke Falk, QB, Washington State
#64: Cleveland Browns: Jamarco Jones, OT, Ohio State
---