Derek Jeter Isn't Very Good At This, Is He?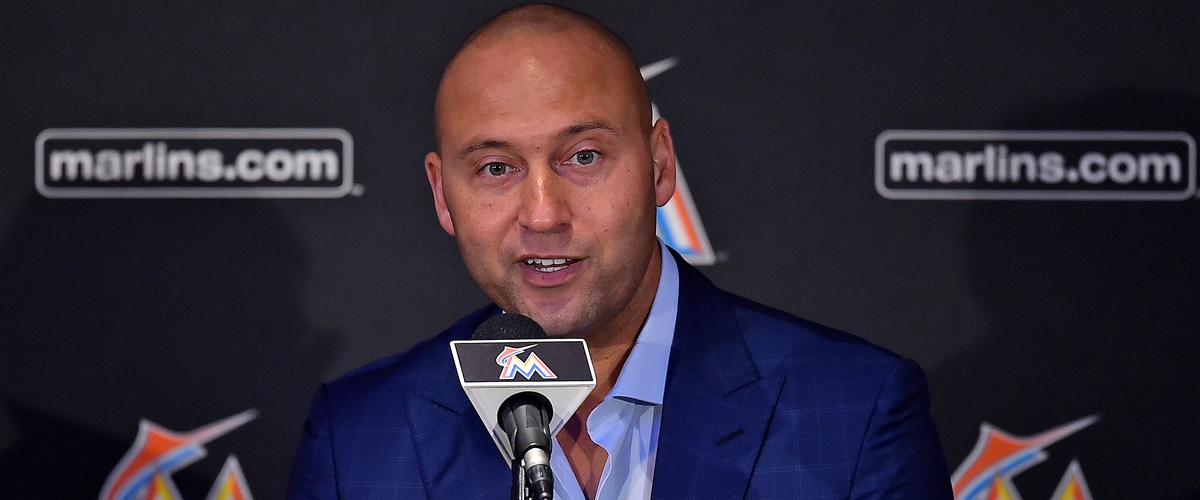 Derek Jeter had it made.
After 20 Hall of Fame caliber seasons at the premier position for the premier franchise, all Jeets had to do was ride off into the sunset with his scalding hot wife and his presumably Yankee-branded yacht. Find me a life that every kid who grew up playing baseball would take over that. Find me a better example of the American Dream than that.
Instead, he bought a part of the Miami Marlins with other people's money. And he's in a world of trouble right about now.
Part of the deal regarding Jeter's purchase of a part of the floundering (get it? because fish!) franchise was that he would serve as a de facto general manager; someone who would oversee day-to-day roster operations. He wasn't handed a dumpster fire of a roster by any stretch of the imaginations. The Marlins had the best outfield in baseball, full stop. Giancarlo Stanton, an MVP who almost broke 60 home runs, Marcell Ozuna, my pick for the most improved player of the 2017 season, and Christian Yelich, who will hit .300 with regularity were a fearsome 1-2-3 combination. Throw in an All-Star level catcher in JT Realmuto, an All-Star second baseman in Dee Gordon, Justin Bour at first, and Martin Prado at third, and they have a formable lineup from top to bottom. Their pitching staff, led by Wei-Yin Chen and Edinson Volquez, wasn't good, but could be improved with a wave of pitching prospects ready to get the call.
By the time of writing this, Gordon is a Mariner, Ozuna is a Cardinal, and Stanton is a Yankee. Yelich and Realmuto have made public cries to be moved.
The silver lining to this whole debacle would have been the Marlins getting back an absurd return on 3 great young talents. They got a total of 1 and a half MLB players. Starlin Castro will be one of the better second baseman in the NL, and was an All-Star before a nagging injury derailed his season. Magneuris Sierra had just 60 at bats for St. Louis last season, but slashed a respectable .317/.359/.317 (19 hits, all singles). The rest consists of an amalgamation of various prospects that weren't prized by their previous teams. The best headed to Miami are Jorge Guzman and Sandy Alcantara, two young right handers with 100 MPH heat but no control.
The recent town hall meeting, AKA angry fans trying to unload on Jeter after the franchises' 4th fire sale in their 24 year history, crystallized the fears that many, myself included, had held for a long time. The athlete-turned-GM with minimal or no experience as an executive has rarely worked.
"What about Ozzie Newsome, the Ravens' GM? He won a Super Bowl!," I hear you bellow. Well, Ozzie Newsome had been an executive with the franchise from his retirement with Cleveland in 1990 to the move to Baltimore in 1995. Newsome was named GM in 2002, after their first Super Bowl win." "Well, what about John Elway? He also won a championship!," you retort. Well, in just 2 years he has stripped the team down to nothing due to poor negotiation and drafting, leading to the dumpster fire we've seen in 2017. "How about Larry Bird?" Well, Bird didn't ever reach a championship and replacement Kevin Pritchard has been nothing short of exceptional.
Success stories like Danny Ainge and Pat Riley are the outliers. Jeter's mess-up just adds another name to the pile; another case study that should go to show that pulling former athletes from retirement and giving them this power has rarely worked out.
Ask Lions fans about the Matt Millen era.
Ask anyone in Montreal what good Jim Beattie did for the Expos.
Remember when Michael Jordan ran the Wizards into the ground, then bought the Bobcats and constructed the worst team in NBA history?
Try and say Billy King's name around me or any other Nets fan and watch their head explode followed by a lengthy crying fit.
Phil Jackson, anyone?
Jeter had as legendary a career as one could hope for. Instead of being remembered as the Yankee Captain and the standard for AL shortstops for 20 years, and that alone, he'll have this undesirable addendum attached to his name. By no means will this overshadow parts of his legacy like some of the names listed above (see Millen, King), but this will be a part of the Derek Jeter story. He bought a team, seized control, and has seemingly done everything in his power to both alienate an already largely disinterested and decreasing fan base and piss off what loyal fans come to Marlins Park night in and night out.
Time may prove me wrong, but just a month and change into it, the Derek Jeter, Executive experiment has been a titanic failure, and it doesn't look like their is a bright light at the end of any tunnel.
Follow me on Twitter @TheRealLuc3!
---