How is Rhys Hoskins This Good This Early?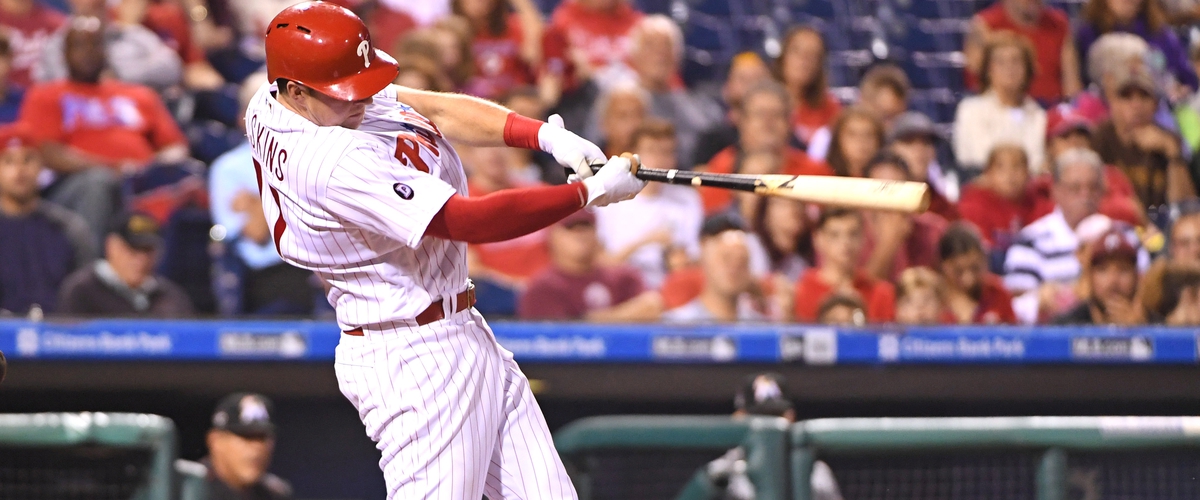 In 2015, I attended my first Lakewood Blueclaws game in Brick, NJ. Pitching in that game was current Phillie Ricardo Pinto. While he pitched decent enough, the game was won thanks to a home run and double from a certain 1st baseman. I had this niggling thought in the back of my mind for the entirety of the game. "I know this is just Lakewood", I said to myself, "but this guy looks pretty good."
Fast forward to 2017, and that guy is breaking every record in the books for production to start a career.
The rise of Rhys Hoskins isn't surprising by itself, as he always showcased his power across all levels of the minor league system. What shocking is how meteoric and rapid his ascent has been. Hoskins has 18 home runs in his first 34 career games. If he didn't homer for 10 games, he'd still have the record for most home runs in a player's first 44 career games, which was set during Gary Sanchez's torrid August 2016. He reached 18 home runs in 30 fewer games than my beloved Aaron Judge. His 39 RBIs are also a record for a player's first 34 games. The old record holder was Ted Williams. Anytime you're mentioned alongside Ted Williams, you're doing something right.
It would be easy to assume Hoskins is a clone of Joey Gallo, Mark Reynolds, and Chris Carter; a three-true-outcomes (BB, HR, K) hitter trying to hit a homer on every pitch and up near the league lead in strikeouts. That couldn't be farther from the truth. Hoskins has always been the type of player that can hit for average and power. A .287 hitter in the minor leagues with a .375 OBP paints a picture of a complete offensive threat. In the majors, he's walked 26 times and has recorded 22 extra base hits in 34 games, showing that his game translates perfectly to the MLB level.
Too many superstar young sluggers come into the league as extremely free swingers. The rookie years of the aforementioned Gallo, Kris Bryant's 199 strikeout ROY campaign, or Judge's strikeout laden second half show that power hitting rookies have fallen into the trap of swinging for the fences with reckless abandon. Hoskins' 29 strikeouts in 35 games is telling of a power hitter making consistent contact. Doing so that the rate he is given his experience is almost unheard of.
Hoskins' amazing start has rejuvenated the Phillies by announcing the coming of the second wave of hot-shot, ass-kicking prospects. The first wave was supposed to provide the foundation. With a couple years and a couple last place finishes under their belts, it's become clear Philadelphia isn;t getting anywhere with these guys as their core. Odubel Herrera and Aaron Altherr are nice players but doesn't move the needle much. Maikel Franco and Tommy Joseph have been major letdowns, as they are currently slashing .230/.284/.400 and .238/.289/.431, respectively without offering anything defensively. This new batch features Hoskins, Nick Williams, who is slashing .296/.350/.496, promising young catcher Jorge Alfaro, and mega-prospect JP Crawford. This looks like a stronger foundation of a lineup that can mash with the best of them.
In about the span of a month, Rhys Hoskins has taken the Phillies from "wait till next year" said with an exasperates sigh to "wait till next year!" said with boundless excitement over just what record Hoskins will break next.
---