Justin Verlander Pitches 3rd Career No-Hitter.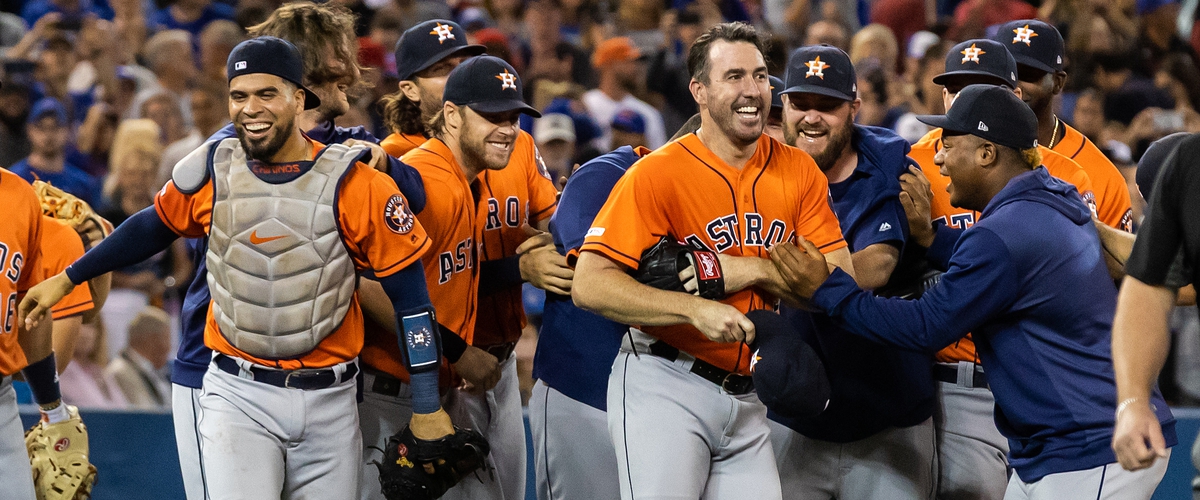 If You Are Wondering Why The Houston Astros Are All Around Their Star Ace Justin Verlander It's Very Simple. Justin Verlander Pitched His 3rd Career No-Hitter Against The Toronto Blue Jays On Sunday. Verlander Pitched His 3rd Career No-Hitter On The Road Against The Toronto Blue Jays In a 2-0 Victory In Toronto.
Verlander Had 14 Strikeouts In The Game And Allowed Only One Base Runner Way Back In The First Inning. After The No-hitter Justin Called His Wife, Model Kate Upton Who Is Shooting a Movie On Location. Upton, Tweeted Her Husband And Said Congratulations To Her Honey. Now There's a Woman Who Stands By Her Man.
This Is Verlander's 3rd No-Hitter. His First No-Hitter Came Back In 2007 When He Was With The Tigers. The 2nd No-Hitter Came In 2011 With The Tigers, And Now Today. Now Verlander Has Had His Share Of Close Calls With The No-No. Both Came In 2011. He Went 7 1/3 Against The Indians And Gave Up 1 Hit. On July 31st He Missed a No-Hitter Against The LA Angeles.
Justin Verlander Is Now In Elite Company, He Is Now a Special Select Group Of Pitchers With 3 Or More No-Hitters. Nolan Ryan, Sandy Koufax, Cy Young, Larry Corcoran, Bob Feller. Now That's a Fantastic Group To Be In Justin So This Is Something Special, And Yes Savor The Moment.
Here's My Take..
So What's Next For The 8-Time All-Star And Former Cy Young Award Winner, The Astros Are In The Middle Of a Battle For The American League Pennant. Let's Face It The Astros Have The AL West Almost Wrapped Up. Justin Verlander Is The Reason Why The Astros Will Win The American League Pennant And Possibly The World Series. Justin Verlander Leads The American League In Strikeouts With 257 On The Season. He Also Leads The League With Innings Pitched With 193, And He Has The American League Leading Lowest 2.57 ERA. So Don't Tell Me That The Astros Are Dead In The Water Because They Are Not. The Houston Astros, In My Opinion Are The Only Team That Can Challenge The New York Yankees In The American League. I Will Also Say This, They're The Only Team That Could Beat The Los Angeles Dodgers In The World Series, If That Comes To Pass.
So In Closing, If You Think The Astros Won't Make Any Noise Going Down The Road You Are Sadly Mistaken, And Yes I Can See Them Challenging The Yankees And Dodgers In The Postseason, If It Comes Down To It.
Bottom Line..
---