The 2019 World Series will have a Game 7.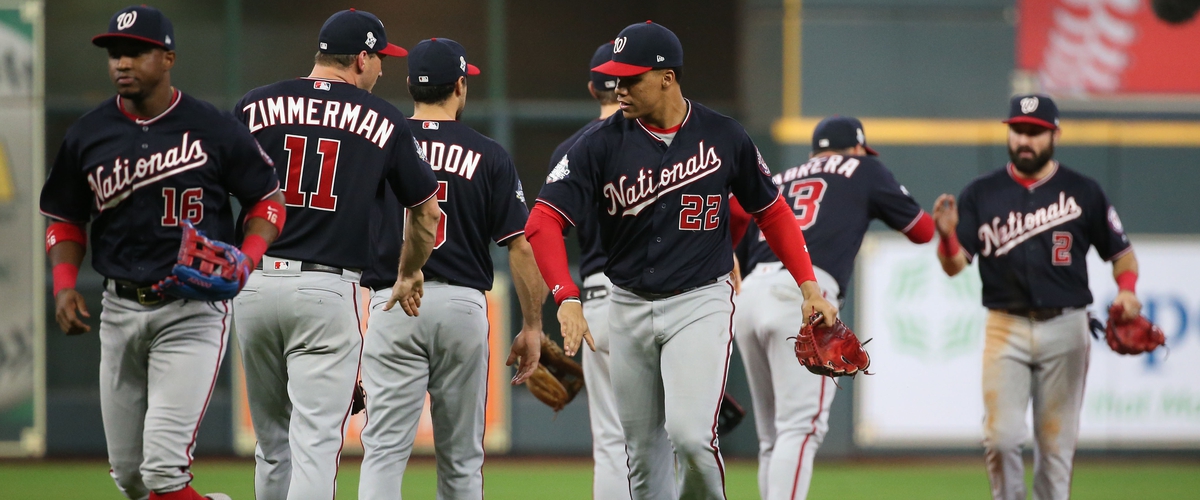 The Washington Nationals have forced a game seven in the 2019 World Series after a 7-2 win in game 6 on Tuesday Night.
Nationals starting pitcher Stephen Strasburg had the game of his career. He pitched 8 1/3 allowing five hits, two earned runs, two BB and seven strikeouts.
The Nationals also had three home runs by three different hitters. Adam Eaton, Juan Soto and Anthony Rendon each had a long ball in game 6 on Tuesday.
Adam Eaton, he went 1-2 with a home run, one RBI and two runs.
Juan Soto, he only went 1-5 with a home run, one RBI and one run.
Anthony Rendon, he had a game, 3-4 with a home run five RBI's and one run.
Justin Verlander, once again struggled when it was on the line. He only went 5.0 innings allowing five hits, three earned runs, two home runs, three walks and only struck out three batters. The bad part for Verlander is this, he has yet to win a World Series game in seven starts. Verlander is 0-6 lifetime in the World Series with a 5.68 ERA.
Justin Verlander in my opinion is the Houston Astros version of Clayton Kershaw, he chokes when the pressure is on and we saw it in game 6 when he gave up two home runs which in the end cost the Astros in a big way.
But we did have some craziness in the top of the seventh inning with an interference call that would make anybody go crazy.
Here's what happened, it was the top of the seventh, the Nationals had nobody out. Trea Turner came to bat as he faced off against Astros reliever Brad Peacock. Turner hit a little dribbler to peacock and Astros first baseman Yuli Gurriel. as Peacock went to throw the ball to Gurriel Turner accidentally hit Gurriel's hand and knocked the ball out of his glove and Yan Gomes ended up at third.
But hold everything, home plate umpire Sam Holbrook called Trea Turner out due to interference and the whole mess of chaos then ensued. Umpire Sam Holbrook went to talk to the replay umpire in New York about the call but to no avail. Turner was called out for interference.
The call is not reviewable by replay and everybody in Houston was wondering what was going on. The delay lasted 4 minutes and 32 seconds.
Social Media lit up like a Christmas tree over this call. Kate Upton, kept it simple and said he has to run outside the two lines or it's interference. Other players like Jake Arrieta and others said it was a horrible call.
After the Seventh Inning Nationals Manager Dave Martinez was ejected form the ball game for arguing the call as he kept it going on and on.
In my estimation the call was not right because there's so much at stake, and for Dave Martinez to get ejected, that was wrong because emotions can boil over and any other umpire would have walked away.
So in my opinion Sam Holbrook has become the New Don Denkinger of World Series umpires, why you ask because both of these idiots have had bad calls in the World Series in crucial games.
The only difference was with Sam Holbrook, the only casualty was an ejected manager in a 7-2 win for the Nationals.
Don Denkinger cost the St Louis Cardinals the World Series after a bad call in game six in 85. The casualty was Denkinger himself with death threats and Whitey Herzog and the rest of the Cardinals venting their frustrations on the home plate umpire. Herzog and others were ejected from game seven in a 11-0 loss to the Kansas City Royals.
Enough of the past lets look ahead to game seven 2019.
Max Scherzer, will start for the Nationals in game seven. Scherzer was cleared to pitch game seven and the Nationals will need him to go if the Nationals want to be World Series Champions.
Zack Grenkie, he will go for the Astros, Grenkie had a victory in game three earlier in the series, how will he do against the Nationals at home in game seven.
Before I go..
I almost forgot, we have played six games in the world series and the road team has won all of them. That marks the first time in the history of all of the major sports MLB,NBA,NHL that the road team has won the first six games.
I have not seen anything like this in sports today, yesterday or yesteryear,
I don't know about you but the Nationals might have the advantage going into game seven because of the Scherzer factor.
Bottom Line..
---